Ten key faces in new places
Why is it that Peyton Manning seems to be a frequent topic of discussion when it comes to the notable offseason transactions?
Last year in this space, Manning's migration to the Mile High City was the top story of the 2011-12 offseason. He signed a five-year, $96 million contract with the Denver Broncos in March 2012, scored the fifth-most fantasy points among quarterbacks, and elevated the production of his top two wide receivers, Demaryius Thomas and Eric Decker, to fifth and seventh in fantasy scoring at the position. That was a substantial improvement upon a 2011 Broncos team that didn't place a single wide receiver in the top 30 at the position in fantasy points.
One year later, Manning's arsenal has only deepened, as his Broncos signed veteran wide receiver Wes Welker to a two-year, $12 million contract in March, again placing Manning front and center as part of the offseason's top story.
[+] Enlarge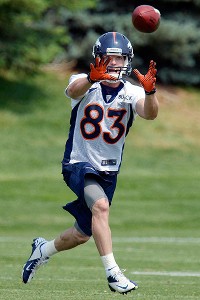 John Leyba/The Denver Post/Getty ImagesWes Welker's presence will definitely change the distribution of targets, but it's unclear who will be most greatly affected.
Welker's arrival sends ripples through the Broncos' offense. He finished fourth in the NFL with 173 targets last season and has averaged 155 in the past five years, numbers that no single Broncos player has achieved since Brandon Marshall in 2008. Thomas led the team with 142 last season, while Decker had 122 and slot man Brandon Stokley had 57; Broncos tight ends had 145 and running backs 81. And that's for a team that amassed the 10th-most passing attempts (588).
Do the math: Welker cuts deeply into that Broncos receiving pie, and while Manning might be able to keep three receivers productive, someone has to cede targets to Welker. He'll get the 57 vacated by Stokley, so where do the rest come from? The tight ends might be an obvious place, but no team targeted the tight end position fewer than 61 times last season and Manning has a history of involving his tight ends; he hasn't provided his tight ends fewer than 100 targets in a season since 2005. Assuming Welker steals, say, 50 from Joel Dreessen and Jacob Tamme, that's still only 107. There's little doubt that Thomas and/or Decker stand to lose some.
In other words, don't assume any top-five finishes from the receivers, barring some unexpected clarity on who is Manning's go-to guy during the preseason. After all, no wide receiver who was targeted fewer than 120 times finished higher than 15th in fantasy scoring at the position last season. Thomas, Decker and Welker could all reside in the top 20; but there's a chance any might fall short.
At least there's this defense of three-in-the-top-20: The Broncos utilized three-wide-receiver sets 706 times last season, third most in the league. This team is going to throw, and it's going to have all three on the field often.
Welker's arrival in Denver might have been the No. 1 story in terms of player movement this offseason, but which were Nos. 2-10? Read on:
Though one of the more disappointing fantasy players from a career perspective, Bush's stock received a noticeable boost by signing with a pass-happy Lions team, one sure to utilize his receiving skills more than his previous squad, the Miami Dolphins. Having been targeted 107 times per 16 games played with his first team, the New Orleans Saints, Bush's per-16-games target total slumped to 53 in Miami. Now he's with the Matthew Stafford-led Lions, a team that threw to running backs 129 times in 2012 (sixth in the league) and 523 times since Stafford's rookie season of 2009 (fourth). And keep in mind who some of those backs were: Kevin Smith, Jahvid Best and Joique Bell, none of whom is Bush's equal as a receiver. Bush could be due a significant boost in value, particularly in PPR leagues.
Perhaps the most prominent free-agent move of the offseason, Jackson's arrival in Atlanta is tempered by the fact that he's now 30 years old, the age at which the majority of running backs in NFL history suffer a steep decline in production. He might be exempt from that time-tested rule -- if used smartly -- as his workload was impeccably maintained in St. Louis: Of the 17 players who had at least 2,000 career carries on the date of their 30th birthday, Jackson is one of only three who never had a 350-carry season during the 16-game era (1978 forward), and he had the third-fewest 25-carry games (21). Plus, Jackson showed no discernable decline in production as a 29-year-old, which might've portended a decline in 2013. The Falcons brought him in to be the pass-catcher and goal-line finisher that Michael Turner wasn't in 2012, and it might be enough to drive Jackson's fantasy point total up -- a rarity for a 30-year-old.
Amendola's arrival in New England is actually more of a story because of who he's replacing than his own merits; it's no coincidence that he signed on the day that Welker departed for Denver. Amendola gives the Patriots a receiver 4½ years younger than Welker, and he had a comparable catch rate (68.3 percent, to Welker's 69.4) and lower drop rate (3.1 percent, to Welker's 5.5) the past three years combined working out of the slot in St. Louis. The problem, though, is that he gives the Patriots a far higher risk of absence than Welker; Welker missed only three games in his six years in New England, while Amendola missed 20 combined the past two years. That's particularly troubling to fantasy owners, who are well aware of Patriots coach Bill Belichick's tendency to be tight-lipped on injuries. To illustrate, 20 Patriots were listed as questionable in their regular-season finale last season, so the odds are good that Amendola might spend most of 2013 with a "questionable" listing, causing weekly fantasy lineup headaches.
Fantasy's No. 8 wide receiver just two years ago, Harvin experienced quite a boost at quarterback when the Minnesota Vikings, who have Christian Ponder at the position, traded him to the Seahawks, who have Russell Wilson. Now if Harvin can only stay healthy; he missed three games in his first two NFL seasons (2009-10), and had his 2012 season limited to nine contests due to hamstring and ankle issues. That said, he claims that migraine headaches that once plagued him haven't troubled him in two years, he led the league in yards after the catch per reception (8.52) and didn't commit a single drop in 82 targets in 2012, and he even gets goal-line looks as a running back, boosting his fantasy stock. In Seattle, Harvin might be the biggest boom/bust selection on anyone's draft board -- emphasis on "boom."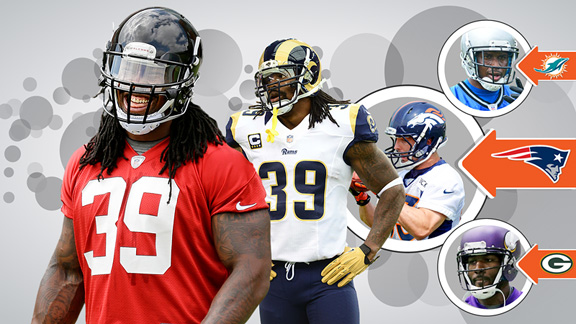 ESPN.com IllustrationTBD By Editorial
Palmer's arrival in the desert finally gives the Cardinals a viable signal-caller, something they haven't been able to claim since Kurt Warner retired following the 2009 season. That's not to say that Palmer is the next coming of Warner; it merely gives the team a fighting chance via the air, critical for the fantasy prospects of one Larry Fitzgerald. Fitzgerald has the best hands in the NFL, with only two drops in 32 games the past two seasons combined, and there was no greater illustration of what plagued him than this: On throws 20 yards or deeper, he had only one reception. Palmer might not have the arm strength he did pre-surgery, but he's an upgrade over Kevin Kolb, Ryan Lindley and John Skelton, and with Bruce Arians at the helm, you can be sure that getting the ball into Fitzgerald's hands will be a priority.
Opportunity abounds in New York for Ivory, whose 5.11 yards per carry the past three seasons combined ranks behind only three running backs with at least 250 attempts: Jamaal Charles (5.80), C.J. Spiller (5.38) and Adrian Peterson (5.20). Considering how exclusive that company is, there's only one logical explanation for Ivory ranking multiple tiers behind: His checkered health history. He has appeared in only 24 of 48 games in his career due to a concussion and injuries to his knee, shoulder, hamstring, foot & boy, what hasn't he injured? Ivory should get plenty of work for as long as he's on the field, especially as the Jets transition to their rookie quarterback, Geno Smith. There's a chance at some big-time numbers here, on the borderline of the top 10 at his position. How lucky do you feel?
8. Miami Dolphins sign WR Mike Wallace
Wallace cost the Dolphins a $30 million guarantee, but in his defense, he's a quick fella, having averaged 17.2 yards per reception during his four-year career, fourth best in the league during that span, and eight touchdowns per season. That's a plus for Ryan Tannehill's development. After all, Tannehill had sneaky-good numbers when he threw deep: He completed 44.4 percent of his attempts that traveled at least 20 yards, fifth best in the league, and his 99.0 Total Quarterback Rating on those attempts ranked sixth. Wallace's fantasy production might not suffer at all in Miami, and his presence could grant Tannehill sneaky QB2 upside.
This offseason's transactions seemed to fall like dominoes: Welker signed in Denver; Amendola in New England, replacing Welker; and Cook signed with the Rams, taking over for Amendola as the Rams' slot receiver. A massive target, Cook was nevertheless a disappointment in his four years in Tennessee, scoring only eight touchdowns in 59 games total and averaging 36 catches and 466 receiving yards per 16 games played. Still, he possesses surprising quickness for a player of his size, and his addition signals a distinct shift in team philosophy toward quick, big-play targets. Cook might finally be ready to break out.
10. Minnesota Vikings sign WR Greg Jennings
Harvin's gain is Jennings' loss; the latter decided to sign on as Ponder's No. 1 target. Who can blame a guy for accepting $18 million in guaranteed money, and the chance at a five-year maximum of $47.5 million? But the difference between Jennings' previous quarterback, Aaron Rodgers, and Ponder is stark:
Rodgers: 67.2 completion pct., 7.78 YPA; 27 completions, 11 TDs on throws 20-plus yards
Ponder: 62.1 completion pct., 6.08 YPA; 9 completions, 0 TDs on throws 20-plus yards
Jennings gives the Vikings a much-needed outside receiver, but his fantasy upside is worse in Minnesota than Green Bay, despite the lack of competition for targets. And let's not overlook this fact, lest we dive into overdrafting him: Jennings has appeared in just 21 of 32 scheduled games the past two seasons combined. He's actually more likely to give Ponder a fighting chance of keeping his job than Ponder is to feed Jennings the ball often enough to be a top-shelf fantasy option.
Listed below are some of the offseason's other notable transactions, albeit ones that failed to crack the top 10:
Player

New
team

Fantasy quick take
K David Akers
His age (38) showed in '12; his 69 percent FG conversion rate was his worst in 13 seasons as a full-timer. At least he's now on a team that generated the sixth-most field goal chances in 2012.
WR Donnie Avery
Drops (13 in 40 games from 2010 to '12) and injuries (eight games missed in '11) have derailed a once-promising career, but Avery projects to start in K.C. and could be a matchups-capable WR4/5.
TE Martellus Bennett
Bears TE coach Andy Bischoff has every intention of giving Bennett a chance to be Jay Cutler's No. 2 target. With a few extra red zone looks, Bennett could quietly earn TE1 status.
WR Davone Bess
He's a sure-handed pass-catcher, but is migrating to another weak passing attack with better playmakers on the outside (Josh Gordon, Greg Little). Bess is a late-rounder in PPR formats.
WR Anquan Boldin
A possession receiver at this point, Boldin's weekly stats might frustrate fantasy owners, although Michael Crabtree's injury could make him a preferred target.
RB Ahmad Bradshaw
The path to starter's carries is clear -- Vick Ballard is his competition -- and he'll be a nice fit thanks to his blocking and pass-catching ability. But can he stay healthy?
K Josh Brown
He'll compete with David Buehler for the starting gig, but needs to show his big leg of 2006-10 (72.2 FG percentage on attempts of 40-plus yards) to flourish for the Giants' potent offense.
QB Jason Campbell
Might he push Brandon Weeden for starts? Better question: Does it matter? Campbell has a mediocre 59.2 completion percentage and 1.36 TD/INT ratio in 19 starts since 2010.
TE James Casey
Casey in the F-back role that made Aaron Hernandez a star? That's what Chip Kelly plans. But we need to see it before we'd believe Casey becomes even half the fantasy player Hernandez has been.
QB Matt Cassel
He was brought in as Christian Ponder's insurance policy, but even in the event he's pressed to start, he'd be a weak choice in fantasy, even facing the most favorable matchups.
K Phil Dawson
He was the No. 11 fantasy kicker on the ninth-lowest-scoring team in '12, and the most accurate on field goals (93.5 percent). It's about time we see what he can do on a good team.
TE Anthony Fasano
Brought on as competition for Tony Moeaki, Fasano wouldn't be much of a fantasy asset even if he starts -- he had seven double-digit fantasy days in 76 games from 2008 to '12.
QB Ryan Fitzpatrick
He'll serve as Jake Locker's backup and mentor, and would get spot starts only in the event that Locker's recovery from shoulder surgery hits an unexpected stumbling block.
QB Matt Flynn
The Raiders took a significant chance at a steep cost acquiring Flynn; his career amounts to one big game in Week 17 of 2011. To be even a QB2, he'd need to open eyes during camp.
WR Brandon Gibson
He's an awkward fit in the slot, his role during OTAs, having dropped 5.1 percent of his targets with the second-worst yards after the catch per reception (2.00) in 2012. At best, he's a WR5.
RB Mike Goodson
A May off-field incident might have cost Goodson some in the Jets' RB competition, and while he's quick (4.5 career YPC), he's not Chris Ivory quick (5.1 career YPC).
K Shayne Graham
He's accurate, we'll give him that (85.4 career FG percentage, fifth among active players). But his new team afforded the 10th-fewest chances from 2010 to '12 combined.
RB Shonn Greene
He's an upgrade as the Titans' goal-line back, but he's hardly elite. In 2011 and '12, he scored on 50 percent of carries inside the opponent's 2-yard line; the NFL average was 74 percent.
WR Darrius Heyward-Bey
The Colts upgraded at the slot with DHB, who is younger and quicker than Donnie Avery, but Heyward-Bey brings many similar injury questions. He's a risk-reward WR5/6.
RB Rashad Jennings
An out-and-out bust as Maurice Jones-Drew's early 2012 fill-in, Jennings will have to battle to back up in Oakland with Marcel Reece and Jeremy Stewart. Don't expect miracles.
RB Felix Jones
Before you rave about Jones' handcuff potential, beware this: He averaged 4.53 yards per carry as a backup from 2010 to '12; he averaged a disappointing 4.02 as a starter.
TE Dustin Keller
Injuries and shoddy QB play ruined his 2012, but he'll serve as a security blanket for Ryan Tannehill in Miami. Remember, Keller is two years removed from a 104-fantasy-point year.
QB Kevin Kolb
EJ Manuel is bound to start at some point; will it happen before 2013 ends? Kolb is at best a matchups consideration if he wins the starting gig; that value is sure to be short-lived.
WR Mohamed Massaquoi
Justin Blackmon's suspension presents Massaquoi a chance to contribute as a deep threat. But he's a late-round flier at best, on a team no more competitive than the Browns.
RB Rashard Mendenhall
He's 26, another year removed from ACL surgery and reunited with Bruce Arians. Still, Ryan Williams represents competition for carries, and the Cards' O-line is mediocre.
TE Brandon Myers
The Giants often get sneaky production out of their TEs. Myers was not only the No. 10 fantasy TE in '12, but also the top TE in catch rate (caught 77.5 percent of his targets, minimum 50).
WR David Nelson
ACL surgery cost him 15 games in '12, so monitor his health. Could his size catch coach Rob Chudzinski's eye? If not, he's a fourth target in a weak passing attack.
WR Kevin Ogletree
Beware boasting his "opportunity" -- he's a No. 3 WR at best -- as Ogletree's fantasy career has amounted to one game: 23 points in Week 1 of 2012; he has 59 points in his other 45.
QB Alex Smith
A game-managing QB at the helm of Andy Reid's pass-happy West Coast scheme? Color us skeptical. We see a lot of check-downs to Jamaal Charles, and at best QB2 stats.
TE Benjamin Watson
Some guy named Jimmy Graham stands in his way in New Orleans. Graham's previous backup, David Thomas, never had a double-digit fantasy day in three years in the role.
TE Delanie Walker
He has high hopes as a pass-catcher, but dropped 7 of 37 targets in '12. Taylor Thompson will compete for targets; Walker could quickly find himself stuck in a blocker's role.
RB Danny Woodhead
He'll serve as a passing-down back in San Diego, just as he was in New England, and will likely be more of an aggravation to Ryan Mathews owners than an asset in his own right.
Fantasy
Senior writer for ESPN.com
Co-host of the Fantasy Focus Baseball podcast
Two-time LABR, three-time Tout Wars champion
Member of the FSWA Hall of Fame
FANTASY FOOTBALL DRAFT KIT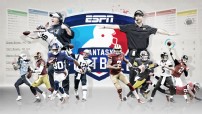 The 2013 fantasy football season is almost here. Start preparing for your draft with our rankings, projections, profiles and more! Draft Kit »
MORE DRAFT KIT CONTENT
MOST SENT STORIES ON ESPN.COM