Fantasy Forecaster: Week 13
How power play trends impact the fantasy value of certain players
Updated:
December 20, 2013, 12:47 PM ET
By
Sean Allen
| Special to ESPN.com
One of the benefits of putting the Forecaster together each week is that the data used to piece it together gets saved into a spreadsheet that can be pulled up at a later date. Why is that so handy? Because finding a snapshot of NHL stats through a certain date of the season is something for which you have to plan ahead, and personally save or compile. But the Forecaster has those stats embedded.
To put some of them to use this week, we are putting the power play under the microscope. By using the league's power-play statistics as of Nov. 15 (the approximate halfway point of what has been played to date) and comparing them to what we have this week, we can get a glimpse of which power plays are trending up or down and by how much.
The importance of power plays should be apparent, especially if you play in ESPN standard leagues. Not only are power-play points a category, but the power play is a breeding ground for other statistics as the offense gets to take the stage for two minutes (or less, if they score) each time. The power play is where the star fantasy players will pad their goals, assists and shots on goal totals.
As a starting piece of information, it's interesting to note that 14 NHL teams had less than a 1 percent change to their power-play percentage since Nov. 15. Of those 14 NHL teams with a consistent power play, only the Washington Capitals, St. Louis Blues and Phoenix Coyotes have performed at better than a 20 percent clip. Nine NHL teams showed improvement in their power-play percentage of more than 1 percent. Only five improved by more than 2.5 percent, and only two improved by more than 5 percent. Of the nine improving teams, only the Pittsburgh Penguins, Chicago Blackhawks and Toronto Maple Leafs performed at better than 20 percent on the man advantage.
So the Capitals, Blues, Coyotes, Penguins, Blackhawks and Maple Leafs have power plays that are both elite and remaining elite. It's likely no coincidence that eight of the top 10 fantasy skaters on the ESPN Player Rater come from those teams. If you want elite and consistent production, those are the teams to look at when trying to trade for players for your team. Now, the Penguins, Blackhawks, Capitals and Blues forwards are borderline untouchable as trade commodities in fantasy leagues, but the Coyotes and Maple Leafs have some players you could be targeting right now.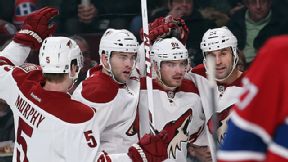 Bruce Bennett/Getty ImagesWith an elite power play, the Coyotes have several players worth targeting in fantasy hockey.
With Shane Doan injured, Martin Hanzal, Radim Vrbata and Mike Ribeiro have been slumping. But all of the aforementioned players should pick their pace back up when Doan recovers from his illness. Hanzal and Doan are even being dropped in some leagues and could be added to your team off the wire. In deeper leagues, Mikkel Boedker is getting less respect than he probably deserves in fantasy. He is getting power-play time and is on pace for a 25-goal, 50-point season. It's not a big breakthrough for Boedker, but it's enough to make him worth owning in some leagues.
For the Leafs, fantasy owners may be able to wedge a trade based on the team's recent performance on the ice. The team may be losing a lot of games lately, but the fantasy stats are still there. In fact, the Leafs improved their power-play percentage by 1.5 percent since Nov. 15 and moved from fifth in the league to fourth in the process. There is no less reason now to invest in the fantasy stars, including Phil Kessel, James van Riemsdyk and Dion Phaneuf as the core, with Joffrey Lupul and Nazem Kadri hot on their heels for value. Mason Raymond and Cody Franson will have some work to do to retain their value, but it makes it easier when the team's power play is so strong.
Those two teams that increased their power-play percentage by more than five percent since Nov. 15? One should not surprise you as the Penguins have been on a tear. They improved their performance on the man advantage -- thanks largely in part to the return of Kris Letang -- by 5.0 percent since Nov. 15, and moved from seventh in the league to first, with a current conversion rate of 26.9 percent. Not too bad, right? However, the Vancouver Canucks improved even more. The Canucks went from 28th in the league, with a 9.7 percent power play on Nov. 15, to 21st in the league now, with a 15.8 percent power play. That's a marked improvement of 6.1 percent.
We know Henrik Sedin, Daniel Sedin and Ryan Kesler are a force to be reckoned with on the man advantage, but did you realize Jason Garrison was the other big star? He has 10 power-play points this season, and is possibly undervalued by his owner. The other target should be Dan Hamhuis. That's right, Dan Hamhuis and his one power-play point. The points might not be flowing for Hamhuis on the man advantage, but he is on the ice for it now with Alexander Edler hurt. The points will start flowing at some point because the power play has been so strong.
Of the seven teams with fading power plays, five of them were in the top 10 back on Nov. 15. The Montreal Canadiens, Minnesota Wild, San Jose Sharks, Los Angeles Kings and New York Islanders were all top 10 teams on Nov. 15, but only the Canadiens and Wild can still boast that claim. The Sharks, Kings and Isles were all 20 percent or better on the power play on Nov. 15, but have all had drops larger than 2.5 percent in their power play.
The Isles have dropped almost as much as the Colorado Avalanche. Both teams only have five power-play goals since Nov. 15. This downward trend is more concerning for teams that have stayed largely healthy throughout the time period. The Sharks, in particular, don't have many excuses for a drop in power-play percentage. It is also very clear that the Isles could use a mobile defenseman like Lubomir Visnovsky back in their lineup. If you hear hints of his return (of which there are none now), he is worth stashing.
Next week is a short week for the NHL, with teams all getting a rest for the holidays. There are no games scheduled on Tuesday, Wednesday or Thursday, leaving no team with more than three games next week, and some with only two.
Team

Mon
12/23

Tue
12/24

Wed
12/25

Thu
12/26

Fri
12/27

Sat
12/28

Sun
12/29

Anaheim
DUCKS
@WSH
O: 7
D: 1
OFF
OFF
OFF
OFF
PHO
O: 9
D: 7
@SJ
O: 4
D: 3
G: 3
H: 1
O: 7
D: 4
Boston
BRUINS
@NSH
O: 6
D: 8
OFF
OFF
OFF
OTT
O: 8
D: 7
@OTT
O: 8
D: 7
OFF
G: 3
H: 1
O: 8
D: 9
Buffalo
SABRES
PHO
O: 3
D: 5
OFF
OFF
OFF
@TOR
O: 2
D: 2
OFF
WSH
O: 1
D: 1
G: 3
H: 2
O: 2
D: 3
Calgary
FLAMES
STL
O: 3
D: 5
OFF
OFF
OFF
EDM
O: 5
D: 7
OFF
VAN
O: 1
D: 5
G: 3
H: 3
O: 3
D: 7
Carolina
HURRICANES
CLS
O: 2
D: 7
OFF
OFF
OFF
PIT
O: 1
D: 3
OFF
@TOR
O: 7
D: 3
G: 3
H: 2
O: 3
D: 5
Chicago
BLACKHAWKS
NJ
O: 9
D: 4
OFF
OFF
OFF
COL
O: 10
D: 4
@STL
O: 9
D: 3
OFF
G: 3
H: 2
O: 10
D: 4
Colorado
AVALANCHE
@SJ
O: 5
D: 4
OFF
OFF
OFF
@CHI
O: 9
D: 1
OFF
WPG
O: 5
D: 7
G: 3
H: 1
O: 7
D: 4
Columbus
BLUE
JACKETS
@CAR
O: 6
D: 7
OFF
OFF
OFF
@NJ
O: 4
D: 6
OFF
PIT
O: 3
D: 2
G: 3
H: 1
O: 5
D: 6
Dallas
STARS
@LA
O: 10
D: 3
OFF
OFF
OFF
NSH
O: 3
D: 6
OFF
STL
O: 3
D: 3
G: 3
H: 2
O: 6
D: 4
Detroit
RED WINGS
NYI
O: 8
D: 5
OFF
OFF
OFF
OFF
@FLA
O: 8
D: 9
OFF
G: 2
H: 1
O: 6
D: 5
Edmonton
OILERS
WPG
O: 7
D: 5
OFF
OFF
OFF
@CGY
O: 5
D: 5
PHI
O: 7
D: 3
OFF
G: 3
H: 2
O: 7
D: 5
Florida
PANTHERS
TB
O: 1
D: 3
OFF
OFF
OFF
OFF
DET
O: 3
D: 4
MTL
O: 1
D: 3
G: 3
H: 3
O: 1
D: 4
Los Angeles
KINGS
DAL
O: 5
D: 8
OFF
OFF
OFF
OFF
@NSH
O: 3
D: 10
OFF
G: 2
H: 1
O: 3
D: 7
Minnesota
WILD
@PHI
O: 5
D: 4
OFF
OFF
OFF
@WPG
O: 5
D: 6
OFF
NYI
O: 8
D: 8
G: 3
H: 1
O: 6
D: 8
Montreal
CANADIENS
OFF
OFF
OFF
OFF
OFF
@TB
O: 5
D: 10
@FLA
O: 9
D: 10
G: 2
H: 0
O: 5
D: 10
Nashville
PREDATORS
BOS
O: 3
D: 3
OFF
OFF
OFF
@DAL
O: 7
D: 7
LA
O: 2
D: 5
OFF
G: 3
H: 2
O: 4
D: 6
New Jersey
DEVILS
@CHI
O: 10
D: 1
OFF
OFF
OFF
CLS
O: 3
D: 8
@NYI
O: 10
D: 7
OFF
G: 3
H: 1
O: 8
D: 6
New York
ISLANDERS
@DET
O: 3
D: 1
OFF
OFF
OFF
OFF
NJ
O: 6
D: 4
@MIN
O: 3
D: 1
G: 3
H: 1
O: 4
D: 2
New York
RANGERS
TOR
O: 6
D: 5
OFF
OFF
OFF
@WSH
O: 7
D: 4
OFF
@TB
O: 4
D: 8
G: 3
H: 1
O: 5
D: 7
Ottawa
SENATORS
PIT
O: 4
D: 1
OFF
OFF
OFF
@BOS
O: 8
D: 2
BOS
O: 3
D: 2
OFF
G: 3
H: 2
O: 5
D: 1
Philadelphia
FLYERS
MIN
O: 4
D: 7
OFF
OFF
OFF
OFF
@EDM
O: 10
D: 5
OFF
G: 2
H: 1
O: 5
D: 4
Phoenix
COYOTES
@BUF
O: 5
D: 8
OFF
OFF
OFF
SJ
O: 7
D: 2
@ANA
O: 6
D: 3
OFF
G: 3
H: 1
O: 6
D: 4
Pittsburgh
PENGUINS
@OTT
O: 10
D: 5
OFF
OFF
OFF
@CAR
O: 9
D: 7
OFF
@CLS
O: 9
D: 6
G: 3
H: 0
O: 10
D: 7
St. Louis
BLUES
@CGY
O: 7
D: 10
OFF
OFF
OFF
OFF
CHI
O: 10
D: 1
@DAL
O: 8
D: 9
G: 3
H: 1
O: 9
D: 7
San Jose
SHARKS
COL
O: 9
D: 7
OFF
OFF
OFF
@PHO
O: 8
D: 5
OFF
ANA
O: 8
D: 4
G: 3
H: 2
O: 9
D: 6
Tampa Bay
LIGHTNING
@FLA
O: 7
D: 10
OFF
OFF
OFF
OFF
MTL
O: 3
D: 6
NYR
O: 6
D: 7
G: 3
H: 2
O: 5
D: 10
Toronto
MAPLE LEAFS
@NYR
O: 6
D: 4
OFF
OFF
OFF
BUF
O: 10
D: 7
OFF
CAR
O: 8
D: 5
G: 3
H: 2
O: 8
D: 6
Vancouver
CANUCKS
OFF
OFF
OFF
OFF
OFF
OFF
@CGY
O: 7
D: 9
G: 1
H: 0
O: 3
D: 3
Washington
CAPITALS
ANA
O: 8
D: 1
OFF
OFF
OFF
NYR
O: 8
D: 3
OFF
@BUF
O: 10
D: 10
G: 3
H: 2
O: 9
D: 5
Winnipeg
JETS
@EDM
O: 6
D: 7
OFF
OFF
OFF
MIN
O: 5
D: 4
OFF
@COL
O: 2
D: 7
G: 3
H: 1
O: 4
D: 7
"O" (offense) and "D" (defense) matchup ratings are based upon a scale from 1 (poor matchup) to 10 (excellent matchup), and are calculated using a formula that evaluates the team's year-to-date and past 21 days' statistics, their performance in home/road games depending on where the game is to be played, as well as their opponents' numbers in those categories. The column on the right lists the team's total number of games played ("G") as well as home games ("H"), and lists the cumulative rating from 1-10 of that week's offensive ("O") and defensive ("D") matchups.
Ratings color scale

"Warmth" matchup colors are based only upon the team's offensive rating for the game or week in question.
1
2
3
4
5
6
7
8
9
10
Looking for offense
New Jersey Devils: The Devils don't always rate that high on offense in the Forecaster, so it's nice to see them clock an O:8 rating. It's not shocking to see either, considering the competition. The Devils have to deal with the Chicago Blackhawks before the break, but then get back to action following the break with games against the Columbus Blue Jackets and New York Islanders. Two players stand out from the crowd when considering who to add. Travis Zajac has been quietly earning his keep on a line with Jaromir Jagr and Dainius Zubrus. His ownership has crept up slowly, but still remains just over 20 percent. Zajac only has one game in his past five without a point, and he was plus-3 in that game.
[+] Enlarge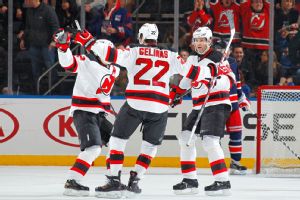 Scott Levy/NHLI/Getty ImagesEric Gelinas is perhaps the Devils' best offensive defenseman, and fantasy owners should take note.
Eric Gelinas fell off the fantasy radar a bit with an extended slump to start December, but he reminded owners this past week of his potential value on a Devils blue line that lacks strong offensive defensemen. Gelinas has three points and a plus-4 rating in his past two games.
San Jose Sharks: There is no doubt that the Sharks offense has been listless (outside of Patrick Marleau) in recent weeks. The scoring has been bad enough that the strong line combinations the Sharks boasted for the first two months of the season have been busted up to try and spark some scoring. The biggest beneficiary has been Martin Havlat. Planted on a line with Marleau and Logan Couture, Havlat is not only skating with two of the most talented players on the Sharks, but the entire NHL. Predictably, the result was a point in his first game in the role on Thursday. His ice time also spiked by three minutes. The Sharks should be in some high-scoring games next week with the Colorado Avalanche, Phoenix Coyotes and Anaheim Ducks, which makes this the perfect time to consider rolling with Havlat.
Looking for defensemen
Roman Josi, D, Nashville Predators: It is taking time, but it looks like Josi and Shea Weber are developing the kind of chemistry that used to exist between Weber and Ryan Suter on the Predators' blue line. The plus/minus just isn't going to be there for the Predators this season, but Josi and Weber are on track in all other areas that matter to fantasy owners. In fact, the pair are ranked 12th and 13th among fantasy defensemen on the Player Rater in the past two weeks. Josi is still available in more than a handful of leagues, with his ownership hovering around 72 percent. The Preds face some tough goaltenders next week, so now might not be the best time to add him if you are expecting immediate dividends, but Josi will win your heart in the long haul.
Olli Maatta, D, Pittsburgh Penguins: As profiled in this week's edition of Line Shifts, Maatta is in store for some solid production while Letang is sidelined yet again. Paul Martin and Matt Niskanen took over the production when Letang was out earlier this season, but Martin is also on the shelf this time. That leaves the Pens little choice but to let Maatta show what he can do. He won't be a long-term solution to your needs on defense this season, but for the next couple of weeks, Maatta can help. He is available in 85 percent of ESPN leagues.
Looking for goaltending
Karri Ramo, G, Calgary Flames: Ramo's numbers over the past month are actually quite respectable, and he doesn't have any blowups this season since October. The Flames get to stay home for all three games next week, and Ramo sports a 2.34 goals-against average and .913 save percentage at the Saddledome.
Hockey Challenge
Each week the Fantasy Forecaster will also include some advice for the ESPN Hockey Challenge. This is the salary cap game that allows you free reign over your fantasy hockey decisions within a starting budget of $100 million in fantasy money. For more on the game and to sign up, click here.
Four-game teams: They don't exist this week. With three days of rest for the holidays, there are mostly three-game schedules in the NHL. Only the Detroit Red Wings, Los Angeles Kings, Montreal Canadiens and Philadelphia Flyers have two games, which does mean you might as well stay away from them in the Hockey Challenge. Absolutely avoid the Vancouver Canucks in the Hockey Challenge, who are the only team with just one game in the coming week. In fact, if your No. 1 goaltender is Roberto Luongo and you play in head-to-head formats, you are going to need to have a plan in place to reach your minimum. Given the schedule, all goaltenders except for Luongo, Carey Price and Steve Mason should be given equal weighting in your selection for the Hockey Challenge.
Streaking players with three games: With such an even footing and no real advantage in number of games in the NHL this week, look to the Forecaster to give you some ideas about who to add. As mentioned, the Devils and the Sharks have advantageous schedules next week, which should make Jaromir Jagr ($7.7M) or Patrick Marleau ($8.4M) strong choices for your lineup. If you are looking to earn some salary or save some salary, turn those names into Travis Zajac ($4.5M) or Martin Havlat ($3.6M). Other teams with strong Forecaster ratings on offense include the Pittsburgh Penguins, Washington Capitals and Chicago Blackhawks.
My roster for next week:
As of Friday, I'm in the 86.4 percentile for the ESPN Hockey Challenge, with 401 points. My personal salary cap is at $110.1M.

Marc-Andre Fleury, G, PIT - $12.5M
Tuukka Rask, G, BOS - $12.5M
Erik Karlsson, D, OTT - $9.2M
Kevin Shattenkirk, D, STL - $8.0M ($7.9M on market)
P.K. Subban, D, MTL - $7.8M ($8.5M on market)
Duncan Keith, D, CHI - $8.5M
Martin Havlat, F, SJ - $3.6M
Sidney Crosby, F, PIT - $10.3M ($10.4M on market)
Chris Kunitz, F, PIT - $9.2M
Phil Kessel, F, TOR - $9.1M
Jaromir Jagr, F, NJ - $7.7M
Travis Zajac, F, NJ - $4.5M
Sean Allen is a fantasy analyst for ESPN.com. He was the 2008 and 2009 Fantasy Sports Writers Association Hockey Writer of the Year. You can tweet him
@seanard
.
MOST SENT STORIES ON ESPN.COM