Fantasy Forecaster: Week 15
Updated:
January 3, 2014, 2:09 PM ET
By
Sean Allen
| Special to ESPN.com
Ed Mulholland-/USA TODAY SportsAdam Henrique got off to a slow start, but has emerged as a strong fantasy asset of late.
The ebb and flow of offensive lines in the NHL is always giving us new options to try out in fantasy hockey thanks to scoring line assignments. The return of injured players is definitely a factor that can kick a scoring line into gear, but there are countless other factors at play. However, when you see the return of an injured player in combination with a boost in production to a line, you can start to bet on good things going forward.
New Jersey Devils: It's been a while since Ryane Clowe and Adam Henrique were fantasy factors, but it seems that combining the two elements will be positive for both players. Clowe had a very down season from a fantasy perspective in 2013, not scoring a single goal with the San Jose Sharks. But he did show signs of his productive ability after a trade to the New York Rangers at the end of the season. Clowe never really got started this season before suffering a concussion in October. Meanwhile, Henrique had a stellar rookie season as the top-line pivot between Ilya Kovalchuk and Zach Parise for the Devils, but his production stumbled without the star players at his side last season. Henrique wasn't part of the line combinations that started clicking for the Devils at times this season, and he has struggled to just six goals and 14 points prior to Clowe's return.
Now on a line together with Michael Ryder, Clowe and Henrique are looking to return to being fantasy factors again. Henrique has goals in three consecutive games (four points total) since being lined up with Clowe. In fact, the trio accounted for both goals in the Devils' 2-1 win against the Pittsburgh Penguins on Tuesday. Clowe has great upside for fantasy owners, thanks to his penchant for penalty minutes to go along with the scoring, and Henrique's ceiling is very high if he is in the right situation. Both players, as well as Ryder, are worth looking into as additions to your team. Ryder is owned in 40 percent of ESPN leagues, but Henrique and Clowe are only owned in around 15 percent.
Columbus Blue Jackets: One game, one goal as a Blue Jacket for Nathan Horton. Offseason shoulder surgery delayed the free-agent signing's debut with his new team, but Horton made his arrival known with a goal in a Jackets' victory Thursday. The Blue Jackets already have mojo going on one line with Ryan Johansen, Nick Foligno and R.J. Umberger, and having Horton help the other line get going while it awaits the return of an injured Marian Gaborik would go a long way for the team. Brandon Dubinsky and Artem Anisimov are the initial linemates for Horton, but Anisimov could be replaced by Cam Atkinson at some point. Either way, there is enough skill and opportunity for Horton to carve out a fantasy niche in the coming weeks. The best part is that there is a potential payoff in late February or early March when Gaborik returns and potentially gives Horton a boost for the final few weeks of the season (fantasy crunch time).
Florida Panthers: The attention has (rightfully) been on Aleksander Barkov, Sean Bergenheim and Brad Boyes lately, but it's the other trio in the Panthers' top six that should be intriguing. It's likely that we've already missed the best of the hot streak from Barkov, Bergenheim and Boyes. On paper, they are supposed to be the second line, anyway. It's the struggling Tomas Fleischmann and Jonathan Huberdeau that fantasy owners want to see catch fire. Currently mired in a six-game scoring drought since a foot injury, Huberdeau has been useless for fantasy owners this season with 15 points. Fleischmann's 20 points are better, but still well below the 30 to 35 we had hoped for at this point in the season. One factor to look for will be the return of a healthy Scottie Upshall. Not normally a name fantasy owners pay attention to, Upshall has been a catalyst for the Panthers' offense this season, and he is expected to return on Saturday from an upper-body injury. With the BBB line working so well as a unit, it's possible Upshall will slide onto a line with Huberdeau and Fleischmann. He could be the kick-start that the two struggling scorers desperately need.
Team

Mon
1/6

Tue
1/7

Wed
1/8

Thu
1/9

Fri
1/10

Sat
1/11

Sun
1/12

Anaheim
DUCKS
OFF
BOS
O: 6
D: 5
OFF
@NSH
O: 5
D: 5
OFF
@PHO
O: 4
D: 5
DET
O: 6
D: 8
G: 4
H: 2
O: 6
D: 7
Boston
BRUINS
OFF
@ANA
O: 8
D: 7
OFF
@LA
O: 6
D: 8
OFF
@SJ
O: 8
D: 5
OFF
G: 3
H: 0
O: 6
D: 6
Buffalo
SABRES
OFF
CAR
O: 3
D: 6
OFF
FLA
O: 4
D: 8
OFF
OFF
@WSH
O: 1
D: 1
G: 3
H: 2
O: 2
D: 5
Calgary
FLAMES
@COL
O: 3
D: 2
@PHO
O: 4
D: 3
OFF
STL
O: 3
D: 4
OFF
PIT
O: 2
D: 4
OFF
G: 4
H: 2
O: 3
D: 4
Carolina
HURRICANES
OFF
@BUF
O: 5
D: 8
OFF
TOR
O: 5
D: 4
@CLS
O: 7
D: 5
OFF
OFF
G: 3
H: 1
O: 5
D: 5
Chicago
BLACKHAWKS
OFF
OFF
NYR
O: 9
D: 5
OFF
OFF
@MTL
O: 7
D: 6
EDM
O: 10
D: 7
G: 3
H: 2
O: 8
D: 6
Colorado
AVALANCHE
CGY
O: 6
D: 9
OFF
OTT
O: 7
D: 6
OFF
NYI
O: 9
D: 6
@MIN
O: 6
D: 6
OFF
G: 4
H: 3
O: 9
D: 8
Columbus
BLUE
JACKETS
@NYR
O: 5
D: 3
OFF
OFF
OFF
CAR
O: 6
D: 5
@WPG
O: 6
D: 5
OFF
G: 3
H: 1
O: 5
D: 4
Dallas
STARS
@NYI
O: 10
D: 4
OFF
OFF
@NJ
O: 6
D: 5
@NYR
O: 8
D: 4
OFF
NYI
O: 7
D: 5
G: 4
H: 1
O: 10
D: 6
Detroit
RED WINGS
OFF
OFF
OFF
@SJ
O: 7
D: 5
OFF
@LA
O: 5
D: 8
@ANA
O: 7
D: 6
G: 3
H: 0
O: 5
D: 6
Edmonton
OILERS
OFF
STL
O: 6
D: 1
OFF
OFF
PIT
O: 5
D: 1
OFF
@CHI
O: 5
D: 1
G: 3
H: 2
O: 5
D: 1
Florida
PANTHERS
@MTL
O: 1
D: 4
OFF
OFF
@BUF
O: 2
D: 8
OFF
@NJ
O: 1
D: 5
OFF
G: 3
H: 0
O: 1
D: 5
Los Angeles
KINGS
OFF
MIN
O: 4
D: 8
OFF
BOS
O: 3
D: 4
OFF
DET
O: 4
D: 7
OFF
G: 3
H: 3
O: 3
D: 6
Minnesota
WILD
OFF
@LA
O: 2
D: 5
OFF
@PHO
O: 5
D: 4
OFF
COL
O: 5
D: 6
@NSH
O: 5
D: 4
G: 4
H: 1
O: 5
D: 6
Montreal
CANADIENS
FLA
O: 7
D: 8
OFF
@PHI
O: 6
D: 7
OFF
OFF
CHI
O: 6
D: 2
OFF
G: 3
H: 2
O: 5
D: 6
Nashville
PREDATORS
OFF
SJ
O: 6
D: 1
OFF
ANA
O: 7
D: 2
OFF
OTT
O: 8
D: 2
MIN
O: 6
D: 4
G: 4
H: 4
O: 8
D: 3
New Jersey
DEVILS
OFF
PHI
O: 3
D: 9
OFF
DAL
O: 4
D: 9
OFF
FLA
O: 5
D: 10
@TOR
O: 8
D: 6
G: 4
H: 3
O: 6
D: 10
New York
ISLANDERS
DAL
O: 6
D: 4
@TOR
O: 6
D: 1
OFF
OFF
@COL
O: 5
D: 1
OFF
@DAL
O: 6
D: 2
G: 4
H: 1
O: 7
D: 3
New York
RANGERS
CLS
O: 6
D: 7
OFF
@CHI
O: 7
D: 3
OFF
DAL
O: 6
D: 6
OFF
PHI
O: 5
D: 6
G: 4
H: 3
O: 7
D: 6
Ottawa
SENATORS
OFF
OFF
@COL
O: 8
D: 2
OFF
OFF
@NSH
O: 10
D: 3
OFF
G: 2
H: 0
O: 5
D: 2
Philadelphia
FLYERS
OFF
@NJ
O: 5
D: 6
MTL
O: 2
D: 6
OFF
OFF
TB
O: 2
D: 7
@NYR
O: 6
D: 5
G: 4
H: 2
O: 4
D: 7
Phoenix
COYOTES
OFF
CGY
O: 7
D: 6
OFF
MIN
O: 6
D: 5
OFF
ANA
O: 7
D: 3
OFF
G: 3
H: 3
O: 6
D: 5
Pittsburgh
PENGUINS
OFF
@VAN
O: 6
D: 7
OFF
OFF
@EDM
O: 9
D: 7
@CGY
O: 8
D: 8
OFF
G: 3
H: 0
O: 7
D: 7
St. Louis
BLUES
OFF
@EDM
O: 9
D: 10
OFF
@CGY
O: 7
D: 10
@VAN
O: 6
D: 10
OFF
OFF
G: 3
H: 0
O: 7
D: 9
San Jose
SHARKS
OFF
@NSH
O: 7
D: 5
OFF
DET
O: 7
D: 7
OFF
BOS
O: 6
D: 4
OFF
G: 3
H: 2
O: 6
D: 5
Tampa Bay
LIGHTNING
OFF
@WPG
O: 5
D: 8
OFF
WSH
O: 8
D: 3
OFF
@PHI
O: 4
D: 8
OFF
G: 3
H: 1
O: 5
D: 6
Toronto
MAPLE LEAFS
OFF
NYI
O: 10
D: 3
OFF
@CAR
O: 7
D: 5
@WSH
O: 7
D: 1
OFF
NJ
O: 5
D: 4
G: 4
H: 2
O: 10
D: 4
Vancouver
CANUCKS
OFF
PIT
O: 1
D: 6
OFF
OFF
STL
O: 2
D: 6
OFF
OFF
G: 2
H: 2
O: 1
D: 4
Washington
CAPITALS
OFF
OFF
OFF
@TB
O: 7
D: 6
TOR
O: 10
D: 1
OFF
BUF
O: 9
D: 7
G: 3
H: 2
O: 8
D: 5
Winnipeg
JETS
OFF
TB
O: 5
D: 4
OFF
OFF
OFF
CLS
O: 8
D: 5
OFF
G: 2
H: 2
O: 4
D: 3
"O" (offense) and "D" (defense) matchup ratings are based upon a scale from 1 (poor matchup) to 10 (excellent matchup), and are calculated using a formula that evaluates the team's year-to-date and past 21 days' statistics, their performance in home/road games depending on where the game is to be played, as well as their opponents' numbers in those categories. The column on the right lists the team's total number of games played ("G") as well as home games ("H"), and lists the cumulative rating from 1-10 of that week's offensive ("O") and defensive ("D") matchups.
Ratings color scale

"Warmth" matchup colors are based only upon the team's offensive rating for the game or week in question.
1
2
3
4
5
6
7
8
9
10
Looking for offense
Colorado Avalanche: The Avs score an O:9 on the Forecaster with a schedule that includes some matchups against the shaky goaltending of the Calgary Flames and New York Islanders. Already in the midst of a disappointing season, P.A. Parenteau's injury may come as a relief for fantasy owners seeking an excuse to remove him from their lineups. But his injury does offer a chance for someone to replace him and find a groove on a top scoring line, although that has not been coach Patrick Roy's theory so far. In a 2-1 Avalanche victory against the Philadelphia Flyers on Thursday, Roy mixed in Matt Duchene, Nathan MacKinnon and Jamie McGinn across two lines with bottom-six forwards including Max Talbot, John Mitchell and Cody McLeod. We have to think that this depth chart won't last if the Avs want more than two goals a night, but if it does the fantasy prospects of Duchene, MacKinnon and McGinn suffer.
That said, look for a line of Duchene, McGinn and MacKinnon to be formed before too long, and feel free to lean on McGinn as an option for next week (assuming we've seen the line by this weekend). But even if you don't, McGinn is playing on the top power-play unit with Duchene and Ryan O'Reilly, so he makes a good roll for next week regardless.
Nashville Predators: The Preds have a comfortable four-game home stand next week that rates a solid O:8 on the Forecaster. If there was ever a time to roll with some of this ever-changing offense, it is now. While Mike Fisher is arguably the only constant for fantasy owners to consider among the Preds forward ranks, there are plenty of minor options from which to choose during a good week. Craig Smith is chief among them at the moment.
[+] Enlarge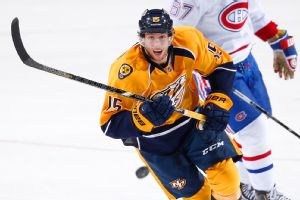 John Russell/NHLI/Getty ImagesCraig Smith's hot streak and key role puts him on squarely on the fantasy radar screen.
Since suffering a bout of the flu and being a healthy scratch for three games in December, Smith has eight points in nine games. More importantly, he is playing a key role on Barry Trotz's power play. Four of his eight points have been on the power play during his current hot streak, but another one of Smith's goals came in the same moment someone left the box (Dec. 19 against the Tampa Bay Lightning), so we could count that as five of eight points when arguing his merits for fantasy owners. Smith takes a lot of shots on goal when he is on his game and can stay streaky for extended periods of time. Next week is a great time to roll him in your lineup.
Patric Hornqvist and Colin Wilson, who both play on the top line with Fisher, are also good choices for the coming week. Matt Cullen is a long shot for deeper leagues as a power-play specialist.
Looking for defensemen
Andrew MacDonald, D, New York Islanders: The Isles have needed a power-play pointman to step up since Lubomir Visnovsky's injury has lingered, and they have found one where they probably least expected. Already familiar to fantasy owners that use blocked shots as a category, MacDonald is showing his offensive abilities lately, both manning the point on the power play and making stretch passes to a group of red-hot Isles forwards. MacDonald has five points in the past three games, as the team has knocked off heavyweights in the standings that include the Boston Bruins, Chicago Blackhawks and Minnesota Wild.
Kevin Connauton, D, Dallas Stars: A power-play specialist ready to try and earn an NHL role at the age of 23, Connauton has a lot of upside when it comes to an area the Stars specifically have lacked this season. Just when Sergei Gonchar was starting to finally give the team some scoring from the blue line, he suffered a concussion. Alex Goligoski has had some moments, but been an overall disappointment. Connauton has the skills and is now being afforded the opportunity to do something about it. With five points in 15 games (with minimal ice time), Connauton is already showing his offensive skills. Watch for a spike in ice time in the immediate future as a reason to grab him.
Looking for goaltending
Brian Elliott, G, St. Louis Blues: Blues coach Ken Hitchcock has shown that he is more than happy to ride the hot hand in goal, especially with this specific duo of Jaroslav Halak and Elliott. That means you can throw the fact that Halak has been the No. 1 goalie almost all season right out the window when it comes to assessing what comes next. Elliott is hot, and he will get a ton of work in the crease so long as he remains hot. And remember, Elliott has the skills to stay hot, as he did for the entirety of the 2011-12 season.
Anton Khudobin, G, Carolina Hurricanes: Since Khudobin suffered an injury early this season, fantasy owners have been waiting for his return to continue his attempted coup of the Hurricanes' crease. Well, Cam Ward made it easy on him by suffering a lower-body injury just in time for Khudobin on Thursday to have the first positive fantasy start (win and three or fewer goals allowed) in the team's crease since Justin Peters on Dec. 14. It was looking like Khudobin would give Ward a run for his money in October before both of the netminders suffered injury, and it looks like he will press for more playing time again now that he is healthy. If Elliott is already gone in your league, you might try giving Khudobin a whirl.
Hockey Challenge
Each week the Fantasy Forecaster will also include some advice for the ESPN Hockey Challenge. This is the salary cap game that allows you free reign over your fantasy hockey decisions within a starting budget of $100 million in fantasy money. For more on the game and to sign up, click here.
Schedule notes: The Anaheim Ducks, Calgary Flames, Colorado Avalanche, Dallas Stars, Minnesota Wild, Nashville Predators, New Jersey Devils, New York Islanders, New York Rangers, Philadelphia Flyers and Toronto Maple Leafs all have a four-game schedule for next week, meaning owners have a wealth of players to choose from without giving up any games-in-hand in the Hockey Challenge. Jonas Hiller ($12.2M), Kari Lehtonen ($11.5M), Josh Harding ($11.0M), Steve Mason ($11.5M) and possibly even Jonathan Bernier ($10.7M) all look like rock-solid options in goal for teams with four games. Beware the Ottawa Senators, Vancouver Canucks and Winnipeg Jets, as these teams only have two games next week.
Hot streaks: The Ducks have been ice-cold on the power play lately, but boast too much talent to stay down for long. Cam Fowler ($7.2M), Ryan Getzlaf ($9.8M) and Corey Perry ($10.0M) are all due for a spurt in production that could also help kick up your salary. Already hot and heading into next week's four-game slate, the Isles are a good place to look for some offense. John Tavares ($9.7M) and Thomas Vanek ($8.4M) are the expensive options, but Kyle Okposo ($6.6M) might gain you some salary cap space, too.
My roster for next week:
As of Friday, I'm in the 86.2 percentile for the ESPN Hockey Challenge, with 466 points. My personal salary cap is at $114.4M.
Jonas Hiller, G, ANH - $12.2M
Jonathan Bernier, G, TOR - $10.7M
Cam Fowler, D, ANH - $7.2M
Ryan Suter, D, MIN - $8.5
Shea Weber, D, NSH - $8.3M ($8.4M on market)
Andrew MacDonald, D, NYI - $5.6M
Claude Giroux, F, PHI - $9.5M ($9.7M on market)
Jakub Voracek, F, PHI - $7.9M ($8.1M on market)
Kyle Okposo, F, NYI - $6.6M
John Tavares, F, NYI - $9.7M
Ryan Getzlaf, F, ANH - $9.8M
Corey Perry, F, ANH - $10.0M
Sean Allen is a fantasy analyst for ESPN.com. He was the 2008 and 2009 Fantasy Sports Writers Association Hockey Writer of the Year. You can tweet him
@seanard
.
MOST SENT STORIES ON ESPN.COM