Fantasy Forecaster: Week 18
Suggestions on where to find those elusive penalty minutes
Updated:
January 24, 2014, 12:57 PM ET
By
Sean Allen
| Special to ESPN.com
Where have all the penalty minutes gone?
Tom Sestito is on pace to break 200 PIM this season, but he is the only one on track to hit that mark. He is also on pace to lead the league with 25 major penalties, but no one else is on pace for even 19. It used to be that several guys would go over the 20-major threshold, with a few approaching or surpassing 30. But that isn't the trend lately. Brandon Prust and Shawn Thornton led the league with 20 majors the last time we had a full NHL season (2011-12).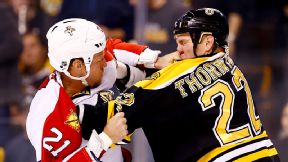 Jared Wickerham/Getty ImagesShawn Thornton can rack up penalty minutes with the best of them, but his average ice time will do significant damage to a fantasy team.
But despite the gloom and doom of the opening line of this article, the penalty minute is alive and well in the form of five-minute majors, at least compared to the last full season we had. There were 1,136 majors handed out in 2011-12. This season, 683 have been assessed through the games of Jan. 22. So through 61.5 percent of the NHL season, the number of majors handed out is 60.1 percent of the total in 2011-12. That's close enough to call it even.
One thing that is changing is the players who are receiving those fighting majors. In 2011-12, 51 players had at least seven major penalties. So far this season, 66 players are on pace for seven majors. Given that Sestito is the only fighter headed for more than 20 major penalties and the larger distribution of players earning multiple fights, we can start to wonder if the "goon" -- for fantasy hockey purposes and regular hockey purposes -- is a thing of the past.
Well, starting with 1,469 major penalties in 2009-10, there was a 9 percent drop to 1,341 in 2010-11, which dropped another 15 percent to 1,136 in 2011-12. There may be an ebb and flow to this if someone were to crunch the numbers further back, but the recent trend is for fewer designated "fighters" to help boost fantasy teams in the PIM department.
Not using a goon has become even more important with the ESPN standard game and some other leagues adopting average ice time as a statistic. When you have average ice time as an element, it is very difficult to justify filling a roster spot with a guy who will only play five to 10 minutes per night.
Where does this leave us when it comes to PIM in fantasy hockey? Well, it's the dawn of the age of the minor penalty. If you can't get your PIM through fighters without damaging your chances in other categories, it's time to start getting your PIM through hooks, trips, interference and the other little things. But you still have to be selective in acquiring your PIM. The biggest factor is definitely to make sure your player is putting in enough ice time to avoid hurting your average ice time category.
But you don't want to throw all the fighters out with the bathwater either. There are still enough fights in the NHL that you can find a way to collect some of them on your roster. One fight can be a fluke, two fights might be a couple of rare temper flares, but three fights through 60 percent of this season and you can probably bet on more to come.
So here is the exercise and reveal: We want players who have at least three fighting majors, play more than the league average of 16:32 per game and go fewer than three games between minor penalties. How many players do you think are on this list of players to target if you want to make up ground in the PIM category?
Four. And we can recommend only three of them for your fantasy roster in good conscience.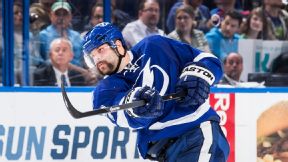 Scott Audette/Getty ImagesThough he's converted his impressive mustache back into a full beard, Radko Gudas remains a tantalizing fantasy blueliner across the board.
Radko Gudas, D, Tampa Bay Lightning: With 28 minor penalties, Gudas is second only to Dion Phaneuf in that category. Add in the four major penalties, misconduct and gross misconduct that Gudas has collected this season and the fantasy value becomes somewhat obvious. We've been supportive of Gudas as an option this season, but we should unequivocally state that he should be your No. 1 target if PIM is where you need to focus your efforts. His 20:08 of ice time per game is low for a defenseman, but still well above the overall league average, so it shouldn't hurt you too much in that department.
Nick Foligno, F, Columbus Blue Jackets: Foligno is the only forward that meets our criteria. He takes a minor penalty every 2.5 games, has four fighting majors and plays 16:33 per contest. Consider it a bonus that he also has 27 points and is on pace for 47. His line with Ryan Johansen and R.J. Umberger is going to stick together for the foreseeable future, and it's producing at a healthy clip. Foligno can not only boost your PIM, but he can throw in some value as a forward as well.
Kevin Bieksa, D, Vancouver Canucks: The boost against the Calgary Flames last weekend certainly helped, but Bieksa was already in good standing in all three areas before that game. With 21 minor penalties and four fighting majors, Bieksa has plenty of PIM to go around. Considering he averages a very respectable 22:25 of ice time, he won't hurt you in that category (and that average ice time is lowered because of his two seconds of ice time last week against the Flames). Bieksa contributes a bit offensively too.
The fourth player that hits all three criteria is Eric Brewer, who has three fighting majors and 17 minors. But with only eight assists, no goals and minimal shots on goal, it's difficult to recommend him. He barely makes the qualification for minor penalties anyway.
Though they don't fight enough to offer much in the way of bonus PIM, Martin Hanzal, David Backes and Phaneuf are also great trade targets for help in this category. Hanzal and Phaneuf might even be possible to acquire (Backes' owner probably isn't shopping him). Alex Burrows could be considered a sleeper that might even be available on your waiver wire. He has one fight and eight minor penalties in just 18 games this season. If you are less concerned with average ice time as a category (if your league doesn't use it, say), Steve Downie and Antoine Roussel perform well in the minor and major penalty categories.
Team

Mon
1/27

Tue
1/28

Wed
1/29

Thu
1/30

Fri
1/31

Sat
2/1

Sun
2/2

Anaheim
DUCKS
OFF
MIN
O: 10
D: 9
OFF
PHI
O: 10
D: 7
OFF
DAL
O: 10
D: 8
OFF
G: 3
H: 3
O: 10
D: 8
Boston
BRUINS
@NYI
O: 8
D: 5
FLA
O: 6
D: 9
OFF
MTL
O: 4
D: 7
OFF
EDM
O: 7
D: 6
OFF
G: 4
H: 3
O: 8
D: 9
Buffalo
SABRES
@PIT
O: 2
D: 2
WSH
O: 3
D: 3
OFF
@PHO
O: 4
D: 4
OFF
@COL
O: 3
D: 4
OFF
G: 4
H: 1
O: 3
D: 4
Calgary
FLAMES
OFF
CHI
O: 3
D: 3
OFF
SJ
O: 2
D: 4
OFF
MIN
O: 3
D: 6
OFF
G: 3
H: 3
O: 1
D: 4
Carolina
HURRICANES
CLS
O: 5
D: 3
@MTL
O: 3
D: 6
OFF
OFF
STL
O: 2
D: 3
OFF
OFF
G: 3
H: 2
O: 2
D: 3
Chicago
BLACKHAWKS
OFF
@CGY
O: 9
D: 8
@VAN
O: 8
D: 7
OFF
OFF
@SJ
O: 6
D: 5
OFF
G: 3
H: 0
O: 7
D: 7
Colorado
AVALANCHE
@DAL
O: 8
D: 5
OFF
OFF
MIN
O: 6
D: 7
OFF
BUF
O: 6
D: 8
OFF
G: 3
H: 2
O: 6
D: 7
Columbus
BLUE
JACKETS
@CAR
O: 7
D: 6
OTT
O: 7
D: 4
OFF
WSH
O: 9
D: 4
OFF
FLA
O: 7
D: 9
OFF
G: 4
H: 3
O: 10
D: 7
Dallas
STARS
COL
O: 5
D: 4
OFF
OFF
NJ
O: 3
D: 6
OFF
@ANA
O: 7
D: 1
OFF
G: 3
H: 2
O: 4
D: 3
Detroit
RED WINGS
OFF
@PHI
O: 4
D: 7
OFF
OFF
WSH
O: 6
D: 3
OFF
@WSH
O: 6
D: 6
G: 3
H: 1
O: 5
D: 5
Edmonton
OILERS
@VAN
O: 1
D: 5
OFF
SJ
O: 6
D: 1
OFF
OFF
@BOS
O: 4
D: 4
OFF
G: 3
H: 1
O: 3
D: 3
Florida
PANTHERS
OFF
@BOS
O: 1
D: 6
OFF
@TOR
O: 4
D: 3
OFF
@CLS
O: 3
D: 4
OFF
G: 3
H: 0
O: 1
D: 4
Los Angeles
KINGS
@SJ
O: 2
D: 6
@PHO
O: 5
D: 7
OFF
PIT
O: 3
D: 5
OFF
PHI
O: 4
D: 7
OFF
G: 4
H: 2
O: 3
D: 8
Minnesota
WILD
OFF
@ANA
O: 3
D: 2
OFF
@COL
O: 3
D: 4
OFF
@CGY
O: 4
D: 7
OFF
G: 3
H: 0
O: 2
D: 4
Montreal
CANADIENS
OFF
CAR
O: 6
D: 6
OFF
@BOS
O: 5
D: 6
OFF
TB
O: 4
D: 6
WPG
O: 5
D: 8
G: 4
H: 3
O: 6
D: 8
Nashville
PREDATORS
OFF
@WPG
O: 6
D: 7
OFF
OFF
NJ
O: 4
D: 4
@STL
O: 5
D: 4
OFF
G: 3
H: 1
O: 4
D: 5
New Jersey
DEVILS
OFF
@STL
O: 5
D: 3
OFF
@DAL
O: 7
D: 5
@NSH
O: 6
D: 5
OFF
OFF
G: 3
H: 0
O: 5
D: 5
New York
ISLANDERS
BOS
O: 6
D: 5
OFF
NYR
O: 7
D: 3
OFF
@NYR
O: 6
D: 2
OFF
OFF
G: 3
H: 2
O: 6
D: 3
New York
RANGERS
OFF
OFF
@NYI
O: 9
D: 5
OFF
NYI
O: 7
D: 5
OFF
OFF
G: 2
H: 1
O: 4
D: 3
Ottawa
SENATORS
OFF
@CLS
O: 10
D: 4
OFF
TB
O: 5
D: 3
OFF
@TOR
O: 10
D: 3
OFF
G: 3
H: 1
O: 9
D: 2
Philadelphia
FLYERS
OFF
DET
O: 5
D: 7
OFF
@ANA
O: 7
D: 3
OFF
@LA
O: 5
D: 6
OFF
G: 3
H: 1
O: 5
D: 6
Phoenix
COYOTES
OFF
LA
O: 5
D: 5
OFF
BUF
O: 7
D: 6
OFF
PIT
O: 6
D: 1
OFF
G: 3
H: 3
O: 6
D: 3
Pittsburgh
PENGUINS
BUF
O: 8
D: 10
OFF
OFF
@LA
O: 6
D: 5
OFF
@PHO
O: 9
D: 3
OFF
G: 3
H: 1
O: 7
D: 6
St. Louis
BLUES
OFF
NJ
O: 6
D: 6
OFF
OFF
@CAR
O: 9
D: 9
NSH
O: 8
D: 6
OFF
G: 3
H: 2
O: 7
D: 7
San Jose
SHARKS
LA
O: 4
D: 9
OFF
@EDM
O: 7
D: 7
@CGY
O: 6
D: 9
OFF
CHI
O: 6
D: 6
OFF
G: 4
H: 2
O: 7
D: 10
Tampa Bay
LIGHTNING
OFF
@TOR
O: 8
D: 5
OFF
@OTT
O: 7
D: 5
OFF
@MTL
O: 4
D: 7
OFF
G: 3
H: 0
O: 6
D: 6
Toronto
MAPLE LEAFS
OFF
TB
O: 7
D: 1
OFF
FLA
O: 9
D: 5
OFF
OTT
O: 9
D: 1
OFF
G: 3
H: 3
O: 8
D: 1
Vancouver
CANUCKS
EDM
O: 7
D: 10
OFF
CHI
O: 4
D: 5
OFF
@WPG
O: 4
D: 7
OFF
OFF
G: 3
H: 2
O: 4
D: 7
Washington
CAPITALS
OFF
@BUF
O: 8
D: 9
OFF
@CLS
O: 8
D: 4
@DET
O: 6
D: 5
OFF
DET
O: 6
D: 4
G: 4
H: 1
O: 9
D: 7
Winnipeg
JETS
OFF
NSH
O: 8
D: 4
OFF
OFF
VAN
O: 4
D: 6
OFF
@MTL
O: 1
D: 7
G: 3
H: 2
O: 3
D: 6
"O" (offense) and "D" (defense) matchup ratings are based on a scale from 1 (poor matchup) to 10 (excellent matchup) and are calculated using a formula that evaluates the team's year-to-date and past 21 days' statistics, their performance in home/road games depending on where the game is to be played, as well as their opponents' numbers in those categories. The column on the right lists the team's total number of games played (G), home games (H), and lists the cumulative rating from 1 to 10 of that week's offensive (O) and defensive (D) matchups.
Ratings color scale

"Warmth" matchup colors are based on only the team's offensive rating for the game or week in question.
1
2
3
4
5
6
7
8
9
10
Looking for offense
Columbus Blue Jackets: We like Jack Johnson when he's angry. As pointed out in the Week 15 Fantasy Grapevine

here on ESPN.com, Johnson was not pleased with being left off the U.S. Olympic roster and was a good fantasy target because of it. Well, seven points in his past six games certainly agrees with that prediction. Certainly, having Nathan Horton and Sergei Bobrovsky back to launch an eight-game win streak has helped too, but it's more fun to think that it's because Johnson is angry.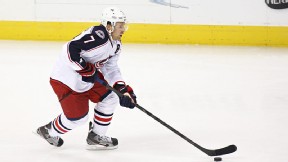 Russell Lansford/Icon SMISince being snubbed for Team USA, Jack Johnson has been on a tear.
Either way, fantasy owners will take it. Johnson is being scooped up left and right in fantasy leagues, with his ownership previously dwindling to 11 percent. Jump on board, as the Blue Jackets have a great O:10 for a four-game set on the Forecaster next week. The Jackets play the Carolina Hurricanes, Ottawa Senators, Washington Capitals and Florida Panthers -- not teams near the top of the league for goaltending (though all four teams have been better lately).
It's also not too late to get on the Nathan Horton express. Available in 19 percent of ESPN leagues, Horton has been a game-changer for the Blue Jackets. The team has lost only one game with Horton in the lineup since he returned Jan. 2 from offseason shoulder surgery. Seven points in 10 games isn't lighting the world on fire, but it's enough for Horton to be very playable in fantasy leagues. Don't forget that a boost is coming for Horton's value when Marian Gaborik returns from his broken collarbone.
Finally, we'll mention Ryan Murray for the second week in a row. The young defenseman has a very bright future and is showing signs of what is to come during the Blue Jackets' current hot streak. He could be worth an investment as long as the schedule remains conducive to scoring.
Ottawa Senators: The Sens are worth mentioning because the schedule looks good on the Forecaster, but note that you would be swinging for the fences by trying to pick up some Senators for your roster. The only players relevant to fantasy hockey are all owned in 100 percent of leagues. If you are desperate and have a good feeling about the Sens -- above and beyond the Forecaster -- then Milan Michalek and Mika Zibanejad should be your Hail Mary targets. Beyond that, make sure you start the entire top power-play unit of Erik Karlsson, Kyle Turris, Clarke MacArthur, Bobby Ryan and Jason Spezza.
Washington Capitals: The results aren't there for fantasy owners yet, but Marcus Johansson is still the best bet when the Caps have a good schedule. After an experiment with some different lines, coach Adam Oates has gone back to Johansson as his choice on the ice with Nicklas Backstrom and Alex Ovechkin. While Ovechkin missed Tuesday's contest, he is not expected to be out long (and could even return Friday). That means Johansson would be the target for a week when the Capitals have an O:9 for four games. Deeper leagues can also look at Troy Brouwer, who jumps onto the top power-play unit with Ovechkin, Backstrom and Johansson.
Looking for defensemen
Andrej Meszaros, D, Philadelphia Flyers: What is going on with Meszaros? He has 15 points this season, and 11 have come in the past 12 games. It would seem that coach Craig Berube likes to have Meszaros and Luke Schenn share the ice with Brayden Schenn, Wayne Simmonds and Scott Hartnell. That should help explain the outburst and give you the confidence needed to consider rolling Meszaros, at least for as long as Simmonds and Hartnell are cooking. Simmonds has been on the ice for nine of Meszaros' 15 points this season.
Alexander Edler, D, Vancouver Canucks: It's obvious that Edler is being babied back into action, especially since he was so ineffective before his injury. But the Swede has skills, and there are plenty of opportunities for him to deploy them. Edler is already working his way back into power-play time and, though his ice time has been low, it is starting to creep up again. It should be only a matter of time before Edler starts looking like himself again. Perhaps heading to the Olympics will be the key, but now is the time to get him on your team before anyone else notices he is back.
Looking for goaltending
Darcy Kuemper, G, Minnesota Wild: We are getting a better sense on Josh Harding and loose confirmation that his multiple sclerosis is the problem, but Kuemper looks like more than just a short-term option. Niklas Backstrom has underwhelmed at every turn this season, and Harding's issues go beyond the hockey realm. We hope he can come back soon to resume being the NHL's leader in goals-against average, but that is not guaranteed with his condition.
The Wild may have to ride Kuemper for a while, but the good news is that he's generally performed admirably. The only real troubling hiccup on his résumé since taking over full-time duty on Jan. 12 has been the four-goal loss to the Dallas Stars on Tuesday. But if you'll note that the Stars hung seven on the Toronto Maple Leafs on Thursday, allowing four goals isn't so bad. Kuemper has a number of gems mixed in, as well as the full confidence of coach Mike Yeo. Fingers are crossed for Harding, but it's time to roll with Kuemper.
Hockey Challenge
Each week the Fantasy Forecaster will also include some advice for the ESPN Hockey Challenge. This is the salary-cap game that allows you free rein over your fantasy hockey decisions within a starting budget of $100 million in fantasy money. For more on the game and to sign up, click here.
Schedule: Four-game teams include the Boston Bruins, Buffalo Sabres, Blue Jackets, Los Angeles Kings, Montreal Canadiens, San Jose Sharks and Capitals. That gives fantasy owners in the Hockey Challenge a few good options in goal, including Ryan Miller ($10.0M), Tuukka Rask ($12.3M) and, most notably, Sergei Bobrovsky ($12.4M). In fact, Bobrovsky is still on the rise for his price and should boost your salary cap this week. With four games, Drew Doughty ($8.8M) and P.K. Subban ($8.6M) become no-brainers for your defense, while Dustin Byfuglien ($9.3M) is a strong option as long as he is playing forward.
Hot streaks: The Bruins' second line is on fire, making Patrice Bergeron ($7.8M), Brad Marchand ($7.0M) and Reilly Smith ($7.2M) all reasonably priced options on a four-game week. Whenever the Capitals have a good schedule, Alex Ovechkin ($9.9M) needs to be in your lineup too. As hot as Rick Nash ($8.1M) has been, the New York Rangers have only two games next week.
My roster for next week:
As of Friday, I'm in the 89.1 percentile for the ESPN Hockey Challenge, with 588 points. My personal salary cap is at $120.1M.
Sergei Bobrovsky, G, CBJ - $12.4M
Tuukka Rask, G, BOS - $12.3M
P.K. Subban, D, MTL - $8.6M
Drew Doughty, D, LAK - $8.8M
Jack Johnson, D, CBJ - $7.0M
Dustin Byfuglien, D, WPG - $9.1M ($9.3M on market)
Patrice Bergeron, F, BOS - $7.8M
Brad Marchand, F, BOS - $7.0M
Sidney Crosby, F, PIT - $11.0M
Patrick Kane, F, CHI - $10.0M
John Tavares, F, NYI - $9.7M ($10.3M on market)
Alex Ovechkin, F, WAS - $9.7M ($9.9M on market)
Sean Allen is a fantasy analyst for ESPN.com. He was the 2008 and 2009 Fantasy Sports Writers Association Hockey Writer of the Year. You can tweet him
@seanard
.
SPONSORED HEADLINES
FANTASY TOP HEADLINES
MOST SENT STORIES ON ESPN.COM