Fantasy Forecaster: Week 19
Hints for those needing help in the goaltending categories
Updated:
January 31, 2014, 4:17 PM ET
By
Sean Allen
| Special to ESPN.com
It's all a matter of perspective. As we hit the two-thirds mark of the 2013-14 season, it certainly feels like there has been more goaltender turnover than in past seasons. Injuries to top starters have opened doors, and young backups have seized opportunities. It certainly feels like this season has been different than recent ones when it comes to goaltending.
But it hasn't been that much different.
There are 13 goaltenders on pace to start 60 games this season (60 games is just shy of the 75 percent workload threshold). Last season, there were 15 goalies to start the equivalent of 60 games (prorating for the 48-game slate). There were 15 the season before that, and 15 the season before that. So, when it comes to the heavy-workload guys, we had three straight seasons of 15 goalies in the cohort, followed by maybe only 13 this season. That's not a big drop, especially since that is still more workhorse goaltenders in the NHL than teams in most fantasy leagues.
What has dropped during the past few seasons is how many decent No. 2 fantasy goaltenders have been available. If a goaltender starts 50 or more games, they have at least a 60-40 split of the netminding duties for their NHL team. In 2010-11, there were 26 goaltenders to take on that role (that's two for every team in a 12-team fantasy league). That dropped to 24 in 2011-12 (still enough to go around), dropped to 22 last season (prorated for lockout) and we are on pace for only 20 this season. That does seem to point to a well of No. 2 goaltenders that is running a bit dry. Don't buy it? You can ask the guy in your fantasy league that has had Carter Hutton, Ben Scrivens, Martin Jones, Curtis McElhinney, Jonas Gustavsson, Justin Peters, Eddie Lack, Cam Talbot, Antti Raanta, Anton Khudobin, Frederik Andersen and Philipp Grubauer all on his roster at different times this season if he is jealous of Semyon Varlamov's owner. Or the guy who has been stuck juggling Evgeni Nabokov with Steve Mason and Tim Thomas as their No. 2.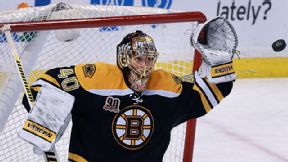 Jim Davis/The Boston Globe via Getty ImagesBruins goalie Tuukka Rask has been the only highly drafted netminder to consistently deliver the goods for his fantasy owners.
The fact that Tuukka Rask is the only top-five goaltender coming into this season who has been returning value all season is also illustrative of the frustrations with which fantasy owners have had to deal in 2013-14. Sure, Henrik Lundqvist, Craig Anderson and Jonathan Quick have all turned a corner, but it's possible that they turned it too late to help those that drafted them early this season. No, it's the fantasy owners that gambled with midround picks like Marc-Andre Fleury or Varlamov who are reaping rewards in their league. Or those that took a late-round gamble on Ben Bishop that are grinning from ear to ear.
It's a profound fantasy hockey question that will take a lot more research and trend-mapping before we can answer it, but one thing is for sure, you can't have enough goaltenders on your bench this season, because you never know who is going to emerge.
From the undrafted Josh Harding, Mason, Khudobin and Scrivens, to the late-round selections like Bishop, Varlamov and Ryan Miller, a fantasy owner did not need to go after goaltenders early in their draft this season in order to reap rewards.
But what is interesting to see is that when one looks at the ESPN Player Rater for the past 30 days, as opposed to the whole season, a different picture emerges. Instead of Bishop, Harding and Varlamov at the top, we have Cory Schneider, Jaroslav Halak, Lundqvist and Sergei Bobrovsky all in the top five. Quick is also in the top 10. That's five goalies who were predicted to be top dogs this season who have been leading the charge for the past month into this final week before the Olympic break.
That's great for the owners of those goaltenders, but what about the rest of us? Well, things continue to be about as clear as mud. Scrivens stopped more pucks in a game than Jonas Hiller stops in a week. Khudobin now has Cam Ward activated from the injured reserve and looking to earn back his job. Bishop suffered an apparent head injury Thursday night. Harding is aiming for a return following the Olympic break. Even Tomas Vokoun is facing shots in practice.
So what's the advice this week? Pick up Scrivens (available in 56 percent of ESPN leagues) and Harding (available in 45 percent of ESPN leagues). Yes, the Edmonton Oilers' defense is terrible, but Scrivens seems to thrive under pressure. With Harding, you only have to carry dead weight for potentially one more week before he is supposed to return from the Olympic break. If he does, you have potentially the best goaltender in the league for the stretch run. If he doesn't, you've only cost yourself a week of burning a roster spot on him.
In deeper leagues, pick up Anders Lindback (available in 99 percent of ESPN leagues) and Cam Ward (available in 74 percent of ESPN leagues). You never know with head injuries, and although Lindback has been underwhelming while spelling Bishop at other times, the Tampa Bay Lightning are about to get Steven Stamkos back, if not this week, certainly after the break. Khudobin has been nothing short of stellar and should remain the starter, but Ward has a lot of history as the organization's top dog. He could fight his way back to relevance.
Speaking of Stamkos, remember that this is a short week because of the Olympic break. Stamkos isn't there in your league, but picking up injured players on the verge of a return should be done immediately. You only have to eat about three or four more games of missed time before they get an additional two weeks of recovery time that doesn't hurt your fantasy team. Go get Marian Gaborik (available in 61 percent of ESPN leagues), Johan Franzen (37 percent), Mikko Koivu (22 percent), Pekka Rinne (40 percent) and even Mike Cammalleri (88 percent).
Team

Mon
2/3

Tue
2/4

Wed
2/5

Thu
2/6

Fri
2/7

Sat
2/8

Sun
2/9

Anaheim
DUCKS
CLS
O: 10
D: 7
OFF
CHI
O: 9
D: 5
OFF
OFF
@NSH
O: 7
D: 6
OFF
G: 3
H: 2
O: 8
D: 6
Boston
BRUINS
OFF
VAN
O: 5
D: 8
OFF
@STL
O: 5
D: 5
OFF
OTT
O: 7
D: 4
OFF
G: 3
H: 2
O: 5
D: 6
Buffalo
SABRES
EDM
O: 5
D: 4
OFF
PIT
O: 3
D: 2
@OTT
O: 5
D: 3
OFF
OFF
OFF
G: 3
H: 2
O: 3
D: 2
Calgary
FLAMES
OFF
@MTL
O: 3
D: 3
OFF
@NYI
O: 6
D: 2
OFF
@PHI
O: 5
D: 1
OFF
G: 3
H: 0
O: 4
D: 1
Carolina
HURRICANES
OFF
WPG
O: 4
D: 6
OFF
OFF
FLA
O: 5
D: 8
MTL
O: 2
D: 6
OFF
G: 3
H: 3
O: 3
D: 7
Chicago
BLACKHAWKS
@LA
O: 5
D: 8
OFF
@ANA
O: 7
D: 4
OFF
@PHO
O: 9
D: 5
OFF
OFF
G: 3
H: 0
O: 7
D: 6
Colorado
AVALANCHE
@NJ
O: 5
D: 5
@NYR
O: 7
D: 5
OFF
@PHI
O: 7
D: 4
OFF
@NYI
O: 9
D: 5
OFF
G: 4
H: 0
O: 8
D: 7
Columbus
BLUE
JACKETS
@ANA
O: 5
D: 3
OFF
OFF
@LA
O: 3
D: 7
@SJ
O: 3
D: 5
OFF
OFF
G: 3
H: 0
O: 2
D: 5
Dallas
STARS
OFF
@PHO
O: 7
D: 4
@SJ
O: 4
D: 5
OFF
OFF
PHO
O: 6
D: 5
OFF
G: 3
H: 1
O: 6
D: 4
Detroit
RED WINGS
VAN
O: 3
D: 7
OFF
OFF
@FLA
O: 6
D: 9
OFF
@TB
O: 4
D: 7
OFF
G: 3
H: 1
O: 3
D: 9
Edmonton
OILERS
@BUF
O: 5
D: 7
OFF
OFF
@NYR
O: 4
D: 5
@NJ
O: 2
D: 5
OFF
OFF
G: 3
H: 0
O: 2
D: 6
Florida
PANTHERS
OFF
TOR
O: 4
D: 2
OFF
DET
O: 3
D: 5
@CAR
O: 3
D: 5
OFF
OFF
G: 3
H: 2
O: 2
D: 4
Los Angeles
KINGS
CHI
O: 3
D: 5
OFF
OFF
CLS
O: 5
D: 6
OFF
OFF
OFF
G: 2
H: 2
O: 1
D: 3
Minnesota
WILD
OFF
TB
O: 4
D: 7
OFF
NSH
O: 6
D: 6
OFF
OFF
OFF
G: 2
H: 2
O: 2
D: 4
Montreal
CANADIENS
OFF
CGY
O: 6
D: 7
OFF
VAN
O: 2
D: 9
OFF
@CAR
O: 7
D: 8
OFF
G: 3
H: 2
O: 4
D: 9
Nashville
PREDATORS
OFF
OFF
OFF
@MIN
O: 6
D: 6
OFF
ANA
O: 5
D: 1
OFF
G: 2
H: 1
O: 2
D: 2
New Jersey
DEVILS
COL
O: 5
D: 9
OFF
OFF
OFF
EDM
O: 6
D: 10
@WSH
O: 7
D: 5
OFF
G: 3
H: 2
O: 6
D: 9
New York
ISLANDERS
OFF
@WSH
O: 7
D: 1
OFF
CGY
O: 7
D: 6
OFF
COL
O: 6
D: 4
OFF
G: 3
H: 2
O: 6
D: 2
New York
RANGERS
OFF
COL
O: 4
D: 5
OFF
EDM
O: 5
D: 7
@PIT
O: 4
D: 5
OFF
OFF
G: 3
H: 2
O: 3
D: 6
Ottawa
SENATORS
@PIT
O: 9
D: 2
@STL
O: 9
D: 3
OFF
BUF
O: 6
D: 6
OFF
@BOS
O: 10
D: 3
OFF
G: 4
H: 1
O: 10
D: 4
Philadelphia
FLYERS
@SJ
O: 6
D: 5
OFF
OFF
COL
O: 6
D: 4
OFF
CGY
O: 8
D: 6
OFF
G: 3
H: 2
O: 6
D: 5
Phoenix
COYOTES
OFF
DAL
O: 8
D: 3
OFF
OFF
CHI
O: 7
D: 2
@DAL
O: 7
D: 4
OFF
G: 3
H: 2
O: 7
D: 2
Pittsburgh
PENGUINS
OTT
O: 8
D: 8
OFF
@BUF
O: 8
D: 5
OFF
NYR
O: 7
D: 9
OFF
OFF
G: 3
H: 2
O: 7
D: 8
St. Louis
BLUES
OFF
OTT
O: 9
D: 5
OFF
BOS
O: 7
D: 5
OFF
WPG
O: 10
D: 8
OFF
G: 3
H: 3
O: 8
D: 6
San Jose
SHARKS
PHI
O: 6
D: 8
OFF
DAL
O: 6
D: 7
OFF
CLS
O: 6
D: 7
OFF
OFF
G: 3
H: 3
O: 6
D: 9
Tampa Bay
LIGHTNING
OFF
@MIN
O: 5
D: 8
OFF
TOR
O: 9
D: 4
OFF
DET
O: 6
D: 6
OFF
G: 3
H: 2
O: 6
D: 6
Toronto
MAPLE LEAFS
OFF
@FLA
O: 10
D: 7
OFF
@TB
O: 6
D: 3
OFF
VAN
O: 6
D: 4
OFF
G: 3
H: 1
O: 7
D: 4
Vancouver
CANUCKS
@DET
O: 3
D: 8
@BOS
O: 1
D: 5
OFF
@MTL
O: 1
D: 7
OFF
@TOR
O: 6
D: 5
OFF
G: 4
H: 0
O: 3
D: 10
Washington
CAPITALS
OFF
NYI
O: 10
D: 3
OFF
WPG
O: 7
D: 4
OFF
NJ
O: 3
D: 4
OFF
G: 3
H: 3
O: 6
D: 3
Winnipeg
JETS
OFF
@CAR
O: 4
D: 8
OFF
@WSH
O: 5
D: 5
OFF
@STL
O: 1
D: 3
OFF
G: 3
H: 0
O: 2
D: 5
"O" (offense) and "D" (defense) matchup ratings are based upon a scale from 1 (poor matchup) to 10 (excellent matchup), and are calculated using a formula that evaluates the team's year-to-date and past 21 days' statistics, their performance in home/road games depending on where the game is to be played, as well as their opponents' numbers in those categories. The column on the right lists the team's total number of games played ("G") as well as home games ("H"), and lists the cumulative rating from 1-10 of that week's offensive ("O") and defensive ("D") matchups.
Ratings color scale

"Warmth" matchup colors are based only upon the team's offensive rating for the game or week in question.
1
2
3
4
5
6
7
8
9
10
Looking for offense
Ottawa Senators: Rarely given much attention here in the Forecaster for the sole reason that the Sens possess the most top-heavy offense in the NHL, this might be a rare chance to look at some of the lesser contributors as fantasy options for the coming week (and for the second week in a row).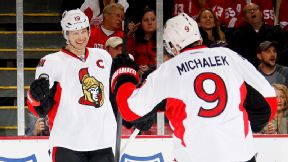 Gregory Shamus/Getty ImagesPlaying with Jason Spezza has been a nice boost for Milan Michalek as of late.
Possibly the only team that has exactly five skaters worthy of 100 percent fantasy ownership and no one else on the radar, the Sens are difficult to exploit with roster moves. But, we suggested Mika Zibanejad and Milan Michalek as potential long shots last week, and both players have two points in their past three games. Obviously, that is not going to win you any fantasy leagues, but it's something to build off of as the Sens are one of only three teams with a four-game schedule next week. Playing with a heating up Jason Spezza at even strength, Michalek and Zibanejad are both worthy of a shot thanks to the team's O:10 on the Forecaster (the only team with a perfect offensive rating this week).
Colorado Avalanche: It doesn't look like Nathan MacKinnon can be stopped. On a team brimming with offensive support for a rookie scorer, MacKinnon is buried on the third line with defensive forwards John Mitchell and Maxime Talbot. But come hell or high water, MacKinnon is finding a way to get his points, and he seems to be dragging Mitchell and Talbot along for the ride.
This is entirely dependent upon Paul Stastny's ankle, which was injured in Thursday's game, but Talbot and Mitchell might be worthy of deep-league consideration for the week ahead. As long as the lines stay the same for next week, both Mitchell and Talbot can't stay off the scoresheet, on account of MacKinnon's continued scoring ability. Talbot, in particular, has eight points in the past nine games.
Looking for defensemen
Tyson Barrie, D, Colorado Avalanche: For crying out loud, start picking up this kid. Even despite an enormous disadvantage on the player rater because of his limited ice time compared to other defensemen, Barrie is still the 31st-best fantasy defenseman during the past month. The Avs, as mentioned, have four games next week. Roll him into your lineup and you may end up keeping him.
Looking for goaltending
Karri Ramo, G, Calgary Flames: We already went through plenty of goaltending discussions earlier in this article, but if you want one more recommendation specific to the schedule, behold Ramo. He has won three of his past four starts with his only two blowups in the past three weeks coming against the Nashville Predators both times. The Flames catch the Montreal Canadiens, New York Islanders and Philadelphia Flyers next week, which is no cake walk schedule. But we didn't say it would be easy to find a netminder on a six-day week.
Thomas Greiss, G, Phoenix Coyotes: As long as we are talking about long shots for goaltending help, Greiss just needs a bad start by Mike Smith on the weekend to possibly get two starts next week. If Smith gets lit up by the Pittsburgh Penguins on Saturday, Greiss is an option for teams that are desperate for goaltending help as we head into the break. This is for just next week though, as Smith should return from the Olympics with some pep in his step.
Hockey Challenge
Each week the Fantasy Forecaster will also include some advice for the ESPN Hockey Challenge. This is the salary cap game that allows you free reign over your fantasy hockey decisions within a starting budget of $100 million in fantasy money. For more on the game and to sign up, click here.
Note: Segment 1 of the game comes to an end this week, so make sure you are cashing in and using your chips toward top-notch players. When the game resets for Segment 2 after the Olympics, you won't be saving money on guys you've had rostered for several weeks at a discount.
Schedule: There are only six days of hockey next week on the schedule, which means we only have three teams with a four-game schedule. Look to the Senators, Avalanche and Vancouver Canucks when filling out your lineups. Varlamov ($11.3M), Anderson ($12.1M) and Roberto Luongo ($12.4M) are all correct choices in net. Avoid the Los Angeles Kings, Minnesota Wild and Predators, who all have only two games to play.
Hot streaks: Erik Karlsson ($10.3M) is certainly expensive, but his four-game schedule makes him worth it. You can supplement Karlsson with the very affordable Barrie ($6.6M) to even out the cost. Any of the Avs top players, including MacKinnon ($6.9M), Matt Duchene ($7.9M) and Gabriel Landeskog ($7.9M) make sense for your roster, but so does a super-saver purchase like Talbot ($5.8M), who has been red hot while playing with MacKinnon.
My roster for next week:
As of Friday, I'm in the 90.7 percentile for the ESPN Hockey Challenge, with 625 points. My personal salary cap is at $121.5M.
Roberto Luongo, G, VAN - $12.4M
Craig Anderson, G, OTT - $12.1M
Tyson Barrie, D, COL - $6.6M
Alexander Edler, D, VAN - $6.2M
Jack Johnson, D, CBJ - $7.0M ($7.1M on market)
Erik Karlsson, D, OTT - $10.3M
Ryan Kesler, F, VAN - $7.7M
Nathan MacKinnon, F, COL - $6.6M
Sidney Crosby, F, PIT - $11.0M ($11.1M on market)
Jason Spezza, F, OTT - $8.0M
Matt Duchene, F, COL - $7.9M
Alex Ovechkin, F, WAS - $9.7M ($9.8M on market)
Sean Allen is a fantasy analyst for ESPN.com. He was the 2008 and 2009 Fantasy Sports Writers Association Hockey Writer of the Year. You can tweet him
@seanard
.
SPONSORED HEADLINES
FANTASY TOP HEADLINES
MOST SENT STORIES ON ESPN.COM