Fantasy Forecaster: Week 21
How the trade deadline affects players who weren't moved
Updated:
March 7, 2014, 4:27 PM ET
By
Sean Allen
| Special to ESPN.com
The fallout from Wednesday's NHL trade deadline still hasn't been fully processed. We were treated to Martin St. Louis' debut Wednesday, and a majority of the other big movers took to the ice with their new teams on Thursday. But not everyone has donned his new jersey yet. On Friday, Andrei Loktionov can attempt to earn a scoring line role with the Carolina Hurricanes, while Roberto Luongo will make his return debut with the Florida Panthers. On Saturday, Matt Moulson will show up on the Minnesota Wild's second line and Jaroslav Halak will get his first of many starts for the Washington Capitals.
But we have a pretty good sense of how the value might shake out in those obvious situations. Let's take some time before this week's Forecaster to dig through the less obvious trade-deadline impact. This usually involves looking at the negative space: a player who didn't change teams, but is affected by the addition or subtraction of a teammate.
Brian Gionta, F, Montreal Canadiens: Nothing against sophomore sniper Alex Galchenyuk or veteran playmaker Daniel Briere, but they aren't quite the same level of linemate as Thomas Vanek. Tomas Plekanec has had a steady decline in production this season, and Gionta has been just below the level of fantasy relevance. Vanek made his Canadiens debut on a line with the Plekanec and Gionta on Thursday. He will be given some time to form a bond with his new linemates and makes a pretty good fit on paper with the playmaking Plekanec and sharpshooting Gionta. Plekanec remains owned in 100 percent of ESPN leagues, but Gionta is an available option.
[+] Enlarge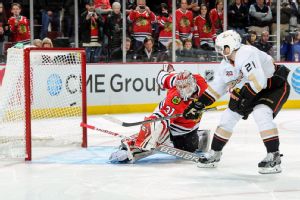 Bill Smith/NHLI/Getty ImagesKyle Palmieri could see his value rise if he stays on the Ducks' top line.
Kyle Palmieri, F, Anaheim Ducks: Out with Dustin Penner and in with Palmieri. With Penner shipped off to the Washington Capitals at the deadline, Palmieri has been given the first crack by coach Bruce Boudreau to find a home on the top line with Ryan Getzlaf and Corey Perry. Palmieri has shown both the skill and upside to play alongside Getzlaf and Perry before and it would not be a shock to see him lock down this opportunity. That said, Nick Bonino will be lurking for an opportunity and it's not as if Jakob Silfverberg's skills are forgotten. So while Palmieri has the advantage for now, his grasp on the role is tenuous unless he does something with the chance. Deeper leagues will want to gamble on Palmieri by adding him to the bench.
Shawn Matthias, F, Vancouver Canucks: It wasn't a solid debut as the Canucks were Eddie shel-Lack-ed by the visiting Dallas Stars, but it's notable that Matthias was placed on the top power-play unit with Henrik Sedin and Ryan Kesler. We got a good chance to see Matthias' potential as a big, scoring centerman last season with the Florida Panthers. When his ice time went up toward the end of the campaign, Matthias started scoring. He played with David Booth (former teammate) and Tommy Sestito at even strength, but has potential as a top-six forward while Daniel Sedin is sidelined with injury.
Darcy Kuemper, G, Minnesota Wild: With the goaltender carousel spinning wildly this trade deadline, there were plenty of legitimate No. 1 goaltenders available. Specifically, Jaroslav Halak was available for a price that the Wild probably could have met. The fact that the team went with Ilya Bryzgalov as the preferred option is actually a pretty big vote of confidence in Kuemper. Bryzgalov's days as a No. 1 goalie on a contender are behind him, but he still makes a solid backup plan to Kuemper. If the Wild weren't sure about Kuemper, they would have made a stronger push for a goaltender during the trade activity. Given Kuemper's recent run of success, his skills, and the addition of nothing more than a backup plan at the deadline, he remains a great fantasy asset headed down the stretch.
Jhonas Enroth, G, Buffalo Sabres: With the flipping of Halak, acquired in the earlier Ryan Miller deal, the message is 100 percent clear that Enroth is being handed the reins. He answered the bell on Thursday by being named the game's first star while stopping 43 of 44 shots against Steven Stamkos and the Tampa Bay Lightning. Enroth has been waiting in the wings for a chance to earn more starts, but had an obvious roadblock in Miller. Enroth's stats as a backup were not outstanding, but not all goaltenders were made for only occasional outings. It may very well be that Enroth needs the confidence and consistency of being a starter to begin shining in the NHL. His numbers could be surprising during the final stretch as the Sabres continue to play like they have nothing to lose.
Joni Ortio, G, Calgary Flames: Another Finnish protege of Urpo Ylonen , Ortio makes it easy to draw comparisons to his own personal hockey hero, Miikka Kiprusoff. Comparisons aside, Ortio has been unquestionably handed the opportunity to take an NHL starting job and run with it for the Flames. With Karri Ramo still hurt and Reto Berra shipped out at the deadline, this is Ortio's time to audition for a permanent starting gig. The 22-year-old may be young, but his AHL numbers for the Abbotsford Heat this season as a rookie netminder have been dominating. Like Enroth and the Sabres, Ortio and the Flames have nothing to lose at this point and, therefore, could surprise with a strong finish.
Team

Mon
3/10

Tue
3/11

Wed
3/12

Thu
3/13

Fri
3/14

Sat
3/15

Sun
3/16

Anaheim
DUCKS
TOR
O: 10
D: 7
OFF
@CGY
O: 4
D: 9
OFF
@COL
O: 7
D: 4
@LA
O: 3
D: 7
OFF
G: 4
H: 1
O: 7
D: 9
Boston
BRUINS
OFF
OFF
@MTL
O: 8
D: 6
PHO
O: 8
D: 5
OFF
CAR
O: 6
D: 8
OFF
G: 3
H: 2
O: 6
D: 6
Buffalo
SABRES
OFF
NSH
O: 4
D: 6
OFF
@CAR
O: 2
D: 7
OFF
@NYI
O: 5
D: 6
MTL
O: 4
D: 5
G: 4
H: 2
O: 4
D: 8
Calgary
FLAMES
LA
O: 2
D: 8
OFF
ANA
O: 1
D: 7
OFF
@DAL
O: 3
D: 4
@PHO
O: 4
D: 3
OFF
G: 4
H: 2
O: 2
D: 6
Carolina
HURRICANES
OFF
NYR
O: 3
D: 5
OFF
BUF
O: 5
D: 7
OFF
@BOS
O: 3
D: 3
EDM
O: 3
D: 7
G: 4
H: 3
O: 4
D: 7
Chicago
BLACKHAWKS
OFF
OFF
@COL
O: 9
D: 5
OFF
NSH
O: 6
D: 8
OFF
DET
O: 6
D: 5
G: 3
H: 2
O: 6
D: 5
Colorado
AVALANCHE
WPG
O: 8
D: 6
OFF
CHI
O: 8
D: 2
OFF
ANA
O: 6
D: 4
OFF
@OTT
O: 9
D: 5
G: 4
H: 3
O: 8
D: 4
Columbus
BLUE
JACKETS
@DAL
O: 6
D: 4
DET
O: 7
D: 4
OFF
SJ
O: 8
D: 4
OFF
@MIN
O: 4
D: 5
OFF
G: 4
H: 2
O: 7
D: 4
Dallas
STARS
CLS
O: 5
D: 6
@STL
O: 2
D: 6
OFF
OFF
CGY
O: 4
D: 9
OFF
@WPG
O: 6
D: 6
G: 4
H: 2
O: 5
D: 9
Detroit
RED WINGS
OFF
@CLS
O: 8
D: 7
OFF
OFF
EDM
O: 5
D: 7
OFF
@CHI
O: 6
D: 6
G: 3
H: 1
O: 5
D: 5
Edmonton
OILERS
OFF
@MIN
O: 1
D: 7
OFF
@STL
O: 1
D: 7
@DET
O: 2
D: 5
OFF
@CAR
O: 2
D: 9
G: 4
H: 0
O: 1
D: 9
Florida
PANTHERS
OFF
PHO
O: 6
D: 1
OFF
@TB
O: 1
D: 2
NJ
O: 4
D: 1
OFF
VAN
O: 1
D: 4
G: 4
H: 3
O: 3
D: 1
Los Angeles
KINGS
@CGY
O: 3
D: 10
OFF
OFF
TOR
O: 6
D: 7
OFF
ANA
O: 1
D: 7
OFF
G: 3
H: 2
O: 2
D: 8
Minnesota
WILD
OFF
EDM
O: 3
D: 10
OFF
NYR
O: 3
D: 9
OFF
CLS
O: 5
D: 8
OFF
G: 3
H: 3
O: 3
D: 10
Montreal
CANADIENS
OFF
OFF
BOS
O: 4
D: 3
OFF
OFF
OTT
O: 6
D: 6
@BUF
O: 7
D: 7
G: 3
H: 2
O: 5
D: 4
Nashville
PREDATORS
@OTT
O: 6
D: 7
@BUF
O: 6
D: 8
OFF
OFF
@CHI
O: 4
D: 4
STL
O: 2
D: 5
OFF
G: 4
H: 1
O: 5
D: 7
New Jersey
DEVILS
OFF
@PHI
O: 9
D: 5
OFF
OFF
@FLA
O: 10
D: 9
@TB
O: 6
D: 8
OFF
G: 3
H: 0
O: 7
D: 6
New York
ISLANDERS
@VAN
O: 3
D: 4
OFF
OFF
OFF
SJ
O: 6
D: 2
BUF
O: 7
D: 5
OFF
G: 3
H: 2
O: 4
D: 3
New York
RANGERS
OFF
@CAR
O: 7
D: 8
OFF
@MIN
O: 6
D: 6
@WPG
O: 7
D: 7
OFF
SJ
O: 5
D: 6
G: 4
H: 1
O: 7
D: 9
Ottawa
SENATORS
NSH
O: 4
D: 4
OFF
OFF
OFF
OFF
@MTL
O: 9
D: 3
COL
O: 6
D: 1
G: 3
H: 2
O: 5
D: 1
Philadelphia
FLYERS
OFF
NJ
O: 6
D: 2
OFF
OFF
OFF
PIT
O: 5
D: 2
@PIT
O: 8
D: 3
G: 3
H: 2
O: 5
D: 1
Phoenix
COYOTES
@TB
O: 6
D: 5
@FLA
O: 9
D: 7
OFF
@BOS
O: 6
D: 2
OFF
CGY
O: 6
D: 6
OFF
G: 4
H: 1
O: 7
D: 5
Pittsburgh
PENGUINS
@WSH
O: 10
D: 5
WSH
O: 10
D: 7
OFF
OFF
OFF
@PHI
O: 10
D: 3
PHI
O: 10
D: 5
G: 4
H: 2
O: 10
D: 5
St. Louis
BLUES
OFF
DAL
O: 6
D: 7
OFF
EDM
O: 5
D: 9
OFF
@NSH
O: 4
D: 10
OFF
G: 3
H: 2
O: 4
D: 9
San Jose
SHARKS
OFF
TOR
O: 9
D: 7
OFF
@CLS
O: 6
D: 5
@NYI
O: 7
D: 7
OFF
@NYR
O: 4
D: 6
G: 4
H: 1
O: 7
D: 8
Tampa Bay
LIGHTNING
PHO
O: 7
D: 4
OFF
OFF
FLA
O: 10
D: 9
OFF
NJ
O: 3
D: 6
OFF
G: 3
H: 3
O: 6
D: 5
Toronto
MAPLE LEAFS
@ANA
O: 4
D: 1
@SJ
O: 4
D: 1
OFF
@LA
O: 3
D: 4
OFF
OFF
@WSH
O: 8
D: 1
G: 4
H: 0
O: 6
D: 1
Vancouver
CANUCKS
NYI
O: 6
D: 8
OFF
@WPG
O: 3
D: 7
OFF
@WSH
O: 5
D: 4
OFF
@FLA
O: 7
D: 10
G: 4
H: 1
O: 6
D: 10
Washington
CAPITALS
PIT
O: 4
D: 1
@PIT
O: 6
D: 1
OFF
OFF
VAN
O: 6
D: 5
OFF
TOR
O: 10
D: 2
G: 4
H: 3
O: 7
D: 1
Winnipeg
JETS
@COL
O: 3
D: 6
OFF
VAN
O: 6
D: 6
OFF
NYR
O: 6
D: 3
OFF
DAL
O: 7
D: 4
G: 4
H: 3
O: 6
D: 5
"O" (offense) and "D" (defense) matchup ratings are based upon a scale from 1 (poor matchup) to 10 (excellent matchup), and are calculated using a formula that evaluates the team's year-to-date and past 21 days' statistics, their performance in home/road games depending on where the game is to be played, as well as their opponents' numbers in those categories. The column on the right lists the team's total number of games played ("G") as well as home games ("H"), and lists the cumulative rating from 1-10 of that week's offensive ("O") and defensive ("D") matchups.
Ratings color scale

"Warmth" matchup colors are based only upon the team's offensive rating for the game or week in question.
1
2
3
4
5
6
7
8
9
10
Looking for offense
Phoenix Coyotes: The Coyotes have a four-game week with decent numbers on the Forecaster. But more importantly, they possess one of the biggest potential winners of the entire trade deadline. Marin Erat, a consistent leader for the Nashville Predators in scoring, has been buried on the depth chart since joining the Washington Capitals last season. Now given an opportunity on a scoring line again, Erat has enormous potential. His billed linemates, Radim Vrbata and Martin Hanzal, are not only fellow countrymen from the Czech Republic, but also represent the most talented linemates Erat will have worked with in the NHL since Alexander Radulov was around. Hanzal is still recovering from a lower-body injury, but with Kyle Chipchura filling in for Hanzal, the line scored two goals on Thursday. Don't underestimate the scoring upside that is here. Erat could put in 12 points over the remainder of the season if he clicks with Hanzal as well as he could.
Pittsburgh Penguins: Boy, oh boy, does the Forecaster like the Penguins schedule. With a pair of back-to-back games against the Washington Capitals and Philadelphia Flyers, the Penguins easily have the best offensive forecast of the week. That doesn't account for the Caps having a better netminder available now, but it shouldn't change anything too dramatically. Lee Stempniak is the obvious pickup. Though he did not debut on a line with Sidney Crosby and Chris Kunitz on Thursday, it wouldn't be shocking to see him there this weekend. Brian Gibbons has done OK on the top line, but that's all. It would be easy to give Stempniak a chance on the top line. Stempniak has flashed bouts of fantasy relevance in the past, while in much worse playing situations. Given the advantageous schedule, the timing is just right to give Stempniak a chance on your team.
Looking for defensemen
Raphael Diaz, D, New York Rangers: Diaz had eight power-play assists in 23 games last season. Ryan McDonagh, the Rangers top offensive defenseman, has nine power-play assists in 63 games this season. There is an opportunity for Diaz to be a puck-moving blue line presence that the Rangers have lacked, beside McDonagh. And to be fair to the talented shutdown defender that McDonagh is, earning points is not his forte on the ice. The Rangers have four games this week and Diaz should get a strong look for key playing time.
Looking for goaltending
[+] Enlarge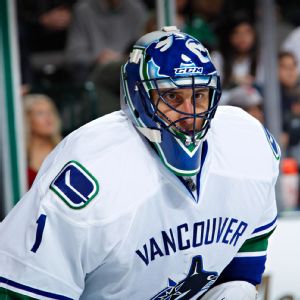 Glenn James/NHLI/Getty ImagesRoberto Luongo's situation in Florida isn't as bad as some may think, and he'll even face his former Canucks team this upcoming week.
Roberto Luongo, G, Florida Panthers: Don't immediately think that Luongo has lost fantasy value. The truth is that he may have gained it. Sure, Luongo isn't as spry as he was eight years ago, but arguing that the porous defense of the Panthers is a huge negative isn't fair to Bobby Lou. When Luongo posted a .931 save percentage with the Panthers in the 2003-04 season, he did it while setting the single season record for saves. The very next NHL season, Luongo recorded the second-most saves in a single season by a goaltender. So quite simply, the Panthers defense is nowhere near as bad as it was the last time Luongo was tending their crease and it will be his skills that are a determining factor to his fantasy value. His skills are still evident and here's betting he can provide solid ratio support for fantasy owners. Just look somewhere else for wins. The Panthers have four games this week and the final one is a duel with -- you guessed it -- the Canucks.
Quick Hits
• The Chicago Blackhawks moved Andrew Shaw onto a line with Jonathan Toews and Brandon Saad. The response was two goals by Shaw on Thursday. Marian Hossa is out another three weeks or so.
• Matt Frattin earned some time on a line with Brandon Dubinsky on Thursday in his Columbus Blue Jackets debut. Unfortunately, it could be considered the third line for the Blue Jackets, which doesn't bode well for either player's fantasy value.
• Obviously the acquisition of David Legwand kills the hopes that Riley Sheahan can earn value on the Detroit Red Wings' top line. That said, Legwand is available in 44 percent of ESPN leagues and has much more potential alongside Johan Franzen and Gustav Nyquist.
• The first game of the New York Islanders' post-Thomas Vanek era saw a top line of Kyle Okposo, Frans Nielsen and Michael Grabner. Obviously, an enormous downgrade for Okposo, but there is potential for mild value from Grabner in this situation.
• With no Martin St. Louis, Teddy Purcell has a chance to quickly become Steven Stamkos' new best friend. But if the relationship doesn't take off, Nikita Kucherov is just one line down on the depth chart and has a bright future as a top winger. Maybe the Tampa Bay Lightning will try him with Stamkos now to see what happens.
Hockey Challenge
Each week the Fantasy Forecaster will also include some advice for the ESPN Hockey Challenge. This is the salary cap game that allows you free reign over your fantasy hockey decisions within a starting budget of $100 million in fantasy money. For more on the game and to sign up, click here.
Schedule: There is a laundry list of teams that have four games this week. In fact, there isn't much point in listing them, as 18 NHL teams have a four-game week on tap. That doesn't provide a lot of edge in scouring the schedule for the Hockey Challenge. Especially in net, where the teams that have only three games don't have many goaltender controversies present. That means there is a pretty even playing field when choosing your goalies and other players.
Hot streaks: The Pittsburgh Penguins and Colorado Avalanche have the best schedules according to the Forecaster, and there are plenty of players to try and exploit in your roster. If you think Lee Stempniak ($5.4M) will earn a decent role with the Penguins, he is quite affordable. Because we are so early in the new segment still, there are a lot of good players available for cheap. Steven Stamkos ($5.5M), Pekka Rinne ($9.0M) and Marian Gaborik ($4.3M) are all strong locks to contribute above their head and gain salary cap room for your team.
My roster for next week:
An absolute disastrous start to Segment 2 with 18 points to sit in the 13.2 percentile. My salary cap is $100.2 million. Brutal. Drops me to 88.1 percentile overall.
Roberto Luongo, G, FLA - $11.0M
Pekka Rinne, G, NSH - $9.0M
P.K. Subban, D, MTL - $7.4M
Erik Karlsson, D, OTT - $7.5M
Dion Phaneuf, D, TOR - $5.9M ($6.1M on market)
Erik Johnson, D, COL - $6.1M
Steven Stamkos, F, TBL - $5.5M
Sidney Crosby, F, PIT - $8.9M
Marian Gaborik, F, CBJ - $4.3M
Alex Ovechkin, F, WSH - $8.9M
Evgeni Malkin, F, PIT - $8.6M
Phil Kessel, F, TOR - $8.9M

Sean Allen is a fantasy hockey analyst for ESPN.com. He is a two-time winner of the Fantasy Sports Writers Association, Hockey Writer of the Year. You can tweet him @seanard with any questions about fantasy hockey.
Sean Allen is a fantasy analyst for ESPN.com. He was the 2008 and 2009 Fantasy Sports Writers Association Hockey Writer of the Year. You can tweet him
@seanard
.
SPONSORED HEADLINES
FANTASY TOP HEADLINES
MOST SENT STORIES ON ESPN.COM