Fantasy Forecaster: Week 11
Updated:
March 29, 2013, 11:23 AM ET
By
Sean Allen
| Special to ESPN.com
It's fitting that Pascal Dupuis got two goals Thursday night against the Winnipeg Jets, as he is one of the potential losers in the deal that saw Jarome Iginla land with the Pittsburgh Penguins. Dupuis' two-goal performance may have been a farewell to his fantasy value. There are several scenarios that could unfold with Iginla joining the Penguins -- and all of them have sweeping fantasy implications.
Iginla plays first line: This is the most likely scenario. Iginla didn't choose to come to the Penguins over the Boston Bruins for Pittsburgh's tourist attractions; he chose to play with the best hockey player in the world. Therefore, Iginla probably gets what he wants and plays on the top line with Sidney Crosby and Chris Kunitz. This destroys the borderline top-100 forward value that Dupuis was carrying this season, thanks to his plum spot in the lineup.
There is a hesitation by most folks to want to look at the Crosby-Kunitz-Dupuis line and wonder if it should remain intact because the trio has performed so well, but let's not kid ourselves: Dupuis is not the author of his fate. The line could feature Crosby alongside a potato sack and a pylon and it probably still would perform well. Iginla, on paper, rises to a top-10 fantasy forward on a line with Crosby. This option also would see Brenden Morrow retain his potential value since his trade to the Penguins.
Iginla plays second line: This is still a possibility, but it doesn't look as good as the first option. Putting Iginla alongside Evgeni Malkin and James Neal would bump Morrow to the third line before he really has a chance to show he could be a top-six forward for the Penguins. While it might be nice to have a leader like Morrow in your bottom six, he can still contribute offensively on a scoring line. In this scenario, Dupuis keeps his value on the top line with Crosby, Iginla still gets a boost -- but maybe not quite top-10 material -- and Morrow becomes irrelevant to fantasy.
[+] Enlarge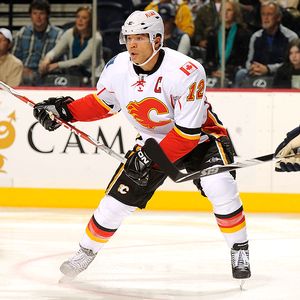 John Russell/NHLI via Getty ImagesJarome Iginla will receive a fantasy boost regardless of what line he plays on in Pittsburgh.
Who is off the power play? Maybe we should start by stating that Crosby, Malkin and Iginla are on the power play, with Kris Letang (Paul Martin while Letang is injured) on the blue line. That only leaves one more spot on the ice for either Neal or Kunitz. Given that Neal puts in more time as the other man on the blue line, we have to think this means that Kunitz might be off the first power-play unit. That's might be off. We can't read the mind of coach Dan Bylsma and we can't predict that what he tries will work and remain long term. But we can be prepared. The good news is that only 12 of Kunitz's 44 points have come on the power play this season. In other words, even without his power-play points, Kunitz has as many points as Alex Ovechkin and Claude Giroux. Don't worry too much about Kunitz possibly being off the man advantage.
Meanwhile, back in Calgary: Blake Comeau played an inspired game Wednesday night on a line with Mike Cammalleri and Alex Tanguay. With Iginla out of the lineup, Comeau made a nice shift into a scoring-line role and looked solid, assisting on one of Cammalleri's two goals. That may not be the long-term plan, though, as the Flames may not be finished dealing. Cammalleri and Tanguay might be tempting puzzle pieces for other playoff teams now that the Flames have committed to rebuilding. Three players not going anywhere are Mikael Backlund, Roman Cervenka and Jiri Hudler. The trio acted as the first line for the Flames without Iginla and played top power-play time as well, which resulted in a goal. Fantasy owners have been waiting for some kind of breakout from Cervenka and Hudler (and many have been hoping to see signs of life from Backlund). Maybe having a clear label as the team's top line will be the spark to ignite these players. Cervenka and Hudler -- and even Backlund, for that matter -- have displayed solid skills overseas that need to be harnessed for the NHL.
Team

Mon
4/1

Tue
4/2

Wed
4/3

Thu
4/4

Fri
4/5

Sat
4/6

Sun
4/7

Anaheim
DUCKS
@DAL
O: 6
D: 6
OFF
DAL
O: 7
D: 7
OFF
DAL
O: 7
D: 7
OFF
LA
O: 6
D: 5
G: 4
H: 3
O: 6
D: 7
Boston
BRUINS
OFF
OTT
O: 2
D: 1
OFF
NJ
O: 3
D: 1
OFF
@MTL
O: 7
D: 9
OFF
G: 3
H: 2
O: 2
D: 3
Buffalo
SABRES
OFF
@PIT
O: 4
D: 2
OFF
OFF
OTT
O: 3
D: 1
OFF
NJ
O: 4
D: 4
G: 3
H: 2
O: 2
D: 3
Calgary
FLAMES
@EDM
O: 7
D: 4
OFF
EDM
O: 8
D: 2
OFF
@SJ
O: 5
D: 5
@VAN
O: 5
D: 6
OFF
G: 4
H: 1
O: 6
D: 5
Carolina
HURRICANES
@MTL
O: 8
D: 2
WSH
O: 5
D: 1
OFF
TB
O: 4
D: 1
OFF
NYR
O: 3
D: 4
OFF
G: 4
H: 3
O: 5
D: 3
Chicago
BLACKHAWKS
NSH
O: 7
D: 3
OFF
OFF
STL
O: 5
D: 3
OFF
@NSH
O: 9
D: 8
NSH
O: 7
D: 3
G: 4
H: 3
O: 7
D: 5
Colorado
AVALANCHE
@DET
O: 5
D: 1
@NSH
O: 7
D: 1
OFF
OFF
DET
O: 5
D: 5
@PHO
O: 5
D: 2
OFF
G: 4
H: 1
O: 6
D: 3
Columbus
BLUE
JACKETS
OFF
OFF
OFF
@NSH
O: 3
D: 5
@STL
O: 1
D: 5
OFF
MIN
O: 5
D: 7
G: 3
H: 1
O: 1
D: 5
Dallas
STARS
ANA
O: 5
D: 1
OFF
@ANA
O: 5
D: 6
OFF
@ANA
O: 5
D: 6
OFF
@SJ
O: 4
D: 6
G: 4
H: 1
O: 5
D: 6
Detroit
RED WINGS
COL
O: 8
D: 7
OFF
OFF
@PHO
O: 4
D: 6
@COL
O: 5
D: 6
OFF
STL
O: 6
D: 6
G: 4
H: 2
O: 6
D: 7
Edmonton
OILERS
CGY
O: 7
D: 4
OFF
@CGY
O: 7
D: 6
@VAN
O: 4
D: 8
OFF
@LA
O: 5
D: 5
OFF
G: 4
H: 1
O: 6
D: 7
Florida
PANTHERS
OFF
@TB
O: 4
D: 1
OFF
OFF
OFF
WSH
O: 8
D: 1
OTT
O: 4
D: 1
G: 3
H: 2
O: 4
D: 1
Los Angeles
KINGS
OFF
@PHO
O: 5
D: 6
OFF
MIN
O: 5
D: 7
OFF
EDM
O: 6
D: 8
@ANA
O: 6
D: 5
G: 4
H: 2
O: 6
D: 7
Minnesota
WILD
STL
O: 4
D: 7
OFF
@SJ
O: 5
D: 7
@LA
O: 6
D: 6
OFF
OFF
@CLS
O: 5
D: 9
G: 4
H: 1
O: 5
D: 8
Montreal
CANADIENS
CAR
O: 7
D: 4
OFF
@PHI
O: 7
D: 6
WPG
O: 9
D: 6
OFF
BOS
O: 3
D: 3
OFF
G: 4
H: 3
O: 6
D: 6
Nashville
PREDATORS
@CHI
O: 5
D: 1
COL
O: 9
D: 6
OFF
CLS
O: 6
D: 8
OFF
CHI
O: 8
D: 4
@CHI
O: 5
D: 1
G: 5
H: 3
O: 8
D: 6
New Jersey
DEVILS
NYI
O: 7
D: 6
OFF
OFF
@BOS
O: 1
D: 7
OFF
TOR
O: 4
D: 6
@BUF
O: 6
D: 7
G: 4
H: 2
O: 4
D: 7
New York
ISLANDERS
@NJ
O: 7
D: 6
WPG
O: 8
D: 4
OFF
@WSH
O: 10
D: 3
OFF
TB
O: 7
D: 1
OFF
G: 4
H: 2
O: 8
D: 4
New York
RANGERS
WPG
O: 6
D: 8
OFF
PIT
O: 4
D: 3
OFF
@PIT
O: 2
D: 4
@CAR
O: 4
D: 7
OFF
G: 4
H: 2
O: 4
D: 6
Ottawa
SENATORS
OFF
@BOS
O: 4
D: 6
OFF
OFF
@BUF
O: 9
D: 7
OFF
@FLA
O: 10
D: 6
G: 3
H: 0
O: 6
D: 6
Philadelphia
FLYERS
OFF
OFF
MTL
O: 8
D: 4
@TOR
O: 6
D: 4
OFF
@WPG
O: 8
D: 7
OFF
G: 3
H: 1
O: 6
D: 5
Phoenix
COYOTES
OFF
LA
O: 5
D: 4
OFF
DET
O: 5
D: 5
OFF
COL
O: 7
D: 5
OFF
G: 3
H: 3
O: 4
D: 5
Pittsburgh
PENGUINS
OFF
BUF
O: 8
D: 8
@NYR
O: 6
D: 8
OFF
NYR
O: 5
D: 9
OFF
OFF
G: 3
H: 2
O: 5
D: 7
St. Louis
BLUES
@MIN
O: 6
D: 4
OFF
OFF
@CHI
O: 6
D: 3
CLS
O: 4
D: 10
OFF
@DET
O: 6
D: 4
G: 4
H: 1
O: 5
D: 6
San Jose
SHARKS
VAN
O: 3
D: 10
OFF
MIN
O: 5
D: 7
OFF
CGY
O: 7
D: 8
OFF
DAL
O: 6
D: 9
G: 4
H: 4
O: 6
D: 10
Tampa Bay
LIGHTNING
OFF
FLA
O: 10
D: 6
OFF
@CAR
O: 9
D: 5
OFF
@NYI
O: 9
D: 3
@WSH
O: 8
D: 3
G: 4
H: 1
O: 10
D: 5
Toronto
MAPLE LEAFS
OFF
OFF
OFF
PHI
O: 7
D: 5
OFF
@NJ
O: 8
D: 7
OFF
G: 2
H: 1
O: 3
D: 4
Vancouver
CANUCKS
@SJ
O: 1
D: 7
OFF
OFF
EDM
O: 3
D: 7
OFF
CGY
O: 6
D: 6
OFF
G: 3
H: 2
O: 2
D: 6
Washington
CAPITALS
OFF
@CAR
O: 10
D: 4
OFF
NYI
O: 10
D: 2
OFF
@FLA
O: 10
D: 4
TB
O: 8
D: 3
G: 4
H: 2
O: 10
D: 4
Winnipeg
JETS
@NYR
O: 3
D: 6
@NYI
O: 6
D: 3
OFF
@MTL
O: 3
D: 2
OFF
PHI
O: 4
D: 3
OFF
G: 4
H: 1
O: 4
D: 4
"O" (offense) and "D" (defense) matchup ratings are based upon a scale from 1 (poor matchup) to 10 (excellent matchup), and are calculated using a formula that evaluates the team's year-to-date and past 21 days' statistics, their performance in home/road games depending on where the game is to be played, as well as their opponents' numbers in those categories. The column on the right lists the team's total number of games played ("G") as well as home games ("H"), and lists the cumulative rating from 1-10 of that week's offensive ("O") and defensive ("D") matchups.
Ratings color scale

"Warmth" matchup colors are based only upon the team's offensive rating for the game or week in question.
1
2
3
4
5
6
7
8
9
10
Looking for offense
Washington Capitals: The Caps get to feast on divisional opponents next week in the goaltending-starved Southeast Division. Matchups with the Carolina Hurricanes, Florida Panthers and Tampa Bay Lightning are further supplemented with a contest against the New York Islanders. Ovechkin is performing as promised late in the season, with 12 points in his past eight games. He is reunited with Nicklas Backstrom on the top line after playing with Mike Ribeiro for much of the campaign. Backstrom has eight points in the past eight games to show for it. But Ovechkin and Backstrom aren't available in any fantasy leagues. Marcus Johansson is. Johansson is the third member of the top line and has matched Backstrom with eight points since the trio starting clicking together eight games ago. Maybe the key all along for Ovechkin is having Brooks Laich anchor the second line; Laich made his season debut five games ago, and has kept Ribeiro and Troy Brouwer scoring on the second line. Laich only has two points in five games, but has the potential for more as he also gets looks on the power play. Finally, Mike Green hasn't had any sort of bounce-back season, but is still getting the time as the team's top power-play option. At some point that will begin to mean something on the scoreboard. Green is available in a handful of leagues if you need a defenseman.
Tampa Bay Lightning: The Lightning have an identical schedule to the Caps next week, so they naturally draw an equal Forecaster rating. New coach Jon Cooper brings an awesome offensive résumé to the table and intimate familiarity with the team's younger players. That's because last season he guided the Norfolk Admirals to the AHL Calder Cup championship, and this season, prior to his promotion, was at the helm of the AHL-leading Syracuse Crunch. Coincidentally, the 2012 Admirals squad and this season's Crunch team were led by Cory Conacher and Tyler Johnson, and also included Alex Killorn, Richard Panik, Ondrej Palat, Radko Gudas and Dana Tyrell -- all players now being deployed by Cooper in the NHL. Cooper's deep level of familiarity with the players is clear, as he played Killorn on a line with Martin St. Louis and Steven Stamkos in his NHL coaching debut Tuesday night. It should be noted that Killorn remained with the superstars on the power play as well, where the Lightning scored two goals. It's obvious after one game that Cooper likes to spread the wealth on offense. After the Stamkos-St. Louis-Killorn line came three equal lines, where players such as Teddy Purcell, Conacher and Johnson all skated on different lines. It remains to be seen whether that system is the right choice, and it makes it difficult to target free agents in fantasy after the obvious choice of Killorn. It should be noted that Cooper used the Johnson-Conacher-Panik line as his second power-play unit (although sparingly compared to the first unit).
Nashville Predators: We seem to be getting into some interesting schedule quirks. The Dallas Stars and Anaheim Ducks play each other three games in a row next week. But that's nothing compared to the Predators, who play the Chicago Blackhawks in three of their five games next week. After a game in Chicago to start the week, the Predators are home to the Colorado Avalanche and Columbus Blue Jackets before the Blackhawks. They then head to Chicago to bookend the week. Normally so many games against a fairly stingy defense isn't a good thing, but the Predators have been scoring more often lately. Mike Fisher, Roman Josi, Gabriel Bourque and Martin Erat are all available (to some extent) in ESPN leagues, and with five contests next week, they all make good choices to give the Blackhawks fits during some high-scoring games.
Looking for goaltending
Pittsburgh Penguins: While Marc-Andre Fleury couldn't serve as backup Thursday night, Tomas Vokoun picked up the shutout. Vokoun's availability has shrunken to 39 percent of ESPN leagues since Fleury was hurt, but it's not too late to stash him. Fleury has a neck injury, the extent of which is unknown. There's no doubt the team will be cautious with him, considering the lead it has in the standings. Vokoun could stand to earn some significant time in net next week for the Penguins, which are getting stronger on offense.
Tampa Bay Lightning: Despite familiarity with Cedrick Desjardins as a starter in the AHL, Cooper went with Mathieu Garon Tuesday. Garon rewarded the decision by allowing only one goal. But even more impressive is that the team limited the Buffalo Sabres to just 14 shots on goal. If that is a trend that continues under the Cooper-coached Lightning, expect big things for the team's goaltender. (Although we still are not convinced that won't be Desjardins as Anders Lindback remains on the sidelines.)
Phoenix Coyotes: If you're desperate for some goaltending, Jason LaBarbera remains available. As evidenced on Thursday, he can still win games while allowing four goals. The Coyotes have a decent schedule next week, with games against the Los Angeles Kings, Detroit Red Wings and Colorado Avalanche.
Who's Hot/Not
This chart shows you the top and bottom teams in the NHL in goals and shots, for and against, during the past 21 days.
Rk

Team

G/Gm

Rk

Team

GA/Gm

Rk

Team

Shots
/Gm

Rk

Team

Opp.
Shots
/Gm

1
CHI
4.00
1
COL
4.10
1
MTL
33.4
1
WSH
33.4
2
MIN
3.80
2
NSH
3.60
2
CHI
32.4
2
TOR
32.6
3
NSH
3.40
3
DAL
3.56
3
COL
32.0
3
BUF
32.4
Chicago Blackhawks: In looking at the trends in the past 21 days regarding the Blackhawks and Predators (both are top three for goals during the past three weeks), it's pretty exciting when we see that they play each other three times next week. Even more positive for the Blackhawks is that the Predators also appear on the list of teams allowing the most goals during the past 21 days. This is a very good sign for Chicago. It might not be too late to snag Michael Frolik, who, while Marian Hossa is injured, is on the top line with Jonathan Toews and Brandon Saad.
Hockey Challenge
Each week the Fantasy Forecaster also will include some advice for the ESPN Hockey Challenge. This is the salary-cap game that allows you free reign over your fantasy hockey decisions within a $100 million fantasy budget. For more on the game and to sign up, click here.
The skeds: Despite the five-game schedule, the Predators may not be the best option for points next week because three of those games are against the Blackhawks. Still, five games and a recently high-flying offense could be a good place to get some cheap sleepers for the Hockey Challenge. After all, many of the Predators' top forwards will be much cheaper than other players in the game. Fisher ($6.7M), Bourque ($7.0M) and Erat ($7.0M) are all decent plays on offense.
Speaking of that series, the Blackhawks make great picks not only because they are the top-scoring NHL team in recent weeks, but also because the Predators are among the easiest to score on lately. Patrick Kane ($9.5M) and Toews ($9.6M) are the only healthy stars headed into the week, but Frolik ($3.5M) could be a huge sleeper while playing on the top line as an injury replacement.
On defense, Tobias Enstrom ($7.4M) is back from injury for the Winnipeg Jets and was among the league leaders for defensemen before he was hurt. His price dropped quite a bit while he was sidelined.
Brent Burns ($5.9M) remains an absolute must-start as he continues to play forward and score for the Sharks while remaining eligible as a defenseman. Keith Ballard ($5.1M) might be in the same boat, but probably should be left alone while he deals with an injured foot.
Now also might be a good time to get in on the ground floor for Iginla ($8.6M) in the Hockey Challenge (while you can). His salary is reasonable for now, but may quickly jump to the elite level in the coming weeks if he fits in with the Penguins (as he should).
Goaltending: As the Minnesota Wild continue to win, Niklas Backstrom ($12.5M) remains one of the best options to use in the Hockey Challenge. Backstrom is riding a seven-game win streak. Cory Schneider ($12.3M) is on a five-game win streak of his own and should continue to start for the Vancouver Canucks until further notice. While Vokoun ($10.9M) may be tempting as Fleury ($12.5M) deals with a neck injury, the discount doesn't seem like enough to risk Fleury returning to health and rendering Vokoun irrelevant.
My roster for next week:
Niklas Backstrom, G ($12.2M / $12.5M on market)
Antti Niemi, G ($11.5M)
Ryan Suter, D ($8.3M / $8.6M on market)
Tobias Enstrom, D ($7.4M)
Paul Martin, D ($6.8M)
Brent Burns, D ($5.9M)
Sidney Crosby, F ($8.8M / $11.0M on market)
Jarome Iginla, F ($8.6M)
Chris Kunitz, F ($8.5M)
Steven Stamkos, F ($8.7M / $10.2M on market)
Patrick Kane, F ($9.5M)
Michael Frolik, F ($3.5M)

Sean Allen is a fantasy analyst for ESPN.com. He was the 2008 and 2009 Fantasy Sports Writers Association Hockey Writer of the Year. You can tweet him
@seanard
.
SPONSORED HEADLINES
FANTASY TOP HEADLINES
MOST SENT STORIES ON ESPN.COM
EDITORS' PICKS
Previewing the week of Feb. 2-8.
Read