Fantasy Forecaster: Week 6
Some replacement goalie options for your consideration
Updated:
November 4, 2013, 7:53 AM ET
By
Sean Allen
| Special to ESPN.com
You never know when a curveball is coming in fantasy hockey. While the events surrounding Colorado Avalanche goaltender Semyon Varlamov this week have far more profound implications than hockey -- let alone fantasy hockey -- the situation still impacts our game.
The news that Varlamov will still travel with the team, and start Friday in Dallas, should serve as an early indication that Varlamov -- pending what happens with the legal process -- will be given a chance to continue tending goal for the Avs.
But that doesn't change the fact that Jean-Sebastien Giguere needs to be added to your roster in every league possible. His ownership sparked up 35 percent Thursday in wake of the news surrounding Varlamov, but Jiggy is still available in 18 percent of ESPN leagues as of Friday morning. Even though Varlamov appears to be staying with the team for now, there are a number of factors that will play into Giguere being more valuable.
We simply don't know how this situation will play out. It takes a lot of thinking and concentration to be an NHL goaltender, and we don't know if Varlamov can be blind to the off-ice situation for 60 minutes at a time. We also don't know if he will settle back in as the full-time starter, or if Giguere will be given more starts as a way to keep the pressure off Varlamov.
The only things we know for sure is that Giguere has been solid when called upon this season, and that the current situation in the Avs' net is muddled at best. That makes Giguere a must-add in all formats.
[+] Enlarge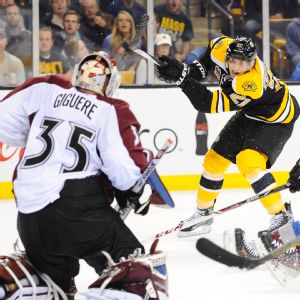 Brian Babineau/NHLI/Getty ImagesJean-Sebastien Giguere has a sparkling 0.67 GAA and .981 save percentage this season.
Look deeper than Giguere's 0.67 goals-against average and you can quickly see the 36-year-old still has skills. He has two shutouts in three starts this season, and those shutouts came on the road against the Eastern Conference powerhouse Boston Bruins and Pittsburgh Penguins; sporting a .981 save percentage after facing the Bruins, Penguins and Buffalo Sabres is not too shabby. It further illustrates the fact that Colorado's hot start is a product of team defensive play, in addition to improvements by Varlamov in his performance. But when the team is partly responsible for minimizing the difficulty of saves a goaltender has to make, you start to see strong, consistent performances by the backup. And that is when a backup goaltender can truly become valuable -- when a starter is hurt or otherwise unavailable.
This could turn out to be a situation where Varlamov and the Avs are able to keep what is happening outside of the rink from getting into the rink, where everything continues on as it was for a 10-1 team. But there could be changes on the way. And the chief beneficiary of those changes would be Giguere.
If you were too late for the Jiggy train but still have concerns about shoring up your goaltending with Varlamov on your roster, there are other options. The best two options are both available in 14 percent of ESPN.com leagues as of Friday morning.
Steve Mason, G, Philadelphia Flyers: Behind a 3-6 record in net are some sparkling ratios for the clear winner of the battle to be the starting netminder for the Flyers. Mason quietly has a 2.25 GAA and .928 save percentage this season, which is top 12 in the league for both ratios. A little more goal support and Mason could come close to matching Varlamov's value.
James Reimer, G, Toronto Maple Leafs: While this is still Jonathan Bernier's gig to lose, the separation that existed at the start of the season has been erased thanks to Reimer's standout performance against the Penguins and a follow-up shutout against the Edmonton Oilers. One more above-average start from Reimer could see the Leafs have more of a rotation between the netminders (or Reimer shipped elsewhere).
Anton Khudobin, G, Carolina Hurricanes: In a race with Cam Ward to be the first back from injury, Khudobin appears to have at least a two-week jump on Ward. Khudobin is reportedly getting ready to resume skating in the next few days, while Ward is out another two to three weeks. Khudobin was already starting to push Ward for more playing time before he was injured, so a chance to hold down the fort -- even for just a week or two before Ward is also healthy -- could go a long way to earning this talented backup more time in goal. If you want to be ahead of the curve, consider stashing him now, while he is still available in 95 percent of ESPN leagues.
It is also notable here that the Avalanche made a pretty major trade Thursday as well, shipping fantasy hockey darling Steve Downie to the Flyers for Maxime Talbot. Downie probably gets more credit in fantasy hockey than the NHL because his stat lines tend to produce a healthy mix across the board, including penalty minutes.
Downie has a good chance to continue the same kind of production with the team that originally drafted him in Philly. This is likely going to hurt Wayne Simmonds' fantasy value, as Downie and Simmonds put up very similar stats, with an edge to Downie for his experience doing it with elite players in different situations (Steven Stamkos, Matt Duchene). Downie also has a history of power-play production. We will ultimately have to wait and see if the Flyers use him with Claude Giroux in some capacity, which would be the linchpin to his continued elevated status in fantasy.
Talbot doesn't do anything for fantasy owners with the Avalanche, but this move will bring P.A. Parenteau back into our good books. Parenteau has been absent to begin this season, buried on the Avs' third line. But he'll play with Matt Duchene and Ryan O'Reilly on the top line in Downie's absence. That should very quickly bring him back to elite status again. Check to see if you play in one of the five percent of leagues where Parenteau was dropped.
Team

Mon
11/4

Tue
11/5

Wed
11/6

Thu
11/7

Fri
11/8

Sat
11/9

Sun
11/10

Anaheim
DUCKS
@NYR
O: 2
D: 1
OFF
PHO
O: 8
D: 5
OFF
BUF
O: 6
D: 10
OFF
VAN
O: 4
D: 9
G: 4
H: 3
O: 6
D: 8
Boston
BRUINS
OFF
DAL
O: 5
D: 6
OFF
FLA
O: 6
D: 8
OFF
TOR
O: 2
D: 3
OFF
G: 3
H: 3
O: 4
D: 6
Buffalo
SABRES
OFF
@SJ
O: 1
D: 2
OFF
@LA
O: 1
D: 5
@ANA
O: 2
D: 6
OFF
OFF
G: 3
H: 0
O: 1
D: 5
Calgary
FLAMES
OFF
@MIN
O: 6
D: 1
OFF
@STL
O: 7
D: 1
@COL
O: 3
D: 1
OFF
OFF
G: 3
H: 0
O: 5
D: 2
Carolina
HURRICANES
OFF
PHI
O: 2
D: 8
OFF
NYI
O: 5
D: 3
OFF
MIN
O: 2
D: 6
OFF
G: 3
H: 3
O: 3
D: 6
Chicago
BLACKHAWKS
OFF
OFF
WPG
O: 9
D: 4
OFF
OFF
@DAL
O: 10
D: 6
EDM
O: 10
D: 4
G: 3
H: 2
O: 8
D: 6
Colorado
AVALANCHE
OFF
OFF
NSH
O: 7
D: 4
OFF
CGY
O: 10
D: 2
OFF
WSH
O: 9
D: 3
G: 3
H: 3
O: 7
D: 5
Columbus
BLUE
JACKETS
OFF
OTT
O: 6
D: 4
OFF
NYR
O: 5
D: 7
OFF
NYI
O: 7
D: 3
OFF
G: 3
H: 3
O: 6
D: 5
Dallas
STARS
OFF
@BOS
O: 10
D: 1
OFF
@DET
O: 10
D: 1
OFF
CHI
O: 5
D: 4
OFF
G: 3
H: 1
O: 9
D: 4
Detroit
RED WINGS
@WPG
O: 4
D: 8
OFF
OFF
DAL
O: 7
D: 7
OFF
TB
O: 5
D: 4
OFF
G: 3
H: 2
O: 5
D: 7
Edmonton
OILERS
OFF
@FLA
O: 5
D: 6
OFF
@TB
O: 2
D: 1
OFF
@PHI
O: 2
D: 5
@CHI
O: 6
D: 1
G: 4
H: 0
O: 5
D: 5
Florida
PANTHERS
OFF
EDM
O: 7
D: 7
OFF
@BOS
O: 1
D: 2
OFF
@OTT
O: 2
D: 1
@NYR
O: 1
D: 4
G: 4
H: 1
O: 4
D: 5
Los Angeles
KINGS
OFF
OFF
OFF
BUF
O: 8
D: 8
OFF
VAN
O: 6
D: 6
OFF
G: 2
H: 2
O: 4
D: 5
Minnesota
WILD
OFF
CGY
O: 8
D: 7
OFF
@WSH
O: 5
D: 4
OFF
@CAR
O: 6
D: 7
OFF
G: 3
H: 1
O: 6
D: 7
Montreal
CANADIENS
OFF
STL
O: 5
D: 1
OFF
@OTT
O: 8
D: 9
OFF
OFF
NYI
O: 6
D: 1
G: 3
H: 2
O: 6
D: 5
Nashville
PREDATORS
OFF
OFF
@COL
O: 1
D: 5
OFF
@WPG
O: 2
D: 10
OFF
@NJ
O: 3
D: 8
G: 3
H: 0
O: 2
D: 8
New Jersey
DEVILS
OFF
OFF
OFF
@PHI
O: 5
D: 5
@TOR
O: 3
D: 1
OFF
NSH
O: 4
D: 9
G: 3
H: 1
O: 4
D: 5
New York
ISLANDERS
OFF
@WSH
O: 7
D: 4
OFF
@CAR
O: 8
D: 7
OFF
@CLS
O: 8
D: 5
@MTL
O: 5
D: 5
G: 4
H: 0
O: 8
D: 8
New York
RANGERS
ANA
O: 2
D: 9
OFF
PIT
O: 1
D: 7
@CLS
O: 7
D: 2
OFF
OFF
FLA
O: 3
D: 10
G: 4
H: 3
O: 4
D: 10
Ottawa
SENATORS
OFF
@CLS
O: 10
D: 1
OFF
MTL
O: 2
D: 5
OFF
FLA
O: 7
D: 9
OFF
G: 3
H: 2
O: 7
D: 6
Philadelphia
FLYERS
OFF
@CAR
O: 5
D: 3
OFF
NJ
O: 1
D: 9
OFF
EDM
O: 4
D: 10
OFF
G: 3
H: 2
O: 3
D: 8
Phoenix
COYOTES
OFF
VAN
O: 9
D: 7
@ANA
O: 8
D: 4
OFF
OFF
WSH
O: 10
D: 3
OFF
G: 3
H: 2
O: 8
D: 5
Pittsburgh
PENGUINS
OFF
OFF
@NYR
O: 7
D: 1
OFF
OFF
@STL
O: 8
D: 1
OFF
G: 2
H: 0
O: 4
D: 1
St. Louis
BLUES
OFF
@MTL
O: 7
D: 7
OFF
CGY
O: 10
D: 1
OFF
PIT
O: 9
D: 1
OFF
G: 3
H: 2
O: 8
D: 4
San Jose
SHARKS
OFF
BUF
O: 10
D: 7
OFF
VAN
O: 10
D: 7
OFF
OFF
@WPG
O: 10
D: 10
G: 3
H: 2
O: 10
D: 10
Tampa Bay
LIGHTNING
OFF
OFF
OFF
EDM
O: 10
D: 7
OFF
@DET
O: 7
D: 8
OFF
G: 2
H: 1
O: 7
D: 6
Toronto
MAPLE LEAFS
OFF
OFF
OFF
OFF
NJ
O: 10
D: 6
@BOS
O: 7
D: 9
OFF
G: 2
H: 1
O: 5
D: 6
Vancouver
CANUCKS
OFF
@PHO
O: 8
D: 4
OFF
@SJ
O: 1
D: 2
OFF
@LA
O: 5
D: 6
@ANA
O: 7
D: 8
G: 4
H: 0
O: 7
D: 7
Washington
CAPITALS
OFF
NYI
O: 8
D: 1
OFF
MIN
O: 6
D: 1
OFF
@PHO
O: 10
D: 4
@COL
O: 1
D: 5
G: 4
H: 2
O: 7
D: 5
Winnipeg
JETS
DET
O: 1
D: 5
OFF
@CHI
O: 6
D: 3
OFF
NSH
O: 1
D: 6
OFF
SJ
O: 1
D: 1
G: 4
H: 3
O: 2
D: 5
"O" (offense) and "D" (defense) matchup ratings are based upon a scale from 1 (poor matchup) to 10 (excellent matchup), and are calculated using a formula that evaluates the team's year-to-date and past 21 days' statistics, their performance in home/road games depending on where the game is to be played, as well as their opponents' numbers in those categories. The column on the right lists the team's total number of games played ("G") as well as home games ("H"), and lists the cumulative rating from 1-10 of that week's offensive ("O") and defensive ("D") matchups.
Ratings color scale

"Warmth" matchup colors are based only upon the team's offensive rating for the game or week in question.
1
2
3
4
5
6
7
8
9
10
A quick note on the Forecaster: This is the first week where we removed all preseason and some lingering 2012-13 regular season statistics from the team calculations. Though this has significantly reduced the sample sizes for some teams -- especially on the home and road splits -- it is always better to be working with wildly small samples from this season than overly large samples that include old stats.
Looking for offense
New York Islanders: This is a good chance to get on board the Thomas Vanek ride that should continue to improve the Isles' offense going forward. Now, Vanek, John Tavares, Kyle Okposo -- all the major players -- will be owned in your league already. Of the available players, Josh Bailey makes the best target. He has consistently been winging on the second line, where Michael Grabner and Pierre-Marc Bouchard have been moving through the depth chart. Bailey hasn't been putting up numbers lately, which actually means he is due for a hot streak. As mentioned in recent columns, the lack of Lubomir Visnovsky is a real problem for the Isles, in terms of finding a puck-moving defenseman. Andrew MacDonald and Travis Hamonic have been doing the job on the power play, but not in a way that could help fantasy owners. Matt Donovan took another step forward in recent games as the other featured blueliner on the point during the man advantage, and could take another step forward soon. He has more upside in the role than MacDonald or Hamonic. And during a four-game schedule, the Isles will have more than their fair share of power plays to use him next week.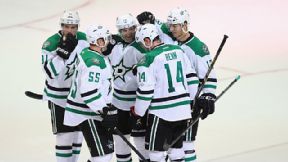 Ronald Martinez/Getty ImagesErik Cole and the Stars have a favorable schedule this week.
Dallas Stars: The strong schedule anticipated for the Stars' offense could mean it is time we actually see Valeri Nichushkin make his presence felt. That may be wishful thinking for the talented rookie who has quickly fallen from the good graces of fantasy owners, but it isn't without hope. Sparked by his first NHL point in a game Oct. 20, Nichushkin has played consistently at around 15 minutes per game in the past four contests, picking up another point and firing nine shots on goal. Considering he had three shots on goal in the previous seven games combined, there is an obvious spike in his action near the net. Again, it may be wishful thinking, but perhaps we may see Nichushkin given a real opportunity in the near future, instead of his third-line assignment. Rich Peverley didn't work out as the third member of the top line with Jamie Benn and Tyler Seguin, and while Erik Cole currently fills the role, he had a chance earlier this season and lost it. Cole had two assists Monday with the top line, but it's notable that the entire line was a combined minus-6 in a 2-1 loss Tuesday night. The lack of a reliable option for Seguin and Benn may be the chance Nichushkin needs.
But that's wishful thinking. For those who like to stick to what is fact, the fact remains that Cole is currently on the Stars' top line and the team has a good Forecaster rating for the coming week. Cole is available in two-thirds of ESPN leagues. If you don't like Cole, Alex Chiasson is still available in a handful of leagues, and is relishing work on the second line and first power-play unit.
Looking for defense
Erik Johnson, D, Colorado Avalanche: Once upon a time, Johnson was a first overall draft pick who finished 25th among defensemen in scoring during his sophomore season. Those things seem to have happened a long time ago, because Johnson has been fantasy irrelevant for the past three NHL seasons. Even this season, coach Patrick Roy is choosing Andre Benoit to anchor his top power-play unit. But results will predicate change, and the pendulum seems to be swinging in Johnson's favor. In the past six games, Johnson has collected all four of his points -- two of them goals -- while Benoit has only managed two points. The power play may be getting better this week with Parenteau's promotion back to a top line. Parenteau was the driving force on the Avs' power play last season. Johnson would clearly benefit from a bigger role there, but he's still a viable candidate for a pickup regardless.
Looking for goaltending
Magnus Hellberg, G, Nashville Predators: We've seen Carter Hutton get two starts for the Predators in the absence of the injured Pekka Rinne, and perhaps we've seen enough. Since it was announced Rinne would be out a a minimum of four weeks, Hutton has allowed nine goals on 51 shots for a not-so-sparkling save percentage of .823 in two games. As we pointed out in last week's Forecaster, Hellberg is the less experienced, but more skilled goaltender, and, if given the chance, could possibly take the reins and run with them until Rinne returns. That chance has to be coming sooner than later following Hutton's performances against the St. Louis Blues and Phoenix Coyotes.
Hockey Challenge
Each week, the Fantasy Forecaster will also include some advice for the ESPN Hockey Challenge. This is the salary cap game that allows you free reign over your fantasy hockey decisions within a $100 million fantasy budget. For more on the game and to sign up, click here.
Four-game teams: The week ahead brings us a decent four-game selection, with the Anaheim Ducks, Edmonton Oilers, Florida Panthers, New York Islanders, New York Rangers, Vancouver Canucks, Washington Capitals and Winnipeg Jets sporting an extra game in hand. It will make it difficult to turn down the idea of starting Roberto Luongo ($12.1M) in the Hockey Challenge. There is a good chance he plays all four games with the back-to-back contests against some West Coast rivals. Evgeni Nabokov ($10.7M), however, comes at a much lower price and has a favorable schedule, according to the Fantasy Forecaster.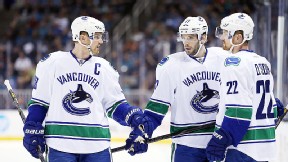 Christian Petersen/Getty ImagesThough Ryan Kesler has been skating with the Sedins, look for Alex Burrows to get his chances too.
Streaking players with four games: The Sedin twins, Henrik Sedin ($8.9M) and Daniel Sedin ($8.4M), continue to be on cruise control and scoring for the Canucks and new head coach John Tortorella. One way to get some extra coin from them is to consider buying low on Alex Burrows ($7.3M). Recovering from injury, he is coming back to a red-hot pair of Sedin twins playing with Ryan Kesler ($7.7M) as their linemate. But Burrows was still given a healthy mix of ice time with the twins in his return. He'll be back with them before long, as the Canucks will want some scoring depth with Kesler as the second-line center. Now might also be a good time to bet on the newest Islanders forward, Thomas Vanek ($7.7M). As expected, he is playing with John Tavares ($9.1M) and Kyle Okposo ($5.3M) on the top line and power play. They'll have a couple of games under their belts before starting next week's four-game sked.
My roster for next week:

Jean-Sebastien Giguere, G, COL - $10.3M
Tuukka Rask, G, BOS - $12.1M
Oliver Ekman-Larsson, D, PHX - $7.0M
Erik Karlsson, D, OTT - $7.5M ($8.1M on market)
P.K. Subban, D, MTL - $7.8M
Dan Boyle, D, SJ - $6.8M
Alex Ovechkin, F, WSH - $9.0M
Thomas Vanek, F, NYI - $7.7M
John Tavares, F, NYI - $9.1M
P.A. Parenteau, F, COL - $7.0M
Daniel Sedin, F, VAN - $8.3M ($8.4M on market)
Henrik Sedin, F, VAN - $8.9M
Sean Allen is a fantasy analyst for ESPN.com. He was the 2008 and 2009 Fantasy Sports Writers Association Hockey Writer of the Year. You can tweet him
@seanard
.
SPONSORED HEADLINES
FANTASY TOP HEADLINES
MOST SENT STORIES ON ESPN.COM