Fantasy Forecaster: Week 7
Which teams are clicking on the power play?
Updated:
November 8, 2013, 4:00 PM ET
By
Sean Allen
| Special to ESPN.com
Sometimes you have to stop and smell the roses. We get so caught up with all the intricate statistics used in an attempt to rationalize and understand a game that really is pure chaos, that sometimes we forget the simpler a statistic is, the better. Rather than risking the chance of overanalyzing something, let's just have a look at one of the most important metrics for fantasy hockey success that is about as simple as can be: a team's power-play success.
The best players in the NHL can dazzle you on the man advantage and, so long as their team has a strong power play in place, they will rise to the top largely based on the power-play points they collect. In order to collect those power-play points, a player needs to be a part of a unit that can dominate play on the ice when the other team gives them the advantage. Measuring power-play performance is as simple as looking at the percentage of chances converted. Let's have a look at a few of the teams leading in power-play conversion early this season and look for players who could emerge for fantasy purposes.
Washington Capitals (first in the NHL with a 28.1 percent conversion): It's not a real shock to see the Capitals at the top of the list, as coach Adam Oates is proving to be a special teams specialist behind the bench (the Caps lead the league in penalty killing, too).
[+] Enlarge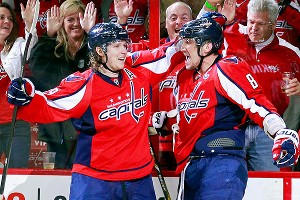 Geoff Burke/USA TODAY SportsNicklas Backstrom and Alex Ovechkin have a knack for scoring on the power play.
Because of that, it's no real shock to see Alex Ovechkin and Nicklas Backstrom tied for the league lead in power-play points. While Oates may be experimenting with his even-strength lines, there have been no changes coming to the power-play unit that features Ovechkin and Backstrom. Ovechkin and Backstrom do take scoring into their own hands a lot of the time, but Marcus Johansson, Troy Brouwer and Mike Green are on the ice with them for the power play.
For Johansson, his continued use on the power play means you don't have to cut bait even though he was taken off the top line at even strength. For Brouwer, it means he will eventually snap out of his funk and start collecting some points, but you can wait until he starts actually doing it to add him. And for Green, it means he continues to be underrated for fantasy, despite his past success. His six power-play points place him fourth among defensemen this season, and his nine total points put him in a tie for 17th among defensemen. At some point, Green is going to show us what he can do for fantasy owners. You would be buying low to get him now.
Minnesota Wild (second in the NHL with 25.4 percent conversion): The Wild showed us their potential on the man advantage early last season, only to have the unit fizzle out quickly. But this is a different team in front of the swagger that Josh Harding allows them with his poise in net this season. Scoring is no longer an issue for a Wild team that has been looking to be an up-tempo offense ever since coach Mike Yeo took over.
While you may think there is nothing to discuss here, with all the big guns being very well-respected and universally owned in fantasy leagues, you'd be wrong. Charlie Coyle is available in 98 percent of ESPN leagues and is Yeo's secret weapon for the top line. A star in his brief junior hockey stint on a line with Jonathan Huberdeau, fantasy owners may remember an introduction to Coyle last season, when he spent a lot of the campaign on a line with Mikko Koivu and Zach Parise. Well, he is back after suffering a knee injury early in this season. Yeo has skated Coyle on the top line with Koivu and Parise and on the power play with Koivu, Parise, Jason Pominville and Ryan Suter.
Clearly, the Wild consider Coyle to be a key cog in the offense, and he has responded with two points in his past two games (he's only played five this season). If you are watching Nino Niederreiter get scooped up in your leagues following his outburst this past week, smile and pick up Coyle instead (pick up both if you play in a 14-team or deeper league). Niederreiter is a great player, and he could be a fantasy darling on a great second line with Pominville and Mikael Granlund, but Coyle is being given the better opportunity to succeed.
Nashville Predators (fourth in the NHL with 24.4 percent conversion): Coach Barry Trotz can't be accused of not running a smooth power play. Although they had average production during the lockout-shortened season, the Predators quietly led the NHL in power-play percentage the last time we had a full season in 2011-12. Five out of the six players that comprised the top two units that season are the same players who make up the top two power-play units for the Predators this season.
Substitute power-play specialist Matt Cullen for Martin Erat, but David Legwand, Craig Smith, Colin Wilson, Patric Hornqvist and Mike Fisher are the same crew on forward that were dominating two seasons ago. Of course, Ryan Suter was on the point with Shea Weber, but it's not as if some combination of Ryan Ellis, Roman Josi and Seth Jones can't make up for that loss. The bottom line: this Preds power play is going to remain very good this season.
Hornqvist, Legwand and Fisher, in particular, rode that success to fantasy relevance in 2011-12, and it would be wise to tab the same three players for success this season. Legwand exploded this past week to bring his power-play points to six (tied for 16th in the NHL). But we already knew Legwand, Fisher and Hornqvist can be useful for fantasy leagues, as long as you can cope with the streakiness they bring.
The real value could lie in the defense. Trotz rewarded Josi and Ellis for their play in the win against the Colorado Avalanche on Wednesday by allowing them to lead the defense in power-play time. Ellis paid Trotz back by converting both chances: one with a pass into the corner that Wilson and Smith would put home, and the second with a seeing-eye pass to Wilson at the side of the net. Ellis was a big-time scoring defenseman in the minors, and if he continues to earn the coach's trust, he could break out. Just beware his ice time if you are in a league that counts it.
The Caps, Wild and Preds all have three-game weeks with decent Forecaster ratings on offense for the week ahead, so this is a good time to try out any of the suggested players.
Team

Mon
11/11

Tue
11/12

Wed
11/13

Thu
11/14

Fri
11/5

Sat
11/16

Sun
11/17

Anaheim
DUCKS
OFF
@FLA
O: 5
D: 4
OFF
@TB
O: 2
D: 1
@CAR
O: 3
D: 3
OFF
OFF
G: 3
H: 0
O: 4
D: 4
Boston
BRUINS
TB
O: 3
D: 5
OFF
OFF
CLS
O: 5
D: 7
@OTT
O: 7
D: 7
OFF
OFF
G: 3
H: 2
O: 5
D: 6
Buffalo
SABRES
OFF
LA
O: 5
D: 1
OFF
OFF
TOR
O: 1
D: 1
@TOR
O: 1
D: 2
OFF
G: 3
H: 2
O: 1
D: 3
Calgary
FLAMES
OFF
SJ
O: 3
D: 2
OFF
DAL
O: 6
D: 5
OFF
EDM
O: 8
D: 6
OFF
G: 3
H: 3
O: 5
D: 5
Carolina
HURRICANES
OFF
COL
O: 1
D: 6
OFF
OFF
ANA
O: 3
D: 7
@STL
O: 5
D: 1
OFF
G: 3
H: 2
O: 3
D: 5
Chicago
BLACKHAWKS
OFF
OFF
OFF
PHO
O: 10
D: 1
OFF
@NSH
O: 10
D: 4
SJ
O: 5
D: 1
G: 3
H: 2
O: 7
D: 4
Colorado
AVALANCHE
OFF
@CAR
O: 5
D: 10
OFF
@STL
O: 4
D: 8
OFF
FLA
O: 8
D: 1
OFF
G: 3
H: 1
O: 6
D: 7
Columbus
BLUE
JACKETS
OFF
@WSH
O: 3
D: 1
OFF
@BOS
O: 4
D: 2
MTL
O: 1
D: 4
OFF
@OTT
O: 6
D: 1
G: 4
H: 1
O: 4
D: 4
Dallas
STARS
OFF
OFF
@EDM
O: 10
D: 1
@CGY
O: 10
D: 1
OFF
OFF
@VAN
O: 8
D: 1
G: 3
H: 0
O: 8
D: 3
Detroit
RED WINGS
OFF
WPG
O: 6
D: 9
OFF
OFF
WSH
O: 4
D: 1
@NYI
O: 8
D: 6
OFF
G: 3
H: 2
O: 6
D: 6
Edmonton
OILERS
OFF
OFF
DAL
O: 5
D: 3
OFF
SJ
O: 3
D: 1
@CGY
O: 8
D: 5
OFF
G: 3
H: 2
O: 5
D: 4
Florida
PANTHERS
OFF
ANA
O: 4
D: 3
OFF
OFF
@MIN
O: 2
D: 2
@COL
O: 1
D: 3
OFF
G: 3
H: 1
O: 2
D: 4
Los Angeles
KINGS
OFF
@BUF
O: 6
D: 10
OFF
@NYI
O: 8
D: 6
@NJ
O: 4
D: 9
OFF
@NYR
O: 5
D: 7
G: 4
H: 0
O: 6
D: 9
Minnesota
WILD
OFF
OFF
TOR
O: 6
D: 5
OFF
FLA
O: 8
D: 10
OFF
WPG
O: 8
D: 10
G: 3
H: 3
O: 6
D: 8
Montreal
CANADIENS
OFF
TB
O: 5
D: 2
OFF
OFF
@CLS
O: 9
D: 10
NYR
O: 5
D: 4
OFF
G: 3
H: 2
O: 6
D: 6
Nashville
PREDATORS
OFF
@NYI
O: 10
D: 6
OFF
OFF
@PIT
O: 7
D: 5
CHI
O: 9
D: 1
OFF
G: 3
H: 1
O: 7
D: 5
New Jersey
DEVILS
OFF
@NYR
O: 5
D: 3
OFF
OFF
LA
O: 3
D: 7
PIT
O: 1
D: 8
OFF
G: 3
H: 2
O: 3
D: 6
New York
ISLANDERS
OFF
NSH
O: 10
D: 1
OFF
LA
O: 10
D: 1
OFF
DET
O: 10
D: 3
OFF
G: 3
H: 3
O: 10
D: 4
New York
RANGERS
OFF
NJ
O: 2
D: 9
OFF
OFF
OFF
@MTL
O: 3
D: 3
LA
O: 4
D: 5
G: 3
H: 2
O: 3
D: 6
Ottawa
SENATORS
OFF
PHI
O: 3
D: 10
OFF
OFF
BOS
O: 4
D: 6
OFF
CLS
O: 6
D: 7
G: 3
H: 3
O: 4
D: 7
Philadelphia
FLYERS
OFF
@OTT
O: 4
D: 5
@PIT
O: 3
D: 5
OFF
@WPG
O: 1
D: 9
OFF
OFF
G: 3
H: 0
O: 3
D: 6
Phoenix
COYOTES
OFF
@STL
O: 5
D: 1
OFF
@CHI
O: 9
D: 1
OFF
TB
O: 8
D: 1
OFF
G: 3
H: 1
O: 6
D: 3
Pittsburgh
PENGUINS
OFF
OFF
PHI
O: 4
D: 10
OFF
NSH
O: 7
D: 7
@NJ
O: 5
D: 1
OFF
G: 3
H: 2
O: 5
D: 6
St. Louis
BLUES
OFF
PHO
O: 10
D: 1
OFF
COL
O: 6
D: 1
OFF
CAR
O: 8
D: 1
@WSH
O: 8
D: 5
G: 4
H: 3
O: 8
D: 1
San Jose
SHARKS
OFF
@CGY
O: 10
D: 10
OFF
@VAN
O: 6
D: 10
@EDM
O: 9
D: 10
OFF
@CHI
O: 9
D: 6
G: 4
H: 0
O: 8
D: 10
Tampa Bay
LIGHTNING
@BOS
O: 4
D: 9
@MTL
O: 4
D: 7
OFF
ANA
O: 10
D: 5
OFF
@PHO
O: 10
D: 6
OFF
G: 4
H: 1
O: 7
D: 8
Toronto
MAPLE LEAFS
OFF
OFF
@MIN
O: 7
D: 5
OFF
@BUF
O: 10
D: 10
BUF
O: 10
D: 10
OFF
G: 3
H: 1
O: 7
D: 8
Vancouver
CANUCKS
OFF
OFF
OFF
SJ
O: 1
D: 4
OFF
OFF
DAL
O: 4
D: 10
G: 2
H: 2
O: 2
D: 5
Washington
CAPITALS
OFF
CLS
O: 10
D: 1
OFF
OFF
@DET
O: 10
D: 9
OFF
STL
O: 8
D: 1
G: 3
H: 2
O: 7
D: 4
Winnipeg
JETS
OFF
@DET
O: 2
D: 6
OFF
OFF
PHI
O: 1
D: 10
OFF
@MIN
O: 1
D: 4
G: 3
H: 1
O: 2
D: 7
"O" (offense) and "D" (defense) matchup ratings are based upon a scale from 1 (poor matchup) to 10 (excellent matchup), and are calculated using a formula that evaluates the team's year-to-date and past 21 days' statistics, their performance in home/road games depending on where the game is to be played, as well as their opponents' numbers in those categories. The column on the right lists the team's total number of games played ("G") as well as home games ("H"), and lists the cumulative rating from 1-10 of that week's offensive ("O") and defensive ("D") matchups.
Ratings color scale

"Warmth" matchup colors are based only upon the team's offensive rating for the game or week in question.
1
2
3
4
5
6
7
8
9
10
Looking for offense
St. Louis Blues: The Blues rock one of the better offensive schedules for the coming week (not so great defensively, though). A four-game slate -- against the Phoenix Coyotes, Colorado Avalanche, Carolina Hurricanes and Washington Capitals -- suggests a decent week of scoring for the Blues. You know you are starting the top line of T.J. Oshie, Alexander Steen and David Backes, in addition to the trio of defensemen that includes Alex Pietrangelo, Jay Bouwmeester and Kevin Shattenkirk. But it's when the schedule is good for the Blues that you can look a bit deeper.
[+] Enlarge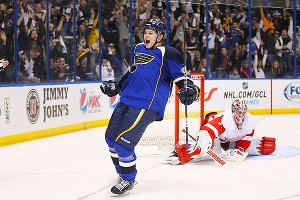 Dilip Vishwanat/Getty ImagesVladimir Tarasenko has shown bursts of high-level production in his short NHL career.
While it's an experience for Jaden Schwartz and Vladimir Tarasenko to play more minutes on the Blues' second line this season (and they will probably not be real fantasy assets until next season), there will be bursts of value. They have both shown signs of life heading into a good schedule next week. Also, as third lines go, Chris Stewart, Derek Roy and Vladimir Sobotka are more talented than most. If nothing else, Stewart can collect you some penalty minutes while offering a chance to score. As noted in Tuesday's Open Ice, his shooting and scoring has spiked this past week.
San Jose Sharks: While the Blues have a very good schedule for the coming week, the Sharks have the best one. Four games -- against the Calgary Flames, Edmonton Oilers, Vancouver Canucks and Chicago Blackhawks -- make for a very good outlook on both offense and defense. While he is arguably the poster boy for injury-plagued talent on the ice, Martin Havlat is back with the Sharks now. And, while it won't be a no-brainer once Brent Burns finally returns to the ice from a mouth injury, Havlat is a lock for top-six ice time. In four games, he has spiked for one two-point effort on a line with Logan Couture and Patrick Marleau. With a good schedule and no sign of Burns' return, Halvat should be a great addition for next week.
Also, it's time to respect Tommy Wingels in fantasy. An early season add for many owners who play in formats that count hits and blocked shots, Wingels is putting up numbers for more standard fantasy leaguers as well. Like Havlat, Wingels is an easy choice for the top six while Burns is injured. It's likely Wingels or Havlat is facing demotion when Burns comes back, but for now, both are safe. As profiled in Thursday's Line Shifts here on ESPN.com, Wingels is hot, and playing with Joe Thornton. Throw in a good schedule and he is worth a look.
Looking for defensemen
Ryan McDonagh, D, New York Rangers: Michael Del Zotto's loss is McDonagh's gain. Given ample time to find his groove, but coming up empty, Del Zotto is out as the power-play quarterback and McDonagh is in. The result has been seven points in the past eight games, with three of them on the man advantage. The Rangers are finally showing some signs of life on offense without Rick Nash, and while it may seem like bandwagon jumping, McDonagh's production is very sustainable over the long term.
Jake Muzzin, D, Los Angeles Kings: Injury slowed Muzzin's start to the season, but he is back now, and playing with Drew Doughty both on and off the power play. He has managed six points in eight games since returning to health, and will offer more offense over the remainder of the season than any other defenseman available in almost three-quarters of ESPN leagues. The Kings have four games next week, in case you needed more incentive.
Looking for goaltending
Robin Lehner, G, Ottawa Senators: Do you feel like Lehner is being hammered to you a little too much in fantasy hockey? Well, good. He has that much potential.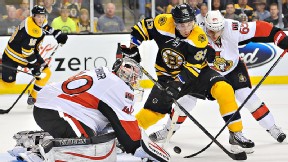 Brian Babineau/NHLI/Getty ImagesThe very talented Robin Lehner may soon push the Senators into a time-share situation in goal.
While prospectors are drooling at the idea of Lehner taking over for the Senators, it's not as cut and dry in reality. Craig Anderson is hurt and it's becoming painfully obvious that Lehner is ready for primetime, but Anderson has earned enough respect as a No. 1 that the job will be his to return to. But for how long? Anderson has struggled this season, especially when compared directly to Lehner's numbers for the same team. It would only take a stumble or two before Lehner can turn this into a timeshare.
While Lehner's value is at a peak right now, it's going to fall when Anderson returns. There is talk Anderson could return by the weekend, which means next week -- when Anderson is back in action -- is precisely when you should look to acquire Lehner in trade. In the long game, Lehner could easily be the more valuable goaltender this season. We will see very quickly if Anderson is back to his brick-wall self when he returns, but stashing Lehner is a wise move just in case.
Martin Brodeur, G, New Jersey Devils: As part of learning the ropes from Brodeur this season, Cory Schneider will be spending parts of it riding the pine. Brodeur may be in a curtain-call campaign, but that doesn't mean he isn't going to get hot every once in a while. We are talking about one of the best of all time, after all. Brodeur has won three of his past four, and allowed only two goals total in his past three. The Devils don't have a particularly great schedule next week, but Brodeur is on a roll and available in many leagues.
Hockey Challenge
Each week, the Fantasy Forecaster will also include some advice for the ESPN Hockey Challenge. This is the salary cap game that allows you free reign over your fantasy hockey decisions within a starting budget of $100 million in fantasy money. For more on the game and to sign up, click here.
One thing to keep in mind as the Hockey Challenge moves along, are the different rules that apply to goaltenders. Mike Smith is letting in close to three goals per game this season, but because the Phoenix Coyotes have been scoring, he is tied for sixth among goaltenders for points this season. Remember to look beyond the ratios at who is winning and has a winnable schedule. The shutout bonuses don't really change the order of which goaltenders have the most points in the Hockey Challenge. It's all about the wins.
Four-game teams: The Columbus Blue Jackets, Los Angeles Kings, St. Louis Blues, San Jose Sharks and Tampa Bay Lightning are the options for four-game teams to give that extra leg up on games played. Of the goaltending options, Jonathan Quick ($12.1M), who keeps winning despite unfortunate stats, and Antti Niemi ($11.9M), who just keeps winning, period, are the best options. Ben Bishop ($11.5M) could help you pinch a couple pennies, but the extra money is likely worth it for Quick or Niemi.
Streaking players with four games: Both Drew Doughty ($7.4M) and Jake Muzzin ($6.1M) have been contributing for the Kings. As defense partners on and off the power play, they would make a nice coupled investment for the Kings' four-game week against beatable opponents. Kevin Shattenkirk ($7.4M) and Alex Pietrangelo ($7.4M) are always a good bet when the Blues are playing a four-game week, as well. Shattenkirk, in particular, is streaking.
Steven Stamkos ($9.6M) is scoring at will lately. He may be expensive in this game, but there is a reason he costs the big bucks. To save a little coin, stash Alex Killorn ($4.7M), who is riding Stamkos' coattails on the top line. The Kings' schedule is extremely soft for scoring, with games against the Buffalo Sabres, New York Islanders, New Jersey Devils and New York Rangers next week. Anze Kopitar ($8.8M) is probably a wise decision for your roster, and feel free to supplement him with anyone else who scores for the Kings.
My roster for next week:

Jonathan Quick, G, LA - $12.1M
Antti Niemi, G, SJ - $11.9M
Drew Doughty, D, LA - $7.4M
Erik Karlsson, D, OTT - $7.5M ($8.4M on market)
P.K. Subban, D, MTL - $7.8M ($8.0M on market)
Dan Boyle, D, SJ - $6.8M ($6.7M on market)
Alex Ovechkin, F, WSH - $9.0M ($8.9M on market)
Steven Stamkos, F, TB - $9.6M
Martin St. Louis, F, TB - $8.7M
Alex Killorn, F, LA - $4.7M
Alexander Steen, F, STL - $7.0
Anze Kopitar, F, LA - $8.8M
Sean Allen is a fantasy analyst for ESPN.com. He was the 2008 and 2009 Fantasy Sports Writers Association Hockey Writer of the Year. You can tweet him
@seanard
.
SPONSORED HEADLINES
FANTASY TOP HEADLINES
MOST SENT STORIES ON ESPN.COM