Fantasy Forecaster: Week 8
The week's best/worst matchups, plus what to do with disappointing players
Updated:
November 18, 2013, 7:53 AM ET
By
Sean Allen
| Special to ESPN.com
Getty ImagesAlexander Edler, Max Pacioretty and David Clarkson have disappointed fantasy owners.
It's not always something you want to do, and it doesn't feel honorable to cut and run with a fantasy player that you took the time to invest in at the draft table, but at some point something has to give. You can only carry dead weight for so long and hope to compete in your league. Eventually, it's going to hurt you. The lost games from benching a player on your roster will add up. Or maybe you keep rolling them out there in hopes that they will turn things around, but instead are just giving you minus ratings with no counting stats.
You have to make the uncomfortable decision at some point as to whether you want to keep riding with an underperforming player in hopes they will turn things around. But decision day is approaching. We are about a quarter of the way through the NHL season, which is a long time for a player not to be doing what he is supposed to be doing. Let's have a closer look at some players who have been very disappointing.
Alexander Edler, D, Vancouver Canucks: With an ADP of 117.5, Edler was taken as a No. 3 fantasy defenseman following a somewhat disappointing lockout-shortened campaign in which he netted only 22 points. But in the 2011-12 season, Edler had 49 points and was near the elite level among blueliners. His ice time is just fine this season, but he only has six points in 18 games, which puts him on pace for just 26 points over a full season. What is maybe more concerning is the minus-8 rating that seems to be just getting worse. The main problem for Edler is that the Canucks have four capable defensemen who can contribute offensively, and it seems as though new coach John Tortorella has different favorites than former coach Alain Vigneault did. To wit, Kevin Bieksa and Jason Garrison are earning preferential treatment on the power play.
Can Edler turn things around? Probably not enough to be a No. 3 fantasy defenseman under Tortorella. The shots on goal are still there for Edler, but he would need Bieksa or Garrison to get injured in order to bypass them for better assignments. Selling Edler for what you can get in shallow and medium leagues would be advisable. There is a point of diminishing returns in deeper leagues, however, where the lack of quality defensemen may be enough reason to hang on to Edler and hope for the best. But in 10- or 12-team leagues, there are enough replacement players available that you should shop him to an owner who remembers sunnier days.
Max Pacioretty, F, Montreal Canadiens: The four points in 10 games and minus-4 rating really make Pacioretty's numbers look ugly this season. Looking right now to see one point in five games since his return from a hamstring injury makes it even uglier. But remember, he has missed almost half of the Habs' games so far this season, and getting back into gear following a hamstring injury may take a few games. Pacioretty needs to be cut some serious slack and may even be a target for acquisition at the moment. The Canadiens remain committed to their offensive catalyst of recent seasons by skating him on a talented line with Tomas Plekanec and Brian Gionta, a trio that also makes up the first power-play unit. The scoring will come for Pacioretty. If you need a tangible sign before acting, just wait until you see a spike in the shots on goal and then go after him.
David Clarkson, F, Toronto Maple Leafs: Snip, snip. Here is our first major cut-and-run candidate. There was plenty of warning before the season that Clarkson might not be a top-six winger with the Maple Leafs (as he was with the Devils), despite his decent-sized contract as a free agent. It's clear now that he is destined for the third line when everybody is healthy. And with Tyler Bozak nearing a return, that will mean Clarkson is out of the top six; with Dave Bolland sidelined, the Leafs' third line doesn't offer much fantasy potential. A moderate 23 penalty minutes and fewer than 17 minutes in average ice time is not going to cut it for peripheral stats if Clarkson isn't going to find a way to score. Clarkson played a substantial role with New Jersey last season, but it seems he won't be repeating that value in a Leafs uniform.
Jack Johnson, D, Columbus Blue Jackets: How forgetful we can be when injuries wipe out a season or two. Coming into the campaign, it really did look like the Blue Jackets had a couple of pretty even options for offensive defenseman with Johnson and James Wisniewski. Johnson was coming off a better 2013 season than his counterpart, but both were being taken as No. 3 fantasy defensemen in drafts (fairly close together, too). The problem, for Johnson, is that this is actually a slam dunk in favor of Wisniewski, and he has found a different partner in crime. With 14 points through 18 games for Wisniewski -- compared to Johnson's five points -- there is no question whom the team is relying on for production. The extra-bad news for Johnson is that rookie Ryan Murray has settled in so well next to Wisniewski that he is playing with him both on and off the power play now. While Johnson is a good defenseman, he won't be a good fantasy defenseman as long as sheriff Wisniewski is in town.
Team

Mon
11/18

Tue
11/19

Wed
11/20

Thu
11/21

Fri
11/22

Sat
11/23

Sun
11/24

Anaheim
DUCKS
@PIT
O: 2
D: 1
OFF
NJ
O: 9
D: 9
OFF
TB
O: 10
D: 7
@PHO
O: 7
D: 1
OFF
G: 4
H: 2
O: 9
D: 6
Boston
BRUINS
@CAR
O: 6
D: 10
@NYR
O: 7
D: 8
OFF
STL
O: 4
D: 6
OFF
CAR
O: 4
D: 10
OFF
G: 4
H: 2
O: 7
D: 10
Buffalo
SABRES
OFF
STL
O: 5
D: 1
OFF
@PHI
O: 1
D: 5
OFF
OFF
DET
O: 5
D: 3
G: 3
H: 2
O: 3
D: 4
Calgary
FLAMES
@WPG
O: 5
D: 1
OFF
CLS
O: 6
D: 4
OFF
FLA
O: 7
D: 7
OFF
OFF
G: 3
H: 2
O: 6
D: 5
Carolina
HURRICANES
BOS
O: 1
D: 7
OFF
OFF
@DET
O: 5
D: 2
OFF
@BOS
O: 3
D: 1
OTT
O: 2
D: 7
G: 4
H: 2
O: 1
D: 6
Chicago
BLACKHAWKS
OFF
@COL
O: 8
D: 5
OFF
@WPG
O: 10
D: 8
OFF
@VAN
O: 10
D: 7
OFF
G: 3
H: 0
O: 10
D: 7
Colorado
AVALANCHE
OFF
CHI
O: 9
D: 1
OFF
@PHO
O: 9
D: 8
OFF
@LA
O: 6
D: 9
OFF
G: 3
H: 1
O: 8
D: 5
Columbus
BLUE
JACKETS
OFF
@EDM
O: 8
D: 3
@CGY
O: 9
D: 4
OFF
@VAN
O: 3
D: 4
OFF
OFF
G: 3
H: 0
O: 6
D: 5
Dallas
STARS
OFF
OFF
OFF
NYR
O: 2
D: 7
OFF
@STL
O: 10
D: 1
OFF
G: 2
H: 1
O: 3
D: 3
Detroit
RED WINGS
OFF
NSH
O: 8
D: 7
OFF
CAR
O: 5
D: 9
OFF
OTT
O: 7
D: 6
@BUF
O: 7
D: 10
G: 4
H: 3
O: 9
D: 9
Edmonton
OILERS
OFF
CLS
O: 6
D: 3
OFF
FLA
O: 7
D: 6
OFF
OFF
OFF
G: 2
H: 2
O: 3
D: 4
Florida
PANTHERS
OFF
@VAN
O: 1
D: 4
OFF
@EDM
O: 5
D: 4
@CGY
O: 7
D: 5
OFF
OFF
G: 3
H: 0
O: 2
D: 6
Los Angeles
KINGS
OFF
TB
O: 7
D: 4
OFF
NJ
O: 6
D: 6
OFF
COL
O: 6
D: 3
OFF
G: 3
H: 3
O: 6
D: 6
Minnesota
WILD
OFF
@MTL
O: 3
D: 5
@OTT
O: 6
D: 5
OFF
OFF
@WPG
O: 7
D: 9
OFF
G: 3
H: 0
O: 5
D: 7
Montreal
CANADIENS
OFF
MIN
O: 5
D: 2
OFF
OFF
@WSH
O: 8
D: 6
PIT
O: 4
D: 1
OFF
G: 3
H: 2
O: 6
D: 4
Nashville
PREDATORS
OFF
@DET
O: 5
D: 4
OFF
@TOR
O: 2
D: 4
OFF
NYR
O: 6
D: 2
OFF
G: 3
H: 1
O: 4
D: 4
New Jersey
DEVILS
OFF
OFF
@ANA
O: 5
D: 2
@LA
O: 4
D: 1
OFF
@SJ
O: 3
D: 1
OFF
G: 3
H: 0
O: 3
D: 1
New York
ISLANDERS
OFF
@TOR
O: 3
D: 1
OFF
OFF
@PIT
O: 3
D: 1
@PHI
O: 3
D: 3
OFF
G: 3
H: 0
O: 2
D: 1
New York
RANGERS
OFF
BOS
O: 1
D: 6
OFF
@DAL
O: 6
D: 7
OFF
@NSH
O: 7
D: 5
OFF
G: 3
H: 1
O: 4
D: 7
Ottawa
SENATORS
OFF
@PHI
O: 8
D: 5
MIN
O: 5
D: 4
OFF
OFF
@DET
O: 9
D: 3
@CAR
O: 8
D: 6
G: 4
H: 1
O: 10
D: 6
Philadelphia
FLYERS
OFF
OTT
O: 2
D: 6
OFF
BUF
O: 2
D: 9
OFF
NYI
O: 4
D: 6
OFF
G: 3
H: 3
O: 1
D: 7
Phoenix
COYOTES
OFF
OFF
OFF
COL
O: 7
D: 2
OFF
ANA
O: 10
D: 2
OFF
G: 2
H: 2
O: 5
D: 2
Pittsburgh
PENGUINS
ANA
O: 7
D: 8
OFF
@WSH
O: 7
D: 1
OFF
NYI
O: 10
D: 9
@MTL
O: 4
D: 1
OFF
G: 4
H: 2
O: 9
D: 6
St. Louis
BLUES
OFF
@BUF
O: 8
D: 10
OFF
@BOS
O: 4
D: 9
OFF
DAL
O: 7
D: 1
OFF
G: 3
H: 1
O: 7
D: 7
San Jose
SHARKS
OFF
OFF
OFF
TB
O: 9
D: 5
OFF
NJ
O: 7
D: 5
OFF
G: 2
H: 2
O: 6
D: 4
Tampa Bay
LIGHTNING
OFF
@LA
O: 4
D: 8
OFF
@SJ
O: 2
D: 4
@ANA
O: 5
D: 9
OFF
OFF
G: 3
H: 0
O: 3
D: 7
Toronto
MAPLE LEAFS
OFF
NYI
O: 10
D: 4
OFF
NSH
O: 10
D: 6
OFF
WSH
O: 7
D: 2
OFF
G: 3
H: 3
O: 10
D: 5
Vancouver
CANUCKS
OFF
FLA
O: 6
D: 10
OFF
OFF
CLS
O: 5
D: 8
CHI
O: 5
D: 4
OFF
G: 3
H: 3
O: 5
D: 8
Washington
CAPITALS
OFF
OFF
PIT
O: 8
D: 3
OFF
MTL
O: 6
D: 3
@TOR
O: 8
D: 6
OFF
G: 3
H: 2
O: 7
D: 5
Winnipeg
JETS
CGY
O: 8
D: 6
OFF
OFF
CHI
O: 4
D: 1
OFF
MIN
O: 1
D: 3
OFF
G: 3
H: 3
O: 3
D: 4
"O" (offense) and "D" (defense) matchup ratings are based upon a scale from 1 (poor matchup) to 10 (excellent matchup), and are calculated using a formula that evaluates the team's year-to-date and past 21 days' statistics, their performance in home/road games depending on where the game is to be played, as well as their opponents' numbers in those categories. The column on the right lists the team's total number of games played ("G") as well as home games ("H"), and lists the cumulative rating from 1-10 of that week's offensive ("O") and defensive ("D") matchups.
Ratings color scale

"Warmth" matchup colors are based only upon the team's offensive rating for the game or week in question.
1
2
3
4
5
6
7
8
9
10
Looking for offense
Detroit Red Wings: First, you need to go check if Johan Franzen is available in your league. The winger is available in 30 percent of ESPN leagues, and probably shouldn't be. While his start to the campaign has been woeful, Franzen can score with the best of them when healthy (and he is healthy, for now). The Wings take on the Nashville Predators, Ottawa Senators, Carolina Hurricanes and Buffalo Sabres this week in what can only be termed an offensive dream week. Depending on the goalie each opponent starts, this has to be one of the most porous week of opponents we'll see all season. Franzen earned an assist in his return to the ice on Tuesday, skating on a line with Daniel Alfredsson, and put in some modest work on the power play.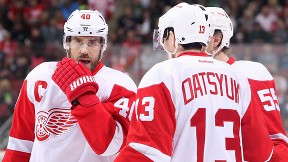 Christian Petersen/Getty ImagesPlaying with Henrik Zetterberg and Pavel Datsyuk tends to work out well for the third man on their line.
The other name to consider for your lineup is, gulp, Todd Bertuzzi. It still feels weird to consider him since his campaigns as an offensive and fantasy powerhouse are so far behind him, but coach Mike Babcock is using him on a line with two of the game's absolute superstars in Henrik Zetterberg and Pavel Datsyuk. Bertuzzi is even playing some power-play minutes with them as well. Even when Stephen Weiss returns, he is destined for the third line it seems. Bertuzzi might -- just might -- have a top-line assignment to hold as long as he wants. With nine points in 19 games, we are only scratching the surface of what consistent ice time with Zetterberg and Datsyuk can yield. Consider Bertuzzi for next week and you may well end up keeping him longer.
Chicago Blackhawks: You should absolutely pick up Kris Versteeg on spec. While the Blackhawks' second line with Patrick Kane, Brandon Saad and Brandon Pirri has picked up its play of late, Versteeg is a talented offensive player and will be waiting for a chance to punch into the top six. But for this week, Pirri and Saad are where it's at. Both players have points in the past two games as they continue to share the ice with Kane. The Hawks face the Colorado Avalanche, Winnipeg Jets and Vancouver Canucks on the road this week, but get an O:10 rating on the Forecaster for their travels. Pirri is widely available, was a scoring machine in junior hockey (and the AHL) and could have a breakout campaign this season if he continues to get premium ice time. He is a great target for this week and going forward. Versteeg, at the least, might be in for some specialty work on the power play right from the get-go, and might be worth deploying in deeper leagues.
Looking for defensemen
Joe Corvo, D, Ottawa Senators: Don't look now, but we've had a Joe Corvo sighting. The typical fantasy black hole has five points in eight games as an occasional player for the Ottawa Senators. Heck, Corvo was even given some power-play duties against the Flyers on Tuesday. Chris Phillips should be back soon from an undisclosed ailment, but if he is not, there are worse players to consider rolling when the Sens have an advantageous schedule.
Looking for goaltending
[+] Enlarge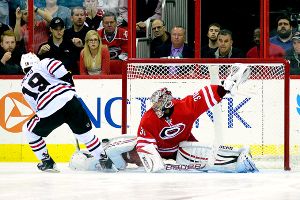 Grant Halverson/Getty ImagesCam Ward could be back in the Hurricanes' crease quite soon.
Cam Ward, G, Carolina Hurricanes: With reports that Ward could be backing up Justin Peters by the weekend, don't hesitate to scoop him up now. Ward has borderline No. 1 fantasy goaltender upside (when his offense is helping him get wins) and should not be available in 50 per cent of ESPN leagues. With Ward back to riding the pine over the weekend, he could be in line for starting duties when the Canes play four games this upcoming week. While the team will have to score to get him the win, the Boston Bruins are the Hurricanes' opponents twice next week, and that offers a chance at good ratios.
Kevin Poulin, G, New York Islanders: Sometimes you don't have to be anything more than better than the next alternative. So far, Poulin has been better than Evgeni Nabokov, and the tide has seemingly turned in his favor. The Isles will have winnable games against the Maple Leafs and Flyers next week and, as so many coaches have done with their anointed No. 1 options this season, Nabokov is likely to catch the Pittsburgh Penguins in between those games. If you are desperate for goaltending, Poulin is available in the vast majority of leagues and, with the way the pendulum has swung, is in line for at least two starts next week.
Hockey Challenge
Each week the Fantasy Forecaster will also include some advice for the ESPN Hockey Challenge. This is the salary cap game that allows you free reign over your fantasy hockey decisions within a starting budget of $100 million in fantasy money. For more on the game and to sign up, click here.
Four-game teams: Teams playing the extra contest next week include the Anaheim Ducks, Boston Bruins, Carolina Hurricanes, Detroit Red Wings, Ottawa Senators and Pittsburgh Penguins. That makes Tuukka Rask ($12.3M) and Marc-Andre Fleury ($11.3M) close to irresistible for your goaltending needs. But if you are a risk-reward type, Robin Lehner ($10.0) is still cheap and could rise quickly if Craig Anderson ($11.6M) continues to stumble.
Streaking players with four games: As pointed out in the Forecaster, the Red Wings have a very favorable schedule next week. Henrik Zetterberg ($9.1M) and Pavel Datsyuk ($8.7M) are easy choices for your lineup, but cheaper options like Todd Bertuzzi ($6.1M) could round out your roster and save you money for your defense. As for your defense, sticking with the Red Wings is a good idea and Niklas Kronwall ($7.5M) should be a top choice. Kris Letang ($7.5M) is still undervalued, and could help give you a salary cap boost with a big week.
My roster for next week:

Tuukka Rask, G, BOS - $12.3M
Marc-Andre Fleury, G, PIT - $11.9M
Kris Letang, D, PIT - $7.5M
Erik Karlsson, D, OTT - $7.5M ($8.6M on market)
P.K. Subban, D, MTL - $7.8M ($8.2M on market)
Niklas Kronwall, D, DET - $7.5M
Alex Ovechkin, F, WSH - $9.0M ($9.2M on market)
Todd Bertuzzi, F, DET - $6.1M
Henrik Zetterberg, F, DET - $9.1M
Pavel Datsyuk, F, DET - $8.7M
Alexander Steen, F, STL - $7.0 ($7.2M on market)
Sidney Crosby, F, PIT - $9.4M
Sean Allen is a fantasy analyst for ESPN.com. He was the 2008 and 2009 Fantasy Sports Writers Association Hockey Writer of the Year. You can tweet him
@seanard
.