Fantasy Forecaster: Week 3
Updated:
October 11, 2013, 3:14 PM ET
By
Sean Allen
| Special to ESPN.com
The goaltending situation for the majority of the NHL is incredibly straightforward. It could easily be argued that 19 teams have a No. 1 goaltender, and the discussion as to the fantasy relevance of the team's netminders ends there. That leaves 11 teams where some discussion or consideration could take place as to which goaltender is worth owning.
If we eliminate the Florida Panthers and Calgary Flames from the discussion -- because it is probably not wise to own any goaltender from those teams at this point -- we are left with nine teams. The Minnesota Wild have an injury problem right now, and the Edmonton Oilers have an ability-to-play-defense problem. We can lump the Wild in with the 19 teams that have a No. 1, though, because that is Niklas Backstrom when healthy. Meanwhile, early returns encourage us to lump the Oilers in with the Flames and Panthers. Also, for the first time in a couple seasons, it is safe to declare the timeshare dead for the St. Louis Blues. Jaroslav Halak is the starter there.
We are down to six teams on which fantasy owners will have to keep an eye regarding their goaltending timeshare. Why? Because whoever is starting has a chance to earn value in your league. Five of the timeshares we knew about before the season began, but the last one is an early surprise.
Anaheim Ducks: So far, Anaheim's goaltenders have started in the opposite direction than they did last season. Jonas Hiller has great ratios through two games, while Viktor Fasth's numbers don't look so hot.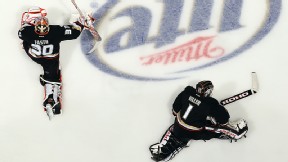 Debora Robinson/Getty ImagesViktor Fasth and Jonas Hiller are both capable of being quite valuable in fantasy hockey.
To be fair, Hiller didn't have to do much against the New York Rangers on Thursday in his 34-save shutout. There were only about half a dozen real scoring chances. But still, Hiller has the advantage of his statistics looking prettier at this point. Coach Bruce Boudreau has shown an affinity for riding the hot hand and remaining loyal to the on-paper No. 1. What we mean is that last season when Fasth was super-hot between the pipes, Boudreau would still mix in more Hiller starts than one would expect. Given that Hiller is the one looking hot right now, that definitely tips the scales in his favor. It would not be surprising to see Boudreau quickly adopt Hiller as his go-to starter most nights. Fasth likely still has breathing room for another week of rotating starts, but if he doesn't make a statement soon it could be Hiller Time.
The underlying good news is that in three of the Ducks' four games, the team defense has been phenomenal, and was limiting chances in a Boston Bruins-esque effort. If the overall play of the club can still be potent on offense and strong on defense, it would be very beneficial to whoever is starting in net.
New Jersey Devils: Well, Martin Brodeur's ratios are about as gaudy as we feared coming into the season. The problem is that so are Cory Schneider's. Both goaltenders have failed to impress through two starts each. Schneider drew the more difficult starts against the Pittsburgh Penguins and Vancouver Canucks, and boasts the only game in which the Devils have a save percentage better than .900, so he has whatever slight advantage there is to be had in this situation. It's a disappointing start to the season given, Schneider's enormous upside as a No. 1 for the Devils, but he needs to separate himself from Brodeur before than can happen. At this point, expect a rotation to continue until Schneider can give the coaches a reason to stop it.
Philadelphia Flyers: From listening to new Flyers coach Craig Berube's quotes, he sounds like a traditional hockey guy that wants a No. 1 goaltender on whom to rely. He certainly doesn't sound like he wants a timeshare carousel between the pipes. In fact, Berube has said he expects the situation to work itself out between Steve Mason and Ray Emery. Mason has the definitive edge right now, with quite sparkling ratios that include a 2.02 goals-against average to Emery's 4.00 GAA. Mason will look to extend his advantage Friday night at home against the Phoenix Coyotes, and Emery will get a crack on Saturday on the road against the Detroit Red Wings. Berube is bringing in a focus on defense, and the Flyers have a very talented defensive core. One goaltender will eventually win the lion's share of starts. This is a situation worth betting on, and Mason is the better bet right now.
Toronto Maple Leafs: This timeshare is on life support. Jonathan Bernier has all but removed any doubt that he is the better goaltender for the Maple Leafs with an unreal 0.84 goals-against average through four appearances, which has led to three wins. Can you cut bait on James Reimer? Yes, unless you play in a ridiculously deep league. Bernier, as we expected before the season, will carry the load for the Leafs this season. It just looks like he is starting sooner than expected.
Washington Capitals: We listed three different scenarios for a team's goaltending fantasy value: unquestioned No. 1, irrelevant and timeshare. While the Capitals still fit into timeshare right now, you almost want to include them with the irrelevant teams. Braden Holtby's numbers are terrible through four starts -- a 4.04 GAA and .873 save percentage -- but you wonder if any goaltender in his situation would have more success. Watching how many great saves he made when his team left him hung out to dry against the Hurricanes on Thursday, was pretty revealing. Holtby didn't make any mistakes in the game, but the Capitals are giving up way too many chances. Holtby may cede some starts to Michal Neuvirth, but you probably shouldn't hold your breath for a drastically improved result. Obviously, the team can play -- we saw this last season -- so there is still hope that the ship is righted before long.
Carolina Hurricanes: Here is the shocker of the group. Cam Ward has a 3.90 goals-against average and .893 save percentage to go with a pair of losses. Anton Khudobin, who appeared to only move from Tuukka Rask's shadow to Ward's shadow this season, is pushing for a chance to shine. Through two starts, Khudobin boasts a 1.50 GAA and .940 save percentage, with a pair of wins. Khudobin made a ton of difficult saves against the Capitals on Thursday to out-duel Holtby for the win. One goal against him was a mental error, but the other was a fluke bounce.
Now, Ward actually had a great start against the Red Wings in a season-opening loss, and it's hard to blame any goaltender too much for giving up five goals to the Penguins. So while Ward isn't entirely to blame for his numbers, Khudobin's performance has been eye-opening. We will need a few more of the same results before this can be considered a full-blown timeshare, but the warning signs are there. Handcuff Khudobin to Ward if you must. As you'll see in the forecaster below, the Hurricanes don't have back-to-back games for another week, so seeing a start from Khudobin before then would be a bad sign for Ward.
Speaking of the forecaster...
Team

Mon
10/14

Tue
10/15

Wed
10/16

Thu
10/17

Fri
10/18

Sat
10/19

Sun
10/20

Anaheim
DUCKS
OFF
OFF
CGY
O: 8
D: 5
OFF
PHO
O: 6
D: 6
OFF
DAL
O: 6
D: 7
G: 3
H: 3
O: 7
D: 6
Boston
BRUINS
DET
O: 3
D: 8
OFF
OFF
@FLA
O: 7
D: 9
OFF
@TB
O: 8
D: 7
OFF
G: 3
H: 1
O: 5
D: 9
Buffalo
SABRES
MIN
O: 4
D: 5
@NYI
O: 4
D: 4
OFF
VAN
O: 1
D: 5
OFF
COL
O: 3
D: 5
OFF
G: 4
H: 3
O: 3
D: 7
Calgary
FLAMES
OFF
OFF
@ANA
O: 7
D: 4
OFF
OFF
@SJ
O: 7
D: 2
OFF
G: 2
H: 0
O: 4
D: 1
Carolina
HURRICANES
OFF
CHI
O: 5
D: 3
OFF
@TOR
O: 4
D: 3
OFF
@NYI
O: 6
D: 3
OFF
G: 3
H: 1
O: 4
D: 2
Chicago
BLACKHAWKS
OFF
@CAR
O: 8
D: 8
OFF
STL
O: 7
D: 1
OFF
TOR
O: 4
D: 4
OFF
G: 3
H: 2
O: 6
D: 3
Colorado
AVALANCHE
OFF
DAL
O: 4
D: 9
OFF
DET
O: 2
D: 9
OFF
@BUF
O: 4
D: 6
OFF
G: 3
H: 2
O: 3
D: 9
Columbus
BLUE
JACKETS
OFF
@DET
O: 3
D: 6
OFF
@MTL
O: 5
D: 3
OFF
@WSH
O: 5
D: 2
VAN
O: 3
D: 8
G: 4
H: 1
O: 4
D: 7
Dallas
STARS
OFF
@COL
O: 4
D: 7
OFF
SJ
O: 5
D: 1
OFF
@LA
O: 4
D: 5
@ANA
O: 5
D: 6
G: 4
H: 1
O: 5
D: 6
Detroit
RED WINGS
@BOS
O: 2
D: 6
CLS
O: 5
D: 7
OFF
@COL
O: 4
D: 7
OFF
@PHO
O: 4
D: 7
OFF
G: 4
H: 1
O: 4
D: 10
Edmonton
OILERS
@WSH
O: 7
D: 3
@PIT
O: 7
D: 2
OFF
@NYI
O: 7
D: 4
OFF
@OTT
O: 5
D: 6
OFF
G: 4
H: 0
O: 10
D: 5
Florida
PANTHERS
OFF
@NSH
O: 5
D: 5
OFF
BOS
O: 5
D: 2
OFF
MIN
O: 7
D: 3
OFF
G: 3
H: 2
O: 5
D: 3
Los Angeles
KINGS
OFF
@TB
O: 8
D: 3
OFF
@NSH
O: 8
D: 6
OFF
DAL
O: 7
D: 9
OFF
G: 3
H: 1
O: 8
D: 6
Minnesota
WILD
@BUF
O: 6
D: 8
@TOR
O: 5
D: 5
OFF
@TB
O: 8
D: 4
OFF
@FLA
O: 9
D: 6
OFF
G: 4
H: 0
O: 10
D: 8
Montreal
CANADIENS
OFF
@WPG
O: 9
D: 7
OFF
CLS
O: 5
D: 5
OFF
NSH
O: 6
D: 6
OFF
G: 3
H: 2
O: 7
D: 6
Nashville
PREDATORS
OFF
FLA
O: 8
D: 5
OFF
LA
O: 6
D: 3
OFF
@MTL
O: 5
D: 2
@WPG
O: 4
D: 4
G: 4
H: 2
O: 7
D: 4
New Jersey
DEVILS
OFF
OFF
OFF
@OTT
O: 2
D: 7
OFF
NYR
O: 3
D: 7
OFF
G: 2
H: 1
O: 1
D: 4
New York
ISLANDERS
OFF
BUF
O: 6
D: 7
OFF
EDM
O: 8
D: 4
OFF
CAR
O: 7
D: 5
OFF
G: 3
H: 3
O: 7
D: 5
New York
RANGERS
OFF
OFF
@WSH
O: 5
D: 2
OFF
OFF
@NJ
O: 5
D: 6
OFF
G: 2
H: 0
O: 3
D: 2
Ottawa
SENATORS
OFF
@PHO
O: 6
D: 6
OFF
NJ
O: 3
D: 9
OFF
EDM
O: 5
D: 7
OFF
G: 3
H: 2
O: 4
D: 8
Philadelphia
FLYERS
OFF
VAN
O: 5
D: 8
OFF
PIT
O: 5
D: 4
OFF
OFF
OFF
G: 2
H: 2
O: 2
D: 3
Phoenix
COYOTES
OFF
OTT
O: 6
D: 4
OFF
OFF
@ANA
O: 5
D: 4
DET
O: 6
D: 5
OFF
G: 3
H: 2
O: 5
D: 4
Pittsburgh
PENGUINS
OFF
EDM
O: 8
D: 8
OFF
@PHI
O: 6
D: 6
OFF
VAN
O: 8
D: 8
OFF
G: 3
H: 2
O: 7
D: 8
St. Louis
BLUES
OFF
SJ
O: 7
D: 5
OFF
@CHI
O: 7
D: 4
@WPG
O: 7
D: 7
OFF
OFF
G: 3
H: 1
O: 7
D: 5
San Jose
SHARKS
OFF
@STL
O: 5
D: 5
OFF
@DAL
O: 5
D: 8
OFF
CGY
O: 9
D: 8
OFF
G: 3
H: 1
O: 6
D: 7
Tampa Bay
LIGHTNING
OFF
LA
O: 8
D: 3
OFF
MIN
O: 9
D: 5
OFF
BOS
O: 6
D: 4
OFF
G: 3
H: 3
O: 8
D: 4
Toronto
MAPLE LEAFS
OFF
MIN
O: 6
D: 8
OFF
CAR
O: 8
D: 8
OFF
@CHI
O: 5
D: 6
OFF
G: 3
H: 2
O: 6
D: 8
Vancouver
CANUCKS
OFF
@PHI
O: 4
D: 6
OFF
@BUF
O: 6
D: 8
OFF
@PIT
O: 4
D: 2
@CLS
O: 4
D: 8
G: 4
H: 0
O: 6
D: 9
Washington
CAPITALS
EDM
O: 9
D: 4
OFF
NYR
O: 7
D: 5
OFF
OFF
CLS
O: 7
D: 6
OFF
G: 3
H: 3
O: 8
D: 5
Winnipeg
JETS
OFF
MTL
O: 6
D: 3
OFF
OFF
STL
O: 4
D: 5
OFF
NSH
O: 7
D: 7
G: 3
H: 3
O: 5
D: 5
"O" (offense) and "D" (defense) matchup ratings are based upon a scale from 1 (poor matchup) to 10 (excellent matchup), and are calculated using a formula that evaluates the team's year-to-date and past 21 days' statistics, their performance in home/road games depending on where the game is to be played, as well as their opponents' numbers in those categories. The column on the right lists the team's total number of games played ("G") as well as home games ("H"), and lists the cumulative rating from 1-10 of that week's offensive ("O") and defensive ("D") matchups.
Ratings color scale

"Warmth" matchup colors are based only upon the team's offensive rating for the game or week in question.
1
2
3
4
5
6
7
8
9
10
Looking for offense
Edmonton Oilers: A four-game schedule and an O:10 rating on the forecaster calls for big things from the lineup. While Sam Gagner is making lightning-quick recovery from his broken jaw, we have to rule him out for the coming week to be safe. That leaves us a few options to use when the Oilers have a positive schedule. First and foremost is Mark Arcobello. Playing in Gagner's stead in the top six, Arcobello is linemates with Ales Hemsky and David Perron on the second line for the time being. While he isn't involved in the power-play at this point, Arcobello is on the ice with a talented group that gets to take to the ice against the opponents' second-best defensive players. The trio of Ryan Nugent-Hopkins, Jordan Eberle and Taylor Hall is reunited, and should get scoring quickly as the season continues, leaving some pressure off the second line. Arcobello has two assists through four games, but has more upside during a good schedule. In deeper leagues, Ryan Smyth and Boyd Gordon have been drawing the assignment of standing in front of the net during the Oilers' power play. It's a good job for both players, and has resulted in three power-play points between them through four games. They also have the job of skating on the third line with the dynamic Nail Yakupov, so it's not as if they have no chance at even strength. Finally, there are no points to show for it but Anton Belov continues to be the second-unit quarterback on the power play. There is potential there for those in deep leagues.
Minnesota Wild: The matchup against the red-hot Jonathan Bernier and the Maple Leafs isn't the greatest, but the Wild also play the Buffalo Sabres, Tampa Bay Lightning and Panthers during a four-game week. The team is still trying to find the right flow and combinations on offense, which leaves plenty of potential pickups for fantasy purposes. First and foremost is Nino Niederreiter. After never getting a great chance with the New York Islanders, Niederreiter comes into this season with plenty to prove. He has potential to be a great puck-possession forward with plenty of scoring touch. As the team looks for a top line to stick with, Niederreiter is currently riding on the line with Zach Parise and Mikko Koivu. Obviously, this gives him a great chance to break out, and this is a good week to use him. On the second line and first power-play unit, Mikael Granlund already has three assists and two power-play points this season. He does only have one shot on goal, but he is a playmaker at heart so that's fine. The second line got better with Niederreiter's promotion because it means Jason Pominville joins Granlund and Dany Heatley. Finally, time is running out to pick him up, but Jonas Brodin is showing just how beneficial being Ryan Suter's defense partner can be. Even though Brodin doesn't get as much power-play time, he has three points through four games and is one of only four defensemen in the NHL with two goals.
Looking for goaltending
Josh Harding, G, Minnesota Wild: As mentioned, the Wild have a good schedule next week on offense. But it's not so bad on defense either. With Backstrom dealing with a knee issue, there is huge potential for Harding to provide some great stats next week. Just keep an eye on Backstrom's status through the weekend. We know Harding is one of the higher upside backups in the league and he can shine when given an opportunity.
NOT Joey MacDonald, G, Calgary Flames or Steve Mason, G, Philadelphia Flyers: That's right, this is a warning not to use these two goaltenders if you are in a desperate search for some goaltending assistance. It might be tempting because the early returns on their fantasy value have been positive, but both teams have terrible schedules for the coming week. The Flames take on the Ducks and San Jose Sharks in two games that should have an over/under close to 10 goals. The Flyers battle the Canucks and Penguins next week, both matchups that could go sour very quickly for the Flyers. MacDonald and Mason may have value going forward -- especially Mason -- but not this week.
Quick Hits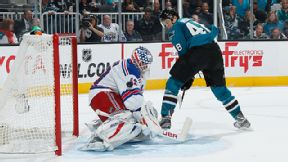 Don Smith/NHLI via Getty ImagesThings went awfully well for Tomas Hertl the other night, but keep your expectations in check.
• Tomas Hertl was ridiculous the other night. Just ridiculous. His six goals through four games next to Joe Thornton are a sign of things to come. Yes, you absolutely need to break the bank or burn the waiver this weekend in leagues that have weekly pickups. But don't forget that Patrick Marleau scored nine goals in the first five games last season and then proceeded to score eight during the remaining 43 games. Hertl will have fantasy value, but lower your expectations from their current lofty heights.
• The Ducks looked awesome against the Rangers on Thursday. Note that it was Dustin Penner skating with the top line, and he had two points before leaving the game with a lower-body injury. He is going to be fantasy-relevant when healthy this season.
• Sean Monahan is rising to the occasion in his chance to win a permanent role in the NHL this season. His ice time is increasing and he has five points through four games. Someone has to score for the Flames, and it looks like it will be the rookie. Unless something crazy happens, he has earned his spot already and won't be headed back to junior.
• You know how we were all crazy about Boone Jenner when it looked like he would play with Marian Gaborik and Brandon Dubinsky? Remember last season when Cam Atkinson was all the rage before the season started? Combine those two feelings as Atkinson is now playing with Gaborik and Dubinsky on the top line for the Columbus Blue Jackets. He has three points in two games on the line.
• A tweak for the Montreal Canadiens, as Lars Eller was moved to play with Danny Briere and Max Pacioretty, while Tomas Plekanec centered Alex Galchenyuk and Brendan Gallagher on Thursday. The Gallagher-Galchenyuk combination lit up the Oilers. This current depth chart is ideal for fantasy owners, as it puts all the best eggs in two baskets instead of spreading them over three.
• Matt Frattin looks to be out and Daniel Carcillo in on the second line as the Los Angeles Kings look to get tougher. It was only one game, but overall Frattin has no points and a minus-5, so Carcillo could stick. He has potential as a penalty minutes addition if he can get enough minutes on the ice not to be a liability.
• Jannik Hansen's loss is Mike Santorelli's gain. Alex Burrows is only out for another week, but that gives Santorelli a week to keep scoring as the linemate with Daniel Sedin and Henrik Sedin. Hansen briefly had the gig, but lost it due to Santorelli's hot hand.
Hockey Challenge
Each week, the Fantasy Forecaster will also include some advice for the ESPN Hockey Challenge. This is the salary cap game that allows you free reign over your fantasy hockey decisions within a $100 million fantasy budget. For more on the game and to sign up, click here.
One thing that is hard to separate for a lot of regular fantasy hockey players is that a goaltender's skill is secondary in the Hockey Challenge. Do they get points for save percentage or goals-against average? Nope. Just wins and shutouts. Is Henrik Lundqvist one of the best goaltenders in the NHL? Yes, but in the Hockey Challenge he isn't so great on a Rangers team that doesn't look to be winning much.
When assessing which goaltenders to include in your lineup for the coming week, the No. 1 consideration has to be who you think will get a win. Shutout bonuses are nice, but are just a bonus. The bread and butter of this game will come from goalies winning games.
So what do you look for? Well, hot streaks come to an end eventually, but in a short-term game that offers you redemption in just one week's time there is nothing wrong with trying to catch lightning in a bottle. The Colorado Avalanche's blistering start could stretch into next week and the team has no back-to-back games. That could mean six big points from Semyon Varlamov. The Penguins and Marc-Andre Fleury are off to a great start and have two gimmes next week against the Oilers and Flyers, plus a game against the Canucks. Six points from Fleury? Quite likely.
Four-game schedules are also good to look for, especially when a team has a workhorse goaltender. Back-to-back games for the Red Wings doesn't necessarily mean we'll see a backup goaltender for Jimmy Howard. So a four-game schedule could truly be a four-game schedule for Howard. While two of the matchups are difficult -- against the Bruins and Avalanche -- the sheer number of starts makes up for it.
We mentioned Varlamov and Howard as two potential goaltenders for next week. They will likely battle each other on Thursday. That isn't a bad thing. It's a guaranteed two points as one of your two goaltenders will win. When making decisions, little things like that two-point lock can make a big difference over a season in a game where we are predicting the future.
The top goaltenders are starting the season around $11.0 million in the Hockey Challenge, and during the last full campaign in 2011-12, that number only creeped up to around $13.0 million by the end of the season. That means goaltenders are not the place to gamble on cap increases and try to raise your spending limit. Focus on accumulating points with your goaltenders, and use the other positions to try and grab a sleeper or two.
My roster for next week:
Marc-Andre Fleury, G, PIT - $11.3M
Jimmy Howard, G, DET - $11.3M
Mike Green, D, WSH - $7.0M
Alex Pietrangelo, D, STL - $6.9M
Tobias Enstrom, D, WPG - $6.9M
Jason Garrison, D, VAN - $6.4M
Alex Ovechkin, F, WSH - $8.7M
Nicklas Backstrom, F, WSH - $8.1M
Mikko Koivu, F, MIN - $7.0M
Sidney Crosby, F, PIT - $8.8M
Daniel Sedin, F, VAN - $8.3M
Henrik Sedin, F, VAN - $8.4M
Sean Allen is a fantasy analyst for ESPN.com. He was the 2008 and 2009 Fantasy Sports Writers Association Hockey Writer of the Year. You can tweet him
@seanard
.
MOST SENT STORIES ON ESPN.COM