Fantasy Forecaster: Week 2
Plenty of hot starters worth considering picking up from waiver wire
Updated:
January 28, 2013, 8:49 AM ET
By
Sean Allen
| Special to ESPN.com
It's the same story every NHL season. You research, plan and draft your fantasy hockey team. You anxiously await the beginning of the season. Then hockey arrives and some of your star players are duds, while some players you didn't think twice about in the draft are scoring left, right and center.
No, panic is not an option. Just because Ryane Clowe has one point while his San Jose Sharks teammates have piles of them, that doesn't mean it is time to drop him after three games.
But the opposite is true. There have been some hot starters who are definitely worth your investment as this season begins. Fantasy owners have smelled the coffee that St. Louis Blues rookie Vladimir Tarasenko has been brewing, jumping his ownership from 15 percent to 97 percent of ESPN leagues in less than a week. The rush to add Tarasenko is plenty legitimate, as he collected six points in his first four NHL games, including some highlight-reel goals in his first game.
So how do you find that balance? You need to be patient with your draft-day investments yet still find a way to gamble on some hot starters. Obviously, injuries would help clear some space, especially if you have an injured reserve roster spot to free up some room. Outside of an injured reserve designation, you are left with analyzing how important the bottom of your roster is. Often, it will be weighing the upside of a hot starter versus the expected performance of your draft choice. In some cases you will have to take a good, hard look at who you drafted and make the conscious choice to drop them. Is it worth ditching Pascal Dupuis (the most-dropped forward in ESPN fantasy leagues during the past week) to hitch your wagon to the Tarasenko train? Yeah, it probably is. Dupuis will collect some points through proximity to Sidney Crosby this season, but Tarasenko looks like he will be the star of his own line.
In order to assist with these decisions, let's have a look at some of the hot starters who are available at different thresholds of ownership and see if they can help you. For our purposes we will do shallow (no availability to 50 percent availability), medium (50 percent to 90 percent availability) and deep leagues (85 percent availability or more).
Shallow League Hot Starters
[+] Enlarge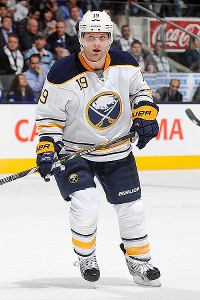 Graig Abel/NHLI via Getty ImagesCody Hodgson has gotten off to a great start so far playing a very talented line.
Alex Tanguay, F, Calgary Flames (available in 6 percent of ESPN leagues): The Flames' top line has been very strong to start the season and has been even better on the power play. Tanguay already has three points in three games, with one of them on the man advantage. The boat could get rocked with the expected Flames debut of both Roman Cervenka and Jiri Hudler this weekend (both worth a look for your team, too), but Tanguay looks to be set in stone with Jarome Iginla and Curtis Glencross for the time being. Tanguay has only had one decent fantasy campaign in the past four seasons, which explains why he is still available in some leagues.
Nick Leddy, D, Chicago Blackhawks (available in 14 percent of ESPN leagues): A good stretch pass and vision can go a long way when your team boasts some great offensive threats. After Brent Seabrook and Duncan Keith, Leddy is the best offensive threat from the Hawks' back end. He has collected four assists in four games and is showing signs of balancing his plus/minus. He is probably better than your bench defense options.
Cody Hodgson, F, Buffalo Sabres (available in 20 percent of ESPN leagues): Hodgson should be owned universally because he is the third member of the line of one of the hottest pairings to begin the season. Taking to the ice with Jason Pominville and Thomas Vanek, Hodgson has scored a goal in each of the Sabres' three games this season. He is also taking a ton of shots on goal. This trio has the skill and support on the depth chart to stay this hot for a long time. There has to be someone on your roster you can toss to the wire to make room.
Josh Harding, G, Minnesota Wild (available in 35 percent of ESPN leagues): Niklas Backstrom, barring injury, is going to start a majority of the Wild's games. But Harding's dedication and skill -- not to mention a proper diagnosis and treatment of his multiple sclerosis -- is going to have him finally putting together the kind of consistency that has been lacking and kept him as a backup for so long. Once we see a pattern emerge for how Harding will be used, he can provide more fantasy value for your team as a spot starter than a No. 1 goalie with poor ratios and minimal wins can.
Alexander Steen, F, St. Louis Blues (available in 46 percent of ESPN leagues): While Tarasenko and Andy McDonald are getting all the attention, Steen is doing his part to make the St. Louis Blues' trio successful. He has four points in four games, and his mix of playmaking and forechecking complement his linemates' abilities. Steen's assist on Thursday included a strong trip into the corner to get control of the puck before he scissored it past two Nashville Predators to set up Tarasenko alone in front. It won't be the last time a similar play occurs this season.
Matt Duchene, F, Colorado Avalanche (available in 48 percent of ESPN leagues): Duchene has been showing another gear so far this season as he attempts to bounce back from a pretty serious third-year slump. His three-point night on Thursday only highlighted what he has been showing through three games this season. Duchene is playing with P.A. Parenteau and Gabriel Landeskog on the team's top line and looks like a great candidate to return to his previous form.
Paul Martin, D, Pittsburgh Penguins (available in 49 percent of ESPN leagues): Martin and Matt Niskanen have had an equally strong presence on the power-play blue line as first-unit pairing James Neal and Kris Letang have so far this season. Martin has a goal and assist on the man advantage, with a total of three points in three games. When the Penguins offense is going strong, Martin and Niskanen look like they will pick up some secondary scoring that will equal the first pairing on some weaker teams.
Medium League Hot Starters
[+] Enlarge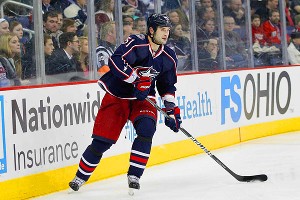 Russell LaBounty/USA TODAY SportsIt might be best to use Fedor Tyutin now while he's hot.
Cory Conacher, F, Tampa Bay Lightning (available in 67 percent of ESPN leagues): Conacher has been taking turns on the second line with Vincent Lecavalier and Teddy Purcell and on the first line with Martin St. Louis and Steven Stamkos. He has succeeded in both scenarios with five points in three games. He may bounce around on the top lines, but both situations are a good thing for this speedy winger. If he is available in your league, find a way to secure his services.
Kyle Turris, F, Ottawa Senators (available in 73 percent of ESPN leagues): With three goals in three games and several displays of his game-breaking speed, Turris looks right at home with Daniel Alfredsson and Guillaume Latendresse on the second line for the Sens.
Jose Theodore, G, Florida Panthers (available in 75 percent of ESPN leagues): Theodore has looked quick sharp in two of his three starts this season. The Panthers look like a team that can win some games again. As long as he shows signs of keeping his ratios respectable, he has potential to be among the top tier of No. 2 fantasy goalies.
Fedor Tyutin, D, Columbus Blue Jackets (available in 83 percent of ESPN leagues): As mentioned by Victoria Matiash in this week's Thin Blue Line, Tyutin is not the natural first choice to own among Blue Jackets defensemen. But four points in four games is hard to argue with, especially when he is getting power-play time and using his big shot. Ride him for now, but the scoring won't last and the plus/minus will be ugly.
Nazem Kadri, F, Toronto Maple Leafs (available in 88 percent of ESPN leagues): Especially considering the ice time he has been receiving, Kadri's five points in four games have been remarkable. He didn't even play 10 minutes in the season opener, but after scoring in each of the first three games his ice time increased to more than 15 minutes on Thursday night. He's responded by scoring two points. Kadri is getting a lot of power-play minutes and makes an intriguing addition to your fantasy team as his ice time will only continue to increase.
Deep League Hot Starters
Zack Kassian, F, Vancouver Canucks (available in 98 percent of ESPN leagues): Looking for a solution to their lack of secondary scoring, Alex Burrows was converted to a centerman and used to anchor the second line. The result was Kassian as a linemate for two players named Henrik Sedin and Daniel Sedin. Kassian's ice time shot from 12 minutes to 20 minutes and he scored his second goal of the season (and stole the show by winning the game for the Canucks in the shootout). Kassian has a similar style to Burrows and will be a good fit with the twins. His position is safe so long as the team is scoring goals and without Ryan Kesler -- and Kesler's timetable does not look good.
Raphael Diaz, D, Montreal Canadiens (available in 98 percent of ESPN leagues): As long as P.K. Subban is not signed, Diaz is going to be a fantasy commodity. Again, this was a subject in this week's Thin Blue Line. Andrei Markov looks good running the power play for the Canadiens and Diaz will be his partner in crime unless Subban and the team come to terms.
Steve Sullivan, F, Phoenix Coyotes (available in 98 percent of ESPN leagues): Sullivan looked good depositing a hat trick on Wednesday night and he followed it up with a goal and assist on Thursday. Playing with Shane Doan and Antoine Vermette, Sullivan and the trio of veterans will likely get to play against weaker defensive assignments with the Radim Vrbata line drawing first looks from opponents. Sullivan didn't hit things off like he should have with the Penguins last season, but perhaps reduced pressure with the Coyotes will help him return to his high-scoring Nashville Predators days.
Jason LaBarbera, G, Phoenix Coyotes (available in 99 percent of ESPN leagues): Mike Smith had a terrible start to the season and then hurt something on his lower body on Wednesday. LaBarbera looked good in relief on Wednesday and then almost earned the win against the high-flying San Jose Sharks offense on Thursday by keeping them at bay for more than two periods. Whether Smith's injury is short-term or long-term, Smith has a long injury history and LaBarbera has earned himself more looks this season.
Team

Mon
1/28

Tue
1/29

Wed
1/30

Thu
1/31

Fri
2/1

Sat
2/2

Sun
2/3

Anaheim
DUCKS
OFF
@SJ
O: 10
D: 1
OFF
OFF
MIN
O: 7
D: 5
LA
O: 4
D: 5
OFF
G: 3
H: 2
O: 6
D: 3
Boston
BRUINS
@CAR
O: 7
D: 8
NJ
O: 2
D: 8
OFF
BUF
O: 5
D: 7
OFF
@TOR
O: 10
D: 6
OFF
G: 4
H: 2
O: 8
D: 9
Buffalo
SABRES
OFF
TOR
O: 10
D: 4
OFF
@BOS
O: 2
D: 5
OFF
@MTL
O: 3
D: 6
FLA
O: 7
D: 6
G: 4
H: 2
O: 7
D: 7
Calgary
FLAMES
OFF
OFF
OFF
COL
O: 6
D: 5
OFF
CHI
O: 8
D: 3
OFF
G: 2
H: 2
O: 3
D: 2
Carolina
HURRICANES
BOS
O: 3
D: 4
OFF
OFF
OFF
OTT
O: 6
D: 2
@PHI
O: 6
D: 3
OFF
G: 3
H: 2
O: 4
D: 3
Chicago
BLACKHAWKS
OFF
OFF
@MIN
O: 5
D: 8
OFF
@VAN
O: 4
D: 2
@CGY
O: 6
D: 5
OFF
G: 3
H: 0
O: 3
D: 5
Colorado
AVALANCHE
@EDM
O: 6
D: 6
OFF
@VAN
O: 4
D: 3
@CGY
O: 5
D: 6
OFF
EDM
O: 3
D: 7
OFF
G: 4
H: 1
O: 5
D: 7
Columbus
BLUE
JACKETS
DAL
O: 5
D: 6
@MIN
O: 4
D: 5
OFF
STL
O: 4
D: 2
OFF
DET
O: 6
D: 5
OFF
G: 4
H: 3
O: 6
D: 6
Dallas
STARS
@CLS
O: 5
D: 7
@DET
O: 4
D: 6
OFF
OFF
PHO
O: 4
D: 5
@PHO
O: 4
D: 5
OFF
G: 4
H: 1
O: 4
D: 7
Detroit
RED WINGS
OFF
DAL
O: 7
D: 6
OFF
OFF
STL
O: 5
D: 2
@CLS
O: 6
D: 5
OFF
G: 3
H: 2
O: 5
D: 4
Edmonton
OILERS
COL
O: 6
D: 5
OFF
@PHO
O: 6
D: 5
@SJ
O: 9
D: 2
OFF
@COL
O: 6
D: 6
OFF
G: 4
H: 1
O: 8
D: 6
Florida
PANTHERS
OFF
@TB
O: 9
D: 4
OFF
WPG
O: 7
D: 5
OFF
OFF
@BUF
O: 6
D: 4
G: 3
H: 1
O: 6
D: 4
Los Angeles
KINGS
VAN
O: 2
D: 6
OFF
OFF
NSH
O: 3
D: 6
OFF
@ANA
O: 9
D: 5
OFF
G: 3
H: 2
O: 3
D: 5
Minnesota
WILD
OFF
CLS
O: 4
D: 8
CHI
O: 5
D: 6
OFF
@ANA
O: 7
D: 3
OFF
OFF
G: 3
H: 2
O: 4
D: 5
Montreal
CANADIENS
OFF
WPG
O: 6
D: 7
@OTT
O: 5
D: 6
OFF
OFF
BUF
O: 5
D: 7
OTT
O: 5
D: 5
G: 4
H: 3
O: 6
D: 8
Nashville
PREDATORS
@PHO
O: 7
D: 5
OFF
OFF
@LA
O: 3
D: 8
OFF
@SJ
O: 10
D: 2
OFF
G: 3
H: 0
O: 6
D: 5
New Jersey
DEVILS
OFF
@BOS
O: 2
D: 9
OFF
NYI
O: 3
D: 8
OFF
@PIT
O: 3
D: 6
@NYI
O: 5
D: 9
G: 4
H: 1
O: 2
D: 10
New York
ISLANDERS
OFF
@PIT
O: 6
D: 3
OFF
@NJ
O: 4
D: 7
OFF
OFF
NJ
O: 3
D: 6
G: 3
H: 1
O: 2
D: 5
New York
RANGERS
OFF
PHI
O: 5
D: 6
OFF
PIT
O: 5
D: 3
OFF
@TB
O: 9
D: 9
OFF
G: 3
H: 2
O: 5
D: 6
Ottawa
SENATORS
OFF
WSH
O: 7
D: 3
MTL
O: 4
D: 5
OFF
@CAR
O: 7
D: 8
OFF
@MTL
O: 5
D: 8
G: 4
H: 2
O: 7
D: 8
Philadelphia
FLYERS
OFF
@NYR
O: 5
D: 6
OFF
OFF
@WSH
O: 9
D: 6
CAR
O: 8
D: 4
OFF
G: 3
H: 1
O: 6
D: 6
Phoenix
COYOTES
NSH
O: 5
D: 4
OFF
EDM
O: 6
D: 4
OFF
@DAL
O: 6
D: 8
DAL
O: 6
D: 6
OFF
G: 4
H: 3
O: 7
D: 7
Pittsburgh
PENGUINS
OFF
NYI
O: 9
D: 7
OFF
@NYR
O: 7
D: 8
OFF
NJ
O: 6
D: 8
@WSH
O: 10
D: 8
G: 4
H: 2
O: 10
D: 9
St. Louis
BLUES
OFF
OFF
OFF
@CLS
O: 6
D: 10
@DET
O: 5
D: 10
OFF
OFF
G: 2
H: 0
O: 1
D: 6
San Jose
SHARKS
OFF
ANA
O: 10
D: 1
OFF
EDM
O: 7
D: 4
OFF
NSH
O: 6
D: 3
OFF
G: 3
H: 3
O: 7
D: 2
Tampa Bay
LIGHTNING
OFF
FLA
O: 7
D: 3
OFF
OFF
WPG
O: 8
D: 2
NYR
O: 3
D: 3
OFF
G: 3
H: 3
O: 5
D: 1
Toronto
MAPLE LEAFS
OFF
@BUF
O: 8
D: 2
OFF
WSH
O: 6
D: 3
OFF
BOS
O: 4
D: 1
OFF
G: 3
H: 2
O: 5
D: 1
Vancouver
CANUCKS
@LA
O: 4
D: 9
OFF
COL
O: 7
D: 7
OFF
CHI
O: 9
D: 6
OFF
OFF
G: 3
H: 2
O: 6
D: 7
Washington
CAPITALS
OFF
@OTT
O: 6
D: 2
OFF
@TOR
O: 9
D: 3
PHI
O: 6
D: 3
OFF
PIT
O: 4
D: 2
G: 4
H: 2
O: 7
D: 3
Winnipeg
JETS
OFF
@MTL
O: 3
D: 5
OFF
@FLA
O: 6
D: 3
@TB
O: 9
D: 4
OFF
OFF
G: 3
H: 0
O: 5
D: 3
"O" (offense) and "D" (defense) matchup ratings are based upon a scale from 1 (poor matchup) to 10 (excellent matchup), and are calculated using a formula that evaluates the team's year-to-date and past 21 days' statistics, their performance in home/road games depending on where the game is to be played, as well as their opponents' numbers in those categories. The column on the right lists the team's total number of games played ("G") as well as home games ("H"), and lists the cumulative rating from 1-10 of that week's offensive ("O") and defensive ("D") matchups.
Ratings color scale

"Warmth" matchup colors are based only upon the team's offensive rating for the game or week in question.
1
2
3
4
5
6
7
8
9
10
Looking for offense
The Forecaster calculations are still heavily reliant on last season's numbers, but have been swayed by the data we have to date on this abbreviated season. As an example, the Anaheim Ducks' offensive rating was an O:2 for the week based on last season's statistics alone. Plugging this season's stats into the Forecaster improved it to an O:6. It is still too early to completely remove last season's statistics from the calculations, though. The results would be too erratic. So take last week's tablespoon of salt and reduce it to a teaspoon as you read the numbers over.
Pittsburgh Penguins: The Penguins have the best outlook on the Forecaster for the coming week and it's hard to argue with their four-game schedule. Luckily, there are lots of places to find value off your fantasy free-agent wire with this team. First and foremost, pick up Tyler Kennedy for the week ahead. Coach Dan Bylsma brought an end to the Eric Tangradi experiment after the big loss to the Toronto Maple Leafs by moving Kennedy to the wing with James Neal and Evgeni Malkin for Thursday's practice. Now, Kennedy has had his fair share of chances to earn a regular wing spot with both Malkin and Sidney Crosby in the past without pinning down a top-six role, but that doesn't preclude some success this time around. Anybody can get hot playing with Malkin and Neal. Anybody. Kennedy has speed and some base offensive skills. He is worth a gamble, for sure. As mentioned at the top of the Forecaster, Paul Martin and Matt Niskanen are also widely available and showing signs of offensive life this season. The pair are playing together as the second power-play pairing and Niskanen shares the ice with Kris Letang at even strength.
Edmonton Oilers: The Oilers have an encouraging four-game schedule for the week ahead and the team's second line sports some players who are available in many leagues. Sam Gagner has a point in each of the Oilers' three games this season, while Hemsky has a pair of points. Both players are sharing the ice with rookie Nail Yakupov and all three players are getting plenty of power-play time as well. In fact, all five points Hemsky and Gagner have collected this season have come on the power play.
Buffalo Sabres: The schedule might not rank highly on the Forecaster, but the Sabres have been fairly hot in the scoring department to begin the season. They have a four-game schedule next week that only features one run-in with an elite goaltender (Tuukka Rask). Cody Hodgson is an obvious choice to add if you are in one of the 20 percent of ESPN leagues where he remains available. If you are gambling for some points in deeper leagues, Nathan Gerbe and Mikhail Grigorenko will be pressing to make an impression next week. Gerbe is returning from a spate of injuries and looking to re-establish himself as a scoring threat for the Sabres. He has enormous skills with the puck, though is severely undersized. Playing on a line with tough guy Steve Ott should help him feel a little bigger on the ice. Grigorenko is the third member of the line and needs to pile up some points in the coming games if he wants to remain in the NHL and avoid a trip back to junior hockey. However, keep a close eye on Grigorenko this weekend. He will hit the five-game threshold on Sunday when the Sabres will have to decide whether return him to the QMJHL or burn a year of his entry-level contract by keeping him around. There is risk with starting him in weekly formats.
Looking for goaltending
Anaheim Ducks: The next player in the line of goaltenders to dominate the Swedish Elite League before heading to the NHL, Viktor Fasth is now the backup behind Jonas Hiller. Hiller has been unspectacular while collecting two wins this season. Fasth has been absolutely sparking in six starts in the AHL, sporting a 1.96 goals-against average for Eastern Conference cellar-dwelling Norfolk Admirals. That's pretty good on a team that has allowed more than three goals per game this season. Now, Hiller is the undisputed No. 1 goalie for the Ducks. But a couple more cracks in the armor and a couple good starts for Fasth could mean some additional starts. If Fasth gets a chance this weekend and shines, there is a chance he could pick up another start or two next week for the Ducks. After all, the team can't hope to continue scoring six goals per game.
Who's Hot/Not
Rk

Team

G/Gm

Rk

Team

GA/Gm

Rk

Team

Shots
/Gm

Rk

Team

Opp.
Shots
/Gm

1
ANA
6.00
1
WSH
4.67
1
CAR
38.7
1
DAL
38.3
2
SJ
5.00
2
CAR
4.00
2
OTT
37.0
2
FLA
37.3
3
TB
4.33
2
CGY
4.00
3
PHO
36.5
3
TB
36.7
2
PHO
4.00
Here is your handy-dandy chart for tracking which teams are hot and which teams are not during the past 21 days. When warranted, we will have some analysis of the numbers. But given that these numbers represent a minuscule sample size of six days, we will just leave them well enough alone for now.
Hockey Challenge
Each week the Fantasy Forecaster will also include some advice for the ESPN Hockey Challenge. This is the salary-cap game that allows you free rein over your fantasy hockey decisions within a $100 million fantasy budget. For more on the game and to sign up, click here.
The skeds: Already we are seeing the impact of the shortened season on the schedule. Rather than just a couple of teams holding a distinct advantage in games played, there are a dozen teams sporting a four-game schedule. The four-game-week teams include the Boston Bruins, Buffalo Sabres, Colorado Avalanche, Columbus Blue Jackets, Dallas Stars, Edmonton Oilers, Montreal Canadiens, New Jersey Devils, Ottawa Senators, Pittsburgh Penguins, Phoenix Coyotes and Washington Capitals. There are just a couple of teams with a bit of a rest week as the Calgary Flames and St. Louis Blues have two games on the schedule. Everybody else plays three games this coming week. & The salaries of the superstar players have remained low enough that you can still afford to stack your team with the top players, sparing maybe one position for savings. Given the opportunity, why not take Sidney Crosby ($8.8M), Evgeni Malkin ($8.7M), James Neal ($8.3M) and current points leader Thomas Vanek ($7.4M), who all have four games this week? & If you are looking for savings, consider Tyler Kennedy ($6.7M) who looks to be playing with Malkin and Neal this week. On defense, look for Raphael Diaz ($3.7M) for savings, as he is playing the power-play point with Andrei Markov ($6.2M).
Goaltending: While the Penguins might be a good place to look for offense, Marc-Andre Fleury ($11.3M) likely gave up his right to start four games next week by surrendering five goals to the Toronto Maple Leafs this past Wednesday. Given that Tomas Vokoun ($10.4M) will steal a start or two, look elsewhere for your netminding. & Tuukka Rask ($11.3M) and Ryan Miller ($11.3M) have only one loss between them and both sport a four-game schedule for next week. They look like the best choices. & If you are desperate to save some money on goaltending, Jason LaBarbera ($10.0) is cheaper than other goaltenders; just be sure to check on Mike Smith's ($11.6M) injury status.
My roster for next week:
Ryan Miller, G ($11.4M)
Tuukka Rask, G ($11.4M)
Zdeno Chara, D ($7.1M)
Erik Karlsson, D ($7.5M)
Raphael Diaz, D ($3.7M)
Kris Letang, D ($7.1M)
Sidney Crosby, F ($8.8M)
Evgeni Malkin, F ($8.7M)
Steven Stamkos, F ($8.7)
Thomas Vanek, F ($7.4M)
John Tavares, F ($8.4M)
James Neal, F ($8.3M)
Sean Allen is a fantasy analyst for ESPN.com. He was the 2008 and 2009 Fantasy Sports Writers Association Hockey Writer of the Year. You can tweet him
@seanard
.
SPONSORED HEADLINES
FANTASY TOP HEADLINES
MOST SENT STORIES ON ESPN.COM
EDITORS' PICKS
The top options for Week 12, plus who gains in the Oilers coaching change.