Trophy Levels:
200
230
260
290
300
Favorites
Play ESPN Arcade's free online bowling game - Club 300. It's an exclusive club, but if you bowl a 300 you can join. It's easy, just get 12 strikes in a row. Good luck!


Move the mouse left or right to aim the ball.
Left click and hold the mouse button, then move the mouse forward in the direction you want it to go.
Release the mouse button to throw the ball. This controls the angle and force of your throw.
While the ball is traveling move the mouse left or right to add spin to the ball.
LEADERS: CLUB 300 BOWLING
GAME FEEDBACK
Having a problem? Comments or suggestions? Tell us which game and about your computer, (browser, operating system, etc.).
Benefits to signing in to ESPN Arcade
Earn Trophies | About Trophies
Connect Facebook and ESPN Arcade Accounts


FEATURED MOBILE GAME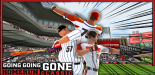 Going Going Gone Homerun Classic
All-new mobile HR batting game. Now Available!
App Store | Google Play