Trophy Levels:
50
40
33
27
21
Favorites
Select desired club -- make sure to check distance to pin, wind direction and speed, and overhead view of hole for hazards.
Change direction of shot by moving ARROW keys.
To hit the ball, hold down SPACE bar to start the power, then release and click again to stop the direction or "snap bar".
Finish all 9 holes with the least number of strokes to become a Superstar Golf Pro!
GAME FEEDBACK
Having a problem? Comments or suggestions? Tell us which game and about your computer, (browser, operating system, etc.).
Benefits to signing in to ESPN Arcade
Earn Trophies | About Trophies
Connect Facebook and ESPN Arcade Accounts


FEATURED MOBILE GAME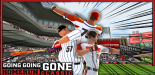 Going Going Gone Homerun Classic
All-new mobile HR batting game. Now Available!
App Store | Google Play