September, 23, 2014
Sep 23
12:49
PM ET
GLENEAGLES, Scotland -- A big theme heading into the Ryder Cup this year among those who play on the PGA Tour is the abundance of golf they have faced in the past two months.
[+] Enlarge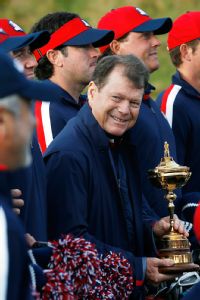 Reuters/Russell Cheyne U.S. captain Tom Watson lamented the amount of golf played by members of his team in the run-up to this week's Ryder Cup matches. Watson didn't use it as an excuse, though.
The hectic schedule is what originally caused U.S. captain Tom Watson to request that there be a week between the PGA Tour's season-ending Tour Championship and the Ryder Cup.
That wish was granted by PGA Tour commissioner Tim Finchem, with other consequences. The four-tournament FedEx Cup playoff run caused distress in other ways, with the top players being asked to compete six of seven weeks and seven of nine going back to the Open Championship.
"I am concerned about how much these players are playing before they reach the Ryder Cup," Watson said Tuesday at Gleneagles, where the Ryder Cup begins Friday. "Two years ago I made my point to [PGA of America president] Ted Bishop and to Tim Finchem about a week off between the end of the FedEx Cup ... as I said these players are playing seven out of eight tournaments or eight out of nine tournaments in a row.
"They are tired. That's too much golf, but just the way it is. You have to deal with it. [It] does concern me, and if they could rectify that by a change in the date or the way these tournaments are played prior to it, that would be great for the Ryder Cup."
In years past, the FedEx Cup was viewed as a positive, as a way for players to keep sharp leading up to the Ryder Cup.
But the past two years especially, the grind of the late-season run has had more than a few players grumbling.
That said, Phil Mickelson and Keegan Bradley did not compete in the Tour Championship and had the past two weeks off. The other 10 members of the team played in Atlanta, with only Jim Furyk faring particularly well.
European team member Graeme McDowell suggested that the Americans are at a disadvantage because of the schedule as well as playing a Presidents Cup in non-Ryder Cup years.
"Let's put it this way: I'm not disappointed that I have to play every year," Furyk said. "I would see it as an honor if I got to qualify. I didn't qualify last year [for the Presidents Cup] and I dearly missed it. So I'm happy to be back and happy to be playing in the team format and trying to provide some leadership.
"I'm not making any excuses for the way we've played. But it's not difficult to get up for the Ryder Cup or to be excited or to feel rejuvenated. I just played eight out of the last 10 weeks, and I couldn't be more excited about being here on a Tuesday, which is a day that this is usually my least favorite day of a PGA Tour event. I love the fact we play every other year and if we could do this every year, I would be excited."
Furyk is making his ninth consecutive appearance on the U.S. Ryder Cup team dating to 1997 but has been on just two winning teams -- 1999 and 2008.