December, 17, 2014
Dec 17
4:09
PM ET
Crazy deflections. Amazing timing. The Bryan brothers took their act on the road to Pinehurst No. 2, site of the 2014 men's and women's U.S. Opens.
In a charitable twist, they even got 12-year-old cancer survivor Clarkie Carroll into the action. (Wait until the end. The kid's got a great swing.)
Carroll even recreates Payne Stewart's winning putt from the 1999 U.S. Open (and of course the celebration afterward.)
December, 16, 2014
Dec 16
5:23
PM ET
Where are you going to see Gumby throw down a slam in an elf's face?
In Bubba Watson's new video, that's where.
Watson, the left-handed two-time Masters champion who has been part of several music videos as a member of "The Golf Boys," strikes out on his own with a new rap as Bubba Claus, his seasonal character who brings his love of religion, golf and even the NBA together into one musical interlude.
December, 6, 2014
Dec 6
7:17
PM ET
Windermere, Fla. -- "I got six mothers, nine aunts, four dads and three fish that need you to sign this."
That was Bubba Watson's response when asked about the difference between people honestly asking for an autograph for themselves and people selling them online. But what happens when the athlete gets it wrong?
Joshua Bush, from Gainesville, Florida, had someone bring him a 2012 Masters flag and last year he made the trek to the Players Championship to get it signed by the Masters champ himself.
On Wednesday that week, during the practice round at TPC Sawgrass, Bush found a prime spot just off the 18th green and waited patiently. He was sure the planning paid off when Watson made his way toward the group of fans to sign autographs.
"Me and a young kid, who looked about 10 years old, was next to me, also with a 2012 Masters flag," Bush said. "[Bubba] walked closest to me first and I just asked him if he could sign my Masters flag. He looked at me and said, 'You're gonna make a bunch on money eBay.' I said, no, I wouldn't.
"The kid next to me asked him to sign the flag and he did sign his flag, but then said, 'You're dad's gonna make a bunch of money on eBay off that.'"
Bush couldn't believe what he just heard.
"My jaw just dropped. That was not what I was expecting to come out of his mouth."
Therein lies the problem for professional athletes. How can you tell who's going to sell autographs and who is truly there as a fan? And how many fans do athletes lose in a moment of discourse? Watson lost one that day.
"Not too long after that I actually got into an argument with somebody that was really sticking up for Bubba saying how nice of a guy that he was," Bush said. "I just told him about my personal experience and plus what everybody sees on TV occasionally."
There was hurt on Bush's face and in his voice when he spoke of that incident.
Is there a way a player could tell the difference between a fan and a salesman?
"That's tough cause ... if you look at a 10-year-old kid, I highly doubt he's gonna put it up for sale," Bush said. "But I don't think there really is a definite way you look at somebody and tell if they are there as a fan, or there for other reasons ... maybe pick and choose a little better wording is my best advice."
Just then, Watson came out of the scoring area and came over to where Bush was standing on Saturday at the Hero World Challenge. After a quick introduction and telling of the story, I was able to snap this photo.
This flag is NOT for sale! @bubbawatson makes good for a fan @titleistgator89 pic.twitter.com/3WG1n7IfC4

- Michael Collins (@ESPNCaddie) December 6, 2014
"Honestly, I don't care if people are gonna sell the stuff," Watson said. "I just want them to be honest about it. Don't tell me you got seven grandmothers who need stuff signed."
Then six tournament volunteers walked up and asked Watson for photos and autographs.
"[That puts a] little different outlook on things, [when] you get his side of the story, kinda, and it puts it all into a different perspective for sure," Bush said. "Those guys get it all day, ya know? People asking them for autographs for a couple aunts."
He smiled saying that.
"It's nonstop for these guys even after signing their scorecards and being away from the big crowds," Bush added.
So now what?
"Bubba's good by me," Bush said, without hesitation.
December, 5, 2014
Dec 5
5:32
PM ET
WINDERMERE, Fla. -- For Maggie Ossa, it was mission accomplished, with a bonus.
"I've been trying to fist bump [Tiger Woods] for over three years," she said, fighting back tears on Friday during the second round of the Hero World Challenge.
Coming off a birdie at the 13th hole, Woods was walking up to the 14th tee as Ossa stuck out her fist.
"Nice birdie, Mr. Woods," she said.
Tiger glanced to the side, said "thanks" and stuck out his fist.
Their knuckles touched. No big deal, right? Until two steps later, a squeal arose from the silence.
"Oh my god, oh my god, oh my god, he fist bumped me!"
At that moment, Patrick Reed, who was playing with Woods and was 6 under at the time, started laughing hysterically while Tiger shook his head, looked down, smiling, and sheepishly pulled a club out of his bag.
Ossa started crying and hugging a complete stranger. This is the perfect time for a Twitter pic! Show me that fist (notice the glistening of the eyes).
Tiger makes birdie at 13, gives this girl a fist bump and she is now crying. Even Patrick Reed is laughing on 14 tee! pic.twitter.com/eCBQ6XCTeF

- Michael Collins (@ESPNCaddie) December 5, 2014
Now I was curious, because I've only ever seen a teenage girl cry over a golfer (Adam Scott in Houston) and this was a grown, married woman!
So I had a few questions.
How many chances do you think she's had in the past three years?
"Nearly 18 times," she said. "I first saw him at Doral, think it was in 2011 or 2012."
After I jokingly mentioned that she might be getting into stalker mode, she laughed and said, "A lil' bit, yeah" -- making the one inch sign with her thumb and index finger.
Is your husband OK with you stalking Tiger?
"He knows. Yeah, he thinks I'm a little crazy," she said.
Ossa was laughing like someone who knows just how ridiculous this sounds.
And how did you feel seeing Tiger and Reed laughing on the tee box after your outburst?
"I didn't see it," she said. "I was still crying."
Ossa was still giggling like a school girl. Are you going to be OK? "Yeah," she said in a shaky voice.
What if Tiger fist bumps you again?
"I don't know!" Here come the tears.
Hey Maggie, ask your husband if there's a woman out there who will give him the same reaction, because I want to be there when he meets her.
Only seems fair, right?
December, 5, 2014
Dec 5
12:59
PM ET
John Daly announced on Twitter on Thursday he is engaged to longtime girlfriend Anna Cladakis.
Maybe his next song will be "It Ain't Weird to Kiss My Caddie," as he is becoming a pretty well-known country singer and Cladakis is now carrying the bag for the two-time major champion.
The couple started dating sometime around 2008, and Cladakis quickly became a fixture on tour with Daly at every event. They soon started wearing wild matching outfits from Loudmouth Golf, with Cladakis outside the ropes and Daly inside.
This will be marriage No. 5 for Daly, but the first for Cladakis.
Daly does not have full status on the PGA Tour and must rely on sponsor exemptions to play in most events. He is still one of the biggest crowd draws, even though his last win came in 2004.
Tonite I asked my best friend, soul mate & no one better to marry me & she said yes! #love #happiness #2souls1heart pic.twitter.com/S5ijHSjAE3

- John Daly (@PGA_JohnDaly) December 5, 2014
December, 5, 2014
Dec 5
12:02
PM ET
Who you callin' a monkey?
Luke Donald got chased away from his golf ball by a baboon on the 13th hole of the Nedbank Golf Challenge in South Africa on Friday, and still managed to shoot 63 to take a 2-shot lead going into the weekend.
The former world No. 1 tweeted about it after the round and even posted video of the incident!
Donald even made fun of himself because of his reaction compared to that of his caddie.
Couple of things happened to me that haven't happened in a while....one I shot 63, and two I let a baboon play thru on the course

- Luke Donald (@LukeDonald) December 5, 2014
The fact that my caddy Johnnie didn't even flinch, makes my reaction look even more pathetic!! #HeWasaBigBoyTho

- Luke Donald (@LukeDonald) December 5, 2014
ESPN's own Dottie Pepper tried to make Donald feel a little better, replying to his tweet with her own experience with a wild animal on the golf course. Apparently bears aren't scared of Pepper spray either?
@LukeDonald chased by a baboon today brought back memory of '08 US Sr. Open on @ESPNGolf. "You guys... It's a BEAR!" pic.twitter.com/9Xnn0Um9SO

- Dottie Pepper (@DottieandBogey) December 5, 2014
The funniest reply on Twitter to Donald's initial tweet was from golfer Jason Crook (@crookdawg11).
@LukeDonald What did the baboon shoot?

- Jason Crook (@crookdawg11) December 5, 2014
December, 4, 2014
Dec 4
6:08
PM ET
WINDERMERE, Fla. -- When so much work goes into one part of a golfer's game, it is understandable that another part is apt to suffer. Case in point: Tiger Woods' short game.
He inexplicably flubbed four chip shots on Thursday during the opening round of the Hero World Challenge. He left another shot in a greenside bunker. Those mistakes help explain a 5-over-par 77 at Isleworth Golf and Country Club.
His focus on the long game with a new instructor, Chris Como, and returning from back issues might explain the short-game woes.
But Woods was making no excuses.
"I have a nice facility in my back yard,'' Woods said. "I can't say it's for lack of practice.''
Woods designed the facility himself. It covers 3.5 acres, allows for shots of up to 150 yards to four different green complexes. There is also a "wedge'' range for shots up to 85 yards.
"I just haven't faced grain this thick,'' he said. "My short game area is very tight. It got a little stickier in the longer grass around the greens and I just hit horrible chips.''
December, 3, 2014
Dec 3
4:29
PM ET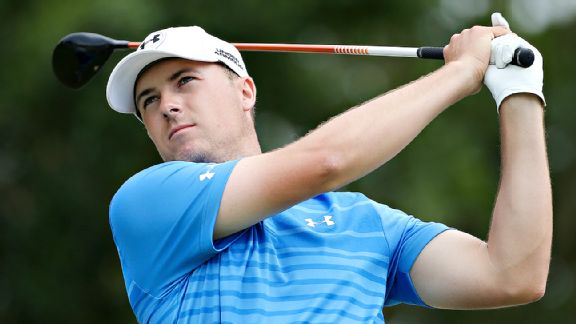 AP Photo/Rick RycroftAfter winning the Australian Open by six strokes, Jordan Spieth flew to Florida where he will play this week in the Hero World Challenge.
WINDERMERE, Fla. -- Sushi on Thanksgiving sucks.
Great win last week, Jordan Spieth. So "what'd you do for Thanksgiving" is how the conversation on the 10th tee started with Spieth during his pro-am round Wednesday at the Hero World Challenge.
"We ate sushi," he said. "Let me tell you, man, sushi on Thanksgiving sucks. I can't believe how much I missed being home for Thanksgiving, dude."
Last week, during the course of winning the Australian Open, Spieth was paired with Aussie Adam Scott on Thursday and somehow the subject of Thanksgiving came up during the round.
Jordan said that Scott asked, "Oh yeah, that's going on sometime soon, right?"
Spieth replied, "Today, actually." Spieth told the story with a tone of disappointment, even though he ended up winning the tournament by shooting a blistering 63 on Sunday.
"My family kept sending pictures of Thanksgiving dinner and I just couldn't look at them," said Spieth's caddie, Michael Greller.
Then both Spieth and Greller started to tell me what each family was serving for the main meal, which made my stomach growl. Thank goodness for free snacks in the media center!
December, 3, 2014
Dec 3
12:54
PM ET
WINDERMERE, Fla. -- How many holes before the butterflies finally went away?
"About three," Pawan Munjal said with a smile. He did hit a perfect drive on the first hole and even had a birdie chance that didn't drop.
For a man who is the vice chairman & managing director of Hero MotoCorp, which just signed Tiger Woods to an endorsement deal, Munjal is very approachable and friendly. After walking nine holes Wednesday in the pro-am at the Hero World Challenge, and occasionally chatting with him, I came away with the feeling that if you didn't know who this guy was or what he did for a living, he'd be someone you would enjoy golfing with regardless.
"When I played with Tiger in India in front of 5,000 people, I wasn't nervous," he said. "I spent the whole night and morning thinking so much about it, that by the time we teed off, all the nerves had worn off. Tiger is really down-to-earth and makes you feel at ease when you play golf with him."
There are plenty of people (corporate sponsor execs included) who wouldn't say that, but this man, who stands about 5-foot-6, seems very comfortable in the fishbowl. During the pro-am, as the adrenalin rush that comes anytime you tee it up in front of cameras and a gallery starts to wear off, he's not fazed.
The fact that Tiger will probably never ride one of the motorbikes he'll help sell doesn't seem to bother Munjal in the slightest. And why would it? Sit on the bike, take some pictures (for ads), and let's go play golf.
Works for me, and it looks as though it'll work for them, too.
December, 2, 2014
Dec 2
3:05
PM ET
WINDEMERE, Fla. -- "I don't know."
Tiger Woods was at his most honest and vulnerable as I have ever seen him saying those three words Tuesday prior to the Hero World Challenge he is hosting this week.
That's a phrase athletes, especially ones who are considered by some to be greatest of all time in their sport, rarely use when talking about themselves and their game.
Tiger said "I don't know" more than I've ever heard him utter it in his career. When asked about any swing changes due to adding Chris Como as his swing consultant and how long it would take to implement, Woods said, "I don't know."
What about expectations on the course with the swing?
"I don't know. I don't know," Woods said. "I'm curious to find that out myself, too. It's going to be nice playing a tournament this week and getting a feel for being under the heat and see where my swing is, see what shots -- where my misses are; not necessarily my good ones.
"I know my good ones are good. But where are the misses going to be? Am I able to rectify them right away, or is it going to take a shot or two, or a hole or two? Or maybe I might not be able to do it at all [in the course of a round], and that might not be a good thing."
On one side, a small panic attack could be set off by an athlete's realization that invincibility is no longer there, also causing panic among his die-hard fans. On a much deeper level, Tiger saying, "Father Time is undefeated" shows an elder statesman mentality that might just endear him to some people who normally root against him.
It's one thing for the media to question what 100 percent means for Tiger in the future and how that compares to the guys he competes against every week. It's a completely different situation when the man lowers the cloak of invincibility on himself and wonders aloud what his future game will be.
Love him, hate him or feel indifferent toward him, a new Tiger Woods is coming in 2015.
Honest, vulnerable and a sometimes unsure Tiger -- and what that means on the golf course -- honestly, I don't know.