July, 30, 2014
Jul 30
6:15
PM ET
2014
PGA Championship -- Valhalla Golf Club; Louisville, Ky.
Ryder Cup -- Gleneagles Resort, PGA Centenary Course; Perthshire, Scotland
2015
Masters -- Augusta National; Augusta, Ga.
U.S. Open -- Chambers Bay; University Place, Wash.
Open Championship -- St. Andrews; St Andrews, Fife, Scotland
PGA Championship -- Whistling Straits, the Straits Course; Kohler, Wis.
Presidents Cup -- Jack Nicklaus Golf Club Korea; Songdo, Incheon, Korea
2016
Masters -- Augusta National; Augusta, Ga.
U.S. Open -- Oakmont Country Club; Oakmont, Pa.
Open Championship -- Royal Troon; Troon, Ayrshire, Scotland
PGA Championship -- Baltusrol Golf Club, Lower Course; Springfield, N.J.
Ryder Cup -- Hazeltine National GC; Chaska, Minn.
2017
Masters -- Augusta National; Augusta, Ga.
U.S. Open -- Erin Hills Golf Course; Erin, Wis.
Open Championship -- Royal Birkdale; Southport, Merseyside, England
PGA Championship -- Quail Hollow Club; Charlotte, N.C.
Presidents Cup -- TBD
2018
Masters -- Augusta National; Augusta, Ga.
U.S. Open -- Shinnecock Hills Golf Club; Southampton, N.Y.
Open Championship -- Carnoustie; Carnoustie, Angus, Scotland
PGA Championship -- Bellerive Country Club; St. Louis, Mo.
Ryder Cup -- Le Golf National; Paris, France
2019
Masters -- Augusta National; Augusta, Ga.
U.S. Open -- Pebble Beach Golf Links; Pebble Beach, Calif.
Open Championship -- TBD
PGA Championship -- Bethpage Black; Farmingdale, N.Y.
Presidents Cup -- TBD
2020
Masters -- Augusta National; Augusta, Ga.
U.S. Open -- Winged Foot Golf Club; Mamaroneck, N.Y.
Open Championship -- TBD
PGA Championship -- TPC Harding Park; San Francisco, Calif.
Ryder Cup -- Whistling Straits; Kohler, Wis.
2022
PGA Championship -- Trump National Golf Club -- Bedminster; Bedminster, N.J.
2025
Presidents Cup -- TPC Harding Park; San Francisco, Calif.
July, 29, 2014
Jul 29
10:33
AM ET
Each week of the season, our experts share their insights into which players fit the criteria for our four categories: Horse for the Course (a golfer who knows the track inside and out), Birdie Buster (a guy who could take it low this week), Super Sleeper (a player who could unexpectedly contend) and Winner.
This week, the PGA Tour is at Firestone Country Club's South Course in Akron, Ohio, for the WGC-Bridgestone Invitational.
Horse for the Course
Michael Collins, ESPN.com senior golf analyst: Keegan Bradley
In three starts in the event, he's got a win, a runner-up and a T-15 finish his first year. Although this year hasn't produced a victory, tinkering with a non-anchored putting stroke and the coming rule change might have affected him more than he's let on. That being said, this is just what the Ryder Cup doctor has ordered to help Bradley get back on Tom Watson's radar.
Farrell Evans, ESPN.com senior golf writer: Keegan Bradley
In three career starts at Firestone, the 2011 PGA champion has had a tie for 15th, a win in 2012 and last year tied for second.
Bob Harig, ESPN.com senior golf writer: Tiger Woods
Nobody has dominated at Firestone like Woods, who won this tournament a year ago by 7 shots and has won the event eight times. Whether that will mean much this week as he continues his return from back surgery will be of great interest.
Kevin Maguire, ESPN.com senior golf editor: Justin Rose
He didn't pull off the three straight wins at the Open Championship (after winning at Congressional and the Scottish Open), but he does own three top-5s in his career at Firestone.
---
Birdie Buster
Collins: Rory McIlroy
No hangover allowed for the Open champ. When there's a guaranteed four rounds coming, even if he has that one bad round he's had in the past, it won't keep him from achieving a top-10 finish. He's done that at Firestone three of the past five times he's played this event.
Evans: Jim Furyk
The 16-time PGA Tour winner hasn't won since the 2010 Tour Championship, but it hasn't been because of poor play. In 2014, he has seven top-10s, including three seconds. In his past two starts -- in the Open Championship and the RBC Canadian Open -- he has a fourth and second, respectively.
Harig: Tim Clark
The South African birdied five of his last eight holes Sunday at Royal Montreal to win the RBC Canadian Open, just his second PGA Tour title.
Maguire: Jordan Spieth
Prior to his T-36 at the Open Championship, the now-just-turned-21 Spieth posted top-20 finishes in five straight tournaments. He skipped the WGC-Bridgestone Invitational last year to rest after winning the John Deere (a veteran move if I ever saw one), so it will be his first stop in Akron for this tournament.
---
Super Sleeper
Collins: Brendon Todd
Yes, I love the guy because he's threatened to put me on the bag as his caddie since he struggles to have fun on the course in crunch time on occasion. Judging by how he's played lately, I better keep writing good for ESPN (yes, that grammatical error was a joke). Todd is on a streak that should get him on the Ryder Cup team. His motto this week should be, "Don't think, just play."
Evans: Tiger Woods
The 14-time major champion took his eighth victory last year at Firestone by a 7-shot margin over Bradley and Henrik Stenson. It was Woods' fifth win in 2013. But since that week that included a second-round 61, Tiger has had only one more top-10, a second at the 2013 Barclays, in nine official tour starts and has struggled mightily with a back injury and inconsistent play.
Harig: Patrick Reed
He has done little since capturing the last WGC event, the Cadillac Championship. But Reed holds the 10th spot in the Ryder Cup points standings, and a big week would vault him to an automatic position.
Maguire: Miguel Angel Jimenez
A Ryder Cup spot might be a tiny stretch, but a strong showing this week at Firestone -- along with a high finish next week at the PGA Championship -- just might lock up a spot on the European squad for the 50-year-old Jimenez.
---
Winner
Collins: Adam Scott
This is only event No. 12 for the No. 1 golfer in the world! The year started in October ... last year!! That's 37 events down, seven to go, of which he'll probably play six. Why will he win this event? Because he's probably the "freshest" golfer on tour who could've played as many events as he wanted.
Evans: Rory McIlroy
Tiger might own Firestone with his eight wins, but McIlroy, coming off his victory in the Open Championship, is probably the hottest golfer on the planet. And in this 72-hole, no-cut event, it's hard to imagine a player in the field who can beat him this week.
Harig: Adam Scott
Despite just a single victory this year, Scott continues to play well, putting himself in position often. He was there again at the Open, and now he's got a threat for No. 1 in McIlroy. Scott won at Firestone three years ago.
Maguire: Jim Furyk
He gave away a Firestone win a couple of years back to Bradley, and he let Clark slip in and grab the RBC Canadian Open title last week. Furyk likely has had enough of the "he can't close" talk, so expect him to get that moniker off his back this week in Akron.
July, 28, 2014
Jul 28
9:23
AM ET
Tiger Woods owns eight PGA Tour victories at Firestone Country Club, site of this week's WGC-Bridgestone Invitational. He just might have to earn No. 9 if he doesn't want a forced monthlong break after the PGA Championship that would put his Ryder Cup hopes in jeopardy.
That's because Woods picked up all of two FedEx Cup playoff points with a 69th-place finish at the Open Championship. He's sitting in the 215th spot in the rankings. To qualify for the playoffs, a player needs to be inside the top 125.
Looking at this year's FedEx Cup playoff rankings, that last spot belongs to Charlie Beljan with 403 points and three tournaments remaining. Even if the standings remained exactly the same for three weeks (which is extremely unlikely), Woods would need -- at a bare minimum -- 359 more points to get a tee time in the first playoff event at the Barclays on Aug. 21.
That will be no small task considering he typically plays only at Firestone and then the PGA Championship (which will be held at Valhalla Golf Club, site of Woods' 2000 PGA Championship victory.)
If he doesn't get inside the top 125 after the PGA, what's next?
Well, Woods has never played the last regular-season tournament, the Wyndham Championship, as a professional. But would he alter his plans and play in the Greensboro, North Carolina, event to show U.S. Ryder Cup captain Tom Watson he's fit for the matches in late September?
If Woods fails to make the playoffs, that would put Watson in the unenviable position of potentially using one of his three at-large selections on the former world No. 1 despite the fact that Woods missed nearly four months this season after undergoing back surgery and would not play a PGA Tour event between mid-August and late September.
With Phil Mickelson also sitting outside the top nine (he's No. 11 after the RBC Canadian Open), one would have to think Lefty would get the nod for a captain's pick, leaving Watson with even fewer choices to fill out his team.
Coming into this week, Woods has 45 FedEx Cup points. That means he needs some combination of at least 358 points just to squeak into the field at the Barclays. A victory at the WGC-Bridgestone or the PGA Championship should get him a tee time at Ridgewood Country Club. Without a win, though, things get murky.
There are many permutations as to what could happen the next few weeks. For example, say Woods finishes solo 10th in Akron; that'd be good for 78 points, which would leave him 280 shy of the 403-point mark. He likely would need a second-place finish at the PGA Championship (worth 330 points) to make the playoffs.
To put things into perspective, Woods' best finish on the PGA Tour in 2014 is a T-25 at the WGC-Cadillac Championship at Doral in March. That came pre-surgery, when Woods was feeling the effects of his aching back so much that he WD'd the week before Doral at the Honda Classic.
Even a pair of top-3 finishes in Woods' next two PGA Tour starts might not be enough to take a heavy weight off Watson's shoulders.
July, 24, 2014
Jul 24
11:32
AM ET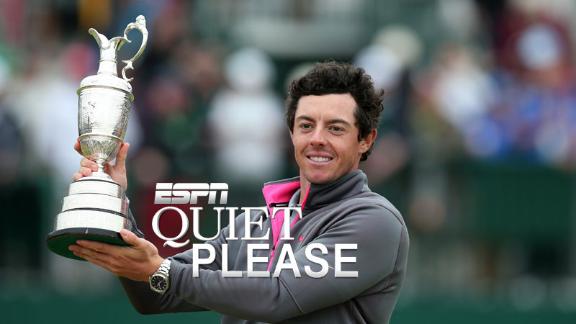 Quiet Please: Rory McIlroy Rules
Each week of the season, our experts share their insights into which players fit the criteria for our four categories: Horse for the Course (a golfer who knows the track inside and out), Birdie Buster (a guy who could take it low this week), Super Sleeper (a player who could unexpectedly contend) and Winner.
This week, the PGA Tour is at the Royal Montreal Golf Club in Ile Bizard, Canada, for the RBC Canadian Open.
__________________________________________________________
Horse for the Course
Michael Collins, ESPN.com senior golf analyst: Brian Gay
He's my choice because the last time the PGA Tour was here, he finished T-18, and along with Luke Donald, those are the highest-finishing guys I could find who teed it up back then. Since Gay didn't play in the Open Championship, he'll be fresher than Luke.
Farrell Evans, ESPN.com senior golf writer: Graeme McDowell
Before the 2007 Presidents Cup, Rees Jones redesigned its 7,153-yard Blue course, which is famous for its large greens. There is not a better putter for these greens on tour than McDowell, who in 2014 leads the tour in the stroke-gained putting statistic.
Bob Harig, ESPN.com senior golf writer: Mike Weir
OK, not too many folks are familiar with Royal Montreal, site of this year's Canadian Open. It's where the Presidents Cup was played in 2007, and where Canadian Weir took down Tiger Woods in Sunday singles.
---
Birdie Buster
Collins: Scott Piercy
Piercy is making his first PGA Tour start since having surgery last year (he made two starts on the Web.com Tour this season). He's a past champion of the event, and you can expect plenty of birdies from the Las Vegas native.
Evans: Jim Furyk
The former U.S. Open champion and 16-time PGA Tour winner has not won since 2010, but this year he has amassed six top-10s, including two seconds and a fourth last week at Hoylake, where he shot a 7 under 65 in the final round.
Harig: Jim Furyk
The two-time champion of the event is coming off an excellent showing at the Open Championship and is having a strong year, having all but clinched a spot on the U.S. Ryder Cup team.
---
Super Sleeper
Collins: William McGirt
Who's a solid player that plays on tough courses that are overpowering? This guy! His two top-10s this year came at Harbour Town and Riviera, two courses that are similar in shot-making to this course. Shhhhh! Keep this nugget to yourself and win big on your fantasy team.
Evans: Adam Hadwin
In March, the 26-year-old Saskatchewan native won in Chile on the Web.Com Tour and has four other top 10s this year on the developmental tour. In 2011, he finished in a tie for fourth at the RBC Canadian Open when it was held at the Shaughnessy Golf and Country Club.
Harig: David Hearn
The Canadian has yet to win on the PGA Tour, but winning his country's Open would make him a legend.
_________________________________________________________________
Winner
Collins: Scott Brown
Career win No. 2 dropping this week. Brown is coming off a fifth-place finish at the John Deere, which was his fourth top 10 of the year. He's straight enough off the tee (25th) and patient enough on the greens (30th in SGP).
Evans: Graham Delaet
Pat Fletcher was, in 1954, the last Canadian player to win his national open. With six top-10s on his 2013-2014 season, DeLaet, a Saskatchewan native, is poised to end that 60-year drought. Last year, the Boise State grad missed the cut in the tournament.
Harig: Hunter Mahan
He's do some good karma after withdrawing a year ago with the 36-hole lead. Mahan left because he wife went into labor. He made it home in time for the birth of his daughter. A victory in Canada seems fitting.
July, 19, 2014
Jul 19
1:41
PM ET
HOYLAKE, England -- For the second straight major, Rickie Fowler will play in the final group Sunday. Unfortunately for Fowler, for the second straight major, he has considerable ground to make up.
Last month at Pinehurst, it was Martin Kaymer at the U.S. Open who ran away to an eight-shot victory, with Fowler settling for a tie for second. This time he'll be trying to chase down Rory McIlroy, who has a six-shot advantage.
If nothing else, Fowler is gaining experience. He is the only player to have top-five finishes at each of the first two majors.
"If I'm able to go out and get off to a good start, maybe I can put a little bit of pressure on him, because he's definitely in control of the golf tournament right now," Fowler said.
Fowler, 25, whose lone PGA Tour victory came in a playoff over McIlroy (and D.A. Points) at the 2012 Wells Fargo Championship, was tied with McIlroy on Saturday with six holes to play.
But Fowler played them in 2 over while McIlroy went 4 under, including eagles at the 16th and 18th holes.
Fowler and McIlroy's history goes back to 2007, when both were amateurs playing in the Walker Cup in Northern Ireland at Royal County Down, a competition won by the United States.
"In '07 you're really never sure about what's going to happen in the future," Fowler said. "He was definitely the young star over here. And I was one of the young stars from the U.S.
"But the past couple of years, seeing what he's been doing, obviously he has two majors already. He's a bit out in front of me right now. It was just a matter of time the two of us found a way to sneak into a final group together."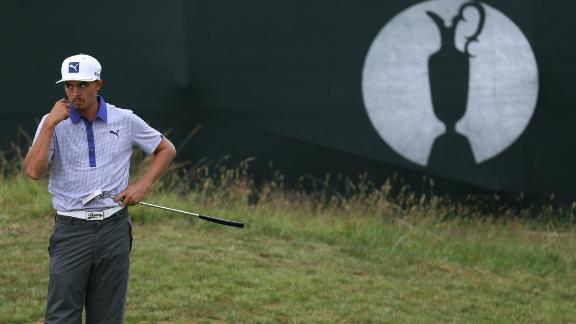 July, 19, 2014
Jul 19
12:07
PM ET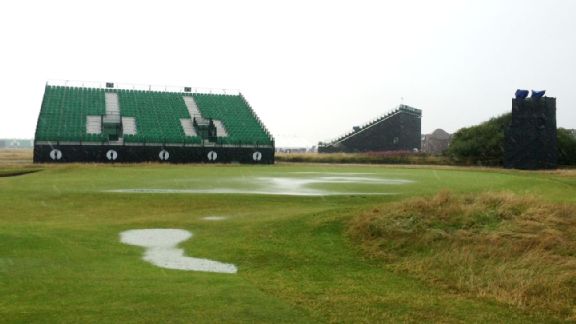 Dottie Pepper/ESPNThe 7th hole at Royal Liverpool had standing water on it after play ended Saturday because of a deluge shortly after the final groups finished play in Round 3 of the Open Championship.
HOYLAKE, England -- There was considerable consternation over the R&A's decision to go to a first-ever, two-tee start at the Open -- especially when the really poor weather and lightning that was forecasted did not materialize. Although there was heavy rain at times, it was mostly early, and everyone finished -- before rain pelted the course afterward.
It wasn't the rain R&A officials were concerned about -- most likely, the tournament would have gone on Saturday afternoon, although photos showed some greens with standing water, which would have halted play. Lightning was the big reason. Lightning is rare in the U.K., but the forecast called for it, and officials wanted to give themselves the opportunity to complete the round if there were delays.
"It's easy to say now that it was the wrong decision looking at the weather we've had thus far," said 2011 Open champion Darren Clarke. "But if they have a couple of bolts of lightning in the next couple of hours, it's going to mess up everybody's day, isn't it? They've had to do what they had to do to try and get it done today, and they're trying to do what's best for the tournament. So there can be no blame apportioned at all to the R&A for that."
July, 19, 2014
Jul 19
10:01
AM ET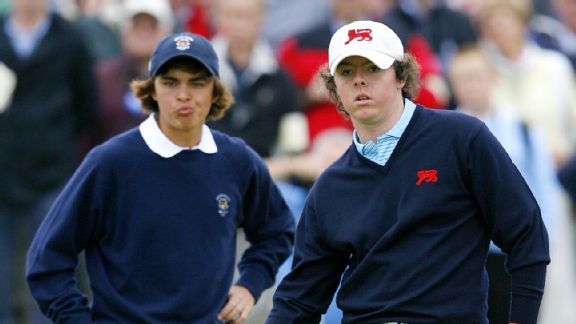 Peter Muhly/AFP/Getty ImagesRickie Fowler, left, and Rory McIlroy were fresh-faced amateurs at the 2007 Walker Cup.
HOYLAKE, England -- Rory McIlroy and Rickie Fowler have come a long way since competing against each other at the 2007 Walker Cup, as seen in the above photo.
They've already dueled in a PGA Tour playoff, where Fowler prevailed in 2012 at the Quail Hollow Championship to capture his only PGA Tour title.
And Saturday afternoon, they were on track to be grouped together in the final round of the Open Championship with the Claret Jug on the line.
In 2007, they were 18-year-old amateurs, with Fowler playing for the United States and McIlroy part of the Great Britain & Ireland team. The Walker Cup is played every two years and is similar to the Ryder Cup, although it's contested over just two days.
The two were involved in one match, with Fowler and Billy Horschel defeating McIlroy and Jonathan Caldwell 2 and 1 in Sunday's morning foursomes. It was an important point for the Americans, as the U.S. won the competition 12½ to 11½.
The match was played at Royal County Down, in McIlroy's native Northern Ireland.
July, 19, 2014
Jul 19
9:36
AM ET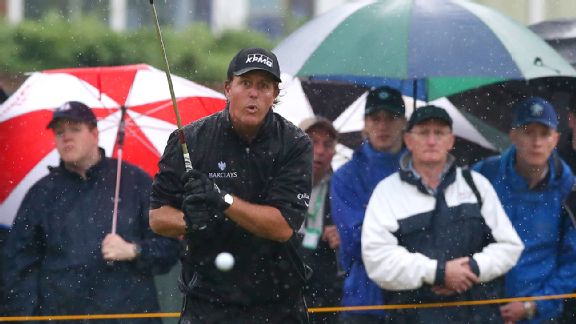 AP Photo/Jon SuperPhil Mickelson helped himself with four birdies, but gave most of them back with three bogeys.
HOYLAKE, England - If Phil Mickelson wants to comfort himself on the long ride home, he can envision how he would feel if last year had never happened. A Mickelson minus the dramatic, come-from-behind victory at Muirfield would be a Mickelson disconsolate over the missed opportunities at Royal Liverpool.
But he did take the Open Championship of 2013, and he did enhance his Hall of Fame legacy by winning the one major he was never supposed to win. So the 1-under 71 Mickelson shot Saturday in soft, forgiving conditions offering up scoring chances that might've given him some hope on Sunday? The knowledge that he would play the final round at Hoylake with no more chance to seize the Claret Jug than a fan in the crowd has?
Hey, he still has Muirfield.
"Sure, it will ease a lot of things," Mickelson said of the memory. "Just having success in this tournament means a lot to me in the past. But getting a taste of it last year, I just want it more. It makes me work harder, makes me want to come here and play harder even more."
He hated links golf as a younger man, and now he adores it. Mickelson wasn't moved to complain about anything outside of his own game; he said he had no problem with the R&A's decision -- in anticipation of brutal weather that never quite arrived -- to send players off early in the third round and off both nines for the first time in the long and rich history of this event.
"It's not like it's a big deal," Lefty said. "We do it every week."
But despite facing what he called "beautiful scoring conditions," Mickelson left the course dismayed over the fact he turned a 65 or 66 and an outside crack at a two-peat into a Sunday practice round for next month's PGA Championship.
"Oh my goodness," he said, "I threw countless shots away -- not shots, opportunities, away -- all throughout the day. And it's just frustrating.
"But I know that it's not far off, but it's got to click. It just hasn't yet."
July, 18, 2014
Jul 18
3:52
PM ET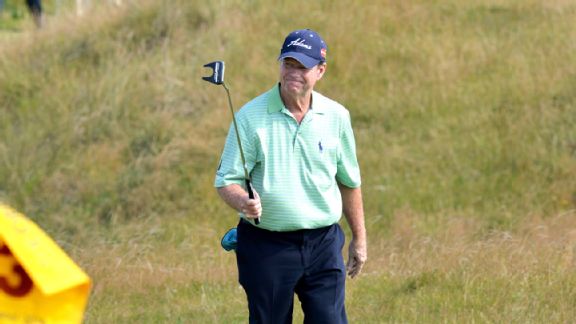 Paul Ellis/Getty ImagesAt the ripe old age of 64, Tom Watson -- a five-time Open champion -- continues to make cuts.
HOYLAKE, England -- Old Tom Morris. Old Tom Watson.
Watson keeps making Open Championship cuts -- and history. He broke his own age record Friday just by sneaking into the weekend field at Royal Liverpool.
The 64-year-old Watson, who has won five Claret Jugs, remains the oldest player ever to make an Open Championship cut. He set the record in 2012 at Lytham.
"There's no age when I'm out there," he said Friday. "I'm doing the same thing as I did when I was 22 years old, although I can't hit the ball very hard anymore."
For what it's worth, Watson finished with the same two-day score as Tiger Woods: 2 over.
July, 18, 2014
Jul 18
12:27
PM ET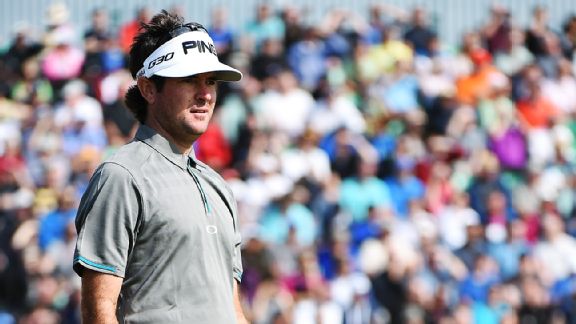 Warren Little/Getty ImagesBubba Watson stood at 4-over through two rounds of the Open Championship.
HOYLAKE, England -- After shooting 72 and finishing outside the projected cut line, Masters champion Bubba Watson asserted that there has "not been one positive thing'' said about him on television or in print.
In a wide-ranging interview session, Watson was asked if, with the proliferation of social media and other high-tech ways to watch sporting events, he would rather attend a golf tournament.
Said Bubba: "Some coverage is not very fun to watch, just saying. I don't minding watching an LPGA event. They're always positive. It would be rare to hear a negative comment. So watching that ... I don't mind watching it. I hate the negative comments.
"I mean, guys are trying their hardest. We always hear, 'Oh, that's terrible,' this and that, this and that. 'I did this when I was 17 years old. Shot 63 before.' So no, that's why I don't watch coverage anymore; there's too much negative stuff going on in the world, not just golf, the whole world. Just can't even watch that stuff.''
He was then asked if he really doesn't follow men's professional golf because the coverage is negative.
"Oh gosh, there's a lot,'' Watson said. "There's not been one positive thing. I'm waiting on that one. Then I'll start reading. Well, I can't read yet, but I'll start.''