Category archive:

Kevin Na
June, 13, 2014
06/13/14
7:46
PM ET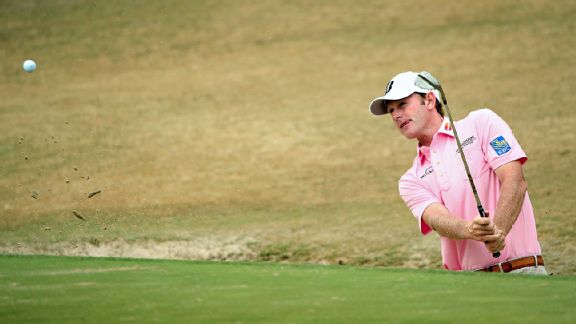 Andrew Redington/Getty ImageBrandt Snedeker was seven shots behind Martin Kaymer entering the weekend at Pinehurst.
Brandt Snedeker introduced himself to America with a river of tears. He was in contention at the 2008 Masters, ready to win his first major, when he shot a 77 on Trevor Immelman's big Sunday and then started crying in the scoring hut and again in his news conference for millions of viewers to see.
If big boys aren't supposed to cry, someone forgot to tell golf fans. Snedeker received an outpouring of support in the form of more than 500 letters in the first three weeks following his crushing defeat, including several sent by combat veterans touched by how much he cared about his performance and his craft.
"I kept all those letters and put them in a binder," Snedeker said that summer. "I make sure I keep going back to them so I remember how many people out there really care."
Snedeker contended again at the 2013 Masters before shooting a 75 in the final round. He owns five top-5s in majors, and at 33, he feels it's finally his time to close one out.
He'll have his work cut out for him this weekend at Pinehurst, where Martin Kaymer is dominating the U.S. Open with a 10-under score of 130, good enough for a 6-stroke lead over Brendon Todd and a 7-stroke lead over Snedeker and Kevin Na.
Trying to turn around his disappointing season to date, Snedeker raced out Thursday to 4-under in his first eight holes before playing Nos. 10, 11 and 12 in 4-over and ultimately finishing with a 1-under 69. Snedeker responded Friday with four birdies and only one costly mistake -- a double-bogey at 11. He was not scared off by Kaymer's score, noting that "no lead is safe in the U.S. Open. ... Sunday, back nine, we'll find out where everything lays."
Snedeker was asked about his missed opportunities in the majors, including the two Masters, and what, if anything, he'd learned from them. "Experience, I guess," he responded. "That's the only thing different. ... I know the pressure's going to be there."
The same big-game pressure one of the world's best putters hasn't been able to manage in the past.
"Good thing about me is it doesn't take much to get me to feel confident," Snedeker countered. "If I see a few shots going in the right direction or see a few putts going in, I'm good to go. ... I'm excited about the next two rounds, and my confidence is not going to be a problem over the weekend."
Snedeker believes he has a chance to beat Kaymer from behind. If he does, it's a guarantee his tears will be tears of joy.
June, 12, 2014
06/12/14
7:41
PM ET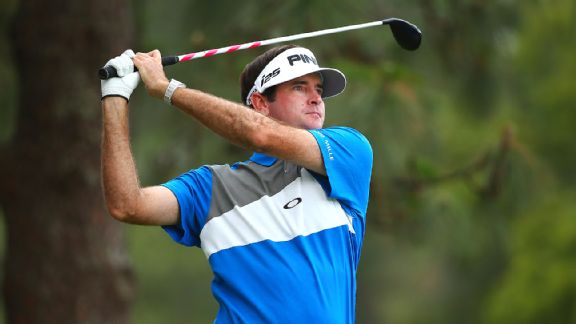 Streeter Lecka/Getty ImagesBubba Watson carded five bogeys on his way to a first-round 76.
PINEHURST, N.C. -- Earlier this week at the U.S. Open, a reporter asked Bubba Watson if there were any similarities between Pinehurst No. 2 and Augusta National, where he has now won two green jackets.
"I don't see any [similarities], except it's 18 holes," Watson said. "That's about it."
Watson was uncomfortable from the start at Pinehurst No. 2. The Donald Ross masterpiece wouldn't let him play Bubba Golf.
His plan coming into the week was to lay back off the tee, as he put it, so he could hit more fairways and give himself the best chance of controlling his approaches to the turtleback greens.
On Thursday, Watson's plan failed.
"I'm not very good laying up," he said. "I mean, yes, you could be aggressive if you're hitting the ball well. A couple of times I hit driver today, I hit it in the fairway a couple of times. I hit it in the dirt, rough, whatever you want to call it.
"I hit it in there more than I hit it in the fairways. Today wasn't my day for ballstriking, so that's why I shot 6-over."
Watson's 76 on Thursday was his worst first round at the U.S. Open since a 79 in the 2009 Open at Bethpage.
To play well, Bubba has to be able to visualize shots around the course. He played poorly at Merion last year, missing the cut, but he said he liked the layout because he could visualize his shots. At Pinehurst, there are a few blind shots into green that don't give him the visuals for his eccentric curving of the ball. It wreaks havoc on his mindset.
"Around here, it's hard to visualize some of the shots that I want to hit, and so for me it's difficult," he admitted.
Still, despite the poor ballstriking, Watson's short game could have saved him and it didn't.
"Obviously, today I didn't putt very well," he said. "I didn't chip well from around the greens.
"And so making the putt, not that it's a birdie putt or a par putt or a bogey putt, it's just keeping that momentum going and making yourself happy. I don't know what I would shoot, but I would have a one percent chance of shooting better than 6-over maybe."
Watson will need some momentum tomorrow if he wants to make the cut and give himself a chance to contend on the weekend and any semblance of hope of becoming the first player in six years to win consecutive majors.
June, 12, 2014
06/12/14
5:45
PM ET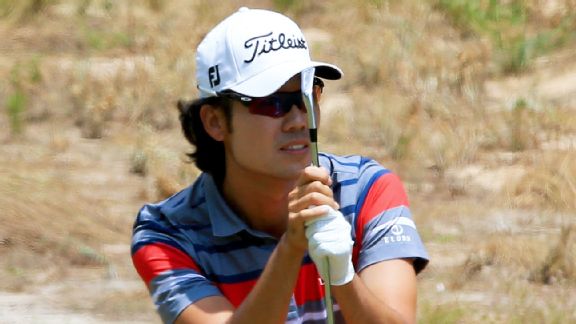 David Cannon/Getty ImagesAn eagle and three birdies helped Kevin Na claim a share of the early first-round lead.
PINEHURST, N.C. -- Golf's poster child for slow play, Kevin Na, had a share of the early lead at the U.S. Open after shooting a 2-under 68 on Thursday.
Na, who sat out most of last year with a back injury, had an eagle, three birdies and three bogeys in his first round at Pinehurst No. 2. He and Graeme McDowell shared the early lead until Martin Kaymer passed it late with a 5-under 65.
"The course was a lot softer than I was expecting it," Na said. "I'm not saying it was playing easy, it wasn't playing as difficult as I was expecting it, but I know for sure that Friday, Saturday, Sunday, it's going to play harder and harder.
"And by Sunday, I know even par's going to be a good score."
Na's best finish in a major was a tie for 10th in the 2011 PGA Championship at the Atlanta Athletic Club. It's going to be very interesting to see how Na's nerves hold up over the next couple of days. On Thursday, he looked comfortable and showed none of the odd quirks and mannerisms that have characterized his play over the past few years. He still labored intensely over every detail with his caddie, but he looked to be more certain about his decisions once he got over the ball.
Na has one of the best short games on tour. In 2014, he ranks second in scrambling.
"Obviously, if everyone's missing greens and you have to get up and down, I feel like I've got an advantage," he said.
If the 30-year-old South Korea native can master the mental space over the next three days, his short game might just lead him to his first major championship.
The eyes of the golfing world will certainly be watching to see how fast he plays.