Category archive:

Rory McIlroy
August, 19, 2014
Aug 19
12:38
PM ET
#ALSIcebucketchallenge accepted. Phil Knight and @RafaelNadal you're up. Thanks @McIlroyRory http://t.co/KJC2g8PXdK

- Tiger Woods (@TigerWoods) August 19, 2014
Why have one superstar golfer take the ALS Ice Bucket Challenge when you could have two?
As they continued their media tour through New York this week, Tiger Woods and Rory McIlroy decided to join the fray that has taken over most Facebook feeds in recent weeks.
Current world No. 1 McIlroy and former No. 1 Woods were nominated by Nike's Mark Parker. The pair, in turn, called out Nike's Phil Knight and Rafael Nadal (by Woods) and former President George W. Bush, Wayne Rooney and model Meghan Markle (by McIlroy.)
To add a small twist, the two decided to dump the icy buckets of water on each other, with Woods getting doused first.
The impact of this global phenomenon has clearly affected awareness of the disease and its charitable contributions. In 2013, the national ALS chapter raised $23.5 million. In the past 22 days, the Ice Bucket Challenge has raised $22.9 million by the ALS Association and its chapters.
August, 16, 2014
Aug 16
1:41
PM ET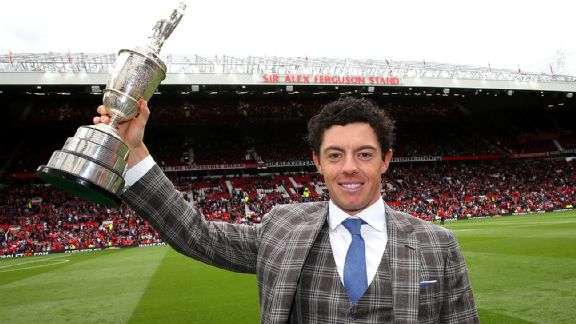 John Peters/Getty ImagesRory McIlroy brought the oldest major championship trophy in golf to Old Trafford to celebrate the opening of the English Premier League season with Manchester United.
After winning the Open Championship in July, Rory McIlroy announced to the crowd at Royal Liverpool that he appreciated the kindness of the fans, even though he was a supporter of Manchester United of the English Premier League.
On Saturday, it's safe to say he got a warmer reception at Old Trafford.
And after meeting some legendary names at the home of Man United, McIlroy got into a comical Twitter back-and-forth with Arsenal fan and fellow Ryder Cupper Ian Poulter.
Hey you can keep your Claret Jug but can I have my suit back please Mr @McIlroyRory I thought something was missing. pic.twitter.com/wI12lw7qdV

- Ian Poulter (@IanJamesPoulter) August 16, 2014
Sorry @IanJamesPoulter you must be mistaken... this suit was only available with the claret jug!

- Rory Mcilroy (@McIlroyRory) August 16, 2014
And the red socks? @McIlroyRory Sorry @IanJamesPoulter you must be mistaken.. this suit was only available with the claret jug!

- Ian Poulter (@IanJamesPoulter) August 16, 2014
Yes them red socks. I thought Van Gaal was going to ask you to take off that suit and help your boys out. They needed it. @McIlroyRory

- Ian Poulter (@IanJamesPoulter) August 16, 2014
You do realize they are the only trophies that will be paraded at Old Trafford this season. @McIlroyRory

- Ian Poulter (@IanJamesPoulter) August 16, 2014
August, 9, 2014
Aug 9
5:51
PM ET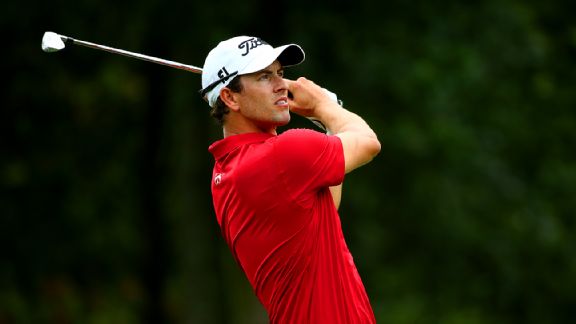 Andy Lyons/Getty ImagesAdam Scott pulled within shouting distance of the lead with a 5-under 66 on Saturday.
LOUISVILLE, Ky. -- Fresh off a bogey-free round of 5-under 66 Saturday at Valhalla, Adam Scott confronted this unforgiving truth:
Odds are he is not going to win the PGA Championship.
"I'm probably too far back," he said, "unless there's something special in there tomorrow."
Scott did something pretty special in reaching 7-under at the end of his third round, moving up the PGA leaderboard and into the conversation about players who can threaten from back of the Sunday pack. But in assessing his chances, or non-chances, Scott was also factoring in the presence of the man who just replaced him as the world's No. 1 golfer, Rory McIlroy, who was only in the early stages of his third round when Scott spoke.
Opponents are almost afraid of the freight train McIlroy became after his victories at Hoylake and Firestone. They talk about his power and his aim and his fearlessness in ways they talked about Tiger Woods' weapons back in the day.
And Scott has to be thinking: Wasn't this supposed to be me they were talking about?
When he won the 2013 Masters at age 32, ending Australia's drought at Augusta National, Scott was hailed as the next big action star in golf. He had leading man looks and a blacksmith's arms and, oh yeah, he even had Tiger's old caddie on his bag.
People lined up to declare that Scott was a surefire multiple major winner, that he had too much game to toss him into the one-and-done bin. But although he has had four top-10 finishes in the six majors that followed his Masters win, including three top-5s, Scott has proved just how difficult it is to win two Grand Slam events, never mind four.
At 25, McIlroy is 18 glorious holes from No. 4. He is so strong, and so long, that a Masters champ in his prime can come off a 67 that put him at 7 under -- right in the mix -- and concede that he's a long shot at best.
"Just needed a few more birdies," Scott said after delivering five of them.
Maybe he'll surprise himself Sunday with a brilliant closing round that supplants the kid who supplanted him. Or maybe McIlroy will just go ahead and show why everyone suddenly sounds so afraid of him.
August, 8, 2014
Aug 8
2:14
PM ET
LOUISVILLE, Ky. -- Apparently Rory McIlroy's success means he is getting recognized when he is out and about -- even at a gas station. He was spotted at a local gas station and posed for a photo.
Who knew my cousin was famous? @99rooniegirl pic.twitter.com/ozfFz98q18

— maddy wesley (@MaddyWesley) August 8, 2014
July, 18, 2014
Jul 18
11:45
AM ET
Rory McIlroy looked to be avoiding the "Freaky Friday" meltdown that has done him in so often this year as he made the turn with a 2-shot lead at the Open Championship.
If McIlroy can finish Friday with the 36-hole lead, a greater challenge awaits: hanging on to it.
According to ESPN Stats & Information, he has held the two-day lead at a major just twice, with vastly different final results.
At the 2011 Masters, McIlroy took a 2-shot lead into the weekend -- and a 4-shot lead into Sunday's final round -- before collapsing down the stretch and carding an 8-over 80 on the tournament's final day.
At the 2011 U.S. Open, held at Congressional, he carried a 6-shot lead into the weekend … and never looked back, eventually extending the final margin to 8 strokes (he finished the tournament at 16 under par).
Holding a two-round lead at this event, however, is uncharted territory for the Northern Irishman, whose best two-day finish at the Open Championship had him in 19th place (in 2011 at Royal St. George's).
More recent history suggests McIlroy should be fine. His Saturday and Sunday scoring averages on the PGA Tour this season hover around 70, 2 strokes better than the dreaded Friday average of 72.
April, 1, 2014
Apr 1
1:06
PM ET
The Shell Houston Open has embraced its reality as a Masters tuneup since earning a pre-Augusta spot on the PGA Tour schedule in 2007. The Rees Jones design does its best to replicate what players will face next week at Augusta National, and elite players have responded by making Humble, Texas, part of their annual schedule.
Trivia question
The first Houston Open was held in 1946. Both the winner and runner-up were Texans. Who were they? Answer below
While many of the world's best have made Redstone (now called the Golf Club of Houston) their final tuning grounds before the season's first major, winning the Houston Open hasn't been a harbinger of Masters triumph.
Of the seven winners at the Houston Open since 2007, only Anthony Kim (T-3, 2010) has gone on to finish in the top 10 at Augusta. The other six players in that group made the cut at the Masters, each finishing somewhere between T-38 and T-12.
Some of the biggest names in the sport don't need to win this week to give themselves adequate propulsion down Magnolia Lane. However, good play at the Golf Club of Houston would make them bigger contenders entering the Masters.
This week's Numbers Game breaks down what a handful of the game's biggest names will be looking to refine, fix or otherwise improve upon at the Shell Houston Open.
---
Phil Mickelson -- Rest vs. momentum: Will he or won't he play? The lefty withdrew Saturday in San Antonio with a pulled muscle in his side, leaving this week in Houston in doubt. Mickelson's 2014 on the PGA Tour has been one to forget so far -- six starts and three finishes (with two withdrawals and a missed cut), none of those coming in the top 10.
Logic suggests that resting a 43-year-old body the week before Augusta would be the best approach. But in this instance, as is often the case, logic and statistics disagree. The numbers say Mickelson has to come into Augusta with some kind of high finish under his belt.
Mickelson has 10 top-five finishes in his career at the Masters. He had at least one top-10 finish on the PGA Tour in the same year preceding each of those high finishes. In all but two of those instances, he entered the Masters with at least one PGA Tour victory that season.
---
Rory McIlroy -- Ironing it out: Now that Tiger Woods is out of the mix, McIlroy enters the 2014 Masters as the co-favorite along with Adam Scott (each at 10-1 odds). The golf-viewing public's last strong memory of the world's seventh-ranked player, however, was his double-bogey/bogey/birdie finish to get into a playoff at the Honda Classic, which was ultimately won by Russell Henley.
In McIlroy's two major championship wins, he was a greens-in-regulation machine, hitting them 76.4 percent of the time. Rory hit just 10 of 18 greens Sunday at Honda but was tied for eighth in GIR at Doral two weeks later.
It's a tired subject for McIlroy, but since his club switch before the 2013 season, his iron play truly hasn't been the same. In 2012, McIlroy tied for the lead on the PGA Tour in average approach shot proximity from the fairway (28 feet, 1 inch). In 2013, his rank slipped to T-24, and he is tied for 55th in this young season.
It will be interesting to see if McIlroy's iron play comes into form this week. In 2013, he played the Valero Texas Open in the week before the Masters, finishing second. His approach shot average from the fairway? An average of 23 feet, 2 inches -- best in the field.
---
Dustin Johnson -- Rust-proofing: He has finished T-6 or better in every PGA Tour stroke-play event he's participated in during the 2013-14 season. He leads the PGA Tour in greens in regulation, birdie average, scoring average and all-around ranking. His strokes gained-putting rank has jumped 106 spots this season to 11th. At 29 years old, he is a top-10 player in the world, with six top-10 finishes in majors since 2009.
For Johnson, it's not so much that he has anything to "work on" this week in Houston -- more that the bomber is shaking the rust off. DJ's last start came at Doral three weeks ago, where he finished T-4. That's exactly where he finished at Houston in 2013, firing four below-par rounds before heading to Augusta, where he finished T-13 -- his best career Masters result.
---
Matt Kuchar -- Sunday struggles: The world's 11th-ranked player opened 2014 with a pair of top-10 finishes in Hawaii. He and his family apparently enjoyed it, because they then stayed for the next month on an extended vacation.
Trivia answer
Question: The first Houston Open was held in 1946. Both the winner and runner-up were Texans. Who were they?
Answer: Byron Nelson held off Ben Hogan by two shots.
We at Numbers Game push our ferocious jealousy aside while pointing out that since returning from Hawaii, Kuchar has not cracked 74 in the final round on the PGA Tour (a combined plus-eight in three Sunday rounds).
Kuchar has finished in the top eight in each of the last two years at Augusta, but if he wants to claim his first major, he will need to figure out his fourth-round issue. In his last 11 final rounds in majors, he has broken par just once. And since 2011, he has never ranked higher than 35th on the Tour in final-round scoring average.
January, 14, 2014
Jan 14
8:23
AM ET
In existence for less than a decade, the Abu Dhabi HSBC Golf Championship has become a marquee early-season event in the golf world. Reported multimillion-dollar appearance fees to summon the likes of Tiger Woods will do that.
Trivia question
This is the ninth annual Abu Dhabi HSBC Golf Championship. Who won the inaugural edition in 2006? (Answer below)
There is no Woods in the field this week competing for one of the coolest trophies in golf, but a fantastic collection of golfers features eight major champions and four players ranked among the top 10 in the world.
Defending champion Jamie Donaldson is in the top 25 in the world rankings for the first time in his career, but we at Numbers Game examine three of the biggest names in the sport in this week's Three on the Tee:
Henrik Stenson: At the end of 2011, Henrik Stenson was ranked 191st in the world. He was coming off a year in which, in events weighted by the OWGR, he had 11 missed cuts, just one top-10 finish and no victories. Two years later, he is ranked No. 3 and is in position to give Woods a run for his money as the world's top-ranked player.
In his past 14 worldwide starts counted by the world ranking, Stenson has three wins, an incredible eight top-three finishes (including two in the most recent two majors) and 10 top-10s. For comparison's sake, in Woods' past 14 starts, he has three wins, six top-three finishes and eight top-10s.
Stenson finished second to Sergio Garcia in his last start -- at the Thailand Golf Championship in mid-December. The 37-year-old Swede has two runner-up finishes in his career at Abu Dhabi, but no top-10s since 2008.
Phil Mickelson: Lefty played his college golf at Arizona State, nearly shot 59 last year in Scottsdale and is a three-time winner of the Waste Management Phoenix Open. So you would think desert conditions in Abu Dhabi could be a good fit to get his 2014 started, right? Mickelson has just one start in this event, and he finished T-37 in 2011.
Lefty earned a top-10 only once in eight starts after his historic victory at the Open Championship last summer. The previous time Mickelson won his first worldwide start of a calendar year was in 2004 at the Bob Hope Classic.
For many golf fans, though, Mickelson's year revolves around the U.S. Open, June 12-15 at Pinehurst, N.C. He will have the chance to complete the modern career Grand Slam, something only five players have accomplished: Gene Sarazen, Ben Hogan, Gary Player, Jack Nicklaus and Woods.
Rory McIlroy: With the world watching his every step in 2013, then-world-No. 1 Rory McIlroy failed to register a victory anywhere until the Australian Open in December. That included just two rounds under par in the first three majors of the season and resulted in T-25, T-41, missed cut finishes.
Still just 24 years old, and with the spotlight dimmed a bit entering this year, McIlroy could be poised for a return to top form in 2014. He finished sixth or better in four of his last six tournaments of 2013, accumulating a combined score of 52 under par in that stretch. The world's seventh-ranked player, who got engaged to Caroline Wozniacki, recently said his ball speed (with his driver) has topped 180 mph for the first time in his career.
The magnitude of what McIlroy has accomplished at such a young age cannot be understated. He will turn 25 between this year's Masters and U.S. Open, yet he already has two major titles to his name. Since 1930, only three other players have won multiple majors before age 25: Nicklaus, Seve Ballesteros and Woods.
---
Meanwhile, back stateside, birdies should be easy to come by at the Humana Challenge. In 2013, the three easiest courses on the PGA Tour were La Quinta CC, PGA West Palmer and PGA West Nicklaus -- the three tracks played at this event. Each of the past six winners has finished at least 22 strokes under par, even after the format switched from 90 holes to 72 in 2012.
In fact, since 2008, each course hosting this event (six courses in all during the stretch) has ranked among the 10 easiest on the PGA Tour in that given season. The statistic "adjusted scoring average" was created for tournaments like this.
Trivia answer
Question: This is the ninth annual Abu Dhabi HSBC Golf Championship. Who won the inaugural edition in 2006?
Answer: Chris DiMarco
The propensity for low scores could mean another great finish. Each of the past four years, this tournament has been decided by 2 or fewer strokes, with two playoffs determining the winner in that span.
Big names to watch for include Brandt Snedeker, who enters with an active streak of 17 straight sub-par rounds in this tournament (and top-10 finishes in 2010 and 2012), and Keegan Bradley, who finished T-7 in his only career start here in 2011.
May, 28, 2013
05/28/13
10:45
AM ET
Each week of the season, our experts share their insights into which players fit the criteria for our four categories: Horse for the Course (a golfer who knows the track inside and out), Birdie Buster (a guy who could take it low this week), Super Sleeper (a player who could unexpectedly contend) and Winner.
This week's tournament: The Memorial at Muirfield Village Golf Club, Dublin, Ohio
Horse for the Course
Michael Collins, ESPN.com senior golf analyst: Justin Rose. A winner here in 2008, he missed the cut in 2009 and 2011 but otherwise has finished outside the top 14 only once since 2004. So far this year, Justin has missed only one cut on the PGA Tour (The Players) and has five finishes inside the top 20, including three top-10s.
Farrell Evans, ESPN.com senior golf writer: Tiger Woods. He is the defending champion and a five-time winner of the tournament. He's won four of his seven events on tour this season.
Bob Harig, ESPN.com senior golf writer: Tiger Woods. A four-time winner this year on the PGA Tour, Woods returns after a two-week break following his lastest win at The Players Championship. Woods is the defending champion at Muirfield Village, where he has won five times.
Birdie Buster
Michael Collins: Rickie Fowler. Other than a horrific Sunday 84 last year (at least he got to watch Tiger up close), Fowler has found a course that seems to fit his eye. He's quietly putting together a solid year with 10 of 12 cuts made and three top-10s; you should expect a top-10 finish this week in Dublin.
Farrell Evans: Keegan Bradley I'm getting tired of putting Bradley in this category. But he does share the lead with Brandt Snedeker for most top-10s this season with six. In his last start, the Byron Nelson, he finished second after a first-round 60.
Bob Harig: Ernie Els. The Big Easy has been mostly quiet this year, but the reigning Open champion is coming off a tie for fourth at the BMW PGA Championship on the European Tour.
Super Sleeper
Michael Collins: Matt Every. He's missed almost as many cuts this year (seven) as he did all of last year (nine). But that's what should make him the sleeper this week, isn't it? What you probably didn't know was in his last four events he's hitting around 75 percent of his greens in regulation, meaning he'll have plenty of birdie chances this week.
Farrell Evans: Matt Every. In 2012, the 29-year-old former Florida Gator had a tie for sixth at the Memorial. Last week, he had his best finish of the season with a tie for fourth at the Colonial.
Bob Harig: Jordan Spieth. The 19-year-old rookie is coming off another strong week at the Colonial and looks to keep building on a strong first professional season.
Winner
Michael Collins: Tiger Woods. Crying shame it doesn't matter what anyone else does on the golf course nowadays. Not when "the man" is back to being "the man." This will be his sixth win at this event and wrap up player of the year before the second major of the year is even played. I'd wave the white flag, but it wouldn't matter.
Farrell Evans: Rory McIlroy. As much as Tiger is the obvious choice to win for his sixth time at Jack's place, the 24-year-old Northern Irishman is going to have a breakthrough this week, despite coming off a missed cut at the BMW PGA Championship on the European Tour. Last year at Muirfield Village, McIlroy shot rounds of 71 and 79 to easily miss the cut. He doesn't want to embarrass himself in front of Jack like that again.
Bob Harig: Rickie Fowler. A year ago he witnessed Tiger Woods' come-from-behind victory while failing to break 80. This time, Fowler gets that elusive second PGA Tour victory.
April, 29, 2013
04/29/13
2:59
PM ET
Each week of the season, our experts will share their insights into which players fit the criteria for our four categories: Horse for the Course (a golfer who knows the track inside and out), Birdie Buster (a guy who could take it low this week), Super Sleeper (a player who could unexpectedly contend) and Winner.
This week's tournament: Wells Fargo Championship at Quail Hollow Club in Charlotte, N.C.
Horse for the Course
Michael Collins, ESPN.com senior golf analyst: Sergio Garcia. Other than his W/D from the Arnold Palmer Invitational, Sergio has yet to finish outside the top 17 in the five events he's played all four rounds. Bet you didn't know he's ranked 17th in all-time money won at this event.
Farrell Evans, ESPN.com senior golf writer: Rory McIlroy. Famous but not yet a global superstar, McIlroy claimed his first PGA Tour title here in 2010 with a final-round 62. Last year, he lost in a playoff at Quail Hollow to Rickie Fowler.
Bob Harig, ESPN.com senior golf writer: Webb Simpson. The reigning U.S. Open champion lives at Quail Hollow and has plenty of home-course knowledge. He was the 54-hole leader a year ago before fading on Sunday.
Birdie Buster
Michael Collins: Nicolas Colsaerts. This is going to be an eye-opening experience for the Belgian first-timer, but in a good way. He's going to average better than 65 percent of his greens in regulation and then easily get a top-10.
Farrell Evans: Lucas Glover. Injuries and a divorce have been distractions for Glover since he won the 2009 U.S. Open, but perhaps he's rounding into good form after a tie for fourth last week in New Orleans.
Bob Harig: D.A. Points. He didn't win in New Orleans, but came close again, following up on his victory from the previous week in Houston. After a terrible start to the year, Points has a victory and a runner-up finish. He also lost at Quail Hollow in a playoff to Rickie Fowler a year ago.
Super Sleeper
Michael Collins: Rory Sabbatini. Fifty percent of cuts made, one top-10 (T-9) and four finishes outside the top 25. And you thought Tiger was the only one impacted by a messy divorce? So, at this course, he's either going to finish third or miss the cut.
Farrell Evans: John Peterson. The 24-year-old Web.com tour player got into the Wells Fargo field because of his tie for eighth in New Orleans. Don't be surprised to see him do well this week. He had a tie for fourth at the U.S. Open last year after qualifying through sectionals.
Bob Harig: Phil Mickelson. Lefty loves the tournament, and has six top-10 finishes in nine appearances, but no victories. Still, it is impossible to know how he will perform after such a poor performance at the Masters and a subsequent two-week break.
Winner
Michael Collins: Kevin Streelman. This will be win No. 2 for the Wheaton, Ill., native who grew up playing courses that didn't always have pristine greens. He'll have the patience that will be needed on the stressed-out greens of Quail Hollow's back nine to win.
Farrell Evans: Lee Westwood. The 40-year-old Englishman has had top-10s in his past two starts on the PGA Tour, including a tie for eighth in the Masters, his ninth top-10 in his past 17 major championships. Last year, he had a tie for fifth at Wells Fargo.
Bob Harig: McIlroy. It is somewhat amazing how quiet things have gotten for the No. 2-ranked player in the world. Perhaps that is a good thing. He did win at Quail Hollow three years ago, and lost in a playoff last year.
April, 1, 2013
04/01/13
7:25
AM ET
By
Farrell Evans, ESPN.com
HUMBLE, Texas -- After shooting a 2-under 70 on Sunday in the final round of the Shell Houston Open, Rory McIlroy admitted that he might not have put enough events on his schedule at the start of the year.
"I might have played one more in the Middle East, not taken that four-week break after Abu Dhabi," he said.
[+] Enlarge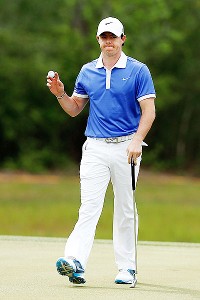 Scott Halleran/Getty ImagesRory McIlroy carded 10 bogeys or worse during his 72 holes at the Shell Houston Open. He'll play the Valero Texas Open this week in San Antonio.
It didn't help matters that McIlroy lost in the first round of the WGC-Accenture Match Play in February or played less than two rounds at Honda.
The 23-year-old Northern Irishman will try to make amends for this light schedule by playing the Valero Texas Open, which begins Thursday.
"I'm there to play competitive golf," he said about playing at the TPC San Antonio. "If it was a par-3 course, I would go and play it just because that's what I need.
"I need competitive golf and I need committing to targets, and it doesn't matter if it's a short course or long course or wide course or whatever. As long as I have [competition] and I have a scorecard in my hand, that's what I need."
When Ben Curtis won the Texas Open last year for his first win since 2006, he shot 73-72 over the weekend on the very difficult Greg Norman-designed AT&T Oaks Course.
In 2012, the 7,435-yard, par-72 layout was ranked the fourth-most difficult course on the PGA Tour, with a 73.989 stroke average.
In a Golf World magazine survey of more than 80 PGA Tour players, only two courses out of 52 tour venues were rated lower than this week's venue.
But McIlroy isn't in the Alamo City for its popularity with the players. He has some very clear objectives in mind to prepare for Augusta.
"I just got to hit the bad shots in the right places and not short-side myself and hit them in hazards and give myself a little more margin for error," he said.
"I hit four shots in the hazards today and ended up shooting 2-under. You limit those mistakes a little bit and all of a sudden it's a 67, 66. I can take a lot out of this week. The scores haven't reflected how I've played."
Yet in this game, you are what you shoot. McIlroy doesn't have to win in San Antonio, but it's imperative that he plays 72 holes and finds some measure of consistency.
McIlroy shrugs off the notion that he might get tired during the Masters by playing three weeks in a row.
"I feel fine," he said. "I don't think there's any set way to do it. It just depends on how you feel on those given weeks."
Last year, McIlroy won the PGA Championship a week after finishing in a tie for fifth at the WGC-Bridgestone Invitational. But earlier in '12, he had a disappointing tie for 40th at the Masters after taking nearly a month off.
It will be very interesting to see what game he shows up with at Augusta. At the start of the week in Houston, he held his head up high after losing No. 1 in the world to Tiger Woods. The burden and pressure of being No. 1 had suddenly been lifted from his shoulders.
Now McIlroy has the Texas Open to help sharpen his resolve to not only retake No. 1 from Tiger, but to show that, like the 14-time major champion, he can overcome great adversity to win golf's biggest events.