No wrong answer for Matthew Fitzpatrick
January, 9, 2014
Jan 9
9:18
PM ET
In August, Matthew Fitzpatrick won the U.S. Amateur at the Country Club in Brookline, Mass., with an understated grace and maturity that belied his youth. The Sheffield, England, native seemed to have the head of a veteran pro on the body of young boy.
It was easy to believe him when he said with some certainty that he would stay at Northwestern for four years to earn his degree.
[+] Enlarge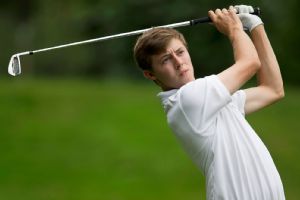 Matthew J. Lee/The Boston Globe/Getty ImagesWhen Matthew Fitzpatrick won the 2013 U.S. Amateur title, he became the first Englishman to win the world's most prestigious amateur event in more than 100 years.
He wanted a backup plan in case a golf career didn't pan out, as well as time to put some muscle on his sleight frame for the super-sized courses and 350-yard drives of the professional tours.
His was a practical script, but not an entirely realistic one for the No. 1-ranked amateur in the world.
The future is now for Fitzpatrick, who will likely stay an amateur at least until July's Open Championship. The only way to develop into a competent pro is to compete against the best in the world by playing full-time without the weight of a college course load.
Ask 20-year-old Jordan Spieth, who since leaving the University of Texas in 2012 has developed into a full-blown superstar, if he made the right decision to turn pro?
Sure, most players won't have the outcome of Spieth or Tiger Woods, who left Stanford after his sophomore year to become the best player of his generation and perhaps of all-time.
These are very special players, and Fitzpatrick could rise to their stature.
Or he could struggle and never become a top player. There is no certainty in this game, no bench to warm or free agency to start anew.
Golf prodigies fade swiftly and often.
But Fitzpatrick shouldn't be afraid of failing or regretful for leaving Northwestern to give the game his undivided attention.
Many of Fitzpatrick's classmates at Northwestern are doing all-nighters to earn credentials for their future endeavors, while the typical elite student-athlete has his sights on a lucrative pro career.
For these athletes, going to class is often a means to an end to stay on course to the celebrity and riches promised by pro stardom. The lucky ones are those who manage to get it all: a college degree and the bling. The unfortunate ones are those who are left without that degree or the life of a pro athlete.
Phil Mickelson got his degree from Arizona State and has gone on to have a Hall of Fame career. Numerous other great players have completed their college eligibility and then joined the tour.
There is no right or wrong to this dilemma. A player must make his decision based on his own unique circumstances.
Fitzpatrick will only benefit from this venture into full-time golf. He can take college courses online if he still wants to pursue a degree. For now he should be preparing for a busy schedule of regular tour events and the first three majors of the year.
Golf is his course work and if he can make top grades on this stage, he might have a similar impact on his profession as some of the other brilliant kids who came to Northwestern in the fall with dreams of making it big in the world.