Recalling Seve, by the numbers
May, 6, 2012
05/06/12
3:32
PM ET
There are some men and women in sports who captivate audiences, even in defeat. Their unique approach to their craft causes fans and fellow competitors alike to see their game in a different light.
[+] Enlarge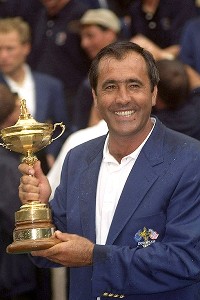 Rusty Jarrett /Allsport/Getty ImagesSeve Ballesteros will be forever known for his connection to the Ryder Cup, including captaining the European squad to victory at the 1997 matches in his native Spain.
Their creativity makes us re-examine what we thought we knew about a sport. Their style brings a new, exciting element to something we already love, and makes us love it even more.
One year ago, on May 7, 2011, Severiano "Seve" Ballesteros Sota died of brain cancer. He was 54 years old.
Seve's life, like his magnificent career, was cut far too short. Ballesteros struggled with back injuries after turning 40, robbing golf fans around the world of his throw-caution-to-the-wind, thrilling approach to the game.
Yet even with a shortened career, Ballesteros assembled one of the most impressive résumés in the history of the sport. Seve accumulated 91 victories as a professional around the world, won five major championships and was inducted into the World Golf Hall of Fame in 1999.
Ballesteros burst onto the scene at the 1976 Open Championship, when at the age of 19, he finished tied for second. That year, Seve also finished first on the European Tour money list, and teamed with Manuel Pinero to win Spain its first World Cup.
Seve Ballesteros would win three Open Championships -- in 1979, 1984 and 1988. Since 1960, only four others have won at least three titles at golf's oldest major: Nick Faldo (3), Jack Nicklaus (3), Tiger Woods (3) and Tom Watson (5).
Ballesteros is of course one of just two major champions from his home country of Spain. The other is Jose Maria Olazabal, Seve's close friend and longtime Ryder Cup teammate. Olazabal won the Masters in 1994 and 1999, a tournament his late friend also won in 1980 and 1983.
Ballesteros was just 23 years, 4 days old when he won his first green jacket at Augusta National. That, at the time, made him the youngest Masters champion in history. In 1997, Woods bested that by about two years -- Tiger was 21 years, 104 days old when he won his first Masters.
Seve's five major championships are tied for third most all-time among European-born players. Only Faldo (six) and Harry Vardon (seven), who won his last major title in 1914, have won more.
Ballesteros is also widely regarded as the best player in the history of the European Tour. His 50 career victories are by far the most in the tour's history -- Bernhard Langer is second on the all-time list with 42. Only three players can claim at least 30 European Tour victories and three major titles -- Seve, Woods and Faldo.
The European Tour's money list was known as the Order of Merit until 2009. Almost no player topped that list more than Ballesteros, who won the Order of Merit six times from 1976 to 1991. Only Colin Montgomerie, who topped the list eight times, has more such titles.
The tour's Golfer of the Year award has been given out since 1985. Despite the award not existing for a large portion of Seve's competitive career, he managed to win the title three times -- only Montgomerie (four) has won the award more.
Ballesteros was also one of the most successful players in Ryder Cup history. He was a member of European sides that won the Ryder Cup in 1985, retained the Cup in 1987 and 1989, and regained the Cup in 1995.
However, the pinnacle of his Ryder Cup career came in 1997, when he captained the winning European side at Valderrama Golf Club in Sotogrande, Spain. This was the first Ryder Cup held in continental Europe.
Ballesteros' name is plastered all over the Ryder Cup record book. He ranks in the top four all-time among European players in matches played, matches won, points won and four-ball points. Only two players have won more matches for the European side -- Faldo and Langer.
Seve's success broadened the platform to which he could display his craft, but his accomplishments do not tell the entire story. It has been said that Ballesteros did for golf in Europe what Arnold Palmer did in the United States years earlier -- gave the game a charismatic face that fans fell in love with.
One year after his untimely death, hopefully golf fans around the world can take a moment to celebrate the career and life of one of the game's most magnificent performers.
Justin Ray is a senior researcher with ESPN Stats & Information. He has contributed to ESPN's golf coverage since joining the network out of college in 2008. He is based in Austin, Texas, with the Longhorn Network. Send comments and suggestions to Justin.Ray@espn.com.