Category archive:

Greg Norman
March, 29, 2011
03/29/11
6:25
AM ET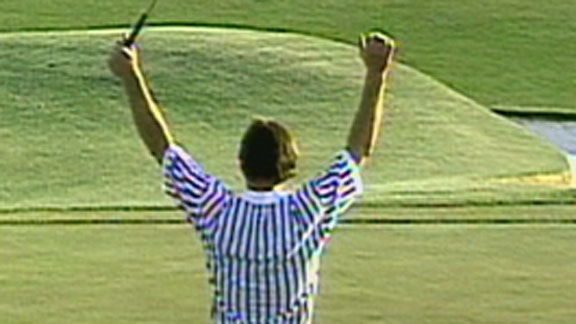 Masters Moments: 1996
Appreciation comes with time, but there might not ever be enough of that when it comes to Nick Faldo's 1996 Masters victory. The tournament will always be remembered for Greg Norman's collapse. He bled all over Augusta National.
Meanwhile, Faldo shot a 67, one of the best final rounds in major championship history, especially considering the six-shot deficit he faced that day.
So is it more about Norman's collapse or Faldo's charge?
It is difficult not to make Norman's final-round 78 the story, when anything around par would have gotten the job done, no matter what Faldo did.
But you have to give credit to the Englishman for applying the pressure.
One of the most popular players in the game seemingly had his hands all over that elusive green jacket. With an opening 63, he tied the course record. He took a six-shot lead into the final round. It disappeared in 11 holes. Faldo went on to win by five.
Everyone, of course, remembers Norman's collapse. But you have to admire Faldo's 67.
"It was an unusual day. We all know what happened," Faldo said. "It was a hell of an atmosphere going on. It was quite an arena to play in. Augusta is amazing to play in anyway. But when something like that is happening … it really was quite electric, an unusual atmosphere."
The Shark had endured so many close calls at the Masters, including his wayward approach to the 18th a decade earlier, when Jack Nicklaus won, and his playoff defeat in 1987, when Larry Mize chipped in on him. This was to be his time.
It began to unravel, unbeknownst to Norman or anyone else, when Faldo birdied No. 18 on Saturday. That put him in the final pairing with Norman. Playing head to head with one of the game's all-time steely competitors proved difficult for Norman; had Faldo not birdied at the end of the third round, Norman would have played the final 18 with 25-year-old Phil Mickelson.
Faldo made one bogey on the front nine but had three birdies to keep the heat on Norman, whose six-shot advantage was all gone by the time they reached the 12th tee. There, Norman's tee shot went in the water, and he fell behind by two.
Birdies by Faldo at the 13th and 15th holes kept Norman at bay. And when Norman hit his approach in the water at the par-3 16th, it was over, making Faldo's birdie at the 18th anticlimactic.
In an uncommon show of emotion, Faldo hugged Norman and uttered a few words in his ear. He kept what he said a secret for eight years, finally letting out that, in so many words, he told Norman not to let the media or anyone get to him.
"I felt for the guy because I would hate for that happen to me," Faldo said. "People make assumptions, six-shot lead. There are no assumptions at Augusta. My goal was to get within three after nine. And a three-shot lead on the back nine at Augusta is nothing. I genuinely felt for him. I wouldn't want that to happen to me. I've been fortunate. I haven't been scarred by this game."
No, but will he be appreciated for that victory? Will the masses remember Norman's collapse or Faldo's fine play?
"At the end of the day, you look at the scorebook," he said. "In years to come, you see 'Faldo, 12 under.' The next best is 7 under. I always say, you know where the tape is. It's at the end of 72 holes."
For an interactive timeline of classic moments in Masters history, check out Masters.com.
Bob Harig covers golf for ESPN.com. He can be reached at BobHarig@gmail.com.
March, 25, 2011
03/25/11
9:11
AM ET
The shot will go down as one of the most famous in golf history, certainly a big talking point whenever the subject of most memorable Masters is broached.
But consider the fate of Larry Mize as he stepped to the 10th tee at Augusta National in 1987 for the start of a sudden-death playoff with Greg Norman and Seve Ballesteros.
Norman and Ballesteros had combined to win 91 worldwide tournaments, Mize just one. Norman was ranked No. 1 in the world, Ballesteros No. 3. Mize? No. 36.
So nobody was giving the Augusta, Ga., native much of a chance against two of the game's heavyweights, both of whom had contended at the Masters a year prior.
"I had a healthy respect for them," Mize recalled. "But you can't fear someone you're playing. I didn't have any fear. I was confident going into the playoff because I played well that week. And the birdie at 18 that got me in was a big factor as well."
Ballesteros bowed out with a three-putt bogey at 10. And when Mize missed the green well to the right of the 11th, with Norman on the front edge, a green jacket appeared imminent for the Shark.
[+] Enlarge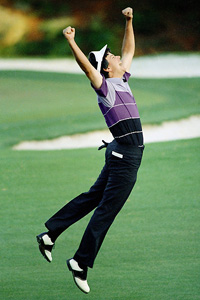 AP Photo/Joe BentonAugusta native Larry Mize celebrates his chip-in that gave him a victory in the 1987 Masters.
Mize figured he had just one play, a 56-degree wedge shot that he would bump and run. He figured he needed the loft because the greens were so fast. "I picked a spot and landed it right there," he said. The ball tracked toward the cup and dropped for a birdie that sent Mize dancing around the green in purple glory -- the color of his shirt.
Norman -- felled by a holed shot from off the green to lose a second straight major -- was stunned as he prepared to hit his putt that would not fall.
"All I could do was just wait there and take it," he said. "It was the hardest 45 seconds of my life."
The moment and the shot are so special to Mize that he says he has never tried to duplicate it.
"The thing is, if I go back and hit the shot again, then my memory is not of the shot," Mize said. "Now when I see the shot, it keeps the memory pure. It's one of the great decisions I've made. I've never gone back. The only way I go over there is if I hit the ball in that area during the tournament. It keeps it a great memory."
For an interactive timeline of classic moments in Masters history, check out Masters.com.
Bob Harig covers golf for ESPN.com. He can be reached at BobHarig@gmail.com.