Category archive:

Phil Mickelson
September, 5, 2010
09/05/10
6:43
PM ET
NORTON, Mass. -- For better or worse, Phil Mickelson possesses a terrific memory.
[+] Enlarge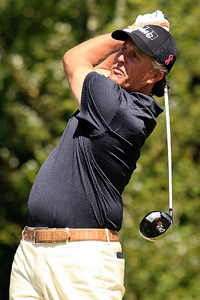 Michael Cohen/Getty ImagesAlthough many in golf circles feel Phil Mickelson is the No. 1 player in the world right now, Tiger Woods still holds the title. That could change Monday with a Lefty victory at the Deutsche Bank Championship.
Sometimes it works against him. (Winged Foot, anyone?) Other times, he can use it to his advantage.
Consider his actions at TPC Boston's par-4 15th hole on Sunday to be a little of both. With his ball nestled in the fairway, 134 yards from the hole, Mickelson was reminded of a similar shot during last year's edition of the Deutsche Bank Championship.
"I flew it up against the pin," he recalled. "It came all the way back down."
"Jokingly," said Jim "Bones" Mackay, Mickelson's longtime caddie, "he said to me as he took the pitching wedge, 'I'll try to miss the flag this time.'"
No such luck. Once again, his shot caromed off the flagstick and bounded away from the green, leaving him with a delicate chip back to the hole.
"So we're standing there," Mackay later recounted, "and he goes, 'You know what? I'm going to chip this in.'
"I kind of turned to him and said, 'Screw it, I'm going to make this,'" Mickelson said with a smile. "'Stuff happens. I'm going to knock this one in.' And I'll be darned if that ball didn't go in. So that was a fun little moment."
The entire week so far might be more fun than Mickelson has enjoyed in a while. He posted a 4-under 67 on Sunday -- his third straight sub-70 score, the first time since February that he's accomplished the feat -- to remain in the hunt for his first victory since the Masters and his first top-10 since the U.S. Open. He trails 54-hole leader Jason Day by five shots with 18 holes to play.
There's a competition within the competition lurking, as well. For his 11th straight tournament appearance, Mickelson has an opportunity to take over the world's No. 1 ranking for the first time in his career, surpassing Tiger Woods, who has held the title for more than a half-decade.
Here's the latest edition of, "What does Phil need to do next?": Currently in a share of sixth entering the final round, Mickelson will officially become the top player with a win; a second-place finish if Woods is outside the top-three; a third-place finish with Woods outside the top-nine; or a fourth-place finish with Woods outside the top-24 and Steve Stricker not winning.
"It would be cool for anybody," Mickelson admitted of the possibility. "That's what we're all ultimately striving for. But before that can happen, I've got to get my game back -- and it feels like it's starting to come back."
"He's much more of a small-picture kind of guy," Mackay intimated. "He wants to go to each tournament, play well and be there at the end. I'll be honest with you, I've never heard him mention [the No. 1 ranking] once."
Then again, that ranking might be in title only. Ask some of Mickelson's peers and they'll contend that he's already reached that level.
"Well, I think he probably is the No. 1 player in the world right now," said Mickelson's third-round playing partner, Steve Marino. "I know what the rankings say, but we all know Tiger isn't playing his best right now. He hasn't played well all year. He's gone through a bunch of stuff and obviously it's pretty much impossible to play good golf when he's had to deal with what he's had to deal with. He'll be back, but Phil is the No. 1 player in the world right now. He's the best player I've played with."
"Phil is obviously a Hall of Famer, he's going to be talked about in the top-20 or so of all-time, it would be really cool if he got to No. 1," said Geoff Ogilvy, currently tied with Mickelson for sixth place in the tournament. "Phil would probably say he hasn't played well enough to earn it this year, but if he gets to a patch in his career where he is No. 1, it will be right.
"Whether anyone believes he is the best in the world at that time, it doesn't really matter. He deserves to be No. 1 at some point."
That point might finally come on Monday. For a guy with such a strong capacity for memorization, Mickelson may recall a little symmetry. It was Labor Day of 2004 when Vijay Singh first defeated Woods to claim the No. 1 ranking for himself.
No other player besides those two has held the title since then. Mickelson might be hoping the 11th time is the charm, but if it comes without a victory, don't expect him to celebrate the feat.
Jason Sobel is a golf writer for ESPN.com. He can be reached at Jason.Sobel@espn.com.
November, 8, 2009
11/08/09
1:23
PM ET
In the first-year ABC drama "Flash Forward," a worldwide blackout occurs for two minutes and 17 seconds, during which every person witnesses a glimpse into the future. Not just any random date and time, mind you; every vision offers a sneak peek into that person's life on April 29, 2010.
The show's main characters each preview various levels of turmoil, from an FBI agent foreseeing his own investigative research into the event to others confronting such personal matters as marital infidelity and pregnancy to one who views nothing at all -- an implication that said character won't live to see the day.
Being the good company guy that I am, I've had a flash forward of my own to next April. The good news? I'm still alive. The better news? I'm still employed.
In this vision, I am hunting and pecking at the very same keyboard being used right now. I can make out only bits and pieces of the content, but the main premise comes across loud and clear: Four months into the golf season and with the Masters Tournament already in the books, the world's two most talented golfers are already putting on a show for the ages, parrying for position on leaderboards and asserting their prowess over the game's other elite-level players.
Allow me to answer your question before you ask: No, my flash forward didn't include an image of either Tiger Woods or Phil Mickelson winning another green jacket, meaning we'll all have to wait a few more months to unveil that result. There is little doubt, though, that the Nos. 1 and 2 players in the current Official World Golf Ranking will find themselves in contention at Augusta National Golf Club, whose festivities can't come soon enough.
Even if you're suspicious as to the legitimacy of my apparition -- hey, it happens on the show, too -- there are various other underlying factors that should enable this dream to come true.
Let's start with the guy who is already considered by some to be the greatest golfer of all time. We can safely assume Woods will be on top of his game next season, because, well, he's almost always on top of his game. In 17 official PGA Tour starts this year, he finished in the top 10 on 14 occasions, and despite failing to win a major championship title for the first time since 2004, still managed to find the winner's circle a half-dozen times en route to what will assuredly be his 10th Player of the Year award.
This all comes on the heels of last year's season-ending knee surgery, an injury from which he should finally be fully recovered entering the 2010 campaign. Sure, you could say Tiger is no longer as dominant or as intimidating as he once was, but don't base such thoughts solely on his most recent final-round foibles. To put it bluntly, he's still the best in the business. It doesn't take blackout-fueled intuition to see another big year in the cards.
That leaves Mickelson, one of the most accomplished players in the game's history who often receives criticism simply for the fact that he isn't Tiger Woods. At his best, though, Lefty can hang with his adversary on any given Sunday, as evidenced by victories at the Tour Championship two months ago and the WGC-HSBC Champions tournament this past weekend in China.
Based purely on the numbers, Mickelson's season paled in comparison to that of Woods. He made one more official appearance but owned seven fewer top-10s and half as many victories. (The HSBC doesn't count toward his PGA Tour win total.) Of course, it's careless to judge his season on statistical evidence alone, as it was interrupted by two absences of more than a month to be with wife Amy, who was undergoing treatment for breast cancer throughout the summer, and later his mother Mary, suffering from the same illness.
It would be the ultimate game of "coulda, woulda, shoulda" to attempt to calculate his performance without such a burden, but know this much: Through the Players Championship in May -- prior to his first lengthy absence -- Mickelson owned two victories to Woods' one and very well may have been the POY to that point.
He has now finished off the 2009 campaign playing his best golf since winning back-to-back titles at the BellSouth Classic and Masters three-and-a-half years ago, if not the best golf of his career. Thanks to assistance with the forward-press putting stroke from two-time major winner Dave Stockton, Mickelson is rolling his rock with the utmost confidence -- something he can only hope remains during the offseason.
And so where does that leave us here at the end of the golf season? Impatiently staring at the calendar, waiting for next year to begin, biding our time until that glimpse into the future becomes a thing of the present.
There have been only a handful of occasions over the past dozen years in which Mickelson and Woods have purported a true mano a mano rivalry, battling each other down the stretch at an important tournament. With each man seemingly at the top of his game entering the next decade -- and with the four majors being held at magnificent venues (Augusta National, Pebble Beach, St. Andrews and Whistling Straits) during the upcoming year -- golf's two biggest stars may finally be aligned for the most dramatic, entertaining season we've witnessed in a long time.
Even though I've already witnessed such a proposition in my vision, if this season taught us anything, it's that we should always expect the unexpected. I still believe this flash forward will come true, but don't be shocked if the game's best players fail to live the prophecy, in essence turning the 2010 golf season into another J.J. Abrams vehicle instead: "Lost."
Jason Sobel is a golf writer for ESPN.com. He can be reached at Jason.Sobel@espn3.com.