Category archive:

Colin Montgomerie
August, 18, 2010
08/18/10
10:34
AM ET
Since this is a speculative piece about the impending U.S. Ryder Cup captain's picks, let's end the biggest part of the speculation right now: If Tiger Woods wants to be part of the team, then Tiger Woods will be part of the team.
For the first time since turning pro, Woods failed to qualify for this year's roster. (In fact, this was the first time he wasn't No. 1 on the points list.) Now the talk of the golf world has turned to whether captain Corey Pavin will choose him as one of his four wild-card selections Sept. 7.
[+] Enlarge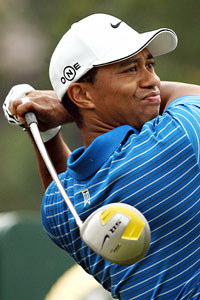 Mark Ralston/AFP/Getty ImagesTiger Woods hasn't played in the Ryder Cup since 2006 but has been on the U.S. squad five times in his career.
"He's high on my list," Pavin said Monday. "He's certainly a big consideration, no doubt."
As well he should be. Never before has a Ryder Cup skipper had the luxury of adding the world's No. 1-ranked player -- a guy with 14 major championship victories and five previous appearances -- to the team. Though many are quick to point out that Woods isn't playing his usual brand of consistent golf, he's still averaging a high number of birdies to offset his mistakes, which should fit the competition's match play format, especially in the fourball portion of the festivities.
The remainder of the decision-making routine isn't as simple. The way I see it, Pavin has a pool of about 13 candidates from which to choose his final three players. An assistant for Tom Lehman in 2006, expect this year's captain to follow his predecessor's lead, which means all decisions will err on the side of caution, dismissing any yearn for Monday morning quarterbacking from the masses.
With that in mind, let's try to get inside Pavin's head and break down what his process of elimination might entail.
If this was an episode of "The Bachelor" -- and don't you wish it was? -- the first players who wouldn't be offered roses include Ben Crane, Ryan Moore, Bo Van Pelt, Ryan Palmer and Ricky Barnes. Each is a solid prospect -- solid enough that he finished in the top 22 on the final points list -- but none quite inspires fear in the hearts of the Europeans. Add to that the fact that only Crane and Palmer have won this season (both back in January) and it's easy to see why, despite possessing certain skills that could translate to success in this event, this fivesome likely won't make it past the first cut.
The second elimination round will be a much more difficult procedure. Pavin could do worse than having any of these five players on his roster -- and each could still work his way onto the team over the next three weeks -- but with Cup rookies Bubba Watson, Jeff Overton, Dustin Johnson and Matt Kuchar already qualified, their inexperience could play a major factor.
So say goodbye to Rickie Fowler, who would likely win a fan voting, if such a thing existed; Nick Watney, who wasn't helped by that final-round 81 at Whistling Straights; Sean O'Hair, who has gotten into the mix with strong play over the past two months; J.B. Holmes, whose power isn't as essential with Watson and Johnson each already filling that role; and Lucas Glover, who fell out of the top-eight this past week for the first time since winning last year's U.S. Open.
That leaves three players to join Woods when the remainder of the roster is named: Zach Johnson, who is fresh off a T-3 at the PGA Championship; Stewart Cink, who knows a thing or two about playing well in the U.K.; and Anthony Kim, who was the last player to miss qualifying for the team, despite missing three months because of a thumb surgery.
Each provides much-needed experience, having played in the biennial competition in the past, though Kim's position might be the most tenuous; if he doesn't prove he's fully healed and another candidate plays well in upcoming events, he could easily be supplanted.
Prior to the last edition of the Ryder Cup, we would already know which selections had been named by this time of year. The most recent former captain, Paul Azinger, changed that process, though, allowing for three extra weeks in order to pick the hottest players.
Expect Pavin to take advantage of this rule, too. While four men have the inside track, the final outcome could be very different come Sept. 7.
Jason Sobel is a golf writer for ESPN.com. He can be reached at Jason.Sobel@espn.com.
August, 11, 2010
08/11/10
2:25
PM ET
SHEBOYGAN, Wis. -- The official opening ceremonies for the Ryder Cup, rife with more pomp and circumstance (heavy on the pomp) than a presidential inauguration, won't take place until Sept. 30 at Celtic Manor in Wales.
[+] Enlarge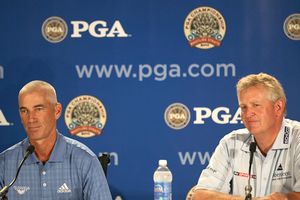 Andrew Redington/Getty ImagesCorey Pavin and Colin Montgomerie were completely cordial during their news conference Wednesday.
The unofficial opening ceremonies, though -- replete with each captain backtracking, denying, acquiescing and otherwise bloviating in advance of the upcoming competition -- are already well under way.
In what has become a biennial rite of passage for team skippers, United States captain Corey Pavin and Europe captain Colin Montgomerie sat down before the assembled media on Wednesday for a joint press conference at Whistling Straits, where the demeanor between the two could be best described as polite and political.
What a shame.
Over the years, the Ryder Cup has become just as titillating off the course as on -- and maybe even more so. From subtle jabs to shameless daggers, the run-up to the event has turned into an opportunity for pronounced patriotism, with jingoistic lingo dominating the proceedings.
So far, however, diplomacy has ruled the day. Not that there's anything wrong with that. In the "gentleman's game," as golf is so often referred to, the high road is not often the one less traveled. But the captains' mutual respect has produced a measure of banality that is uncommon prior to most editions of the Ryder Cup.
For proof, let's review the two biggest stories of the day.
As is the case with most golf stories lately, major news revolved around none other than Tiger Woods. One day earlier, the world's No. 1-ranked player -- who currently stands 10th on a points list for the Ryder Cup that sees the top eight automatically qualify -- eliminated doubt to the contrary when he said that he would indeed accept a captain's pick should he fail to earn his way onto the team.
It was then reported by Golf Channel contributor Jim Gray that Pavin would extend an invitation to Woods under any circumstance -- a notion the captain refuted Wednesday on Twitter.
Rather than taking the opportunity to twist the knife when asked the question of whether he would name Tiger to his team if possible, Monty stated, "That's a very difficult, dangerous and undiplomatic question. But of course I'd pick him, yes." For his part, Pavin responded, "Let me make a note of that. Thanks for the help. Appreciate it. He's very helpful that way, Colin is."
He wasn't as helpful when it came to the other newsworthy story. Amid reports that Montgomerie has filed an injunction to disallow publication of potentially embarrassing photographs, he said, "I know a lot of you are having a lot of fun right now at my expense. Let me clear this up, though: I can categorically say that there's no injunction against the News of the World. I'm really not going to discuss this any further."
After being asked about the subject once again -- and once again refusing to discuss it -- Monty was aided by his fellow captain, who maintained, "I agree with Colin, actually. Let's stick to golf subjects here. We'd appreciate that. Thank you."
No jabs. No tweaks. And definitely no daggers.
Any controversies that have formed in advance of the Ryder Cup aren't because the captains -- or any of the potential team members -- are stoking the flames. Of course, there's still plenty of time. The opening ceremonies have only just begun.
Jason Sobel is a golf writer for ESPN.com. He can be reached at Jason.Sobel@espn3.com.