Expect Doral or Bay Hill to be Tiger's return
January, 6, 2009
01/06/09
6:59
AM ET
The 2009 PGA Tour season kicks off this week at Kapalua with the winners-only Mercedes-Benz Championship, and although he qualified four times over,
Tiger Woods
won't compete because of continuing rehabilitation on his injured left knee.
[+] Enlarge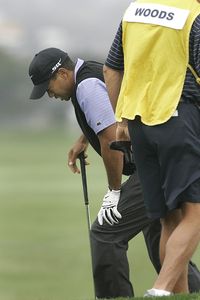 AP Photo/Charlie RiedelWhen last we saw Tiger Woods in competition, he was grimacing in pain. As for the next time? March appears to be the best bet.
Of course, if Woods were perfectly healthy right now, there's a pretty good chance he wouldn't be taking the long flight to paradise anyway. Despite winning this event in 1997 (when it was still at La Costa) and 2000, he hasn't ventured to the Aloha State since 2005. So at which tournament will Woods commence his campaign? And which others will he play during the course of the season? Those questions are still up for debate. Before breaking down his possible wish list for '09, let's remember a few things about the man: • Tiger never changes his stripes. In 1997, his first full year on tour, Woods competed in 21 total events. That number has never increased and, with few exceptions, he has only crossed certain tournaments off his calendar without adding others. Don't expect the pattern to change this season. In other words, if you've been holding your breath in hopes of Tiger returning to Milwaukee or making his debut in Hartford, it's time to exhale.
• There might not be a Sweet 15.
Yes, PGA Tour members are required to play a minimum of 15 events each year to retain their status, but as a full-time member, Woods won't be constricted by such restraints.
For him, failure to compete in 15 could result in only two things: (1) He could lose some voting privileges for year-end awards and committee/board members; and (2) the tour would have to grant a release should Woods choose to play in a non-PGA Tour event in the course of the season. (But do you really think the tour would ever nix his yearly excursion to Dubai, picking a fight in the process?)
So there is no pressure on Tiger to push it to the limit just to reach 15 appearances. And remember: The Presidents Cup does count toward a player's annual total.
• He won't add one for Finchem's sake.
PGA Tour commissioner Tim Finchem recently released a video plea to the membership asking that each player consider competing in one or two events that aren't usually on his personal schedule. That's all well and good, but Finchem might have needed to make only about a half-dozen copies of the video, for that is how many players move the needle and whose faces are worthy of being posted on billboards in cities where they will compete.
Woods tops that list, of course, and he will consider the commish's request ... before deciding against it. After all, there is only one person who will create Tiger Woods' schedule -- and it's not Tim Finchem.
• Baby No. 2 is on the way.
Tiger's wife, Elin, is due with the couple's second child in "late winter," according to the Woods camp. He came perilously close to missing the birth of daughter Sam while competing in the U.S. Open in 2007, but expect him to tread more carefully when it comes to a non-major event. If the new baby coincides with the Match Play, CA Championship,
Arnold Palmer
Invitational or any other tourney at which he could make his return, we have to believe Tiger will choose family over golf. With those precursors in mind, let's take an educated guess at which tournaments should expect to have Tiger in the field this year (last time he played the event in parenthesis): • Mercedes-Benz Championship (2005): Now that it's off his schedule, you have to wonder whether Woods will ever return. • Sony Open (--): Never been there, never will. • Bob Hope Chrysler Classic (--): More like Hope-less. • FBR Open (2001): You remember the raise-the-roof hole-in-one and fans moving a boulder from his swing path. He remembers an orange being hurled from outside the ropes, coming dangerously close to clanking him on the noggin. • Buick Invitational (2008): Interesting conundrum here. With GM having severed ties to Tiger, he might no longer feel required to make an appearance, but his love for Torrey Pines should keep him coming back. Just not this year, unless the recovery goes better than expected. • AT&T Pebble Beach National Pro-Am (2002): He'll definitely play Pebble next year … for the U.S. Open. • Northern Trust Open (2006): Keep it on the radar screen. Woods has played the erstwhile L.A. Open more times (nine) as a professional without winning than any other event, but getting revenge at his hometown tourney won't be the first order of business. If he's feeling well and finds himself itching to get back, Riviera could be the site. But after withdrawing with the flu in 2006, he hasn't been back. And as mentioned earlier, once a tourney is crossed off Tiger's list, it doesn't tend to show up again. • WGC-Accenture Match Play Championship (2008): The Associated Press is reporting that this may indeed be the site of Woods' season debut. I won't argue with that report, but I would quibble with the decision. Seems like a lose-lose proposition to me. If Tiger continues winning matches, he'll face the possibility of playing 36 holes on both Saturday and Sunday, which can't be optimal for his first event back; if he starts slow, the entire comeback could be over after 15 holes on Wednesday afternoon, which is certainly less competitive golf than he'd like to play in his return. If I were consulting Woods on this decision, I'd say that if he was already playing one event before this, then go for it. If not, it just seems like a risky place for him to plot his comeback. • Honda Classic (1993): He likely still remembers the second-round 78 that led to an MC as a 17-year-old, but it's not eating at him enough to return. • WGC-CA Championship (2008): Mark it down, folks. Call it a hunch, but if I were a betting man, I'd take March 12-15 at Doral as the date and place of Tiger Woods' return to competitive golf. The venue has three things going for it: It's in Florida, so it won't require much travel from Woods' home; he likes the course setup there; and it's a tournament he knows he can win. Before finishing fifth a year ago, he had triumphed in three straight appearances at the Blue Monster. He wants to play in at least an event or two before the Masters, and this one seems like a logical choice, as long as he's feeling confident in rotating on the knee by this time. • Transitions Championship (--): The former PODS Championship, ex-Chrysler Championship, nee Tampa Bay Classic has never had Woods in the field. • Arnold Palmer Invitational (2008): Tiger never misses Arnie's event in his adopted hometown of Orlando and with it two weeks before the Masters, the five-time champ won't miss this one, either. • Shell Houston Open (--): He never plays the week before a major. That's not changing now. • The Masters (2008): In a mid-October interview, Woods said he is "very, very confident" that he'll compete in the year's first major. "If I have six months off from surgery," he continued, "that puts me into January, and another four months, that puts me at pretty much 10 months. That's a long time. I figure I can come back after 10 months." A fifth Masters victory would put him just one green jacket from all-time leader
Jack Nicklaus
. • Verizon Heritage (1999): It would be fun to see the world's best ball-striker on one of the best ball-striker's courses again, but don't count on it. • Zurich Classic (--): If he didn't show up the year after Hurricane Katrina, he'll never show up. • Wachovia Championship (2007): Woods loves the Quail Hollow course. Assuming there are no complications with his recovery, he'll be at this one. • Players Championship (2007): Not only has Woods not won here since 2001 but he hasn't even finished in the top 10. The last time he came to TPC Sawgrass, he referred to the famed island green at the par-3 17th hole as "gimmicky." So, no, it's not exactly his fave, but it's not one he'll choose to skip, either. • Valero Texas Open (1996): The last time Tiger played here, he was still trying to earn his PGA Tour card. • HP
Byron Nelson
Championship (2005): Site of the end of his made-cut streak in '05, and Woods hasn't been back since. If he's insistent on playing 15 or more tourneys, this could make the cut, but the odds are low. • Crowne Plaza Invitational at Colonial (1997): See Verizon Heritage. • Memorial Tournament (2007): Just as he never misses Arnie's tournament, a healthy Tiger will never miss Jack's, either. Consider it shocking that he's 0-for-5 in his past five trips to Muirfield Village. • Stanford St. Jude Championship (--): Again, not before a major. • U.S. Open (2008): Woods will in effect be defending two titles this week. He's the defending U.S. Open champion and also won the last time the USGA's crown jewel was held at Bethpage. • Travelers Championship (--): If the good folks in Hartford didn't get to see the man when they had a Buick tie-in, they certainly won't get him now. • AT&T National (2007): That's just the official name. Informally, this one often is referred to as "Tiger's Tournament," so yeah, you can expect him to play. • John Deere Classic (1996): The free plane ride to Scotland won't be enticing enough. • British Open (2007): To find the last player to win back-to-back Claret Jugs before
Padraig Harrington
, we have to go all the way back to … 2005-06, when Woods accomplished the very same feat. • RBC Canadian Open (2001): Somewhere,
Grant Waite
is still curled up in the fetal position. Unless Woods has a hankering for some authentic Tim Hortons, he won't be traveling north of the border. • Buick Open (2006): Very interesting one here. Until Sam was born before this event in 2007, Woods had missed only two opportunities to play in this one since becoming a full-time tour member. But without the Buick logo on the bag, will he still be in like Flint (in Flint)? Call it a toss-up for now, but with an ever-burgeoning late-season schedule, don't be surprised if Warwick Hills remains off his list for a third straight year. • WGC-Bridgestone Invitational (2007): Or, as he might call it behind closed doors, "The Annual Tiger Woods Retirement Fund Open." He has won six times in his past nine appearances in Akron. The others? A T-2 and a pair of fourth-place finishes. Slacker. • PGA Championship (2007):
Rich Beem
might still be looking over his shoulder after the late charge Woods displayed the last time the PGA came to Hazeltine. • Wyndham Championship (--): Among the game's elite players, Woods will have plenty of company in the off week. • The Barclays (2003): The first and only time Woods competed in the PGA Tour's FedEx Cup playoffs, he eschewed the festivities of the opening week. He reportedly wasn't a big fan of Westchester CC, but it remains to be seen whether the move to more linksy Liberty National for 2009 will be enough to lure him back. Considering he might still have an excellent shot at winning the $10 million grand prize while playing only the final three, don't be surprised if Tiger skips the Big Apple once again. • Deutsche Bank Championship (2007): This was "Tiger's Tournament" before the AT&T National officially became "Tiger's Tournament." Make sense? Of course not, but it does mean he'll be back in the Boston area for Labor Day weekend, if only for a rematch with
Phil Mickelson
, who outlasted him to win the title back in '07. • BMW Championship (2007): Back at Cog Hill, this one is right up Tiger's alley, as he has won four times on the course outside Chicago. • Tour Championship (2007): After a yearlong promotion in which the PGA Tour asked, "Who will be the first to kiss the Cup?" he won the inaugural playoff format -- and didn't even give the trophy a firm handshake. Ask Woods now whether he'll play at East Lake, and his answer most likely would be, "I'd like to -- if I qualify." Call it another hunch, but here's guessing he'll squeeze his way into the field. For Woods, the PGA Tour season will end there because he most certainly won't compete in any of the Fall Finish events. But there is a very strong possibility that he will take part in a few non-PGA Tour events, too. Here's a look at some of the candidates. • Dubai Desert Classic (2008): Late January is probably too soon for his return, although the appearance fee (reportedly about $3 million) and ability to check on his course-design-in-progress, Al Ruwaya, might be too tempting to pass up. Even if he doesn't compete, don't be surprised to see Woods hosting a news conference in the city either during tourney week or later in the year. • Tavistock Cup (2008): Once again, this event pitting the best from Tiger's home club, Isleworth, against the best from Lake Nona will take place in the two days after the CA Championship. If he plays at Doral, he'll play at this one, too. The only drawback? This year is an away game, meaning he can't walk from his front door to the first tee once again. • Presidents Cup (2006): One of these years, Woods will open the floodgates by deciding to forgo this event -- in effect rendering it even more of an exhibition than it already is. Unless the knee is acting up after the season, though, that won't be this year because he will want some of the good vibes from the recent Ryder Cup victory to rub off at this one. • Skins Game (2005): Woods hasn't returned since declaring that skirt-wearing
Fred Funk
's putt was "two balls out" a few years ago. It might take something special to get him back this year. • WGC-World Cup (2000): Once upon a time, the Tiger Rule was invoked here. It stated that the top-ranked player to declare his intentions of playing could then choose his own partner. Although the rule is still in effect, its namesake is long gone. • Chevron World Challenge (2007): Other than the four majors, this might be the tourney with the best chance of having Woods in the field. With all proceeds going to the Tiger Woods Foundation, consider it a lock. Of course, this also is where he annually picks up his Player of the Year hardware. In case those explanations were too wordy or too vague for you (or both), let's get a final determination on Woods' appearances for the 2009 season: Woods likely will play: WGC-CA Championship, Tavistock Cup, Arnold Palmer Invitational, The Masters, Wachovia Championship, Players Championship, Memorial Tournament, U.S. Open, AT&T National, British Open, WGC-Bridgestone Invitational, PGA Championship, Deutsche Bank Championship, BMW Championship, Tour Championship, Presidents Cup, Chevron World Challenge. Woods might play: Buick Invitational, Dubai Desert Classic, Northern Trust Open, WGC-Accenture Match Play Championship, Buick Open, The Barclays. Woods almost certainly won't, but possibly could play: HP Byron Nelson Championship, Skins Game.
If you're scoring at home, I'm predicting at least 17 tourney starts for Woods this year, with 15 coming in PGA Tour-sanctioned events (including the Presidents Cup), meaning he could reach that no-so-magical number simply by following this schedule.
One final thought: Woods often has made it known that his focus each year is on the four major championships. If he feels that playing in a certain event or events will preclude him from being in the best shape possible for a major, he'll skip that tournament every time.
Jason Sobel is a golf writer for ESPN.com. He can be reached at Jason.Sobel@espn3.com.