Another impressive first for Tiger
January, 16, 2009
01/16/09
2:48
PM ET
He possesses a golf swing that is equal parts ferocity and finesse, a feathery touch from around the greens and a buttery-smooth stroke with the putter in his hands. Of all the impressive characteristics he owns, though, none has emboldened Tiger Woods more than his ability to say the right words at the right time.
Tiger Tracker

Now that we know when Tiger Woods will return to the PGA Tour, get the latest news and analysis on the 14-time major winner's comeback.
Tiger Tracker
When Woods takes the podium at the Lincoln Memorial for President-elect Barack Obama's pre-inauguration festivities Sunday, expect nothing less than perfection from a man who always expects it of himself. Consider it only a matter of minor inconvenience that his speech will transcend explaining away a rare bogey to discussing the nation's new leader and what the next four years might bring. It will be eloquent, elegant and, yes, perfect.
It is because of these same qualities that it often has been suggested Woods himself should someday run for political office, although the 33-year-old has quashed that notion time and again. "Hell, no," he said without hesitation when posed with such a question before the inaugural AT&T National, his own PGA Tour event in Washington, D.C. "Noooooo. No. Uh-uh. Next!"
Who could have known at that news conference two years ago that Woods would throw himself into the political arena, even in the slightest, by speaking in celebration of Obama's inauguration? This is a man who has remained apolitical to a fault, effortlessly shooing away questions regarding government affiliations and legislative decisions with the same deft touch he shows at Augusta National each April. He offers his Tiger Woods Foundation and its Learning Center as the extent of his public involvement toward the betterment of society.
Woods hardly has lived up to the prophecy guaranteed by his father, Earl, who once claimed to Sports Illustrated, "Tiger will do more than any other man in history to change the course of humanity … because he's playing a sport that's international. Because he's qualified through his ethnicity to accomplish miracles. He's the bridge between the East and the West. There is no limit, because he has the guidance. I don't know yet exactly what form this will take. But he is the chosen one. He'll have the power to impact nations. Not people. Nations. The world is just getting a taste of his power."
[+] Enlarge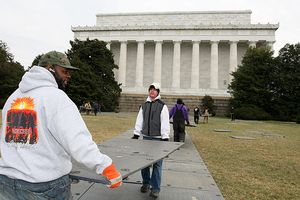 AP Photo/Luis M. AlvarezWorkers prepare the Lincoln Memorial for Barack Obama's Jan. 20 inauguration. Tiger Woods will give a speech Sunday during the pre-event festivities.
Instead, his power has remained relegated to its literal translation on the course, and figuratively throughout the golf industry and via endorsements around the globe. At some point in the not-too-distant future, Woods will reach the $1 billion mark in combined earnings and endorsement capital, and through it all, perhaps the words of an old buddy have continually rung true. "Republicans buy sneakers, too," Michael Jordan said, implying why he never publicly picked sides when it came to politcs.
For so long -- too long, some would argue -- Woods has lived under a similar creed, always sitting on the fence so as never to upset the apple cart. Maybe he knows it, too. Maybe he's ready to change, to exercise his power in more influential ways. Maybe that's why, three years after the death of his father -- a man Tiger says "would have cried" had he lived long enough to witness Obama's election -- Woods finally has broken his silence.
"I think it's absolutely incredible," Woods told CNBC after Obama was elected. "He represents America. He's multiracial. I was hoping it would happen in my lifetime. My father was hoping it would happen in his lifetime, but he didn't get to see it. I'm lucky enough to have seen a person of color in the White House."
On Sunday, Woods will have a front-row seat for history. What might prove to be a pivotal moment for our nation also might serve as a turning point for its greatest golfer, which -- it should go without saying -- pales by comparison. Just don't underestimate what this speech means to Woods, who might hear Earl's voice echo in his head as he speaks to millions.
The chosen one. The power to impact nations. For Tiger Woods, that impact might finally be coming to fruition. It will start with the right words at the right time.
Jason Sobel is a golf writer for ESPN.com. He can be reached at Jason.Sobel@espn3.com.