Kim defies doctor's orders, shoots 62
July, 2, 2009
07/02/09
2:51
PM ET
BETHESDA, Md. -- As late afternoon was slowly morphing into dusk on Tuesday, one lone figure remained on the near side of the Congressional Country Club driving range, beating balls into the sky, then following his shots -- more often than not -- by slamming his club into the ground in frustration.
Exactly one year after claiming the AT&T National for his second career PGA Tour title, Anthony Kim appeared miles away from returning to his previous form, the result of myriad injuries that left the precocious 24-year-old without a top-10 finish in his past dozen appearances. The latest ailment was a left thumb issue that had multiple doctors requesting he take 4-6 weeks away from the game.
[+] Enlarge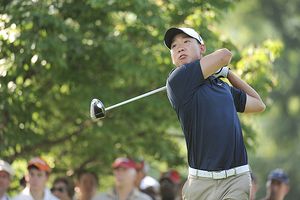 Stan Badz/PGA Tour/Getty ImagesAnthony Kim carded a 29 on the front nine at Congressional Country Club on Thursday. He could have gone even lower but missed an 8-foot birdie putt on the ninth hole.
The kid known as AK wouldn't oblige.
"I can't help myself. I've got to come out here," he said on Thursday. "This has been a dream of mine to play on the PGA Tour, and I wasn't going to sit. ... I'm out here to get better. There's something that I can get better at every time I step out onto the golf course. ... I'm sure those doctors are a lot smarter than I am. But ... athletes and pros play through pain and play through injuries. There was no doubt in my mind I was going to come out here, learn something along the way and keep grinding away."
And so he continued doing just that, producing a row of divots that would make Vijay Singh proud in an effort to regain his swing and live up to his pervading confidence level. The old Anthony Kim, a self-described "lazy" golfer who would often simply roll a few putts prior to heading to the tee box at the first hole, likely would have been long gone. But the new, improved version kept working on slight mechanics that could refine his overall performance.
Two days later, the endeavor paid off, as Kim fired a blistering opening-round 8-under 62 to set the scoring record on this venerable venue.
Mission accomplished.
Or maybe not. Perhaps just as impressive as his uncommonly low score on a course that has hosted three major championships (two U.S. Opens and one PGA) was the fact that, after the round, Kim hardly seemed satisfied with his game.
"Just because I shot 62 doesn't take away that bitter taste in my mouth when I'm not contending for tournaments, and that's what everyone out here works for," said Kim, who shot 67-67-69-65 in winning last year's edition of the event. "It's awful when you come out here and finish 20th and 30th and 50th. I mean, I've been lucky to finish 50th a couple times this year. I'm finally getting to that point where I feel like I'm going to be able to win every time I tee it up. It's not going to take anything crazy. It's just going to take solid golf."
Even so, there may be little room for improvement from his most recent performance. This week, Kim is employing a new stiff-shafted driver that allows him to play a left-to-right fade, which mirrors his strategy off the tee from last year as opposed to the draw he has used throughout this season. On Thursday, he found the fairway on 10 of 14 occasions and missed only a single green in regulation en route to an eight-birdie, zero-bogey total.
For a young player hailed as the next big challenger to Tiger Woods' throne, it should be noted that some 30 minutes before the tournament host even stepped foot on the tee box, AK was already leaving the No. 9 green -- his final hole of the day -- with the same displeasure he displayed during that range session on Tuesday. A missed 8-foot birdie putt prevented him from going even lower -- something one of his playing partners knows Kim can do on any given day.
"He's got a lot of confidence," said Jim Furyk, who shot a sublime 66, four shots away from being low man in his own threesome. "Obviously, when he gets it going, he keeps it going. What impresses me the most? He just has no fear."
No fear. That's a perfect way to describe a guy who defies doctor's orders in favor of not only playing tournaments, but practicing to the fullest extent as well. It's also the mark of a player who isn't afraid to go low and isn't afraid to admit that he can fare even better.
"I haven't solved it completely," Kim maintained. "I'm going to go have some lunch and go work on it. I'm not working on it for this week, I'm working on it for the rest of the year. And I'm building right now for the rest of the year, and it would be great to knock one off and play four great rounds. But my goals are to win major golf tournaments and be prepared to play in those.
"Right now, I'm going about it the right way. I'm starting to focus on my course management because I know at majors that's what's important. This is a major-championship type of golf course, obviously, because in two years we'll be here for the [U.S.] Open. I just know that if I'm working on the right things, it's going to pay off, whether it's tomorrow, Saturday, Sunday or next week."
Jason Sobel is a golf writer for ESPN.com. He can be reached at Jason.Sobel@espn3.com.