Jordan will be a team player at Presidents Cup
October, 6, 2009
10/06/09
8:42
AM ET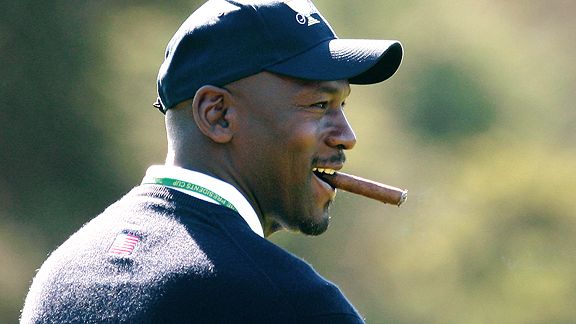 Scott Halleran/Getty ImagesMichael Jordan will be helping out the American team this week at the Presidents Cup.
SAN FRANCISCO -- You can excuse Michael Jordan for thinking he was the latest victim on an episode of "Punk'd."
The signs pointed to such a prank. After all, when United States captain Fred Couples was first announced to the position last February, he invoked not only Jordan's name as a potential Presidents Cup assistant, but that of actor-comedian Robin Williams as well.
Haha. Good one, Freddie.
Ever skeptical, the six-time NBA champion did what anyone with his expansive Rolodex would do. He contacted Couples directly.
"I said, 'Freddie, what am I expected to do? Is this a joke?' " Jordan told a pool reporter since he wasn't made available to the general media. Jordan first met Couples when they competed together as part of a contest prize back in 1988. "And he said, 'No, I want you to be a part of my staff and I just want you to help us understand what team sport is about.' I really didn't believe it. I said, 'Well, I'm willing to do whatever, but you know, call me back and let me know if you're serious.' "
Couples did just that, confirming his desire to include Jordan as part of the team, but the ex-hoopster still wasn't convinced until the day someone showed up at his front door and fitted him for various red, white and blue wardrobes.
And so here we are at Harding Park Golf Course, where Jordan has been on site since Friday as a de facto member of the U.S. coaching staff. Officially, Jay Haas is serving as the team's sole assistant captain, but unofficially the recent Basketball Hall of Fame inductee has been very much involved in the day-to-day operations, hanging in the team room and on the course with the players.
Jordan even took part in a practice round earlier this week with team members Hunter Mahan, Lucas Glover and Sean O'Hair -- the last of whom has become his pet project.
"I grew a great bond with him, I think, just talking with him," Jordan said of his relationship with the 27-year-old O'Hair. "I feel like I can contribute from the mental aspect to help him battle some of the weaknesses that he may have. And that's not saying he's a bad player. I think he's a great player. One thing about golf that I've learned, if you don't have positive confidence and reinforcements within your mind mentally, you're battling with yourself. If I can make him relax and play, that's good."
O'Hair, however, debates Jordan's influence on his game.
"I don't really think he's been helping me with anything. He's been taking my money, though, I can tell you that," O'Hair said. "I think just him coming up to me and making me feel comfortable and joking around and doing some betting, which I'm kind of getting the crappy end of the stick on that one, has just made me a lot more comfortable with my situation out here. On the golf course, I feel very comfortable. Let's face it, if we are all out there having a good time, we are going to play well. And that's definitely the case, because we are out there having a great time."
"His role is to have fun with the guys," Couples said. "That's it. He's certainly not telling them how to hit a chip shot, that I can promise you."
Let's face it: No captain -- or assistant -- is ever busy working the practice range at these team events, providing swing tips for the world's top professionals. Instead, the role is equal parts CEO, organizational mouthpiece and motivational speaker -- each of which is a position that Jordan has served in other aspects of his professional career.
Additionally, Jordan will be able to regale the U.S. players with tales from his playing days, including stories these sports fans have never heard. Will this have a direct impact on the team's performance this week? Of course not, but if it keeps the players in the team room, talking and joking around for an extra hour or two each night and improves camaraderie, then it certainly couldn't hurt matters.
"We have the best basketball player in history in our team room," Steve Stricker said. "To ask him questions, you know, just try to get inside his head a little bit is pretty cool."
"Most of the guys on this team don't know him and haven't met him and haven't had a personal relationship where you can sit down and talk with him and joke with him," added Jim Furyk. "Like everyone else here, you figure out he's a human being and a regular guy just like we are. I think the guys are going to really enjoy it. He brings a lot to the table and he's a lot of fun and he's a good person to hang out with."
Fact is, Jordan's biggest role may simply be that of golf fan. He has attended every Ryder Cup since 1997 and plays the game six days a week, placing 35th in Golf Digest's recent Athlete-Golfer Ranking with a 3 handicap.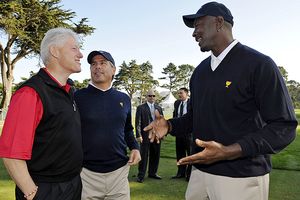 Caryn Levy/PGA Tour
Presidents Cup captain Fred Couples, center, chats with former President Bill Clinton and Basketball Hall of Famer Michael Jordan this week.
"You never consider golfers as athletes but I do because I understand the game," he said. "I am honored just to be here, without a doubt. A lot of times I even tell Freddie when I talk to Freddie, 'Look, whatever you want me to do, I'll do. I just want to be out of the way. I don't want to steal someone's light. I don't want to feel like I'm hungry for publicity. I want to be on the back burner of what's happening here.' "
If the U.S. team vanquishes its International opponent for the sixth time in eight editions of the Presidents Cup, Jordan will hardly be the greatest factor in the win. He will, however, be right there alongside the dozen members of the roster, likely celebrating with a victory cigar among friends both old and new -- as strange as that may sound.
"He's been special this week," opined Mahan. "He's just a normal guy, really. It's amazing how normal he's been and how much fun he's had. I think he's had the most fun out of anybody here, really, he really has. It's quite unbelievable to think that he's everywhere we are. So it's been special, and Freddie has definitely made the right choice with that decision."
"I've been around him a lot, so it's normal to me," said Tiger Woods, who considers Jordan a close friend. "I'm sure some of the guys, it's neat for them to meet him for the first time and get to be around him and get to know him as a person like I do."
They will get to know him this week, as Michael Jordan will be prominently involved in the festivities at Harding Park in his unconventional role as unofficial assistant captain. And that's no joke.
Jason Sobel is a golf writer for ESPN.com. He can be reached at Jason.Sobel@espn3.com.