Tiger-Phil just part of 99 reasons to be thankful
November, 11, 2009
11/11/09
8:38
AM ET
It's that time of year again, golf fans. Time to gather 'round the 19th hole and discuss what we're most thankful for during this, uh, Thanksgolfing holiday.
Hint: It's certainly not puns like that one.
[+] Enlarge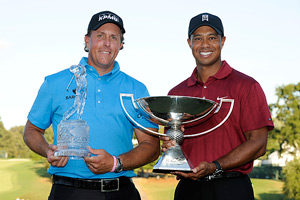 Stan Badz/PGA TourWith the way Phil Mickelson and Tiger Woods finished the 2009 season, golf fans can only hope that rivalry continues for the 2010 campaign.
Truth is, I'm still thankful for many of the things on last year's list of 99, but let's revisit the idea with a new version of this notion for 2009.
1. The impending 2010 golf season. When Whistling Straits is considered the least exciting of the four major championship venues, you know it's going to be a special year.
2. Tom Watson. Let's recap: He almost won the Open Championship … at Turnberry … 32 years after the Duel in the Sun … at age 59. Yep, that's worth a "thanks."
3. Seve Ballesteros' influence. Nearly every European player coming through the ranks in the past three decades lists Seve as one of his favorites.
4. "Caddyshack." Almost 30 years later, the flick still hasn't lost its fastball.
5. "Caddyshack II." More than 20 years later, it still goes down swinging.
6. Hybrid or rescue clubs. Call 'em whatever you'd like, just make sure you have one in the bag. That goes double if your name is Y.E. Yang.
7. Nominal greens fees for junior golfers. Kudos to country clubs -- private and public -- that help grow the game by offering reduced rates to kids. Let's see more of 'em hop on board, too.
8. Payne Stewart's legacy. Ten years after his death, his memory lives on.
9. Grass driving ranges. Ever try to take a divot out of a mat?
10. The HSBC as a WGC event. Finally, a world golf tourney that isn't played in Tucson, Miami or Akron. The festivities in China helped put the "W" back in the WGC acronym.
11. The handicap system. It allows any Average Joe or Jane to play a legitimate match against a scratch golfer.
12. Automatic 2-down presses. Hey, if you don't like 'em, play better.
13. Renewed rivalries. If the next season continues as this one finished up, maybe Phil Mickelson will finally give Tiger Woods a run for his money. Maybe.
14. Flag stickers and hair ribbons. No, the U.S. Solheim Cup players don't need to accessorize to show their patriotism, but the enthusiasm is contagious.
15. Good shots from bad lies. Knocking an 8-iron shot from the fairway to 5 feet? Nice. Keeping a fried-egg lie in the down slope of a greenside bunker on the green? Awesome.
16. Q-school. It's an out-of-date system that each year overly rewards players for one good week … but, man, it produces some great stories.
17. Battlefield promotions. Win three times on the Nationwide Tour, and players automatically earn PGA Tour status. Wouldn't it be great if other sports had similar in-season call-up rules?
18. Michelle Wie's first pro victory. And the blogosphere begins its collective search for the next overhyped teen who has yet to fulfill potential.
19. Club pros. That guy folding the pro-shop shirts and booking your tee time is also a scratch handicap and, if things had gone a little differently for him back in the day, he'd be on the big tour right now.
20. Alvaro Quiros' long-driving prowess. The Paul Bunyan-esque exploits of golf's mad bomber continue to amaze.
21. The clubhouse at TPC Sawgrass. Yes, it looks like Tim Finchem's Rock of Love mansion, but it's also really ostentatious, too.
22. Azaleas. Flowers aren't really my specialty, but here's guessing Augusta National would look a lot less spectacular if bordered by dandelions.
23. Captain Couples. Unlike Paul Azinger at last year's Ryder Cup, Freddie didn't overanalyze the role at the Presidents Cup. "We made the pairings in about three seconds," he said of Day 1 at Harding Park. "You know, it's easy." We should have expected nothing less.
24. Mike Davis. Remember when U.S. Open setups used to be so treacherous that the year's second major wasn't even fun to watch? That was right before he took over.
25. Playing in a 40 mph wind. Whether hitting a 3-wood from 180 yards into the blower or a sand wedge from 180 with the gusts at your back, it's a blast. Literally.
26. The blue tees. Because you can't handle the tips, but come on, who plays from the whites?
27. The 14th hole. Make or break time. Either you catch a second wind or trudge home in uninspiring fashion.
28. Pro golfers on Twitter. No better way to get daily updates on @stewartcink's floor hockey games with his kids or @ianjamespoulter's movie selection.
29. Tiger Woods. No, he didn't win a major in 2009, but the dude came back from knee surgery to be the no-doubt-about-it Player of the Year for a 10th time in 13 full seasons.
30. "The Black Swan." It might not have been the best "Curb Your Enthusiasm" episode ever, but the golf-themed script provided plenty of big-time laughs.
31. Ernie Els' swing. For pure, well, purity, it doesn't get any, uh, purer.
32. Golf-themed cell phone apps. Need an in-round tip or rule clarification? It's in the bag.
33. Men's unwritten rule concerning the punishment for not hitting past the red tees. It's called motivation. Wanna stay zipped? Swing harder.
34. European Tour telecasts. Consistently proving that not every shot has to be analyzed, overanalyzed and covered by graphics.
35. Breakfast balls. You overslept, then made a mockery of the speed limit en route to the course, finally arriving at the tee box with your golf shoes still untied. If that doesn't entitle you to two off the first, nothing does.
36. Anthony Kim vs. Robert Allenby. In a sport that's seriously lacking for rivalries, we'll take what we can get.
37. Ivor Robson. Open Championship starter doesn't move from first tee time until last each day. Somebody get him one of these.
38. Peanut butter and banana sandwiches. What, you don't eat these on the course? Just another thing that differentiates you from Tiger Woods.
39. The Three R's. Reading, writing and 'rithmetic? Unnecessary if you're Rory McIlroy, Rickie Fowler or Ryo Ishikawa, each of whom has all the tools to be great.
40. The FedEx Cup playoffs. It will never be a perfect system, but it's 100 times better than the previous alternative.
41. Cavity-back irons. Leave the blades to the big boys.
42. Thomas Rosenberg. Who? He's the surgeon who repaired the most important knee in golf.
43. Three parts iced tea, one part lemonade. When Arnie orders it, he just asks for a "Palmer."
44. Annika Sorenstam's "retirement." She still refuses to use what she calls "the R-word," leaving the door open for a return.
45. The power of eBay. Whether seeking an old hickory-shafted niblick or an autographed flag from the 2008 U.S. Open, it's all yours if the bid is high enough.
46. Beer-shower celebrations. PGA Tour champions cap off victories by hugging their kids. LPGAers get doused in suds by their peers. To each his -- and her -- own.
47. David Feherty. If you like your golf telecasts super-serious, look elsewhere. The rest of us will continue to enjoy his wit and wisdom.
48. Michael Jordan's infatuation with golf. According to MJ, he's 12 clubs over the 14-club limit. That would be country club memberships, not clubs in his bag.
49. Major medical extensions. If an athlete in another sport is injured, he returns later at square one. If a golfer is injured, he retains some status and has a chance to compete again when healthy.
50. Lorena Ochoa's influence in Mexico. The No. 1 player's benevolence already has made her a legend in her native country.
51. Alternate shot. The next time you're part of a foursome and have only two hours on the course, instead of attempting to squeeze in nine holes, try this Ryder/Presidents Cup format, which could more accurately be referred to as "Screw Your Partner."
52. Flier lies. Sometimes it's better to be lucky than good.
53. Charity golf tournaments. No matter the benefit, these events always rake in big money for good causes.
54. The large rock behind the 16th green at TPC Boston. One of my favorite vantage points at any PGA Tour event.
55. A Masters champ once played the Hooters Tour. "I thought those were the best days of my life right there," Zach Johnson said after his 2007 win. "Chicken wings and everything."
56. Phil Mickelson on "Entourage." Best line from Lefty: "Is this whose ass we're going to kick today?"
57. If you need help, it's out there. A Google search for "golf instruction" returns 1.04 million results.
58. If you really need help, it's out there, too. "How to Quit Golf," a 12-step program written by Craig Brass, helps addicts overcome their obsession.
59. The next generation. At some point in the middle of the next decade, Sam Alexis Woods (Tiger's daughter) will battle Ava Madelyn McGee (Annika Sorenstam's daughter) for junior golf supremacy in Florida. In related news, get your tickets ready for the 2030 U.S. Women's Open.
60. Nullarbor Links. The world's longest golf course spans nearly 850 miles of Australian outback. And it's still just a par-72.
61. The Finau brothers. Insiders have long heard about the driving prowess of Tony and Gipper, but thanks to "The Big Break," the general public is learning about the Utah teens, too.
62. A new John Daly album is in the works. OK, so you might not listen, but you know you'll want to read the lyrics.
63. The new NCAA championship format. Head-to-head team play in the final turns up the drama a few more notches.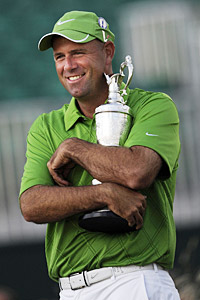 Adrian Dennis/AFP/Getty ImagesIs there a cooler trophy in golf, if not all of sports, than the Claret Jug given to the British Open champion?
64. Double-decker driving ranges. Need a little ego boost? Go upstairs.
65. The cherished reward. Next time you win 10 bucks off your buddy, don't go spend it in the pro shop. Instead, have him sign the 10-spot and get it framed. Trust me: He won't forget that loss for a long time.
66. The Claret Jug. Golf's version of the Stanley Cup has been known to hold plenty of adult beverages.
67. Johnny Miller. Love him or hate him, the NBC analyst is always brutally honest and doesn't care who knows it.
68. Cheeseburgers in the Torrey Pines clubhouse. Thick, meaty, delicious. No wonder Tiger and Phil consider this venue among their favorites.
69. Brittany Lincicome's nickname. Doesn't get much better than "Bam-Bam" for one of the LPGA's longest hitters.
70. Jack Nicklaus' 70th birthday. Expect a slew of great stories when the Golden Bear turns 70 in January.
71. Four-putts. Only because they lead to this inevitable old gem from Seve, who once explained such inadequacy thusly: "I miss, I miss, I miss, I make."
72. The importance of scrambling. The best at getting up and down on the PGA Tour in 2009? Tiger Woods, who did so 68.18 percent of the time en route to six wins.
73. The unimportance of other statistics. The leaders in driving distance (Robert Garrigus), driving accuracy (Joe Durant), greens in regulation (John Senden), sand saves (Luke Donald) and putts per round (Brad Faxon) combined for zero titles this past season.
74. Long tees. There's a reason they don't say, "Tee it at a relatively medium height and let it fly."
75. The grooves rule change. Yes, it will have an impact, but only in the same way the new NBA ball did a few years back. Pros will feel the difference, but great players won't become average and average ones won't become great.
76. Short par-3 courses. Every beginner should learn the game with just a wedge and a putter.
77. PGA Tour players are just like us. When away from the course, most of 'em enjoy watching sports, drinking beer and, yes, even talking a little golf. Sound familiar?
78. YouTube. Really, where else can you find this?
79. First-tee jitters. Even the world's best get 'em, so make peace with those butterflies instead of trying to shoo 'em away.
80. Brett Favre's Nike hat. The future HOFer and possible 2009 NFL MVP is rarely seen at a news conference without his favorite golf cap covering those graying locks.
81. 467 yards. That was the length of Charley Hoffman's drive on the first hole of the third round of the Texas Open, the longest of 47 tee shots of 400 or more yards this season.
82. No title sponsorships at the men's majors. It's only a matter of time until we see the Bank of America PGA Championship presented by Coca-Cola, so don't take this lack of corporate verbiage for granted.
83. The First Tee Foundation. Teaching golf to thousands of inner-city children around the country each year will in turn help promote the game for decades to come.
84. "Mmm, open-faced club sand wedge …" Homer Simpson: Equal parts golf fan and food enthusiast.
85. The nonconformity of Stephen Ames. He's never been your typical PGA Tour player. Case in point: Dude lives in Calgary!
[+] Enlarge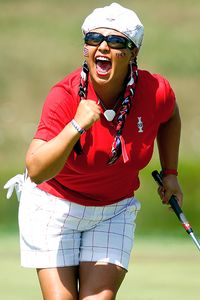 Scott Halleran/Getty ImagesChristina Kim isn't afraid to show her emotions, and it's that excitement she brings to the game that makes her so watchable.
86. Pushcarts. The AJGA recommended these for its junior players before the 2009 season, contending that they prevent long-term back pain more than carrying golf bags and proving they aren't just for old folks anymore.
87. Christina Kim's attitude. Excitable? Absolutely. Boisterous? No doubt. But find one athlete in any other professional sport who has more fun competing. You can't.
88. The view from the back patio at Western Gailes. On a clear day, you can see across the Irish Sea, making this one of the most underrated scenic spots in golf.
89. Steve Carell is slated to star in "Who's Your Caddy?" If the film version of Rick Reilly's fictional golf book mirrors the comedic value of "The Office," it will be a kick-in birdie.
90. Michael Sim's comeback. Two years ago, his initial PGA Tour campaign received a late start after surgery to repair a fractured spine. Now he's back, thanks to a three-win season that vaulted him to No. 1 on the Nationwide Tour money list.
91. Saturday afternoon naps. Don't be conflicted. It's OK to love the game, yet still doze off on the couch while catching Round 3 of an event. Trust your fan's intuition to wake you up if something exciting happens.
92. The gold jacket. Tiger Woods 1, Shooter McGavin 0.
93. Peter Senior was medalist at Champions Tour Q-school. If he dominates in 2010, they'll call it the Senior Tour once again.
94. Lucas Glover. His U.S. Open victory was proof that nice guys don't always finish last.
95. Frogger's Amphibian Towel. Remains both wet and dry simultaneously, meaning golfers can clean clubs in either clear or rainy conditions.
96. Cell phone cameras. When you finally hole out from the fairway, you'll want to capture the moment … not to mention the look on your buddy's face.
97. Lance Ten Broeck. Former PGA Tour regular competed and caddied in the Texas Open earlier this year. If you don't think that's too difficult, try playing 18, then toting a bag for another 18 -- all under tournament conditions. Guarantee you'll change your mind.
98. The golfer's tan. Those who don't play the game think that sock line looks funny, but real golfers look at these as a badge of honor.
99. Keeping it under 100. Because double-digit totals still aren't such a bad thing.
Jason Sobel is a golf writer for ESPN.com. He can be reached at Jason.Sobel@espn3.com.