Rockers take a liking to golf
December, 20, 2009
12/20/09
2:32
PM ET
Alice Cooper broke the mold. In a time when a long-haired rocker would be embarrassed to show his face at a country club, he would dress in disguise before hitting the links, trading his addiction to alcohol for a similar one to golf.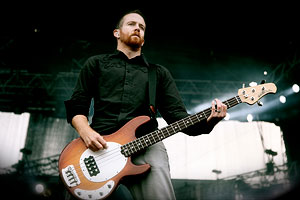 Mark FioreOf the two Linkin Park golfers, Dave Farrell owns the lower handicap with a 10.7, according to Golf Digest.
These days, well, it's not uncommon for musicians to tee it up by day and rock out by night. Included on this list of golfin' rockers -- or is it rockin' golfers? -- are bassist Dave "Phoenix" Farrell and lead vocalist Chester Bennington. The pair are listed as 10.7 and 30 handicaps, respectively, in Golf Digest's 2008 ranking of musicians, and comprise two-sixths of the uber-successful band Linkin Park.
How successful are they? If LP was a pro golfer, they'd have multiple major victories already.
The group owns more than 45 million worldwide sales, a pair of Grammy wins and a string of chart-topping hit singles that includes five top-10 singles from its most recent album, "Minutes to Midnight."
Farrell and Bennington recently sat down on the ESPN.com Hot Seat to discuss whether they would ever write a song about golf, what would happen if John Daly asked to join 'em on stage and how life on tour affects their games.
Q: Does touring with the band help or hurt your golf game?
DF: It really depends. When we're touring in the summer, when we're touring in warmer weather, we definitely get a chance to go out and play. In the winter, in southern California we're still playing golf, but on the road that ends pretty quickly.
CB: I think I hurt my golf game; I don't think touring has anything to do with it. Actually, one thing that I really enjoy about touring, especially now that we do it in a way that we have some pretty good time off in some cities, it's really awesome to play some golf in different cities -- not only in the U.S., but throughout the world.
Q: Are there certain courses that are always must-plays when you're on the road?
CB: I'd have to say the TPC in Dallas is a must-play. We like to stay there; it's a great place to play. Other than that, we don't usually hit the same spots or have the same kind of time every place we go. But I really enjoy playing Pelican Hill in Newport Beach. There are some others, too.
DF: I've actually gotten a chance to play quite a few courses all around the world that I probably never would have played if it wasn't for touring.
Q: Can you ever schedule touring dates around certain golfing destinations? Say you want to play Bandon Dunes; can you schedule a show in Oregon sandwiched by a few days off just to get in some golf?
CB: No [laughs]. Man, I wish we could schedule tour dates around stuff I want to do. It's actually the other way around. It's a tricky business to organize a tour, so we're at the will of how the tour is set up.
Q: Linkin Park is considered both "nu metal" and "rap rock." Isn't that sort of like being a big bomber off the tee and a straight hitter? Can you really be both?
DF: I think we would prefer to be categorized as neither. I don't know if it's analogous to golf because I don't know if those are both things that you want to be. The category that music falls into isn't something we give much of a thought.
Q: Your music was featured in the movie "Transformers." You guys are sort of transformers, too, from rockers to golfers.
DF: Chester plays and he's been getting a lot better, but we're pretty much the only two guys who really pick up the sticks. At this stage, I'm actually more interested in just transforming my golf game into something that's a little bit more consistent.
Q: Speaking of rockers, would you rather have Alice Cooper's career or his golf game? Basically, would you rather be a Hall of Famer or close to a scratch handicap?
CB: I think we're still young enough that we have a chance to make it into the Hall of Fame someday, so I would definitely take his golf game.
DF: Having got to where we are already with music, I think I'd take scratch golfer. I think I already have a chance to do something decent on my own in music, whereas when it comes to golf, I don't feel like I ever have a very good chance of getting down to scratch. Of the two, that's less realistic, so I'll go with that.
Q: I posed this question to Justin Timberlake recently and he was a bit noncommittal, but you guys own two Grammys, would you trade 'em for a PGA Tour victory?
DF: Yeah. I think it's sort of the same answer. There's always a chance for me to pick up another Grammy or two; at the same time, the grass is always greener somewhere else, so I think I'd be more excited about a PGA Tour victory. I'd settle for any of them, but I would definitely want one of the more premier tournaments. It wouldn't need to be a major, but maybe Arnie's tournament or Jack's.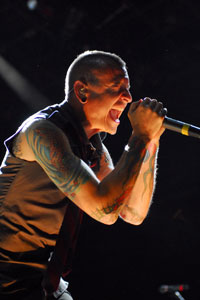 Scott UchidaOne of Chester Bennington's must-play courses is TPC Dallas.
Q: Ever tee it up in any PGA Tour pro-ams or celebrity events?
CB: I have done a couple of celebrity events. One was for a radio station in San Diego that was, like, 4-5 years ago. People got to win a chance to go golfing with me and a couple of other guys, but it got rained out, so we just wound up getting really drunk. It was pretty awesome. And then I did a celebrity type of tournament where I actually got to play with [golf instructor] David Leadbetter. He gave me a couple of tips on how to play with one hand, because at the time I had a broken right wrist.
Q: Has that helped your game now that you're healed up?
CB: Obviously, he was a very good teacher, because that's what he does. But it was interesting to be able to watch someone of his caliber play the game. It almost seems like the guys who play really, really well aren't actually thinking about anything. And I find that actually fits into music, too. The more you tour, the more you play your music, the less you think about it.
Q: Have you played with any pros before?
DF: Yeah, I'm good buddies with Jin Park. He's on the Nationwide Tour right now; he had his PGA Tour card last year, but lost it for this season. I get a chance to play with him quite a bit. I've met Phil [Mickelson] a couple of times, played with Johnny Miller.
Q: Did Johnny critique your golf swing like he does for the pros on TV?
DF: Yeah, that was one of my favorite parts about playing with him. It was really funny to hear his voice commenting on your shot; it was pretty obvious to me pretty quickly why people thought he'd be a great fit as a commentator. Good shot or bad, he's always going to say something and hearing his voice say it, you automatically associate that with TV. It's pretty funny to hit a bad shot and hear him say, "Whoa, that was awful!" To my credit, though, I never heard him say that I had actually choked.
Q: If you could knock it around with any pro, who would it be?
CB: I don't know. I think I'd have to go with Fred Couples. He just always seems like a really nice guy and I think he'd be fun to play with.
Q: True or false: The song "Shadow of the Day" is about getting a good deal on the twilight rate at a golf course.
CB: Yes. Exactly.
DF: I don't write any lyrics, but I can tell you that's what the bass line is about.
Q: Really, though, would you ever write a song about golf or does that sort of impair the rock 'n' roll image?
DF: I don't know. If there was a song about golf, it wouldn't be directly identifiable; it wouldn't be the John Daly fairways-and-greens song, so to speak. Doesn't he write some songs about golf? He probably does. If I wrote a song that was about golf, you wouldn't know it. It would just be a song about frustrations.
Previous Hot Seat Guests
Who else has appeared on ESPN.com's Hot Seat to discuss golf? Everyone from Tiger Woods to Jack Nicklaus.
Click here for the full list.
Q: So I take it you haven't listened to one of Daly's albums?
DF: No, I haven't.
Q: If he called you up and said, "Hey, I want to jam with you guys on stage someday," what would you say?
DF: Probably wouldn't work [laughs]. If he has his thing going and he wants me to come up and play with him, I'd be OK with that, but we hardly ever have any guests and I don't really know how that would fit.
Q: Last one for you. Trivia question: There are golf courses named Lincoln Park in five U.S. states. Name 'em.
DF: Well, Illinois has to be one.
Q: Surprisingly, no.
DF: I don't know. I'll just go with other states that have a lot of courses. Florida?
Q: Nope.
DF: California.
Q: That's one.
CB: Nebraska?
Q: Nope.
CB: Wyoming?
Q: No.
CB: Pennsylvania? Oregon? Washington?
Q: Now you're just naming all the states. I'll stop you before you reach 50. The other four are Oklahoma, Wisconsin, Colorado and North Dakota.
DF: I wouldn't have gotten any of those.
Q: Here's my idea: You guys should take a week of your next tour and play each of those courses by day and concerts at nearby venues by night. What do you think?
CB: You are a genius. I'm gonna put you in contact with my agent. That would be awesome.
Jason Sobel is a golf writer for ESPN.com. He can be reached at Jason.Sobel@espn3.com.