Calculating the decade's best majors
December, 21, 2009
12/21/09
11:38
AM ET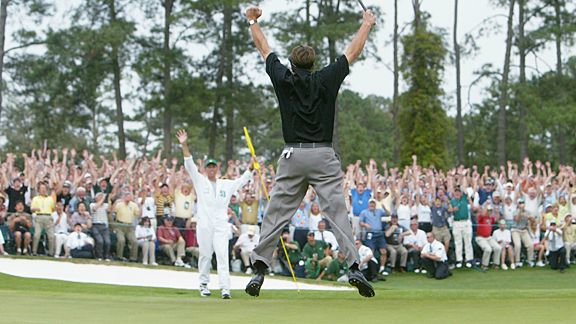 Andrew Redington/Getty ImagesPhil Mickelson's leap into history came at the 2004 Masters when he won his first major.
Any list that ranks the "top" or "best" of something will by nature be purely subjective. In attempting to place the 40 majors of this millennium's first decade in order, that was the problem I most often faced; simply, my opinion may very well differ from yours.
So I decided to make the research a little more scientific. Rather than just list the majors, I have given each one a numerical ranking on a scale of 1-10 in four separate categories. They are:
Host Course (HC): This doesn't solely factor in the quality of the venue; in this category, I also considered tournament setup and conditions.
Example: Augusta National was a 10 prior to course lengthening and other changes in 2002; it dropped to a 9 for all subsequent editions of the Masters.
Entertainment Value (EV): This one is most easily explained by asking the following question: On Saturday afternoon of the tournament, were you glued to the TV or did you head out for a quick nine holes instead?
Example: Though it didn't rate highly in the next category, the 2000 U.S. Open scores big points here, due to Tiger Woods' record margin of victory.
Dramatic Finish (DF): If a major ended in a heart-wrenching playoff or a single winning shot on the 72nd hole, expect big points in this category.
Example: While otherwise somewhat forgettable, the 2003 PGA Championship gets high marks here for one of the decade's most clutch shots -- a final-hole approach by Shaun Micheel that wound up inches from the hole.
Star Power (SP): If the leaderboard was replete with a handful of one-named superstars -- Tiger, Phil, Ernie, Vijay -- that major will garner more consideration here.
Example: Though it lacked a dramatic finish, Phil Mickelson's victory at the 2006 Masters featured several other stars in pursuit, warranting a perfect score.
To determine the "top" or "best" majors of the past decade, I added the scores from each category, meaning a maximum of 40 points. Yes, the final product is still very subjective, but at least there is a method to the madness.
Let the debate begin.
2008 U.S. Open (Winner: Tiger Woods): 39
HC-9; EV-10; DF-10; SP-10
Simply put, this one had everything. With the Open being held at Torrey Pines for the first time, Woods withstood a torn ACL and multiple leg fractures to defeat Rocco Mediate in a 19-hole playoff Monday.
2004 Masters (Winner: Phil Mickelson): 38
HC-9; EV-10; DF-10; SP-9
Long known as the best player to have never won a major, Mickelson's final-hole 18-foot birdie putt clinched his first of three, and his somewhat-airborne reaction lives on as one of the most memorable images of the decade.
2005 Masters (Winner: Tiger Woods): 38
HC-9; EV-10; DF-10; SP-9
The chip-in on 16 remains one of Woods' signature moments, but a bogey-bogey finish landed him in a playoff with perpetually gritty Chris DiMarco before Tiger earned his third green jacket in five years.
2009 Open Championship (Winner: Stewart Cink): 37
HC-8; EV-10; DF-10; SP-9
This tournament had an opportunity to be remembered not just as the best of the decade, but perhaps all time. A 59-year-old Tom Watson turned back the clock at Turnberry, only to fail to get up-and-down from behind the final green before losing by a half-dozen strokes in a four-hole playoff with Cink.
2000 PGA Championship (Winner: Tiger Woods): 37
HC-7; EV-10; DF-10; SP-10
Little-known Bob May proved to be a bulldog at Valhalla, battling Woods shot-for-shot in a compelling final round and ensuing playoff.
[+] Enlarge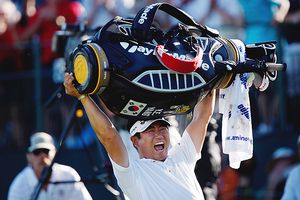 Streeter Lecka/Getty ImagesY.E. Yang raised his golf bag and his game after winning the 2009 PGA Championship to become the first Asian-born male to win a major.
2009 PGA Championship (Winner: Y.E. Yang): 36
HC-7; EV-10; DF-10; SP-9
In this classic case of David triumphing over Goliath, Yang -- a Q-school grad just eight months earlier -- posted the day's best score during each weekend round. The South Korean came from behind to defeat 14-time major winner Woods at Hazeltine, thanks in large part to an ambitious hybrid shot on the 72nd hole to clinch the title.
2001 Masters (Winner: Tiger Woods): 35
HC-10; EV-8; DF-7; SP-10
History has forgotten how close this one could have come to greatness: If Woods' final-hole birdie had been a bogey, he would have gone to a playoff against Duval. Instead, after three major wins to close the 2000 season, it was the final piece to the so-called Tiger Slam.
2006 U.S. Open (Winner: Geoff Ogilvy): 35
HC-6; EV-10; DF-10; SP-9
Birdies were at a premium at Winged Foot, where schadenfreude was the word of the week, considering the four-car pile-up on the final hole. There's no debating that Phil Mickelson's crash-and-burn in an attempt to win a third straight major -- not to mention those of Jim Furyk, Padraig Harrington and Colin Montgomerie -- was a rubbernecker's dream.
2007 Open Championship (Winner: Padraig Harrington): 35
HC-8; EV-9; DF-9; SP-9
Like some other majors from this decade, this one may be remembered more for the man who lost than the winner, as Sergio Garcia succumbed in a Carnoustie playoff and then blamed forces beyond his control.
2009 Masters (Winner: Angel Cabrera): 34
HC-9; EV-9; DF-8; SP-8
From Phil Mickelson's front-nine 30 to Kenny Perry's bogey-bogey finish to Cabrera's magic act from the trees to Chad Campbell's missed shorty, this one was must-see TV on Sunday.
2000 U.S. Open (Winner: Tiger Woods): 34
HC-10; EV-9; DF-5; SP-10
For those who enjoy witnessing history, Woods' 15-shot win at Pebble Beach was ultra-compelling, but this tourney loses points for being all but over through 36 holes.
2002 U.S. Open (Winner: Tiger Woods): 34
HC-9; EV-9; DF-6; SP-10
Ever wonder what a major championship would look like in a football-type atmosphere? We found out at Bethpage, where Tiger topped Phil amid an electric environment.
2007 U.S. Open (Winner: Angel Cabrera): 34
HC-9; EV-8; DF-9; SP-8
Chain-smoking his way around a beautifully renovated Oakmont course, Cabrera huffed and puffed his way past Jim Furyk and Tiger Woods, the latter of whom barely missed a lengthy final-hole putt to force a playoff.
2005 Open Championship (Winner: Tiger Woods): 34
HC-10; EV-9; DF-6; SP-9
If it's St. Andrews, it must be Tiger. His second victory at the home of golf this decade came with native son Colin Montgomerie in hot pursuit, giving this event an extra dynamic.
2006 Open Championship (Winner: Tiger Woods): 34
HC-6; EV-10; DF-8; SP-10
One month after missing the cut at the U.S. Open in his first tournament appearance since his father's death, Woods used driver only once at Hoylake, punctuating his victory with an emotional display we've never seen from him before or since.
2001 PGA Championship (Winner: David Toms): 34
HC-8; EV-9; DF-9; SP-8
One day after a hole-in-one late in Round 3, Toms -- in what was sort of an anti-Tin Cup moment -- was forced to lay up on the final hole at Atlanta Athletic Club. He got up-and-down for par to beat hard-luck Phil Mickelson by a stroke.
2000 Masters (Winner: Vijay Singh): 33
HC-10; EV-7; DF-6; SP-10
A star-studded leaderboard -- Singh was joined by Ernie Els, David Duval, Tiger Woods and Phil Mickelson in the top seven -- didn't rate higher due to the 3-shot margin of victory.
2000 Open Championship (Winner: Tiger Woods): 33
HC-10; EV-8; DF-5; SP-10
One month after winning at Pebble Beach by 15, Woods could muster "only" an 8-shot differential between himself and runners-up Thomas Bjorn and Ernie Els at St. Andrews' Old Course. With the win, Woods joined Gene Sarazen, Ben Hogan, Gary Player and Jack Nicklaus as the only men to win the career Grand Slam.
2002 Open Championship (Winner: Ernie Els): 33
HC-8; EV-8; DF-9; SP-8
What a strange tournament. The third round is remembered for torrential rains; one day later, with four men tied after regulation at Muirfield, the R&A sent them out in a pair of twosomes, with the Big Easy eventually defeating Thomas Levet in sudden-death.
2004 Open Championship (Winner: Todd Hamilton): 33
HC-9; EV-8; DF-9; SP-7
A career journeyman, Hamilton used his Texas wedge strategy throughout Royal Troon, pulling off a playoff upset over Ernie Els.
2008 Open Championship (Winner: Padraig Harrington): 33
HC-8; EV-9; DF-7; SP-9
Greg Norman, at age 53, led the festivities at Royal Birkdale with nine holes to play on Sunday, but it was Harrington's sublime performance down the stretch that earned the Irishman a second straight Claret Jug.
2002 Masters (Winner: Tiger Woods): 32
HC-9; EV-7; DF-6; SP-10
So much for Tiger-proofing. On an Augusta National course lengthened by 285 yards, Woods prevailed for a second straight year, but his final-round 1-under 71 ultimately led to a snoozer of a finish.
2006 Masters (Winner: Phil Mickelson): 32
HC-9; EV-7; DF-6; SP-10
Consider this the one that got away. Despite a leaderboard that resembled the top of the World Ranking, Mickelson held everyone at arm's length, flanked by his buddy Fred Couples.
2002 PGA Championship (Winner: Rich Beem): 32
HC-7; EV-9; DF-8; SP-8
With Tiger Woods hot on his heels, the former car stereo salesman remained composed at Hazeltine to earn an unlikely first major win, followed by a little dance on the 18th green.
2004 PGA Championship (Winner: Vijay Singh): 32
HC-9; EV-7; DF-8; SP-8
Whistling Straits provided beautiful vistas and a difficult test of golf, but the three-man playoff between Singh, Justin Leonard and Chris DiMarco proved to be a yawner.
2005 PGA Championship (Winner: Phil Mickelson): 32
HC-8; EV-8; DF-7; SP-9
When a weather delay halted the final round at Baltusrol, Mickelson returned Monday to play the final five holes, holding off Thomas Bjorn and Steve Elkington to win by 1, thanks to a birdie on the last hole.
2007 PGA Championship (Winner: Tiger Woods): 32
HC-8; EV-8; DF-7; SP-9
The real drama at steamy Southern Hills came on Friday, when Woods tied the all-time major championship low round with a 63 -- or as he called it, a "62½" since his final-hole birdie putt somehow went halfway in and popped back out.
2008 PGA Championship (Winner: Padraig Harrington): 32
HC-6; EV-9; DF-9; SP-8
In a revival of the previous year's Open Championship, Harrington earned his third major win and thwarted Sergio Garcia's attempt for a first by gamely executing a terrific up-and-down on the final hole at Oakland Hills.
2003 Masters (Winner: Mike Weir): 30
HC-9; EV-8; DF-8; SP-5
Weir and Len Mattiace finished a half-dozen strokes ahead of the field, but the eventual winner needed only a bogey on the first extra hole to seal the victory.
2007 Masters (Winner: Zach Johnson): 30
HC-9; EV-7; DF-7; SP-7
Never before has Augusta National played faster and firmer, the chilly conditions resulting in a first major win for the "normal guy from Iowa."
2005 U.S. Open (Winner: Michael Campbell): 30
HC-8; EV-8; DF-7; SP-7
The final pairing at Pinehurst -- Retief Goosen and Jason Gore -- each finished with scores in the 80s, leaving the door open for the man nicknamed Cambo, who beat Tiger Woods by a pair of strokes.
2009 U.S. Open (Winner: Lucas Glover): 30
HC-7; EV-7; DF-8; SP-8
The electricity that was present at Bethpage seven years earlier shorted out due to weather delays throughout the week. Glover was the best player, but Phil Mickelson and David Duval provided a majority of the fireworks.
2001 Open Championship (Winner: David Duval): 30
HC-8; EV-8; DF-6; SP-8
Duval finally earned his long-awaited major championship at Royal Lytham & St. Annes, but it was his fall from the elite in subsequent years that provided more storylines than this win.
2006 PGA Championship (Winner: Tiger Woods): 30
HC-7; EV-8; DF-6; SP-9
Note to Luke Donald: When paired with Woods in the final round of a major, don't wear red. He did and Tiger countered with an opening-hole birdie en route to a 5-shot victory at Medinah.
2003 PGA Championship (Winner: Shaun Micheel): 29
HC-7; EV-6; DF-10; SP-6
Truth be told, the most remarkable thing about the final round at Oak Hill was that the two front-runners -- Micheel and Chad Campbell -- looked like long-lost brothers. That is, until the final hole, where the former nearly jarred a 7-iron for the win.
2001 U.S. Open (Winner: Retief Goosen): 28
HC-6; EV-9; DF-8; SP-5
The drama at Southern Hills ended with Stewart Cink's missed gimme and Goosen's 3-putt on the final hole of regulation; the latter's playoff win over Mark Brooks on Monday was forgettable.
2004 U.S. Open (Winner: Retief Goosen): 27
HC-4; EV-8; DF-7; SP-8
Shinnecock Hills is a terrific course, but when USGA officials let the burned-out greens get out of hand during the weekend rounds, the story overshadowed a great putting performance by the Goose.
2008 Masters (Winner: Trevor Immelman): 26
HC-9; EV-5; DF-5; SP-7
Let's face it: To his credit, Immelman was so brutally ruthless that his 3-stroke win resulted in the least entertaining Masters of the decade.
2003 Open Championship (Winner: Ben Curtis): 26
HC-4; EV-8; DF-8; SP-6
Upon seeing the newest winner of the Claret Jug, the world collectively and quizzically uttered a single word: "Who?" The first player to win a major in his debut performance since Francis Ouimet in 1913, Curtis triumphed at gimmicky Royal St. Georges thanks in part to Thomas Bjorn's bunker bumbles.
2003 U.S. Open (Winner: Jim Furyk): 22
HC-5; EV-6; DF-5; SP-6
No offense to Furyk, but his 3-stroke victory over Stephen Leaney (yes, really) at Olympia Fields was an imperfect storm that lacked both drama and star power.
Using these numbers, which are -- as stated earlier -- an inexact science, let's break down the averages at each of the four majors over this 10-year span:
Masters: 32.80
U.S. Open: 31.30
Open Championship: 32.80
PGA Championship: 32.60
As you can tell, the year's first, third and fourth majors are nearly identical in how they have ranked since 2000. The U.S. Open comes in slightly lower, but not for a lack of drama; instead, some dicey course setups in the first half of the decade dropped the overall total for these tournaments in the category of Host Course.
Now let's examine the averages of the four majors on a yearly basis:
2000: 34.25
2001: 31.75
2002: 32.75
2003: 26.75
2004: 32.50
2005: 33.50
2006: 32.75
2007: 32.75
2008: 32.50
2009: 34.25

Perhaps the most noticeable conclusion is that the past season -- in which potential champions Kenny Perry at the Masters, Phil Mickelson or David Duval at the U.S. Open, Tom Watson at the Open Championship and Tiger Woods at the PGA Championship all fell agonizingly short of victory -- ranks tied for the best with the opening year of the decade, when Woods captured the year's final three majors. Holding 2000 back from being ranked higher is the fact that two of those three wins came by 8 strokes or more, essentially losing points in the Dramatic Finish category.
The worst year for majors? Based on the numbers, without a doubt it was 2003, when Mike Weir, Jim Furyk, Ben Curtis and Shaun Micheel each won their first and -- to this day -- only major titles.
Jason Sobel is a golf writer for ESPN.com. He can be reached at Jason.Sobel@espn3.com.