Golf coach almost always a temp job
May, 11, 2010
05/11/10
9:36
AM ET
I heard a revealing story while roaming the practice range at TPC Sawgrass before last week's Players Championship that serves to define the complexity of the golfer-instructor relationship in general, and helps to explain the fragility of the prior affiliation between Tiger Woods and Hank Haney, which ended Monday.
There is a PGA Tour player who isn't a complete unknown, but can certainly be classified as more "rank-and-file" than "superstar." This guy had been struggling with his swing, so Monday he called his agent and asked if he knew of anyone who could be of assistance.
The agent believed he had just the right man for the job, forging a relationship between the pro and a veteran instructor the next day. Everything clicked right away, as the player started hitting the ball straighter and longer, the new swing tips paying immediate dividends.
And they all lived happily ever after, right? Not exactly.
One day after this practice session, the player informed the instructor that his services would no longer be needed, that the coach had triggered a better move through the ball, but he was reluctant to introduce any further swing thoughts on the course.
And so 24 hours after the player and coach began working together, the latter was summarily dismissed and told "thanks, but no thanks," in regard to a long-term commitment.
Moral of the story: These relationships are tenuous at best; always temporary no matter how long they last.
[+] Enlarge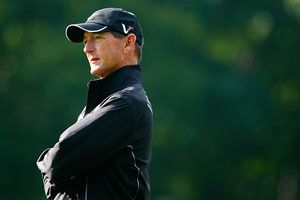 Scott Halleran/Getty ImagesDuring his time coaching Tiger Woods, Hank Haney helped the No. 1-ranked player earn 32 official PGA Tour victories, including six major championships.
That should put into proper prospective news about the Woods-Haney marriage coming to an abrupt conclusion, though it doesn't mean we shouldn't be surprised about it.
They began working together in late 2003 via a recommendation from one of Haney's other pupils, Mark O'Meara, who is also a close friend of Woods. Together, Woods and Haney teamed for 32 official PGA Tour victories, including six major championships, often amid rumors that the instructor's job was on shaky ground.
In fact, just this past Thursday, after his opening round of the Players, Woods was asked about the state of the relationship and said, "Hank and I talk every day, so nothing's changed. According to the press, I've fired him five times by now."
Therein lies the most telling part of this story: Rather than being canned by the world's No. 1-ranked player, Haney was the one who severed ties with Woods, claiming it was solely his decision. Such resolutions are almost exclusively made by the player, not the coach. Examples to the contrary are few and far between. Butch Harmon's decision to stop working with John Daly two years ago stands as one of the few exceptions to the rule.
It speaks volumes about Woods' recent situation -- both on and off the course -- that he has been relegated to Daly-like status, the type of player whose swing instructor leaves him, rather than the other way around. After a lengthy and much-publicized personal scandal, he has returned to golf without the success that has typically marked his career.
Woods finished in a share of fourth place at the Masters Tournament, but has since missed the cut at the Quail Hollow Championship and was forced to withdraw on the seventh hole in his final round at the Players Championship due to a neck injury, though he was already well out of contention for the title.
Any normalcy Woods had hoped would return to his life could have been spawned by a renewed dominance this season. Instead, he is left to dwell on these recent negative results while awaiting tests to determine the severity of the injury -- and now he must face another hurdle that will likely extend the tumult.
Even with increased scrutiny of his private life, and through health concerns, Woods has been able to rely on the swing that's been a common thread for more than a half-dozen years. When he does return from the neck injury -- whether that's in a few weeks, a few months or not until next year will be determined shortly -- he will be forced to work out concerns over his maneuver through the ball either alone or with a new instructor, a proposition that leaves open the possibility that his return to form won't come anytime soon.
"I made a swing change back in '93 with Butch," Woods recalled during a press conference for the AT&T National on Monday, just hours before Haney's announcement. "I remember my first weekend playing, I played as hard as I could; at the time I was still a pretty good player, won a couple U.S. Juniors -- and the best score I came up with was 83. This is probably not a good sign.
"But you've got to stay the course. And I believed what Butch was trying to get me to do; it turned around. I had a lot of success. Changed again in '97; believed it, turned around in '99. And worked with Hank and took just about a year and then from basically '05 to now."
That first year with Haney produced a lone victory at the WGC-Accenture Match Play Championship, and there's no reason to believe his next move won't lead to a similar string of mediocrity -- at least as far as Woods' current standards are concerned.
As for the instructor, Haney was gracious in stepping down from the position, apparently harboring no ill will toward the player for his past transgressions, instead choosing to focus on the positives.
"I would like to thank Tiger for the opportunity that I have had to work with him over the past six-plus years," Haney said, via a statement. "Tiger Woods has done the work to achieve a level of greatness that I believe the game of golf has never seen before and I will always appreciate the opportunity that I have had to contribute to his successes."
There was, however, a brief part of the statement that could be construed as indicating disappointment on Haney's part. Specifically, he said, "In coaching and teaching Tiger, I have also learned a lot, not only about golf, but about people and life in general."
Both the most talented golfer in the world and one of the hardest workers, Woods is a coach's dream, the type of once-in-a-lifetime pupil who can quickly enhance an instructor's profile. This most recent news is just another turning point in the dramatic turn of events over the past six months. While he's already begun a new chapter in his personal life, the page has been turned once again in his professional pursuit.
Then again, these types of relationships are never permanent. Tiger Woods and Hank Haney had a lengthy, successful run, but like all player-coach associations, it finally met its conclusion, leaving in its wake many questions about the player's prospects for the future.
Jason Sobel is a golf writer for ESPN.com. He can be reached at Jason.Sobel@espn3.com.