Ryder Cup fireworks fail to ignite
August, 11, 2010
08/11/10
2:25
PM ET
SHEBOYGAN, Wis. -- The official opening ceremonies for the Ryder Cup, rife with more pomp and circumstance (heavy on the pomp) than a presidential inauguration, won't take place until Sept. 30 at Celtic Manor in Wales.
[+] Enlarge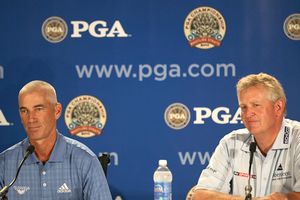 Andrew Redington/Getty ImagesCorey Pavin and Colin Montgomerie were completely cordial during their news conference Wednesday.
The unofficial opening ceremonies, though -- replete with each captain backtracking, denying, acquiescing and otherwise bloviating in advance of the upcoming competition -- are already well under way.
In what has become a biennial rite of passage for team skippers, United States captain Corey Pavin and Europe captain Colin Montgomerie sat down before the assembled media on Wednesday for a joint press conference at Whistling Straits, where the demeanor between the two could be best described as polite and political.
What a shame.
Over the years, the Ryder Cup has become just as titillating off the course as on -- and maybe even more so. From subtle jabs to shameless daggers, the run-up to the event has turned into an opportunity for pronounced patriotism, with jingoistic lingo dominating the proceedings.
So far, however, diplomacy has ruled the day. Not that there's anything wrong with that. In the "gentleman's game," as golf is so often referred to, the high road is not often the one less traveled. But the captains' mutual respect has produced a measure of banality that is uncommon prior to most editions of the Ryder Cup.
For proof, let's review the two biggest stories of the day.
As is the case with most golf stories lately, major news revolved around none other than Tiger Woods. One day earlier, the world's No. 1-ranked player -- who currently stands 10th on a points list for the Ryder Cup that sees the top eight automatically qualify -- eliminated doubt to the contrary when he said that he would indeed accept a captain's pick should he fail to earn his way onto the team.
It was then reported by Golf Channel contributor Jim Gray that Pavin would extend an invitation to Woods under any circumstance -- a notion the captain refuted Wednesday on Twitter.
Rather than taking the opportunity to twist the knife when asked the question of whether he would name Tiger to his team if possible, Monty stated, "That's a very difficult, dangerous and undiplomatic question. But of course I'd pick him, yes." For his part, Pavin responded, "Let me make a note of that. Thanks for the help. Appreciate it. He's very helpful that way, Colin is."
He wasn't as helpful when it came to the other newsworthy story. Amid reports that Montgomerie has filed an injunction to disallow publication of potentially embarrassing photographs, he said, "I know a lot of you are having a lot of fun right now at my expense. Let me clear this up, though: I can categorically say that there's no injunction against the News of the World. I'm really not going to discuss this any further."
After being asked about the subject once again -- and once again refusing to discuss it -- Monty was aided by his fellow captain, who maintained, "I agree with Colin, actually. Let's stick to golf subjects here. We'd appreciate that. Thank you."
No jabs. No tweaks. And definitely no daggers.
Any controversies that have formed in advance of the Ryder Cup aren't because the captains -- or any of the potential team members -- are stoking the flames. Of course, there's still plenty of time. The opening ceremonies have only just begun.
Jason Sobel is a golf writer for ESPN.com. He can be reached at Jason.Sobel@espn3.com.