Analyzing the Friday four-ball pairings
September, 30, 2010
09/30/10
2:58
PM ET
NEWPORT, Wales -- Conventional wisdom states that Ryder Cup captains should pair opposite-minded players in the competition's four-ball format. The theory is, one guy should be the long-bombing birdie-collector while the other should play the steady-Eddie role, keeping the team in every hole.
[+] Enlarge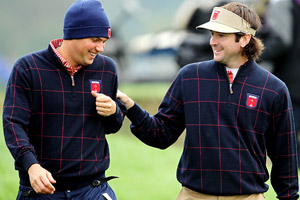 Andy Lyons/Getty ImagesIn arguably the most surprising of Friday's four-ball pairings, Ryder Cup rookies Jeff Overton and Bubba Watson will play the final match of the morning session.
U.S. skipper Corey Pavin apparently doesn't believe in this strategy.
For the opening session of this edition of the event, Pavin has chosen to play his full complement of big hitters, including two apiece in two of his four pairings, as Phil Mickelson and Dustin Johnson will compete in the opening match with Bubba Watson and Jeff Overton playing the anchor leg.
"I wanted to get guys out there in better-ball that make a lot of birdies," said Pavin, who will have six of his seven longest drivers among his eight players in the first session. "It's a very aggressive game tomorrow morning, so I just look for guys that can get the ball in the hole very quickly."
He might have that, but bucking the traditional strategy serves as an early risk for the captain, who has played most aspects of the competition as cautiously as possible so far.
With that in mind, let's break down the opening quartet of four-ball matches:
Match 1: Phil Mickelson/Dustin Johnson (USA) vs. Lee Westwood/Martin Kaymer (EUR)

The skinny: No surprise here, as each of these pairings was rumored throughout the week to be kicking off the festivities for their respective teams. This one is for heavy hitters only, as the U.S. duo will provide fireworks off the tee, but the Europeans are two of the world's top six, according to the rankings.
Interesting sidenote: Kaymer might need to thank Johnson on the first tee. The former's PGA Championship victory came in part because of the latter's final-hole blunder at Whistling Straits.
Worth watching: Westwood hasn't played competitively since early August, thanks to an enduring leg injury. He's reportedly been healthy throughout the week, but any recurrence could spell trouble for the Euros.
Money quote: "Lee is one of the best players in the game and Martin just won a major championship. They are playing some extremely good golf. Dustin and I wanted to get off early, though. We enjoy playing first. We enjoy the challenge of playing a very difficult European team." -- Phil Mickelson
Advantage: PUSH. Apologies for riding the fence right out of the gate, but this one is simply too close to call. Don't be surprised to see the first match of the event reach Celtic Manor's devious 18th hole.
---
Match 2: Stewart Cink/Matt Kuchar (USA) vs. Rory McIlroy/Graeme McDowell (EUR)

The skinny: For those who wanted three straight days of nothing but fuel for the Tiger and Rory "controversy," you're 0-for-1 so far. Instead, we get a couple of solid recent major winners (Cink, McDowell) paired with a former wunderkind (Kuchar) and a current one (McIlroy). Though he's the shortest hitter in the group, Kuchar has the best birdie average this season, as his 3.97 per round average ranks fourth on the PGA Tour.
Interesting sidenote: Cink and Kuchar are Georgia Tech alumni, but didn't play together in college. Cink graduated in 1995; Kuchar in 2000. This marks the second time two Yellow Jackets have played on the U.S. team, as Cink was joined by David Duval in 2002.
Worth watching: Rumors persist that McIlroy has been wielding a cold putter during practice rounds this week. This type of format calls for plenty of birdies, so efficiently lagged putts likely won't get it done.
Money quote: "I think my game is a steady game and Stewart has the power and ability to make tons of birdies. We are really excited to play better-ball, because I think I can get things started with good, quality shots and he can really do some attacking." -- Matt Kuchar.
Advantage: EUROPE. Yes, McIlroy is a 21-year-old rookie and sure, he may not have putted great in practice rounds, but the kid has as much talent as anyone in the world -- and he's been waiting to show it off on this stage for an awfully long time.
---
Match 3: Steve Stricker/Tiger Woods (USA) vs. Ian Poulter/Ross Fisher (EUR)

The skinny: No longer is this the same Tiger Woods that we've seen dominate golf for more than a decade. Coming off a PGA Tour regular season so far in which he failed to win in a dozen appearances, he claims it hasn't been a "lost season" and a strong week here would help validate that notion. Surprisingly for a player who so often tops the season-long birdie average category, Woods owns just a 4-6-0 career record in this format.
Interesting sidenote: At last year's Presidents Cup, Stricker and Woods played four team matches together and finished with a 4-0-0 record. They asked Pavin for the same pairing again this week and if they win, don't expect them to be separated anytime soon.
Worth watching: Two years ago, Poulter told a U.K. golf magazine, "Don't get me wrong, I really respect every professional golfer, but I know I haven't played to my full potential and when that happens, it will be just me and Tiger." He has always enjoyed the challenge of squaring off against the world's best, but it will be intriguing to watch whether Poulter is actually too amped up for this one.
Money quote: "I have never been so excited to play a Ryder cup match, Tiger Woods Steve Stricker vs Poults & Fish the house is about to come down." -- Ian Poulter via Twitter.
Advantage: USA. Woods and Stricker have proven themselves as a formidable duo. The X factor here could be Fisher, the least heralded player of the four, but a strong competitor in his own right who won last year's Volvo World Match Play Championship on the European Tour.
---
Match 4: Bubba Watson/Jeff Overton (USA) vs. Luke Donald/Padraig Harrington (EUR)

The skinny: Easily the most surprising of Pavin's four opening pairings is the matchup of Watson and Overton, two Ryder Cup rookies who own a combined one career PGA Tour victory. They will face a European duo that has played in this competition a combined seven times previously, posting an overall record of 12-12-4.
Interesting sidenote: Watson and Overton represent two of the longer hitters around, at 309.8 and 297.3 yards per drive this season, respectively. Of course, with distance comes a penalty, as neither places among the top 160 on the PGA Tour in driving accuracy.
Worth watching: As two of captain Colin Montgomerie's three captain's picks, Donald and Harrington likely hold the key to whether Monty will be roundly criticized for leaving fellow top players Paul Casey and Justin Rose off the roster. "Judge me about that selection on October the 4th," he said earlier this week. If these two players shine, Monty will look like a genius. If not, he'll be the subject of endless Monday morning quarterbacking for his selections.
Money quote: "I wouldn't say strange decision, don't get me wrong. [But] Luke Donald and Padraig Harrington would not expect to play two rookies in the last game. They wouldn't have expected that." -- Colin Montgomerie.
Advantage: EUROPE. This one isn't even close. Give the major advantage to the experienced European players in this one, but keep this in mind: Past experience in the Ryder Cup doesn't necessarily portend future success. Donald and Harrington are the favorites, but Watson and Overton will be playing with nothing to lose.
Jason Sobel is a golf writer for ESPN.com. He can be reached at Jason.Sobel@espn.com.