Discussion
Golf his way
Tiger would have been better off learning from the life that Jack built, not his game
Updated:
April 8, 2014, 4:30 PM ET
By
Rick Reilly
| ESPN.com
The difference between Tiger Woods and Jack Nicklaus> is more than just 36 years and four majors.
Woods has perfect balance in his golf swing. Nicklaus had it in his life.
Nicklaus had one coach, one swing, one woman.
Woods has had three coaches, three swings and a Gold Club worth of women. One of each makes life simple. Multiples must be exhausting.
Woods had 18 majors lie down in his bassinet with him. It was his do-or-die, and he tracked it with a vengeance. ...

Read full story
THE 2014 MASTERS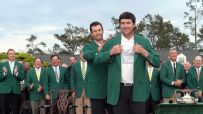 Trying to figure out Bubba Watson might make your brain hurt. Somehow, though, he figured out Augusta National ... again. Rick Reilly
SUNDAY
MASTERS.COM