Discussion
Tseng: "I'd just smile and nod"
LPGA champ Yani Tseng talks about her winning season and new house
Updated:
December 7, 2011, 3:57 PM ET
By
Sarah Turcotte
| ESPN The Magazine
This article appears in ESPN The Magazine's Dec. 12, 2011, "Interview Issue."
TURCOTTE: Golf is such a serious game, even Saturday hackers throw clubs. You're always smiling.
TSENG: Well, I threw clubs my first year too. Then a friend told me a couple of years ago, "If you throw the club, the club's just going to be mad at you." That made sense. I don't want the club mad and not playing well. I want to be good friends with the club.
In 2004, when ...

Read full story
ESPN The Magazine: December 12, 2011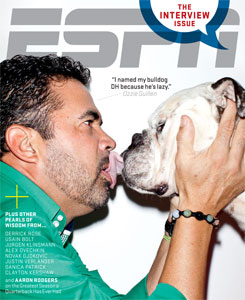 The Interviews
More from the issue