Discussion
Tiger Woods wins at Bay Hill
Updated:
March 26, 2012, 10:40 AM ET
Associated Press
ORLANDO, Fla. -- His ball safely over the water, Tiger Woods walked toward the 18th green Sunday as he had done over the last 30 months on the PGA Tour, with one big difference.
There was no mistaking that smile.
"Pure joy," he said.
Woods finally brought the buzz back to the very thing that made him famous -- winning.
Two weeks after another injury scare, Woods looked dominant as ever in that bright red shirt to win the Arnold Palmer Invitational at Bay Hill. It ...

Read full story
TIGER'S DROUGHT OVER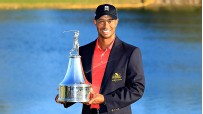 Not since November 2009 has Tiger Woods won an official tournament anywhere in the world. That changed Sunday at Bay Hill with Woods' 72nd career PGA Tour victory. Tiger Tracker
TUESDAY
MONDAY
SUNDAY