Discussion
"It's not easy being Tiger"
Former coach Hank Haney tells all about Tiger Woods in his new book
Originally Published:
December 6, 2012
By
Scott T. Miller
| ESPN The Magazine
Hank Haney is Tiger Woods' former coach and author of The Big Miss. Woods won 31 PGA Tour events under Haney's direction from 2004 to 2010.
SCOTT MILLER: Did Tiger know you were writing the book? Did you seek his blessing? HANK HANEY: I didn't reach out to him. They were my memories. I didn't see any reason to seek his blessing.
MILLER: Did you hear from Tiger after the book was published? HANEY: No, the last time I talked to Tiger was the day ...

Read full story
ESPN The Magazine: December 10, 2012
http://espn.go.com/mma/story/_/id/8766646/future-mma-kids-crazy-rayfield-espn-magazine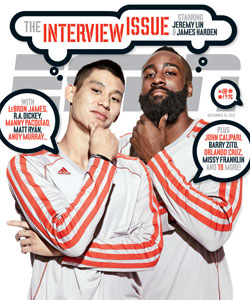 THE INTERVIEW ISSUE

More from the issue