Discussion
Three Bears to roam around Merion
Cal golf team will have quite a presence in the field at this year's U.S. Open
On May 30, Max Homa won the NCAA Division I men's individual golf championship at the Capital City Golf Club in Atlanta.
"I felt like I was on top of the world," said Homa, a graduating senior out of the University of California, Berkeley. "It was a dream come true. I felt invincible."
Yet Homa's work was unfinished. He still needed to help Cal win the team championship. The Golden Bears had good reason to feel invincible themselves as they sought the program's second national title. ...

Read full story
U.S. OPEN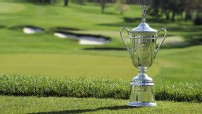 The U.S. Open, back at Merion Golf Club for the first time since 1981, will play short. But don't expect it to be easy.