Discussion
Five questions for the U.S. Open
Just a few things worth keeping an eye on for the season's second major
The U.S. Open at Merion is full of unanswered questions. The days leading up to Thursday's first round are an anxious time for players, caddies, the USGA, media and spectators.
We're excited about what might unfold over the course of the week. We expect to be surprised because this is the U.S. Open -- maybe the hardest major to win.
Here are five burning questions that I have headed into the tournament.
Is it Tiger's time?
Tiger Woods hasn't won a major since ...

Read full story
U.S. OPEN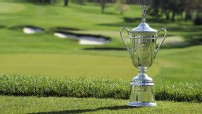 The U.S. Open, back at Merion Golf Club for the first time since 1981, will play short. But don't expect it to be easy.