Discussion
Hogan and Woods a lot alike
FORT WORTH, Texas -- Dan Jenkins has forgotten more about Ben Hogan than most of Hogan's own biographers will ever know.
The World Golf Hall of Fame writer grew up in this same Texas town as Hogan, covered him for the Fort Worth Press (and later, Sports Illustrated), played dozens of rounds of golf with Hogan and eventually became friends with Hogan. He is the defender of the Hogan realm. Jenkins, not easily impressed by anything or anybody, once called Hogan's vast collection of ...

Read full story
U.S. OPEN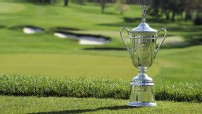 The U.S. Open, back at Merion Golf Club for the first time since 1981, will play short. But don't expect it to be easy.