Discussion
Woods vs. Garcia? Close the book
ARDMORE, Pa. -- Before you can dive headfirst into the murky water hazard that is Sergio Garcia versus Tiger Woods, you have to remember two things:
1. Garcia can't stand Woods.
2. Woods can't stand Garcia.
It's not that they don't get along. It's that there's no along to get. You'd need a centrifuge to separate a molecule of respect between Garcia and Woods.
So it should come as zero surprise that the shelf life of this ...

Read full story
U.S. OPEN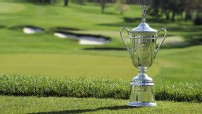 The U.S. Open, back at Merion Golf Club for the first time since 1981, will play short. But don't expect it to be easy.