Discussion
Mickelson's family still believes
Updated:
June 12, 2013, 7:05 PM ET
By
Ian O'Connor
| ESPN.com
ARDMORE, Pa. -- Phil Mickelson already had a life-shaping decision to make at the age of 11, so his old man sat him down to review his three options: football, baseball or golf. If Phil wanted to excel in one, he needed to reduce the time and energy devoted to the others.
He had been a right-handed quarterback who broke his arm winging the football and a right-handed pitcher who was struck with a thrown ball and a batted ball on back-to-back days, leaving him with a matching set of ...

Read full story
U.S. OPEN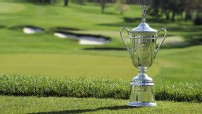 The U.S. Open, back at Merion Golf Club for the first time since 1981, will play short. But don't expect it to be easy.