Discussion
Sergio Garcia's tough day at Merion
A few bad holes and a few hecklers make life more difficult at U.S. Open
ARDMORE, Pa. -- On Thursday in the first round of the U.S. Open, Sergio Garcia was back in the sanctuary of competition after spending much of the last two weeks answering questions about his now-infamous fried chicken comments.
A U.S. Open golf course has a way of sharpening the focus of even the most distracted player. The 33-year-old Spaniard couldn't bring the controversy to the course if he wanted to negotiate the intricacies of Merion's East Course.
He had wondered a few days ...

Read full story
U.S. OPEN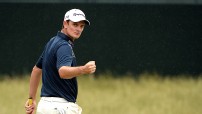 Merion proved to be quite the test for the world's best at the 113th U.S. Open. Justin Rose ultimately triumphed, finishing the tournament with a 2-stroke victory at 1-over.
DAY 4
DAY 3
DAY 2