Discussion
No, Merion won't be a pushover
Time to forget all that talk that this U.S. Open course was going to be easy
Updated:
June 14, 2013, 7:50 PM ET
By
Ian O'Connor
| ESPN.com
ARDMORE, Pa. -- They were going to make the USGA pay for what went down at Winged Foot in 1974, and at Shinnecock three decades later, and at every U.S. Open labor camp over the years that left the world's finest golfers crying uncle.
There would be no massacre at Merion, but a massacre of Merion. This was supposed to be golf's answer to a Wiffle ball field, a Fenway Park minus the Green Monster, a ballpark not even 7,000 yards long for the big boys and the high-tech clubs that served as ...

Read full story
U.S. OPEN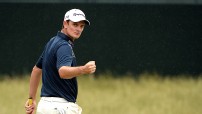 Merion proved to be quite the test for the world's best at the 113th U.S. Open. Justin Rose ultimately triumphed, finishing the tournament with a 2-stroke victory at 1-over.
DAY 4
DAY 3
DAY 2