Discussion
Tiger shoots 73 with arm hurting
Updated:
June 15, 2013, 4:23 AM ET
By
Bob Harig
| ESPN.com
ARDMORE, Pa. -- Tiger Woods offered few details about what appeared to be a left elbow injury that was bothering him during the first round of the U.S. Open but also showed no obvious signs of pain as he finished a 3-over-par 73 on Friday.
Woods, who was clearly in distress several times on Thursday, seemed better Friday morning in brisk temperatures but finished the first round 6 strokes behind leader Phil Mickelson.
When asked about his arm, Woods was vague.
"My left arm ...

Read full story
U.S. OPEN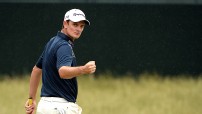 Merion proved to be quite the test for the world's best at the 113th U.S. Open. Justin Rose ultimately triumphed, finishing the tournament with a 2-stroke victory at 1-over.
DAY 4
DAY 3
DAY 2