Discussion
McIlroy staying on Tiger's tail
Updated:
June 15, 2013, 12:00 PM ET
By
Ian O'Connor
| ESPN.com
ARDMORE, Pa. -- Rory McIlroy was walking with his father and a cop on the way out of Merion when a fan reached over a railing, shook his hand, and summoned the glories of his recent U.S. Open past.
"Just like Congressional, Rory," the man said. "Just like Congressional."
Only this was nothing like Congressional in 2011, when McIlroy beat a hapless field of barn horses by Secretariat lengths. The kid from Northern Ireland, all freckles and shaggy hair, was suddenly golf's ...

Read full story
U.S. OPEN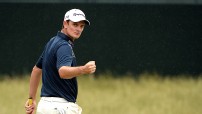 Merion proved to be quite the test for the world's best at the 113th U.S. Open. Justin Rose ultimately triumphed, finishing the tournament with a 2-stroke victory at 1-over.
DAY 4
DAY 3
DAY 2