Discussion
U.S. Open wasn't meant to be easy
USGA, Merion giving out headaches, few birdies to the world's best
ARDMORE, Pa. -- Luke Donald has such a good short game he could land an egg on the top of Peyton Manning's helmet and not crack the shell.
But at poor, defenseless, rain-soaked Merion Golf Club, where everyone was supposed to shoot Tiger Woods' waist size, Donald plopped a wedge from the rough and into a nearby greenside bunker on the par-5 fourth hole. I don't know who was more shocked, Donald or the ball.
Anyway, he bogeyed the hole. Just like he bogeyed the next three holes. And ...

Read full story
U.S. OPEN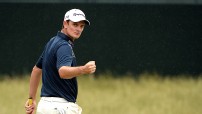 Merion proved to be quite the test for the world's best at the 113th U.S. Open. Justin Rose ultimately triumphed, finishing the tournament with a 2-stroke victory at 1-over.
DAY 4
DAY 3
DAY 2