Discussion
Round 2 grades for the U.S. Open
Since Mother Nature decided to throw a monkey wrench in how the guys would complete Round 1, she really did a number on how I'm going to do my grades for this year's U.S. Open. Here's how I'm gonna do it: top five players in the world and then a couple of miscellaneous ones for good measure. Cool with you? Doesn't matter, I'm doing it anyway.
Tiger Woods World Ranking: No. 1 | Scores: 73-70 (+3) So I should be more sympathetic because your ...

Read full story
U.S. OPEN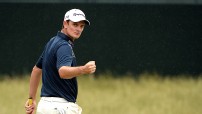 Merion proved to be quite the test for the world's best at the 113th U.S. Open. Justin Rose ultimately triumphed, finishing the tournament with a 2-stroke victory at 1-over.
DAY 4
DAY 3
DAY 2