Discussion
Woods not in a good place Saturday
Updated:
June 16, 2013, 12:48 PM ET
By
Ian O'Connor
| ESPN.com
ARDMORE, Pa. -- Golf is getting its revenge on Tiger Woods, because golf gets its revenge on everyone. The game even got the last laugh on the greatest champion of all, Jack Nicklaus, who finished first in 18 majors while the gods were ensuring he finished second in 19 of them.
Golf is in Tiger's head now, and there's little doubt about that. The sport is mocking him, squirting bleach all over that red power shirt, and telling him to go ahead and win everything from the Farmers Insurance ...

Read full story
U.S. OPEN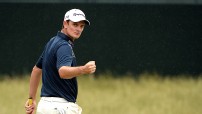 Merion proved to be quite the test for the world's best at the 113th U.S. Open. Justin Rose ultimately triumphed, finishing the tournament with a 2-stroke victory at 1-over.
DAY 4
DAY 3
DAY 2