Discussion
Shawn Stefani aces par-3 17
Updated:
June 16, 2013, 6:41 PM ET
Associated Press
ARDMORE, Pa. -- Shawn Stefani lost track of the ball as soon it rocketed off his 4-iron.
A roaring U.S. Open gallery tracked it for him.
"Go! Go! Go! Go!"
It did Sunday when Stefani aced the 17th hole, making him the first golfer to make a hole-in-one at any U.S. Open at Merion Golf Club, which is hosting the major for the fifth time.
"When the crowd went crazy, I knew it went in," he said.
His shot bounced out of the rough and rolled some 50 feet toward ...

Read full story
U.S. OPEN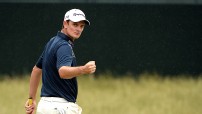 Merion proved to be quite the test for the world's best at the 113th U.S. Open. Justin Rose ultimately triumphed, finishing the tournament with a 2-stroke victory at 1-over.
DAY 4
DAY 3
DAY 2