Discussion
Open gets better of Rory McIlroy
ARDMORE, Pa. -- Rory McIlroy had a final-round 6-over 76 on Sunday at the U.S. Open at Merion.
McIlroy's round included two birdies, a double-bogey and a quadruple-bogey. At the par-4 11th hole, where he took the quadruple-bogey, he bent his wedge in frustration after hitting a ball into the water.
"I just hit a bad tee shot into the creek there, and then what you don't want to do as a golfer is follow one mistake with another, and that's what I did," said McIlroy, who took the ...

Read full story
U.S. OPEN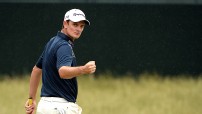 Merion proved to be quite the test for the world's best at the 113th U.S. Open. Justin Rose ultimately triumphed, finishing the tournament with a 2-stroke victory at 1-over.
DAY 4
DAY 3
DAY 2